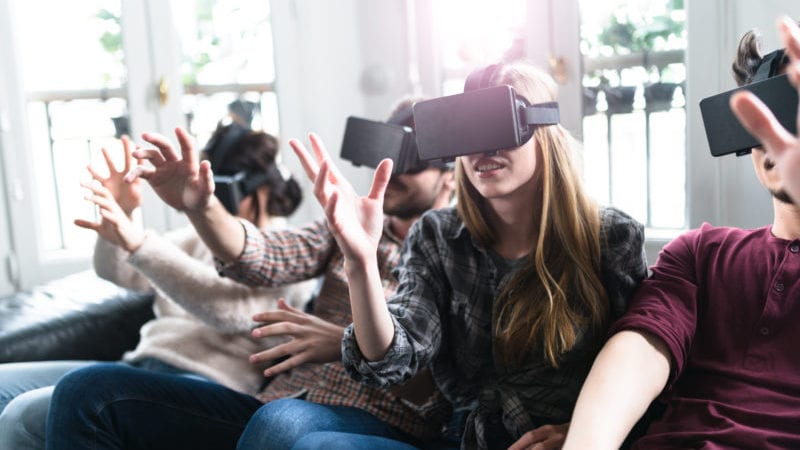 Like many of our fellow teachers, we've been intrigued by the idea of implementing virtual reality (VR) into our lessons. Erin J. Merrill, a middle school social studies teacher, shared her success story about trying it out in her classroom on our WeAreTeachers Helpline. We reached out to pick her brain about how to use this exciting new technology.
How did you get started with virtual reality?
I had heard about VR being used in the classroom but didn't know where to start. I actually received a VR headset as a Christmas present and started searching for apps online to see whether or not it would even be relevant to try in my classroom. I immediately found the WWI Trench Experience as a free app through Google Cardboard and knew I had a lesson!
Where did you get your resources?
To use VR in the classroom, you need two things: a smartphone that can download the app or video, and a headset. I was able to find very cheap headsets on Amazon for less than $10 each. Since it was my first time trying the activity, I didn't want to spend a lot of personal money, so I just purchased five headsets (one per group table). Our school is BYOD (bring your own device) so I asked for five volunteers in each class to download the app we'd be using and let us use their phones for the activity.
To find the actual videos we'd be watching, I searched through free VR apps like Orbulus, Trench Experience VR and Cardboard. I also found hundreds of videos on YouTube. The key is to find videos made with the 360 cameras. While they don't give the kids a 3-D experience like the apps, they are still amazingly interactive and immersive when viewed through the headsets.
What sort of lesson plans did you use?
So far we've had three lessons. All of them have been extending our curriculum by having the students experience the information that they're using in class. Since I only gathered five headsets, I have the student groups working on related worksheets while they wait for their turn on the headset.
I first used the headsets with my seventh grade U.S. History class to gauge their reactions and troubleshoot future activities. The Trench App allows students to simulate walking through a trench during World War I and highlights many of the artifacts that would have been seen in that time. To use it, you have to use a button on the headset, and I found that my students needed direct instruction with this before they began. That same day, the students were also able to view a narrated trench walkthrough on YouTube once they'd finished.
Our second activity was working with the sixth grade U.S. History classes. They used the headsets strictly as viewers to watch a YouTube 360 video taking them through a Revolutionary War battlefield.
My final activity was fun for my eighth grade Civics students, who had just finished learning about the Executive branch of government. I was able to find a White House 360 tour that was made before President Obama left office. I will say that this subject has been the hardest to find resources for. In England, they made an entire series of VR walkthroughs of Parliament specifically for students, but there are few comparable resources for our state or national governments.
What have your students' reactions been?
Here are some of the comments I've received from kids:
"It was fun because we got to see how it was in the old times."
"It was really cool because it felt like you were there. It helped me understand more of what was going on. I didn't have to come up with a picture in my mind because I was seeing what it was actually like."
"I like it a lot because it is fun to be able to be IN what we are learning about."
"I feel the experience was distinct and profound and it furthered my education by allowing me to interact with the curriculum material more intimately."
"It was a fun way to learn because it let us use our electronics."
What are you planning in the future?
For the rest of this year, I plan to continue integrating apps and YouTube 360 videos into my curriculum. I've already found one on the bombing of Pearl Harbor, and one for the Apollo moon landing that we'll be using in seventh grade for the upcoming months.
My ultimate goal for the future is to write a grant to get a 360 video camera so that I can begin to create my own virtual field trips for the students, especially for my Civics classes. At some point, I'd love for there to be enough headsets, and headsets of a better quality than my current set, so that every student with their device will be able to use them at the same time.
What do you think, teachers? Ready to get started?