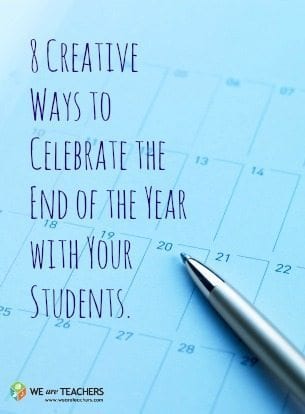 The school year is almost over. There, we said it. And after you go grab a paper bag to breathe into while you contemplate all the things you still need to get done this year (deep breaths), read on to find creative ideas for year-end lessons that will get your students reflecting about all of the great things they accomplished in the last nine months. Here are some of our favorite ideas.
1. Book Hall-of-Fame. Have each student write (or draw) a reflection on the best book they read over the year. Then, save their reflections and post them on a bulletin board so that next year's students can glean reading ideas.
2. It Takes a Village. Or at least a classroom. Write several story titles—"The Great Summer Adventure," "How My Teacher Lost Her Mind" or "My Teacher, My Hero" at the top of blank pages. Then, have each student start a story and after five minutes, pass the story to a neighbor who will continue writing. Continue writing round-robin style until you have several stories to read aloud to the class.
3. High School (or Middle School) Musical. Break your students into groups and have them create (and perform) musical numbers commemorating the year.
4. Teach Me. Flip your classroom upside down AND backwards. Have each student prepare a video lesson (try using the app Explain Everything) on a topic that they learned about during the year. Then have them (re)teach the class what they learned while you sit in the back of the classroom and pass (um, we mean take) notes.
5. Dear Next Year's Class. Have your students write letters of advice (or, if they want, commiseration) to next year's students.
6. Count 'Em Up. Get students counting by having them use a calendar to figure out how many Mondays you've had this year, how many Fridays, how many P.E. days and how many Jello-in-the-cafeteria days. Then work together to make a bar graph and hang it on the wall.
7. People of the Year. Time Magazine can't have all the fun. Help your students to compile of book of the "People of the Year" for your class. Make sure to include important people from history (say, Obama and Romney) as well as important people to your classroom (the custodian, the principal and even that crotchety lunch lady.)
8. Science-Inspired Art. Head outside with paper and art supplies such as watercolors, colored pencils and chalk. Ask your students to create a wall-worthy piece of art that reflects something they learned in science. Did you study plants? Maybe a watercolor of flowers. Or if you studied space? A cosmic-inspired number. Dirt? Well, at least they'll have to take their artwork home before too long.
Question for you: How do you commemorate the school year?