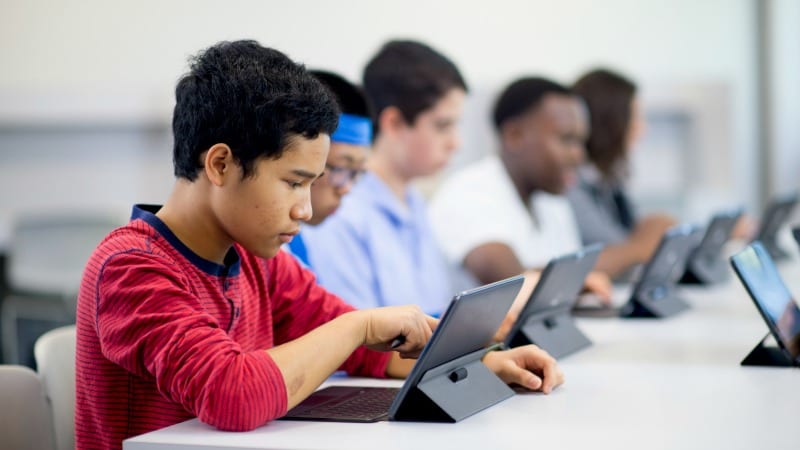 The search for classroom technology can be overwhelming. Whether you're looking for hardware or software, there are often hundreds of options on the market, all loaded with their own bells and whistles. Not to mention, your budget may be tight, and you want technology that integrates seamlessly into your lessons rather than taking them over. Here are five smart steps to follow when you're choosing technology.
1. Ask your colleagues for recommendations.
Your best sources for technology picks are your teaching friends down the hall or at a school similar to your own. These colleagues know the students and subject matter that you teach and may have conducted their own detailed searches for your desired tools. IT coordinators are another great resource. You might suggest an occasional addendum to your faculty meetings during which teachers can share apps, software and tools that are working for them.
2. Look for teacher reviews online.
The next best thing to a personal recommendation is the opinion of a real teacher who has used the product in a classroom setting. Look for pros and cons and be cautious of reviews that do nothing but rave about a product—they may be paid or placed.
3. Take it for a test drive.
Many technology companies offer free trials of their products so you can get a snapshot of how they work before you commit to purchase. Take advantage of these trials and of anyone you know who owns your desired tools and may be willing to let you borrow them temporarily. Don't limit your crowdsourcing to fellow teachers—even your great-aunt Edna might lend you her iPod Touch for a few days.
4. Brainstorm potential lessons.
Before you make your big purchase, try planning five lessons that incorporate your desired piece of technology. Does the tool add to each lesson in a meaningful way? Is it the most effective tool in each case or do pen and paper work better in some instances? If you can't think of at least a handful of ideas that you know will work well in your classroom, it may not be the right tool for you.
5. Explore available support.
No one wants to read an inch-thick instruction manual, so it's important to think about how usable the technology will be from the beginning, and where you will go for ideas and help. Many vendors offer online communities where users can share ideas. And of course, your colleagues offer another source of potential inspiration and support.
Question for you: What steps do you take when choosing technology for your classroom? Why?