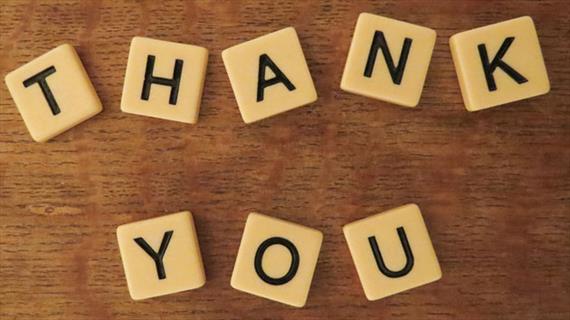 Jacqueline writes:
"Hi! I'm a student teacher in a 3/4 combo class. I've been here since August and will be done in June. I want to get my master teacher and our two classroom aides something to commemorate the year and thank them for helping me so much. But I'm a broke grad student, and I feel like anything I could get would pale in comparison to what they've done for me anyway. Any suggestions? I have a solo week next week and could try to squeeze in some time to make something with the kids, but I'm not counting on it. Thanks!"
How thoughtful of you to want to recognize your mentor teachers and colleagues from this year, Jacqueline. While a simple thank you note is always appreciated, our helpliners had some other creative suggestions:
Bake something wonderful like some yummy cookies or brownies……then write thank you notes! It doesn't take much to show appreciation! —Christina O.
I wrote a poem that included each of the students' names and was very personalized about something I enjoyed about each child. On my last day there I read it to my students. I barely made it through without crying. My CT loved it because she saw how much I really loved and cherished those children. —Meredith C.
A donation of books to the classroom library is always appreciated. —Dorothy D.
Give them each a young potted plant or flower and write on the pot "Thank you for helping me grow as a teacher." —Jodi H.
I made my student teacher a thumbprint tree. It was really beautiful. We painted a tree on a canvas using acrylic paint, and then the kids used different shades of green (ink pads) to make the leaves. I teach seniors, and I have 200 students, so the tree was full of their thumbprints. It was lovely. —Darian C.
How about something for the summer? I'd like a bottle of sunscreen and a pair of sunglasses. A note would be nice, but really, all they want right now is to be outside, enjoying the beautiful weather and not couped up in a school! —Stacey F.
I always have my classes write their own version of "The Important Book," by Margaret Wise Brown. It has an easy format for kids to emulate, and they always write the most beautiful things. If you can put a copy of the book with your class copy, it makes a treasure your coworkers will love. —Lisa L.
Take pictures of you and the kidsdoing thing this week and make them a calendar for NEXT school year. Get it printed via Shutterfly, Kodak, Wal-Mart or K-Mart.—Meg O.
Do you have any more suggestions for Jacqueline? Please share it in the comments.
Need advice from the helpline? Post your question to our Facebook wall and we'll share it with our community of 55,000 educators.