It's Teacher Appreciation time and this year educators need the kudos more than ever. That's why, together with many of our partners, we're hosting over 10 amazing teacher appreciation giveaways. Below, find over $30,000 in total prizes, just for teachers. Win everything from books for you classroom to $500 gift certificates to buy whatever your heart desires.
Be sure to visit our  teacher giveaway page, where we're hosting these amazing giveaways with thousands of dollars in prizing!
The grand prize winner will receive a collection of 50 physical books plus a Rosen LevelUp license with access to 2,400 eBooks for up to 200 students. (value $3,899.50) This means you can share all the eBooks with teachers at your school!
Sponsored by: Rosen Publishing
Ten (10) winners will each receive a $500 Amazon gift card.
Sponsored by: Terminix
Ten (10) winners will receive a tote bag, plus five favorite children's books, including: THE HILL WE CLIMB, BEFORE THE EVER AFTER, LOVE, STARFISH, and I AM EVERY GOOD THING.
Sponsored by: Penguin Young Readers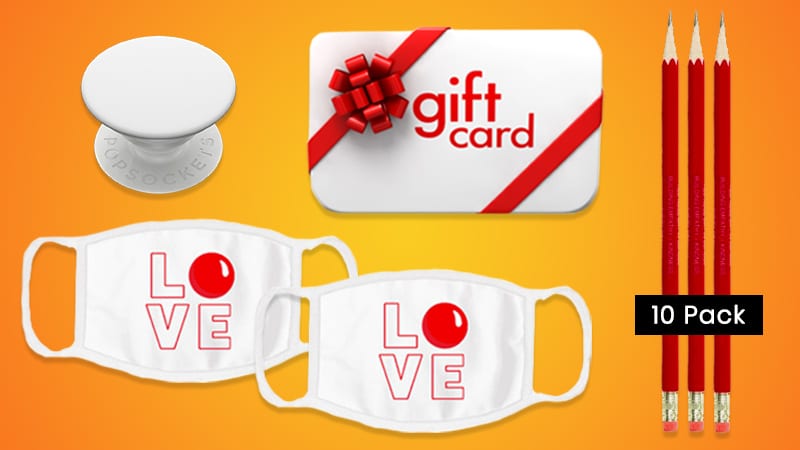 One lucky grand-prize winner will receive a $1,000 gift card, two Red Nose Day face masks, a Red Nose Day PopSocket PopGrip, and ten Red Nose Day pencils.
Sponsored by: Red Nose Day
One winner will receive a Periodic Table Mug, a $50 Starbucks Gift card; a Galileo Thermometer, a desktop Newton's and a $250 Ward's Science Gift Certificate. Total prize value is $400.
Sponsored by: Ward's Science
Two grand prize winners each receive their choice of one online workshop, Seeing Stars or Visualizing &Verbalizing ($750);  Full program kit ($495) Level 2 ILC membership ($99 value) plus an Amazon gift card $100!
Sponsored by: Lindamood-Bell
One (1) winner will receive a one-year (52 week) subscription to Reading Plus for up to 25 students. Prize package valued at $1500.
Sponsored by: Reading Plus
Forty (40) winners will each receive a prize package ($125 value) that includes engaging lessons designed to make learning memorable, meaningful, and fun. You'll also get PBL supports, curated online resources, a kit of supplies, and access to a project coach.
Sponsored by: Blue Apple
The package includes the NCI™ certification course for you, and a blended learning package for thirty (30) additional staff members, which includes the online course and a printed Participant Workbook (CPI Blue Card® included). The NCI™ certification is valid for two years, at which time you will have the opportunity to renew. Valued at $4,899.00.
Sponsored by: Crisis Prevention Institute
One grand prize winner will get a CS-700 Video Sound Bar, EDU Wireless Mic Kit, YVC-200 Personal Speakerphone (valued at $1,387)
Sponsored by: Yamaha United Communications
Four (4) winners will each receive a $250 Amazon Gift Card.
Sponsored by: WeAreTeachers