Google Classroom is a handy and free way to keep your students on track and organize learning and lessons plans. Even better, there are lots of programs and apps designed to work with Google Classroom, making it easier to assign work, track progress, and communicate with students and parents online. Check out our favorite Google Classroom apps and programs. A few offer paid options too, but their free versions have plenty of fantastic included features worth exploring!
1. ASSISTments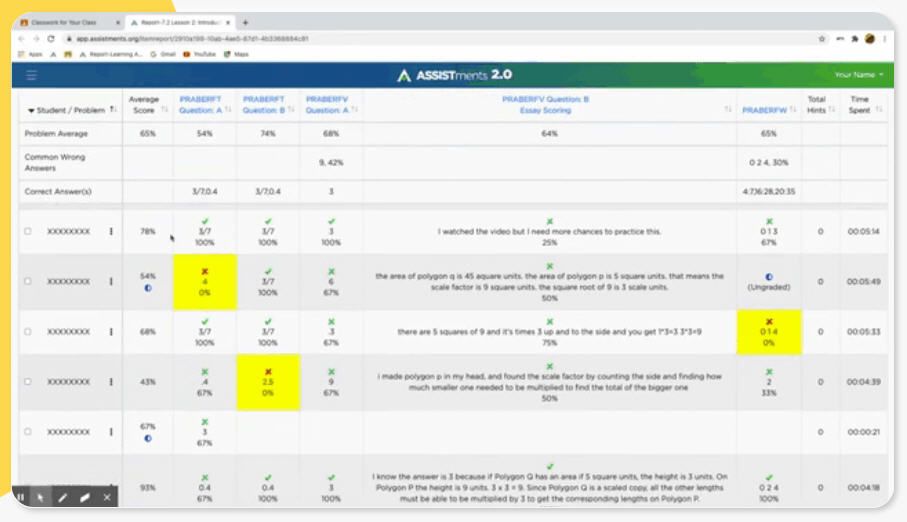 ASSISTments is a free site that works with many existing math curriculum programs. Assign practice problems using Google Classroom apps, and students receive on-the-spot feedback. Plus, teachers get analytic reports to help them identify those students who are struggling and which problems are causing the most trouble. It makes homework more meaningful for students and teachers alike.
Try it: ASSISTments
2. BookWidgets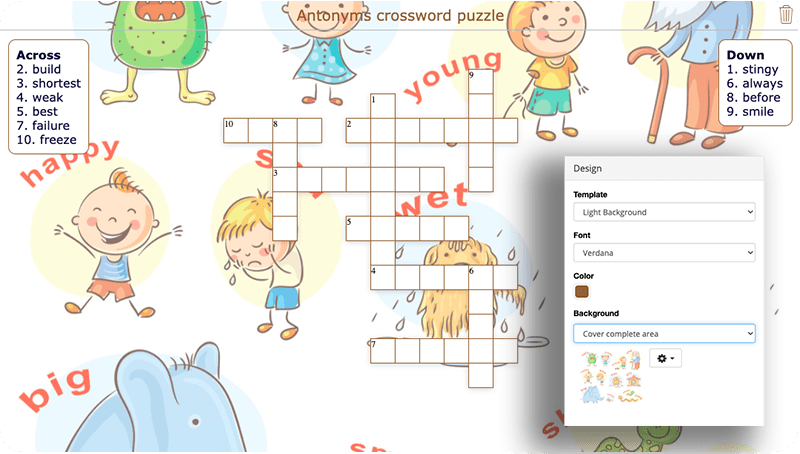 BookWidgets is a content creation tool. It allows teachers to create 40 different types of interactive activities and assessments and assign them to their Google Classes. What sets BookWidgets apart is that you can do all of that without ever having to visit another site. BookWidgets is a Google Chrome Extension that works right in your Google Classroom. Every feature (including an extensive image library) is already included. Plus check out these four ways to use BookWidgets in the classroom.
Try it: BookWidgets
3. Adobe Express for Google Classroom
Adobe Express is now available in Google Classroom, which makes it easier than ever to incorporate more opportunities for creative thinking and communication into your assignments. It's an easy-to-use tool that allows students of all ages to create posters, infographics, slideshows, webpages, and videos. We love it because it saves teachers prep time with its library of thousands of templates organized by grade level and subject area.
IT admins from schools or districts that have the Teaching and Learning Upgrade and/or Education Plus editions of Google Workspace for Education can now install Adobe Express directly into Google Classroom from the Google Workspace Marketplace. This new feature allows teachers to create, customize, assign, view, and grade Adobe Express projects from their existing Google Classroom workflow.
Try it: Adobe Express for Google Classroom
4. CK-12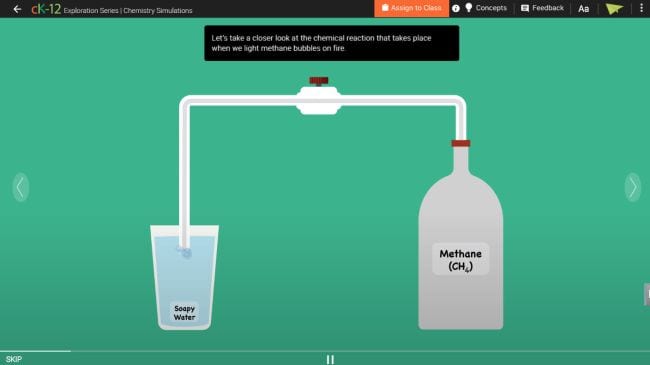 You won't believe the incredible amount of free resources available on CK-12. Every subject, every grade—it's all covered in videos, exercises, lessons, and even complete textbooks. It's a cinch to assign any of these items in Google Classroom using this app, and completion and grades are recorded in your online Gradebook.
Try it: CK-12
5. Classcraft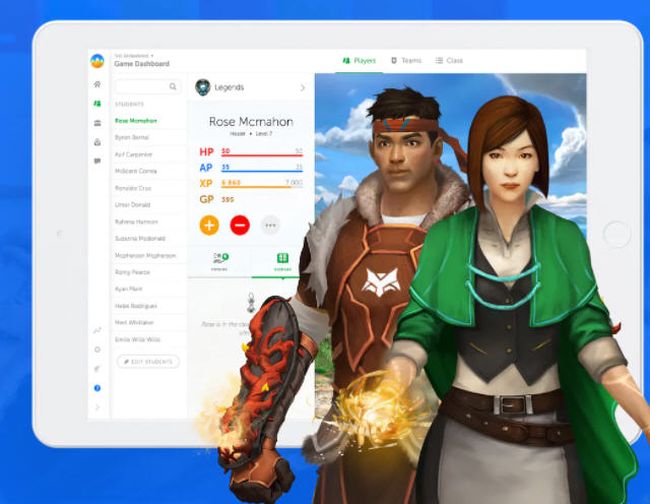 Motivate even the most reluctant learners when you gamify your lessons with Classcraft. Turn your Google Classroom assignments into learning quests, and provide rewards for academic and behavioral achievements. The free basic program gives you lots of fun options; upgrade for even more features.
Try it: Classcraft
6. ClassTag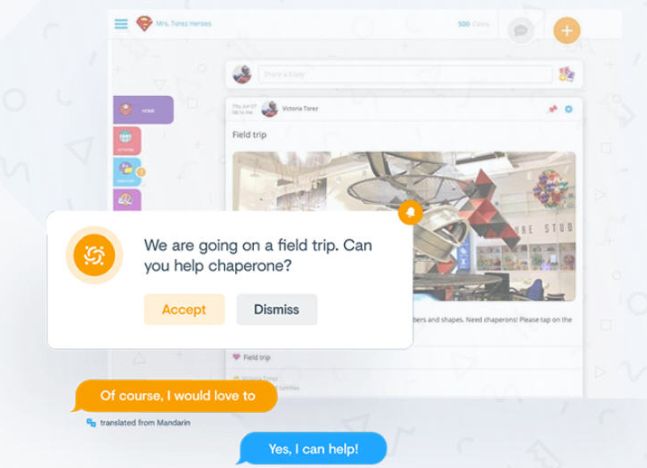 Google Classroom apps make it incredibly easy for students and teachers to collaborate. They don't really have any built-in tools to make parent communication easier, though. That's where ClassTag comes in. This completely free app lets you send notes to one parent or a whole class. You can send home documents, schedule meetings, and more, all without giving parents your personal contact info. Oh, and did we mention you can earn real-life rewards like classroom supplies just for doing what you need to do anyway?
Try it: ClassTag
7. DOGOnews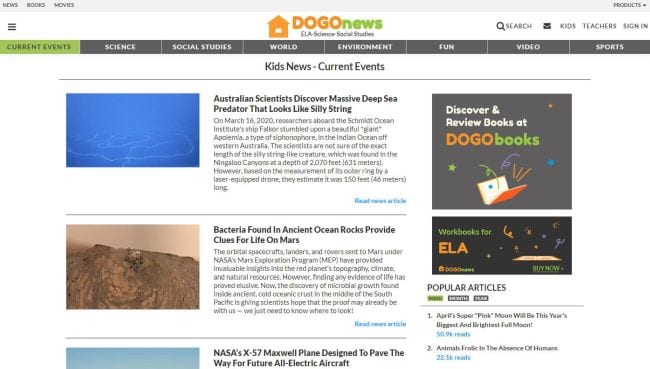 The kid-friendly news articles on DOGOnews make it easy to assign reading for current events discussions. Each article is marked with reading/interest-level guidelines and offers lesson plan ideas for use with Common Core and National Curriculum Standards. It's free to assign articles for reading; paid plans provide discussion questions and quizzes too.
Try it: DOGOnews
8. Dreamscape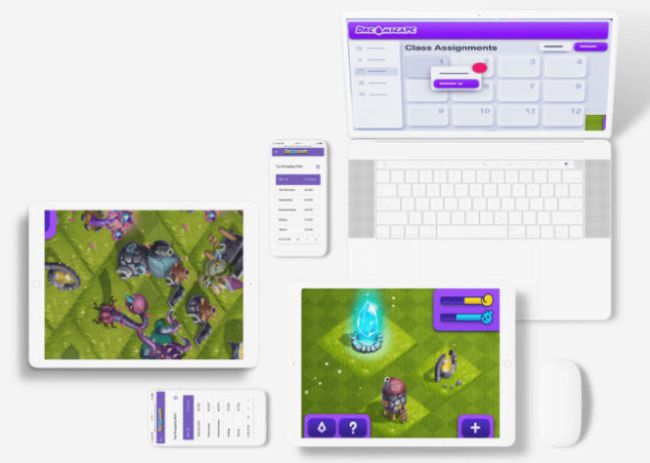 Here's another fun (and free!) learning game, focused specifically on reading skills for grades 2-8. Assign learning quests through Google Classroom, and kids will clamor to do their homework! In addition to all the learning, students get cool rewards that build their digital profile and world.
Try it: Dreamscape
9. Edpuzzle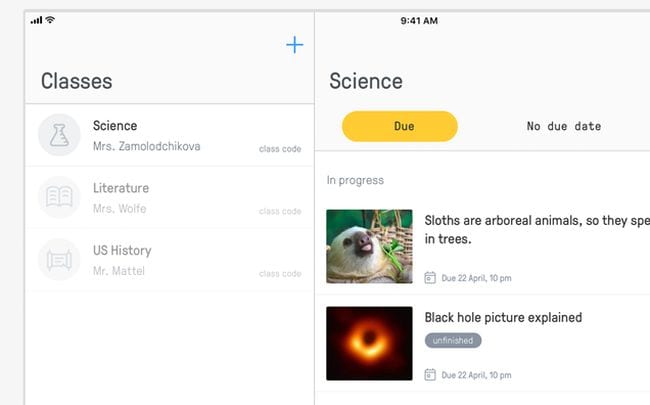 Turn any video anywhere into an interactive lesson, or even upload your own. Add questions, audio, or notes, so students can watch and learn at their own pace. The tracking features allow you to monitor their progress and comprehension and integrate easily with Google Classroom. The robust free plan includes storage for up to 20 videos at a time.
Try it: Edpuzzle
10. Explain Everything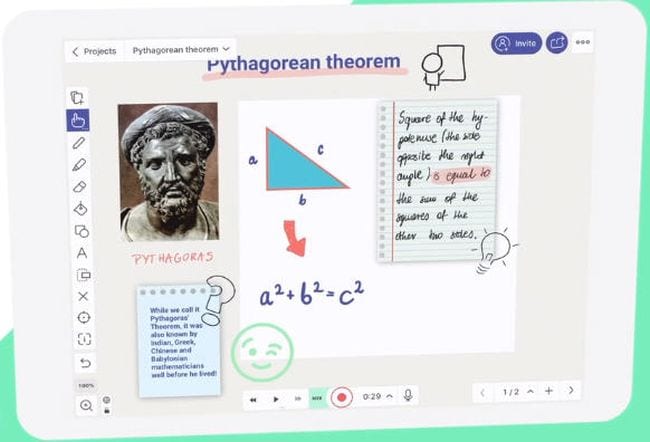 Explain Everything is a whiteboard app, and you can use it just as you would an interactive whiteboard in the classroom. Even better, it allows you to record your interactions and share them via Google Classroom for students to view later. The free version has some limitations but provides plenty of cool features. Premium education plans are available.
Try it: Explain Everything
11. Flip (formerly Flipgrid)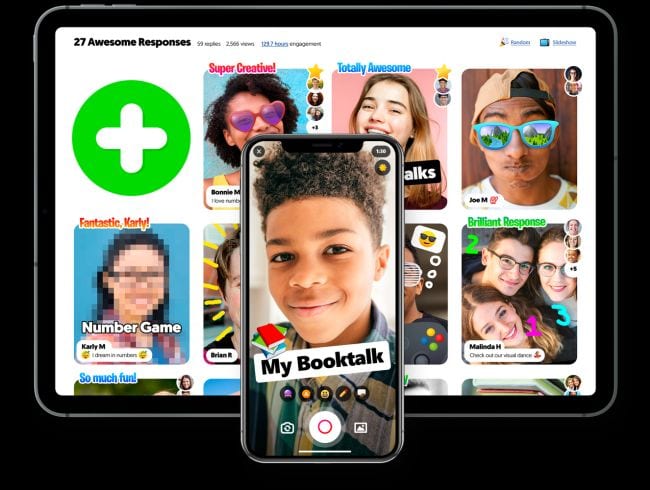 With Flip, students record short videos to respond to topics you assign. This is an especially cool app for students who are hesitant to speak up in front of a group—it gives everyone a chance to be heard. It's easy to share your grids and assignments with Google Classroom.
Try it: Flip
12. GeoGebra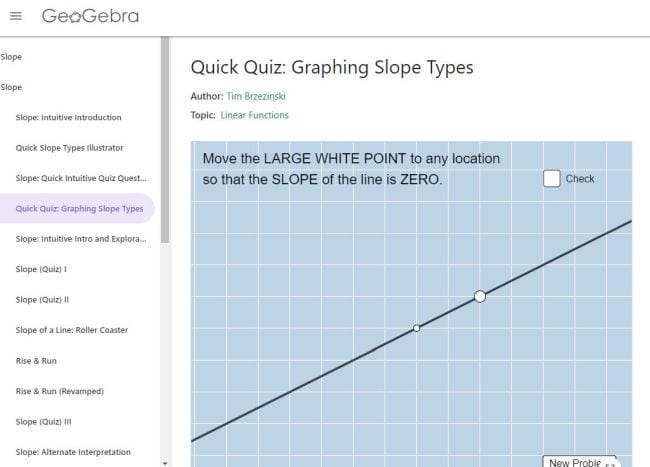 The tools on GeoGebra may not look fancy, but they provide the functionality to bring math concepts alive for students. From basic arithmetic to high-level calculus, this site has hundreds of resources math teachers will love, including an online graphing calculator. It's a snap to share lessons, exercises, quizzes, and more with students.
Try it: GeoGebra
13. Kahoot!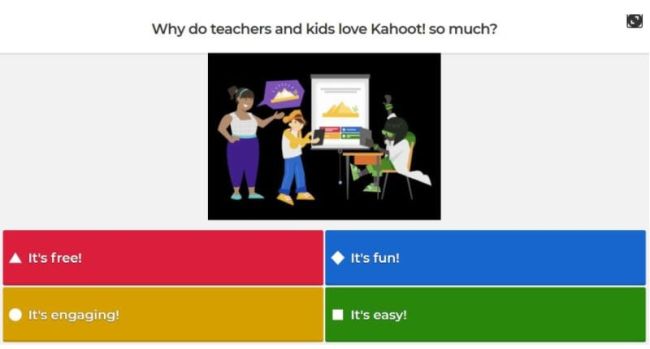 We're willing to bet you're already using Kahoot! Students and teachers everywhere love it, and it's easy to use alongside Google Classroom. Learn how to get the most from Kahoot! here.
Try it: Kahoot!
14. Khan Academy
Many teachers are already familiar with Khan Academy's incredibly wide range of free online learning resources. They cover every subject and grade level and give students the extra practice they need to master important concepts. Create and integrate classes using your rosters from Google Classroom, and you're all set to assign content.
Try it: Khan Academy
15. Listenwise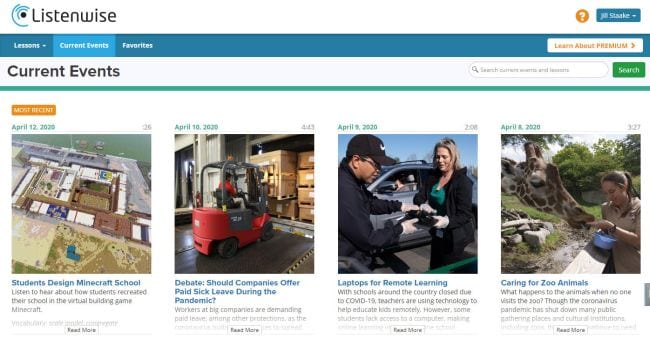 Listenwise regularly posts new free current events podcasts you can share with your students. These short audio lessons are great for morning meetings or starting general current events discussions. Listenwise Premium offers a large podcast library with lessons, quizzes, and interactive transcripts, currently free to try for 90 days.
Try it: Listenwise
16. MathGames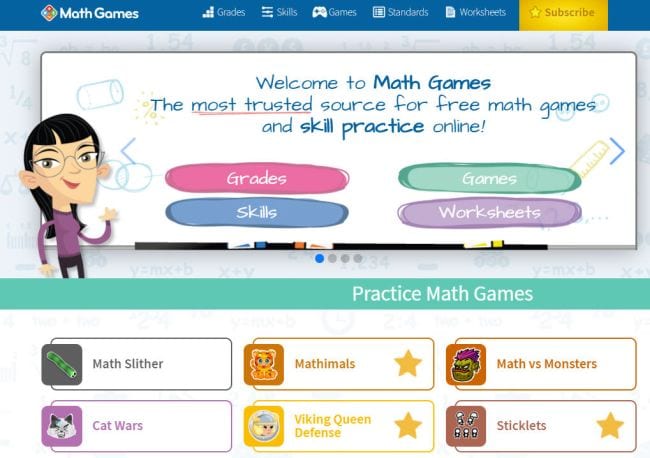 Elementary math teachers, this one is for you! Follow up your math lessons with these fun and free practice games. Assign them as an alternative to boring old homework worksheets or for kids who need extra practice.
Try it: MathGames
17. Nearpod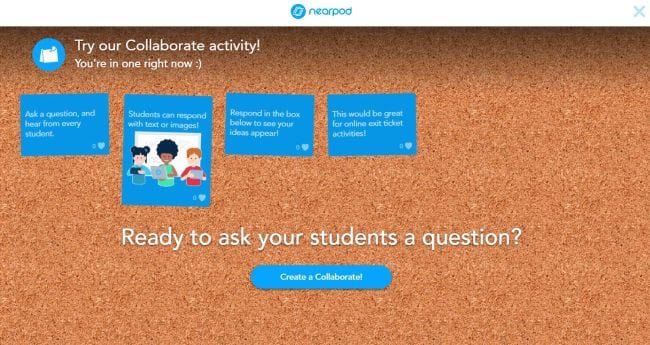 Nearpod is an easy-to-use collaboration tool that has so many applications for education. Teachers start a board and post a question or comment, then students add their own answers or thoughts. You can share pictures too. Nearpod is a cool way to introduce writing prompts, review for a test, collect virtual exit tickets, and a lot more, and it works seamlessly with Google Classroom. The free version has all the basic features and a decent amount of storage. Upgrades are available.
Try it: Nearpod
18. PBS Learning Resources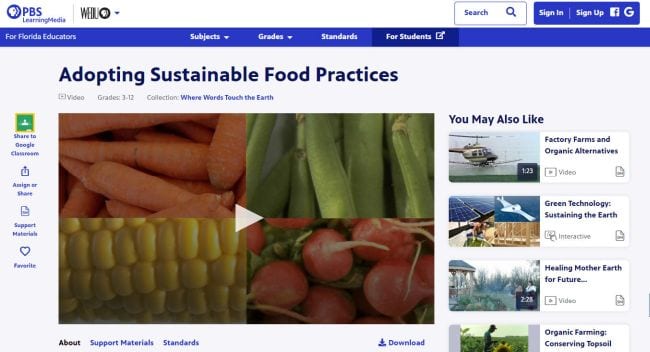 PBS has a huge variety of video resources on every imaginable subject, all of which are easy to share in your virtual classroom. Each standards-aligned video includes suggested grade levels and support materials to help you make the most of it with your students.
Try it: PBS Learning Resources
19. Quizizz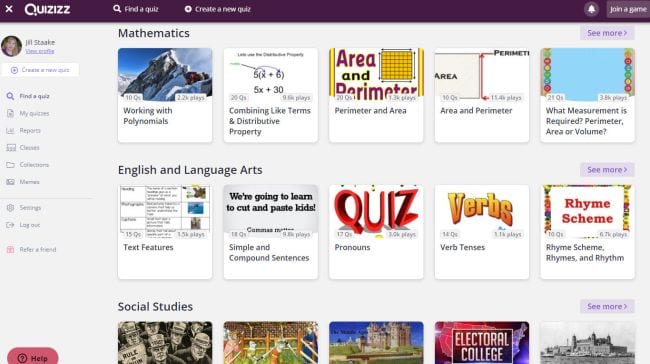 Quizizz is a nifty tool for helping students review what they're learning in class. Use one of the thousands of quizzes already available, or create your own. Host live online quiz games in class or assign them as homework using Google Classroom. Customize each assignment to indicate how many times a student may attempt each question and whether they see the correct answers when they're done—instant feedback that makes learning more meaningful.
Try it: Quizizz
20. Quizlet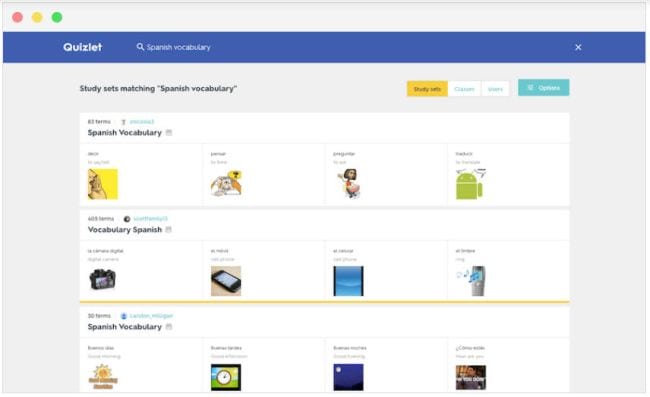 This is one of the most popular online flash-card apps for use with Google Classroom, and it's entirely free. Find the flash cards you need in their extensive library, or create your own to support any kind of lesson. Share the flash cards to Google Classroom to give students instant access to these practice tools in school or at home.
Try it: Quizlet
21. Science Buddies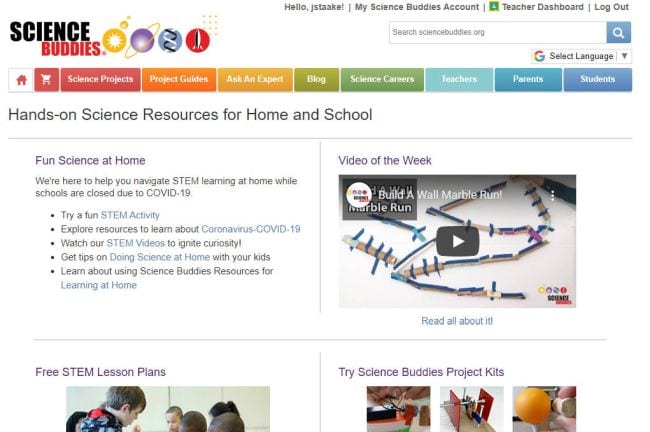 This site is every science teacher's best friend. It's packed with free videos, lesson plans, and experiments, all searchable by grade level and subject. This is also a terrific go-to during science fair season, with scientific method resources galore, science fair planning tools, and an enormous repository of project ideas. When you use Science Buddies with Google Classroom, you get access to extra quizzes and assessments too.
Try it: Science Buddies
22. Wakelet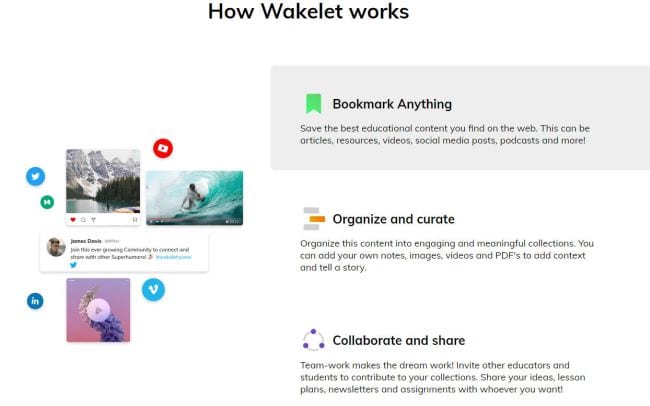 Think of Wakelet as a collaborative tool for organizing and sharing information. Use it to create and share lessons with your students by collecting media all in one place, with your own notes and explanations. Even better, have students use it to create presentations, book reports, newsletters, and more right in Google Classroom.
Try it: Wakelet
23. Boddle Learning
Boddle is a super-engaging math platform for K-6 (they recently launched ELA content!) that allows students to customize their learning through fun game play that's fully aligned to state standards. Teachers can create customized assignments and assign them right into their Google Classrooms. Boddle's resources are free, though a Premium version is also available.
Try it: Boddle
24. Flocabulary
With Flocabulary, your students (and probably your teacher neighbors) will think they're attending a concert rather than engaging with high-quality educational content. With resources for a plethora of subjects and suited for grades K-12, you can try a free 30-day trial now. Teachers can create and assign whole-group or individual assignments using Google Classroom integration.
Try it: Flocabulary
25. Legends of Learning
K-8 teachers, you'll feel like superheroes when you assign math and science content through Legends of Learning. Students can practice the skills they're learning in class through interactive and fun games and simulations. Looking for more engaging ways for your students to master their math facts? Legends of Learning recently launched a fact-mastery practice game called Math Basecamp.
Try it: Legends of Learning
26. BrainPOP
Who doesn't love Tim and Moby? BrainPOP has video lessons on all sorts of topics for grades K-8, including accompanying vocabulary, quizzes, and games. BrainPOP is a great resource to use to launch a new unit of study or to prepare for an upcoming assessment. Teachers can sign up for a 30-day trial and then explore a paid version from there. Seamless integration into Google Classroom? Check!
Try it: BrainPOP
27. WeVideo
WeVideo is a creative and unique way for your students to demonstrate their understanding of a unit of study. Plus, it introduces them to the multimedia world of video creation and editing. WeVideo is currently available as a Google Classroom add-on, and students can record a video and submit it alongside any assignment. Check out these WeVideo project ideas your students will love.
Try it: WeVideo
28. Desmos
Calling all middle school math teachers! Desmos has free and completely customizable question sets that align with your standards and integrate seamlessly into your Google Classroom stream. Your students will be thinking deeply and practicing rigorous math concepts with interactive tools and virtual manipulatives.
Try it: Desmos
29. Duolingo
This 100% free app that helps students learn a new language is ACTFL- and CEFR-aligned and comes with fun and personalized assignments that can be pushed right to your Google Classroom. Students forget that they are actually learning because the gamification aspect is just so fun!
Try it: Duolingo
30. Newsela
With Newsela, teachers can choose from hundreds of thousands of articles to accompany their lessons. Teachers can assign a single text or a text set to their students through Google Classroom. With content ranging from SEL and science to current events and social studies, Newsela is a great classroom accompaniment. Here are some tips for using Newsela in any classroom.
Try it: Newsela
31. Pear Deck
Pear Deck uses proven formative assessment strategies to adapt instruction to meet student needs. Through its expansive catalog of interactive lessons, teachers can instruct whole classes or allow students to move at their own pace, which is perfect for virtual learning. Pear Deck Premium users can seamlessly integrate their Pear Deck lessons through the Google Classroom add-on.
Try it: Pear Deck
32. Tynker
Tynker is an interactive coding program that teaches students the basic building blocks of coding and even transitions them to learning about JavaScript and Python. The program offers over 70 courses and thousands of lessons and is fully integrated with Google Classroom.
Try it: Tynker