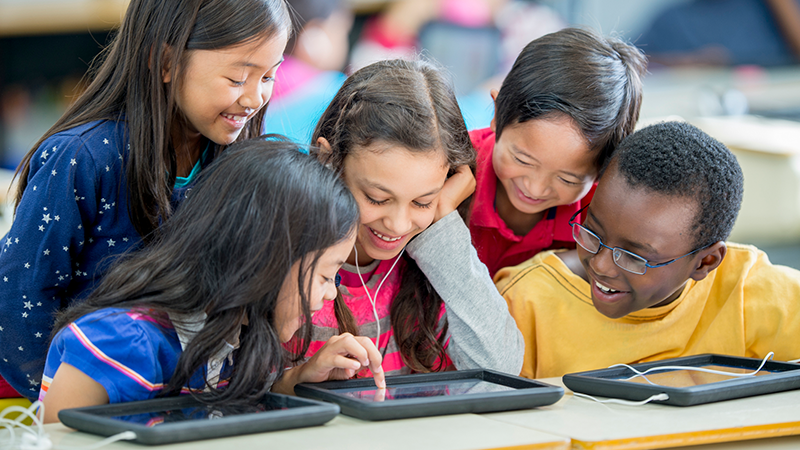 Reading proficiency is an absolute must for academic success all the way from third grade through college. Third grade reading achievement is the single-most important predictor of high school graduation. Students who do not read proficiently by the end of third grade are four times more likely than proficient readers to drop out of school.
That's why Ohio instituted the Third Grade Reading Guarantee, a program that identifies and provides extra support to struggling students in kindergarten through third grade to help get them on track by the end of their third grade year. It's also why educators in the Cleveland Metro School District are expending extraordinary efforts to help their students achieve reading proficiency. One tool they've found invaluable is blended learning.
Blended learning, which combines teacher-led face-to-face instruction with responsive, online lessons, has been used successfully in a number of schools to help increase the number of students reading proficiently by the end of third grade. In fact, a 2015 study found that students who received blended-learning reading instruction in addition to traditional teacher-led instruction "showed significantly greater pretest/posttest gains on a standardized reading assessment" than students who received only teacher-led instruction.1
That's one reason why the Cleveland Metro School District incorporates, in addition to blended learning in regular classroom instruction throughout the school year, blended learning into their summer program for struggling readers. All students who are identified as "off-track" in reading proficiency are automatically enrolled in the intensive 26-day summer program.
"Our kids go through rotations where we identify and target the skills they need," says Michelle Pierre-Farid, the district's chief academic officer. "They go from guided-reading instruction to independent-learning centers to blended-learning centers, where they use programs to increase their fluency and decoding skills."
How Blended Learning Helps Develop Reading Proficiency
Blended learning assists in the development of reading proficiency in four ways:
1. Instruction can be personalized, so all students are appropriately challenged.
If students are constantly presented with reading texts that are too difficult, they become frustrated, tune out, and eventually stop trying. Likewise, highly capable students who are not challenged may become complacent and never reach their full potential.
A major advantage of blended learning is that it is "adaptive and prescriptive," says Valerie Davis, virtual-learning specialist with the Charlotte-Mecklenburg School District in North Carolina. "It can adjust to where achievement gaps and skills deficits are and have the student work in that frame until they're ready to move on. On the flip side, if you have a third grade student who's reading at a sixth grade level, there are materials to help push that student as well."
A blended-reading program can, for instance, deliver the same text at various reading levels, so an entire class or group of children can study and discuss the same material. "Students won't even notice a difference unless they sit side-by-side and compare, page-to-page," Davis says. Such an approach allows students to save face while learning at their own pace.
2. Gaps can be easily identified, allowing for targeted intervention.
The best blended-learning programs can "take some of the guesswork" out of teaching because programs can quickly and easily identify students' strengths and weaknesses. The programs allow teachers to review student progress, both individually and collectively, so teachers can see who is struggling with which skills and plan interventions accordingly. In many cases, the blended-learning program will even suggest specific interventions.
A teacher who sees that 70 percent of her class is struggling with main idea and detail, for instance, may be directed to some guided-reading texts within the program that are designed to build that skill. The teacher can also plan additional face-to-face instruction to bolster student skills in main idea/detail by using printed or projected resources that model and provide targeted practice with main idea/detail.
3. Extra practice time increases competency and confidence.
Blended-reading programs emphasize the value of independent student practice and get students in the habit of working on their reading skills. "One of the things our teachers say about blended learning is that it's great to have some extra practice for the children," Pierre-Farid says. "The teacher can lead a guided-reading session and then ask students to read independently to practice what the teacher modeled."
Further, the fact that blended learning can be delivered on any digital device—computer, tablet, mobile phone—is an attraction for many students, including some who shy away from printed books. "Kids like to get on computers," Pierre-Farid says. "They're used to being online, and they get excited about going to the computer center and going on a program." That excitement equals more time reading, which inevitably builds reading skill.
4. Anytime, anywhere access supports continued skill development.
Research has consistently shown a relationship between the number of books in a child's home and his academic achievement. There's something about being surrounded by words and text that leads to eventual reading proficiency and school success.
Blended-learning programs can quite literally put an entire library full of books at your students' fingertips, no matter where they are. "These tools can be available to students 24 hours a day, 365 days a year," Davis says. Her district introduces parents to blended-learning programs during Parents Nights. "We actually go into the program with them and show them how students work within the platform. We provide parent guides too."
Many schools partner with their local libraries as well to guarantee that students who do not have internet access at home can still access blended-learning programs.
In the Cleveland Metro School District, blended learning has helped the district increase the number of third graders reading at the proficient level, even as the state has gradually raised the bar for "proficient." Of course, blended learning is but one part of their reading program. "You can put a kid on a computer all day, but that's not going to change the fact that the child needs great instruction from a teacher," Pierre-Farid says. However, blended learning helps teachers personalize reading instruction, address gaps, encourage student practice and boost reading proficiency.