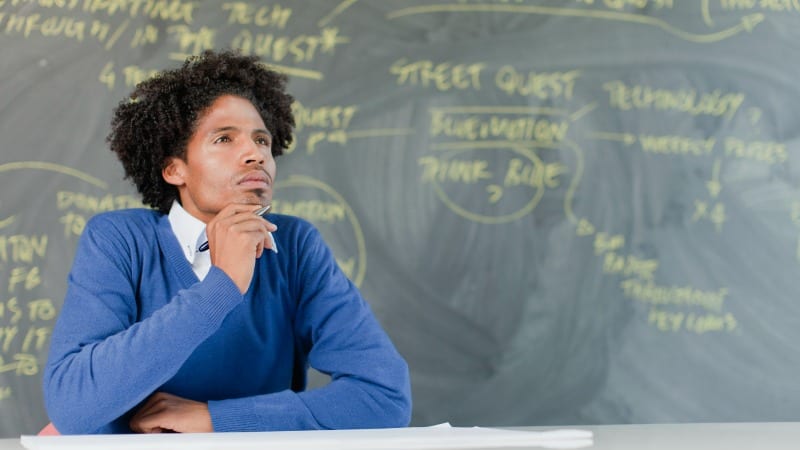 Congratulations! You made it to the end of the school year! Whether you sailed effortlessly across the finish line or limped slowly over it, you should be proud of the work you accomplished with your students.
Before you grab your beach bag though, stop and take a moment to slow down. The following six action items will help you reflect, unwind, and even get a little bit of prep done before (I'm going to say it) back-to-school. Then when August does roll around, your gigantic to-do list will already have a few items crossed off. 
1. Grab a notebook and reflect on what went really well this year.
I recommend having an entire notebook dedicated to reflection and teaching ideas. I personally use the note pages in my teacher planner to keep track of things that worked and didn't work each month.
Try to list at least 5-10 things that were amazing this school year. A specific lesson? A book you read? A professional development you attended? A student breakthrough? Or maybe you accomplished a personal/professional goal like packing lunch every day or setting your clothes out at night. Big or small, your successes should go on the list. 
2. Ask yourself what you want to focus on improving next year.
Was there a lesson or story you really wanted to teach but didn't get a chance to? A specific strategy you wanted to try out with your students? A skill or content you want to learn more about? Maybe it's about gaining more work/life balance or more sleep. Or soft skills like communicating better with parents or keeping a cool head in a student power struggle. Add it to the list, and set some short and long term smart goals.
3. Make a summer reading list.
Include professional books, books your students might read, and some books just for you. You can also include social media accounts and blogs you want to read. If you haven't checked out Twitter, do so! Many of your favorite education experts are on Twitter, as well as young adult and children's book authors.
4. Look through your notes from meetings or PD materials you kept this year.
The end of the school year is a perfect time to think about implementing new strategies. If you're anything like me, chances are you learned something awesome and thought, "I have to try this!"  But then the packet from the conference ended up filed in a drawer somewhere (or in your backseat) and you forgot about it amidst state testing, data collection, and grading.
Take a peek back through your notes and see if you can find a few gems to try out next year. Remember the notebook I suggested? Get one with a pocket and keep these materials in there so they are easier to find.
5. Take inventory of your classroom: what supplies do you need to acquire before next school year?
This is a must. When I pack up my room, I take pictures of the materials I have so that when I start shopping for the upcoming school year I'm not left wondering how many bottles of glue I may have left (chances are, it's none).
Make a spreadsheet on the computer or paper detailing each supply, how many you have left, and how many you think you need. If you do this and revisit it at the end of the next school year, you can also see how much of each type of supply you actually use during the school year.
Doing a supply inventory will not only save you time come August but money too! You can prepare and shop deals early to get supplies at the best price when you already know what you need. Having pictures of your supplies will also prevent you from overspending and taking an unnecessary trip to school over the summer to check on your crayon stash.
6. Dream up new projects: what do you want to change about your learning space for next year?
Think about the functionality of your space, and if your classroom decor is beneficial for your students. While it might be nice to have a cozy Pinterest-inspired cafe theme in your classroom, think through how it will function, if it's maintainable, and whether or not it's worth the cost? If you can say yes to those, go for it and enjoy creating a fun and functional space for your students to use!
Now go grab your sun hat and SPF, and enjoy your break. You deserve it!