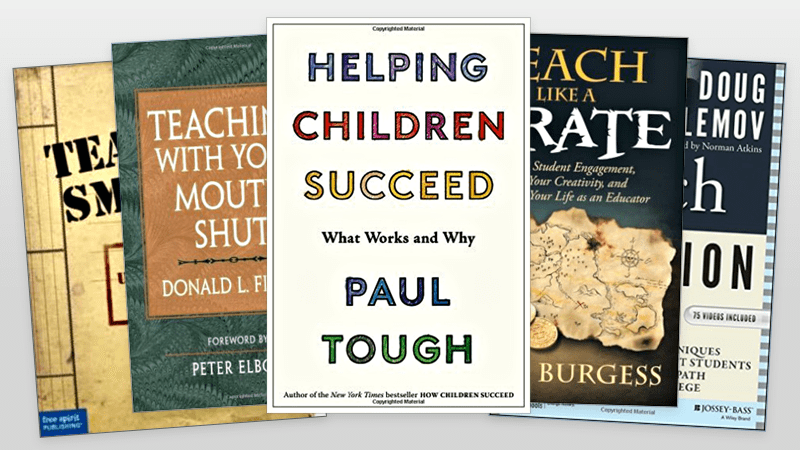 "This year I'm really going to make time for more professional reading." Sound familiar? It's easier said than done. But these must-read books for teachers, recommended by our friends on the WeAreTeachers HELPLINE, are worth staying up a little past bedtime for. These are the professional development reads teachers are raving about. Check them out!
In an era of mandated testing and ready-made curriculum, it's important to take time to reflect, refresh, and renew our teaching practice in order to make it our own. This easy-to-read book encourages us to remember the reasons why we teach the way we do.
An inspiring must-read book for teachers who are looking for ways to get out from behind the lectern in order to give students the opportunity to facilitate their own learning and become their own best teachers. Particularly thought-provoking for middle and high school teachers.
This book encourages teachers to tap into their passion for teaching and engage their creativity and energy in order to make their classrooms brilliant, dynamic places of learning. Includes practical techniques and innovative ideas to use in the classroom, including over 30 hooks and 170 brainstorming questions.
Another great book that offers practical tips and techniques for increasing rigor and engagement, thus getting the most out of your student community. You can even opt for the version that includes sample lesson plans, videos, and the teachlikeachampion.com online community.
Streamlining your work to yield maximum efficiency is an effective way to not only avoid becoming overwhelmed and burned out but boost your students' academic performance. This must-read book for teachers offers management suggestions and tips for increasing student responsibility and includes one section for teachers and another for students.
This book argues that creating a culture of thinking in schools is more important to learning than any particular curriculum. The author spells out the eight cultural forces (expectations, language, time, modeling, opportunities, routines, interactions, and environment) that are critical for creating this shift.
Research shows that personal qualities like grit and self-control play a critical role in children's success. This book argues that rather than trying to teach these skills directly, we should focus on creating the kind of environment in which those qualities are most likely to flourish.
This must-read book for teachers is "an urgent call for the radical reimagining of American education in order to equip students for the realities of the twenty-first-century economy." It presents a new vision of American education, one that focuses on wonder, creativity, and initiative.
The basic message of this book is that we have much more potential to affect the learning of students than we realize. Translating neuroscience into practical classroom applications, topics include include how to prepare children for school, how to motivate students to participate, how to influence emotional states, how to design smarter schools, and how to enhance memory and critical-thinking skills.
Many intelligent children are struggling in schools—not because they don't understand, but because they need support with their executive function skills (the fundamental habits of mind required for getting organized, staying focused, and controlling impulses and emotions). This must-read book for teachers offers practical, realistic advice in a respectful, hopeful tone.
Based on compelling scientific research, this must-read teacher book emphasizes that students learn best when they are engaged in lessons that involve seeing, hearing, doing, speaking, and feeling. And when kids are engaged, behavior issues subside.
What do you do when traditional methods of rewards and consequences are not effective with students with behavioral problems? This book provides a different framework for understanding challenging behavior and introduces methods for solving problems collaboratively, improving communication, and building relationships.