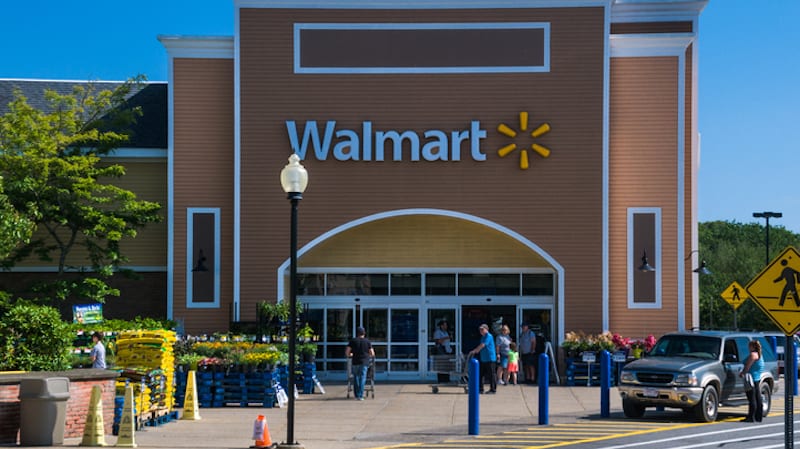 Walmart seems to price their items with teachers in mind. They know we are looking for a bargain, and with most of our hours spent in the classroom, they know we need to find those bargains all in one place. Whether you are a Walmart devotee or a reluctant Rollback spotter, it is no secret that Walmart boasts some of the lowest published prices on all sorts of items, from student supplies to classroom cleaning products to the groceries we need to keep our families fed. But it's not enough just to go to the store—the biggest Walmart teacher discounts are obtained by those who use these 11 in-the-know tactics.
1. Apply for a Walmart Community Grant.
Walmart awards Community Grants to K–12 public, private, and charter schools for projects and needs outside of tuition scholarships. Grants start at $250 and go all the way up to $5,000, and these funds can support efforts such as field trips, after school programs, supply needs, and more. Check out the Walmart Community Grant guidelines to learn more!
2. Find Walmart's lowest prices online.
Not only are Walmart prices often cheaper than other retailers, sometimes Walmart Online's prices are lower than their own in-store prices! This is especially true for classroom supplies, such as glue sticks and bulletin board materials, and the inventory is usually bigger online, too. Definitely price-check your go-to and big-ticket items both online and in-store.
3. Download the Walmart savings catcher app and scan your in-store receipts. 
Walmart's savings catcher app allows you to scan your receipts from your local Walmart store, and if a local competitor offers a lower advertised price on an item you purchased, Walmart will refund you the price difference on an e-gift card. Amounts credited to these e-gift cards can then be used for future Walmart purchases, in-store or online. You could get money back after each store visit, and you are saved the chore of bargain hunting amongst local stores. (This means no more driving around town to find the cheapest deal on that laminator you've had your eye on!)
4. Look for Walmart's store brands.
Walmart's store brand, Great Value, is typically less expensive than other national brands. For example, their Great Value paper towels are some of the lowest priced items we have found! Their baby brand, Parent's Choice, features items that are often priced lower than the competition and includes common staples, such as diaper wipes, formula, baby care products, and even baby bedding.
5. Check out Walmart's store coupons.
Walmart offers coupons online on name brand items with savings that are traditionally bigger than manufacturers coupons. You can "clip" the ones you would like to use for your online Walmart purchases or select and print the ones you would like to use in-store. Check out their coupons for items you buy all the time for your classroom, like tissue, hand sanitizer, and disinfecting wipes!
6. Move your prescriptions to Walmart Pharmacy.
Walmart offers many 30-day generic medication prescriptions for $4 and many 90-day generic prescriptions for $10. Check to see if your medication is on the list! Other prescriptions are also often priced lower at Walmart Pharmacy than other drug stores.
7. Get free shipping at Walmart.com.
In order to compete with Amazon Prime, Walmart has recently lowered its free-two-day-shipping threshold from $50 to $35! Eligible items include low-priced coffee, paper towels, dog food, and other buy-all-the-time items. (Note: If you live in Alaska, Hawaii, or some U.S. territories, your free shipping will take three–five days.)
8. Take advantage of Pickup Today discounts.
Walmart offers some items on an even deeper discount if you purchase them online and then pick them up in-store. This Pickup Today discount allows you to locate a bargain online and then quickly pick it up from Walmart within 24 hours, often on the same day. Additionally, most items at Walmart.com are eligible for Walmart's free Pickup Today service. Life is too short to spend hours walking around a store, especially when you spend most of your time in the classroom!
9. Use Walmart's free online grocery pickup.
Save money by planning your grocery purchases (no more expensive impulse buys!) and time using Walmart Online Grocery Pickup. Simply shop online at Walmart.com/grocery, select the Walmart store nearest you, and then select a time for pickup. When you arrive at the store, you can pull right into reserved pickup parking spot and Walmart staff will load your car.
10. Check out Walmart's weekly grocery ads.
If you are a committed in-store grocery shopper, then use Walmart's weekly ads to guide your meal planning and purchasing. You will also be alerted to the big sales on home, appliances, clothing, and other departments in the store. Score!
11. Subscribe to Walmart's email list.
Some stores send lots of emails, but the savings are minimal. Walmart's email newsletter is known for truly highlighting their biggest deals and seasonal promotions. If email deals are your jam, give this newsletter a try.
What Walmart teacher discounts did we miss? Share your ideas in our WeAreTeachers Chat group on Facebook. 
P.S. You also might like our 11 Target Discounts and Deals Every Teacher Should Know About or our 9 Surprising Amazon Perks for Teachers