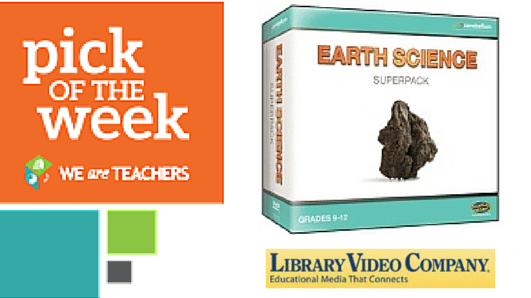 Magma bubbling, glaciers melting, auroras dancing, planets rotating: Earth science is one of the most exciting subjects students will encounter.
That is why it would be a terrestrial shame if your middle school students were only exposed to the fascinating phenomena of our planet through two-dimensional textbooks.
The Earth Science Super Pack by Standard Deviants Teaching Systems takes students on an exciting journey from the Earth's core to its place in the solar system through captivating videos and dynamic supplemental teaching materials.
There are eight subject area modules in the Super Pack:
Earth's Place in the Universe

Investigating Earth's Past

Restless Earth

Mountains, Volcanoes, and Earthquakes

Earth's Changing Surface

Energetic Earth

Atmosphere and Oceans

Earth Systems
Each module contains a video that's produced in an engaging and appealing style. The videos communicate to students the most complex topics in a way they will find amusing and, most importantly, memorable.
Every video combines clear and concise commentary from hosts and high-tech graphics with creative demonstrations, mnemonics and skits—think NOVA meets SNL. Created by educators for educators, the result is a delivery of the curriculum in ways students will understand, enjoy, digest and retain.
Additionally, each module includes an extensive digital workbook. Corresponding classroom notes, quizzes, games, graphic organizers and teacher guides supplement and support the material covered on-screen. All subject matter in each module correlates directly to state standards.
We think Library Video Company's exclusive WeAreTeachers discount on the Earth Science Super Pack, comprised of all eight modules and a complete earth science curriculum, is an incredible deal. For $287.20—a savings of 20 percent—you will thoroughly investigate with your students Earth's place in the universe and its awe-inspiring functions.
You can also purchase the modules separately at their regular individual pricing of $49.98.
Ready to tune in to the Earth Science Super Pack series in your own classroom? Visit Library Video Company and use coupon code EARTH20 to save over 20 percent in this exclusive deal for WeAreTeachers readers.