Most of us know St. Patrick's Day as a fun and jovial holiday involving mischievous little leprechauns, rainbows, shamrocks, and, of course, lots of green! However, it is also a day to celebrate the life and times of St. Patrick, the patron saint of Ireland. Here are 30 creative St. Patrick's Day activities and lessons involving ways to incorporate aspects of the March 17 holiday into the different core subject areas (including art and music!).
(Just a heads up, WeAreTeachers may collect a share of sales from the links on this page. We only recommend items our team loves!)
Our Favorite St. Patrick's Day Activities
1. Do a rainbow swirl experiment
Create a chemical reaction using just milk, food coloring, a cotton ball, and dish soap. Your kids will be mesmerized by the swirling rainbow!
Learn more: Indy With Kids
2. Read a St. Patrick's Day–themed book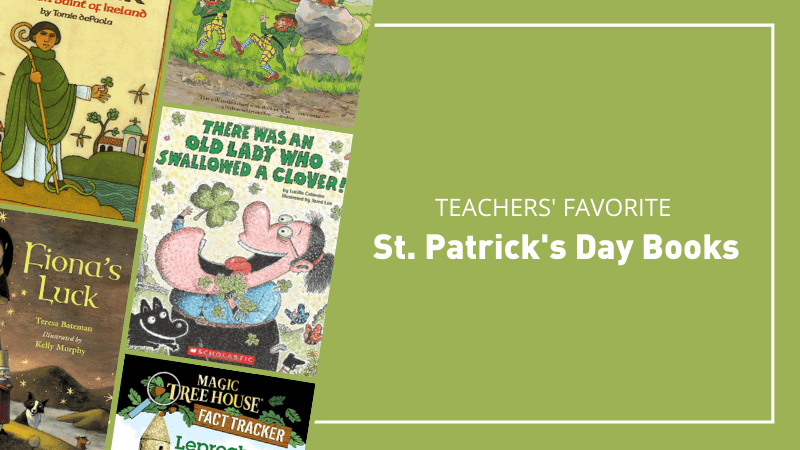 Check out this amazing list of our 17 favorite St. Patrick's Day–related books. Your students will love learning about Ireland, St. Patrick, and, of course, taking adventures with those mischievous little leprechauns!
3. Make a leprechaun corner bookmark
While there's something to be said for well-worn spines and dog-eared corners, teach your students to care for their books by using a bookmark to save their place. This little leprechaun is the perfect reading companion and is quite simple to make, thanks to this awesome video tutorial.
Learn more: Red Ted Art
4. Learn about leprechauns
Dealing with leprechauns can be a tricky proposition. Learn all about these "fairy tricksters" that are often seen guarding the pot of gold at the end of a rainbow.
Learn more: Live Science
5. Make music with rainbow shakers
This activity may require you to do some prep work, including asking parents to send in empty paper towel rolls and volunteer a few other supplies (foam rolls, rice, and jingle bells), but the end result is worth it! It's a rainbow shaker you can use to play music, and it's a great take-home project for the kids.
Learn more: Happy Mothering
[contextly_auto_sidebar]
6. Send your students on a scavenger hunt
Get your students up and about and hunting for gold as they try to find the items on this free printable scavenger hunt. You can time the hunt, create groups, or even conduct the activity outdoors. To extend the fun, you might have your students decorate old tissue boxes as treasure chests in which they can store their findings.
Learn more: Play Party Plan
7. Take a virtual field trip to the Emerald Isle
Explore the beauty of Ireland, from the Giants Causeway and the Cliffs of Moher to mighty museums, historical sites, and much more.
Learn more: The Irish Road Trip
8. Create acrostic poetry based on Irish history
St. Patrick's Day is so much more than rainbows and shamrocks (although we do love those too). Read a book on Irish history or watch these videos to introduce students to facts about Ireland. Then distribute acrostic poem templates with words like "leprechaun," "shamrock," and "St. Patrick" for your students to complete. They can share with the class when they are done.
Learn more: History.com
9. Conduct a hands-on experiment with green slime
A complex chemistry lesson disguised as an ooey-gooey free-for-all? Count us in! Choose from one of four slime recipes, all made from ingredients that can easily be found at your grocery store (although you may need to look elsewhere for St. Paddy's Day–appropriate glitter, sequins, and other holiday additions). Teach your students about the states of matter as they work, or ask them to record their impressions and observations during one (or more!) of these festive St. Patrick's Day science lab activities.
Learn more: Little Bins for Little Hands: Green Slime
10. Learn how to say colors in Gaelic
Introduce your students to the ancient Gaelic language by learning how to say different colors. Visit the Irish Community Services YouTube channel and learn seasons, days of the week, and animal names.
Learn more: Irish Community Services
11. Study the movement of water molecules with the rainbow ring experiment
Demonstrate the movement of water molecules (and create a rainbow) through this clean yet colorful experiment. Ask your students to come up with a hypothesis and record the experimentation process in a notebook, or download a free, printable worksheet at the link below. One of our favorite St. Patrick's Day activities!
Learn more: Creating Readers and Writers
12. Make rainbows in your classroom—no rain required
Begin the lesson by explaining to your students how rainbows form. One option is to read the story The Rainbow and You aloud to your class. Then, with a prism (or even a glass of water), sunlight, and the right angle, you can create rainbows on the floor, walls, and ceiling of your classroom. Adjust the amount of light and angles to vary the width and size of the rainbows. Have your students record their observations or draw pictures of the rainbows they've created.
Learn more: Mom to 2 Posh Lil Divas
13. Make shamrock pencil toppers
Why not spend St. Patrick's Day spreading a little love? Make these darling shamrock pencil toppers out of construction paper, then attach them to St. Patrick's Day–themed pencils along with a sweet message.
Learn more: Oh Happy Day
14. Count your coins with a penny float experiment
You don't need gold coins to bring a little magic into science class—ordinary pennies will do! Using small plastic pots from your favorite craft store (plastic cups or aluminum foil will also do the trick), a container of water, and a couple of dollars in pennies, your students can learn about mass, volume, weight, and other measurements while feeling like leprechauns.
Learn more: Little Bins for Little Hands: Penny Float
15. Spin Irish yarns with these story starters
Inspire your students to think creatively and write a story about what they would do if they found a pot of gold at the end of a rainbow. Encourage them to think about the characters, conflict, and resolution in their tales. Either paste the story on cauldron cut-outs or use Word to create a simple lined page with a festive border. Check out a thorough lesson plan here!
Learn more: Apples & ABC's
16. Make a shamrock stamper out of a bell pepper
Young students will get a kick out of using fresh produce to make art! Try this bell pepper shamrock, or try your hand with Ireland's most famous vegetable, the potato.
Learn more: Craftaholics Anonymous and First Palette
17. Think critically about how to catch a leprechaun
Critical thinking? Check. Creativity? Check. Glitter? Check. Ask your students to devise a clever plan to catch a leprechaun by practicing sequence writing and the imperative voice. What materials do they need? What would their trap look like? Have them present their ideas to the class and follow up with a class discussion about the best leprechaun-trapping tactics. Take this one step further by splitting your class into groups of three or four students and have them build the traps they imagined.
Learn more: First Grade Fairytales and Little Bins for Little Hands: How to Catch a Leprechaun
18. Shade shamrocks to practice synonyms, antonyms, and homophones
In English class, the answers are rarely black-and-white, so why not make them green (and red and orange)? Teach your students about synonyms, antonyms, and homophones with this shading shamrock worksheet. Alternatively, prepare shamrock cutouts and have your students write words on one side of the shamrock, with the accompanying synonym, antonym, or homophone on the other.
Learn more: Everything Education
19. Make the Irish flag with crayons
Using a blow dryer, help students melt green, white, and orange crayon fragments onto white card stock backed by a piece of cardboard. Let it cure overnight, then top with a coat of Mod Podge and attach a large craft stick.
Learn more: Carrots Are Orange
20. Go green by turning old milk jugs into planters
You don't need to sport a top hat and coat to go green this St. Patrick's Day. Teach your students the importance of conservation and recycling by having them plant herbs or flowers in old plastic milk jugs. If possible, do this project outside to celebrate the warmer weather and ask your students what plants need to grow and remain healthy. Encourage them to make a list of small actions they can do every day to protect the planet.
Source: Cupcakes & Cutlery
21. Assemble a shamrock shaker
Help your students put together a shaker made from two sturdy paper plates and an assortment of jingly items inside. Put on some rousing Irish music and let them play along.
Learn more: Carrots Are Orange
22. Make a Lucky Charms bar graph
With this easy-to-prep activity, your students can practice counting and graphing while enjoying a sweet treat. For a class of 15–20 students, two boxes of Lucky Charms cereal will suffice. Then you just need a measuring cup, crayons, and a simple graph drawn on paper. Have your students count and record the number of marshmallows they find. Then have them share the results with the class. You can also easily turn this activity into a lesson on fractions or probability.
Learn more: How To Homeschool My Child
23. Build Lucky Charms catapults
This fun St. Patrick's Day STEM activity will teach students about a simple machine of physics using craft sticks, rubber bands, and plastic spoons. To make it even more fun, create a few pot-of-gold targets for them to aim at.
Learn more: Joy in the Works
24. Look for luck with a four-leaf-clover hunt
What better excuse to get outside on an almost-spring day than going on a four-leaf-clover hunt? If you've got a grassy area by your school's playground, take your students outside to first assemble this tiny book of clover facts before searching for a four-leaf clover of their own.
Learn more: Green Grubs Garden Club
25. Work your poetry chops by writing limericks
Print these simple limerick instructions and have your students write their own to present them to the class. This activity is great for upper elementary school and middle school students alike. Plus check out these limericks to share in the classroom.
Learn more: Education.com
26. Learn an Irish step dance
Show your students a video clip or two of professional Irish step dancers before breaking down the steps with an easy-to-follow tutorial. This is a great activity for gym class or any time you notice your students getting a bit restless. The steps may be complicated, but your students will enjoy being on their feet and listening to traditional Irish music.
Learn more: Howcast
27. Play a game of St. Patrick's Day Bingo
Who doesn't like playing bingo? This St. Patrick's Day–themed bingo set comes with 24 different cards and plenty of shamrock space markers. Instead of calling out bingo, have your students call out Shamrock! when they get five in a row!
Buy it: Amazon.com
28. Make Rainbow Flip Books
These fun flip books will have your students chasing the pot of gold at the end of the rainbow. This link has everything you need to make these fun St. Patrick's Day activities for kids come alive.
Learn more: Make Rainbow Flip Books for St. Patrick's Day
29. Create a rainbow bulletin board
Find the gold at the end of the rainbow with this beautiful and colorful bulletin board idea. Hopefully, this will attract some naughty leprechauns to boot! Check out all of our bulletin boards for March!
Learn more: Rainbow Bulletin Boards To Brighten Your Classroom
30. Get creative with St. Patrick's Day journal prompts
This list of 13 St. Patrick's Day related journal prompts will have your students' pencils moving in no time!
Learn more: Journal Buddies
We promise you'll have good luck with any one of these St. Patrick's Day activities. Have any others you'd like to share? Visit our WeAreTeachers HELPLINE group on Facebook to share your ideas.