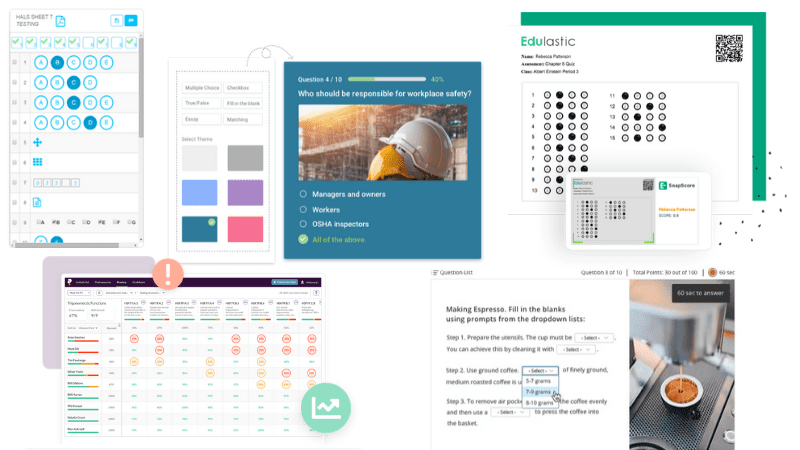 In the world of distance learning, how do we assess our students fairly? Many schools have changed their grading policies or moved to pass/fail for their subjects. But, if you are opting to give online assessments, what is the best way to approach these tests?
The key lies in determining the material you are assessing, how you would like to present the quiz or test, how the students can showcase their knowledge, and how you're going to grade it. This can be as easy as a Google Form or as complex as creating an entire quiz with multiple levels of answers! Check out our tips and tricks for online assessments, as well as the best platforms to use.
Assessment Requirements
Before you decide the best tool to implement for the assessment, you need to figure out what exactly you need to include. Factors to consider:
How old are the students and how advanced should the application be?
Will you require free-response answers?
Will you require multiple-choice Q&A?
Do you want the tool to grade automatically for you?
Is it necessary to upload multimedia as part of the question set?
Do you want students to print the test and then scan/upload their answer sets?
Online Assessment Tips
When it comes to creating and distributing the tests, there are some tips and tricks to help make the assessment more successful.
Keep in mind the age of the students. The younger they are, the more simple the software. Consider multiple choice over free response. Add images or video to both engage the student and add another frame of reference to the words.
Allow students to take the test offline if they do don't have access to technology.
Give the student a longer time period to take the test in case of issues with technology or Wi-Fi.
If you truly need to time the test (consider a final exam), ensure that the students have ample notice and perhaps give a sample test so they can test the platform and ask any questions ahead of time.
If you are allowing free responses that are automatically graded, make sure to input variations of the answer! Incorporate misspellings, add the answer with and without articles, and more.
Online Assessments Tools & Platforms
We gathered our top ten quiz and test platforms that allow you to format assessments to distribute to your students. Choose the ones that best fit the requirements to your considerations above!
Teachers can capture answers using the web or the app. A perfect tool for a flipped or blended classroom.
Best for: Mobile use on an app.
Construct quizzes in no time. You can choose from 14 question types and the answers can be culled for reports.
Best for: Drop and drag quizzes and polls.
Allows teachers to create standards-aligned assessments quickly. And the best part? A built-in authoring tool to create drag-and-drop, multipart, passages, graphing, and more!
Best for: Multimedia options and graphing.
This Google Drive app allows you to create assessments with free response and multiple choice.
Best for: Younger students as they are already likely familiar with Google Classrooms.
Create interactive tests and quizzes. Also, set up custom scoring and give multiple chances to answer correctly.
Best for: Allowing multiple attempts.
Easily create quizzes that students can answer using their mobile devices. Also includes a bank with 60,000 standards-aligned question items and 300 pre-built assessments.
Best for: Using an existing question set or assessments.
With over 100+ settings and over 100,000 quizzes created, this software can solve nearly all your needs.
Best for: Quiz creation in other languages.
Quizzes are standards-tagged so you can efficiently track mastery data from every question ever answered. They support official state standards such as Common Core, TEKS, and many more.
Best for: Quick feedback and analyzing.
Create a web-based assessment straight from Powerpoint slides!
Best for: Ease of Powerpoint use.
Choose from 22,395 teacher-written assessments across all subjects or create your own!
Best for: Essays and short form.
What are your suggestions for online assessments? Share in our WeAreTeachers HELPLINE group.