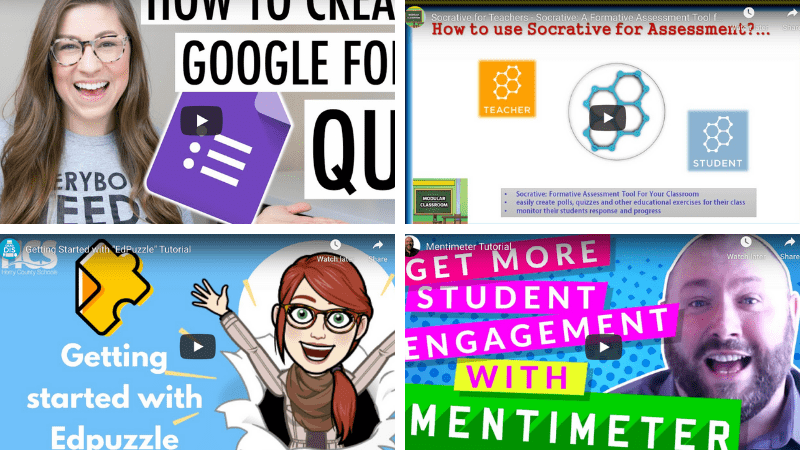 Assessment is at the heart of our teaching practice. We use backward planning and start with the end in mind. We ask ourselves questions like, "what do we want our students to know?" and "what will our students be able to do?" Because assessment is so important, it's no surprise that there are a ton of tech tools for assessment. Trying to find what you're looking for is time-consuming! That's why we've picked the ten best tech tools for student assessment, keeping your goals in mind.
Goal: I want to find out what my students learned
I wish we could read students' minds, but since we can't, we use exit tickets. If you rely on this best practice to plan your next instructional move, you have a lot of options. I love Google or Microsoft Forms. They are easy to use, and you can create multiple choice or short answer questions for students to complete. All the data is there for you.
Learn more:
Goal: I want to hear from my students and watch them share what they've learned
Flipgrid is a social media-style video discussion platform great for generating class discussion around topics, videos, or links posted to the class grid. Students can video record their responses to share with the teacher or class. It's a great tool for supporting your students to make their thinking visible.
Learn More:
Goal: I want to do a quick check in during my lesson
Mentimeter lets you add polls, word clouds, Q&As, and more to presentations and create an interactive experience for students, who can vote on/respond to questions and engage with the presentation in real time. This made our list because there's so much variety in the types of formative assessments you can give in real time.
Learn More:
Goal: I want to see my students' thought process and their answer
Jamboard is a digital whiteboard that is compatible with the GSuite services. It's a game changer for emphasizing the process of learning over the product. Math teachers love how students solve and explain their solution. If you don't use Google, Padlet is our runner up.
Learn More:
Goal: I want to listen to my students' read to assess fluency
Students read aloud and answer questions on their device (almost any device works). Within 24 hours, you get a running record with scores for accuracy, fluency, and comprehension. A free basic account includes 10 reading assessments/month.
Learn More:
Goal: I want to include checks for understanding as my students learn
EdPuzzle is a video editor that allows both teachers and students to add voice-overs, comments, resources, and quizzes to existing or self-created online videos. Best part? All the students' answers are gathered for you so you can quickly assess.
Learn More:
Goal: I want to put checks for understanding in my slides
Pear Deck is an interactive presentation and lesson delivery tool. Students use their devices to follow along with the teacher's slideshow on a classroom screen. Throughout, teachers can pause at points where they've added interactive questions and collect real-time data about student understanding.
Goal: I want my students to give each other feedback
Once you set up your assignment, pick a feedback rubric (or create your own), and select your assignment. Your students take it from there. They submit work, review each others', and then act on the feedback. Best part? There's a teacher overview where you can see it all.
Learn More:
Goal: I want to give a quiz or test
There are a lot of options with this tool. You can include multiple choice, true/false, and short answer questions. I love how you see students' results in real time, and you can add explanations if students get a question wrong. Students can get instant feedback, or you can make the quiz self-paced or lead it yourself. My favorite feature: Space Race, a group quiz where students "race" to cross the finish line.
Learn More:
Goal: I want grading to take less time
No matter what grade and subject you teach, grading takes time that we don't have. Enter Floop. This tool is a cloud-based website where students get annotated feedback from you and their classmates. Using any internet-connected device, students upload images of an assignment to the platform, and you put markers in places where you want feedback. Students are able to see and respond to comments, creating a feedback loop.
Learn More:
Goal: I want one tool that does different types of assessment
Spiral is a free suite of four apps. Use Quickfire to give a formative assessment in real time and hear from all of your students. Discuss makes your slides more interactive for students. Team Up supports student collaboration, and Clip turns public-facing videos into a live chat with questions and quizzes.
Learn More:
Plus, check out 50 Free Seesaw Activities and Resources For Every Kind of Classroom
Want more articles like this? Be sure to subscribe to our newsletter so you can get our latest picks.