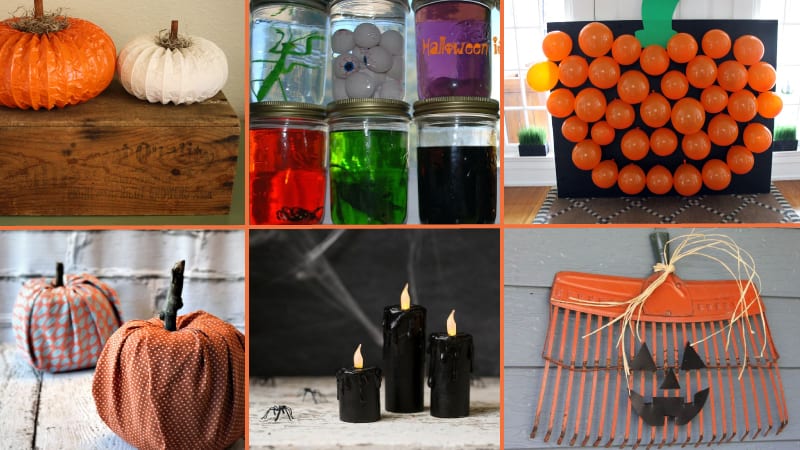 I love decorating my classroom for Halloween. However, we teachers aren't exactly rolling in the dough. To help, I put together these creative ideas to help you create a spooky mood in the classroom without going over budget. As an added bonus, many of these DIY crafts are kid friendly, so you can even get your students involved. Happy Halloween!
1. Turn your door into a mummy.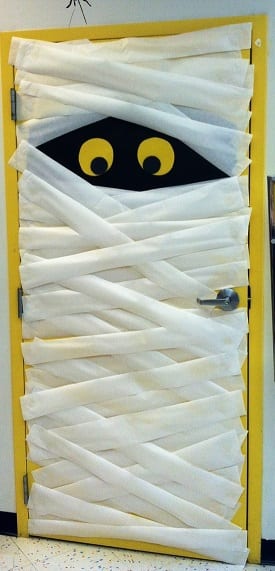 Source: Crafty Morning
A teacher's door game says a lot—so wrap toilet paper (or masking tape) around yours and add some construction-paper eyes to it to say that your room is cute, crafty, and thrifty.
2. Repurpose a rake as a wreath.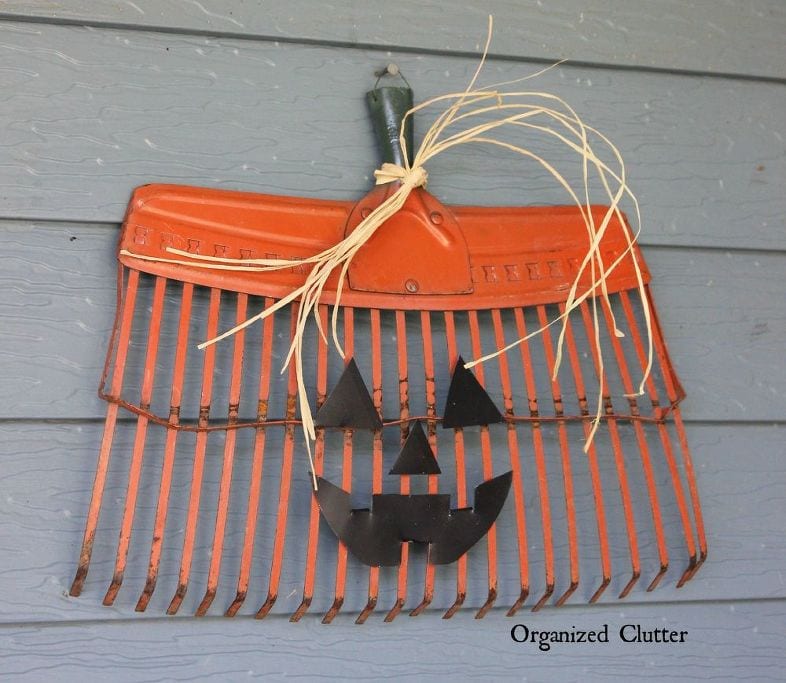 Source: Organized Clutter
If decorating your entire door isn't your style—maybe you teach older students or just value simplicity—then this rake painted as a pumpkin is the perfect wreath for the season.
3. Create a ghost out of paper rings.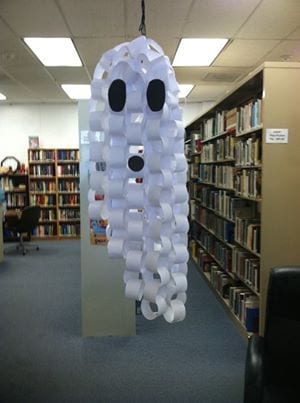 Source: Squarehead Teachers Blog
How adorable is this paper ghost? Make one for your entranceway or a dozen for all over the classroom. You could also start one and then incentivize your students to add rings for every book they read.
4. Turn milk jugs into ghosts.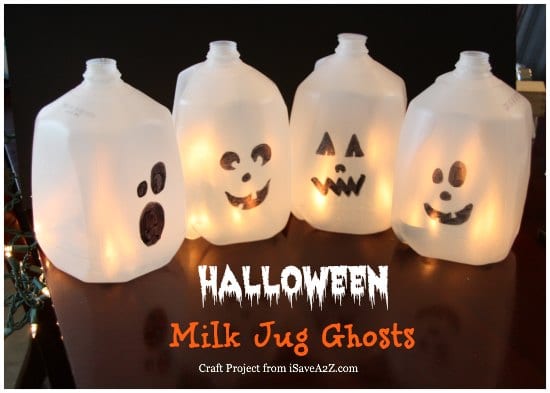 Source: iSave A to Z
Can't get enough ghosts? All you need is milk jugs, battery-operated tea lights, and a black marker to make a slew of these for your desk or windowsill!
5. Balloons turn an ordinary bulletin board into a pumpkin.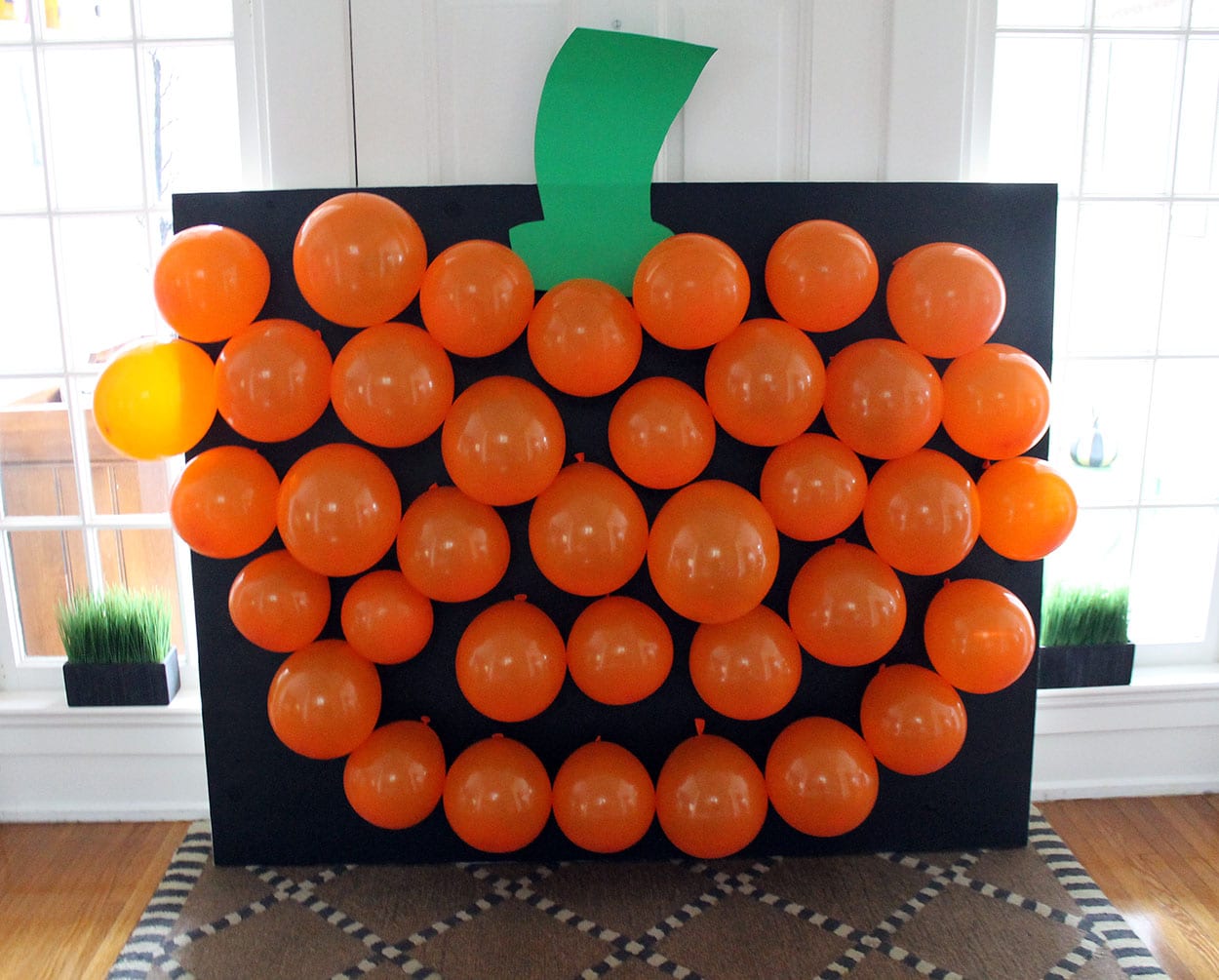 Source: Polka Dots and Picket Fences
Inflate some orange balloons and put them in the shape of a pumpkin for a decoration that will really, ahem, pop. The blog tutorial suggests making a game of it by putting candy inside the balloons and having kids throw darts, but for a more classroom-friendly version, you can pop them yourself to reveal the treats inside—maybe one a day for every day leading up to Halloween?
6. Make boo-tiful ghosts from a tablecloth and tomato cages.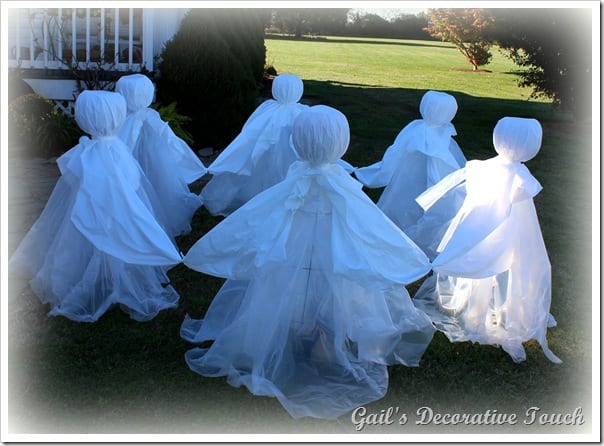 Source: Gail's Decorative Touch
Though these are normally used as outside decorations, I love the idea of putting the tomato cages in pots and setting the ghosts on either side of the classroom door for a spooky greeting and goodbye all season. Follow the link to see the tutorial on how to make them.
7. Turn dryer vents into pumpkins.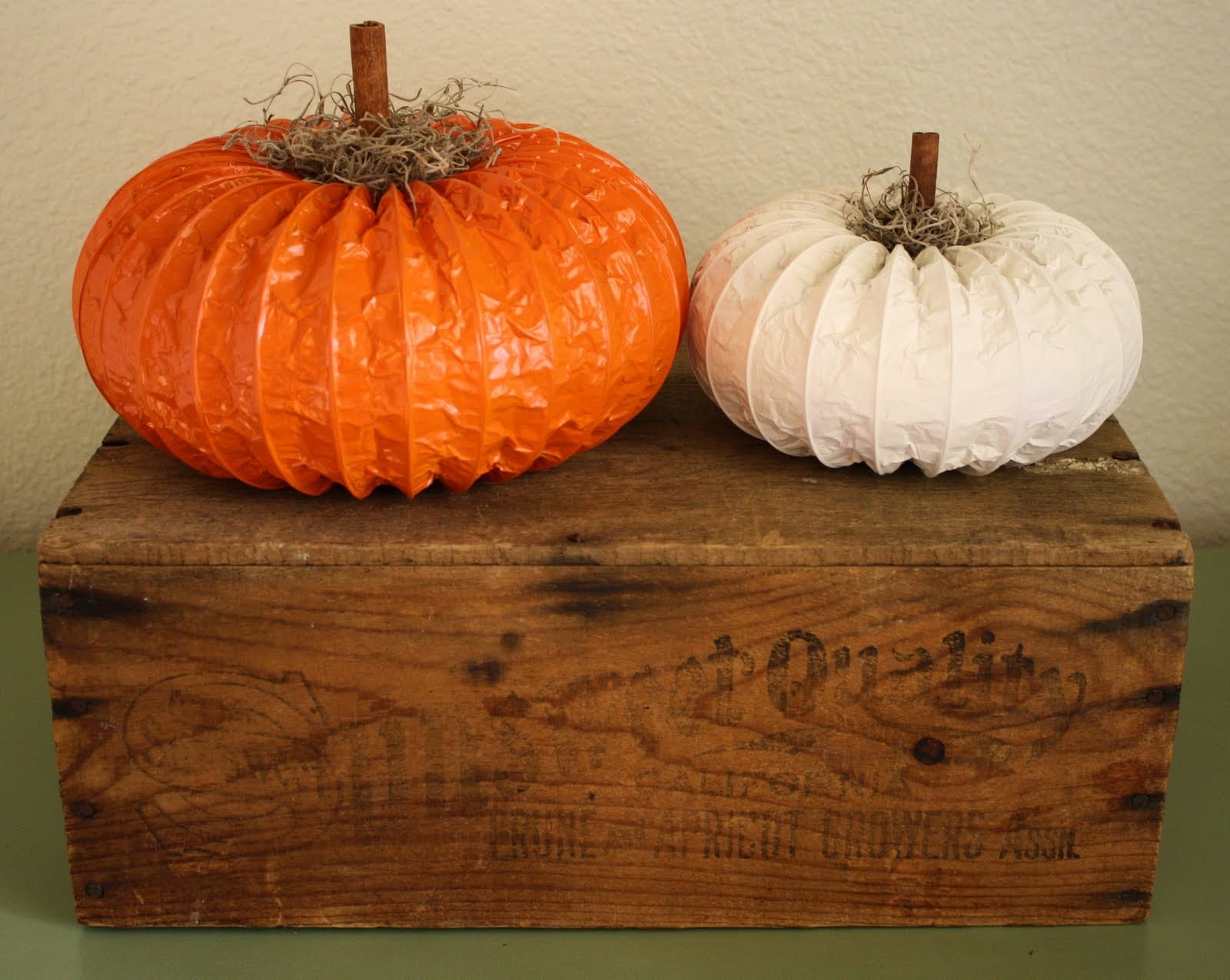 Source: A Diamond in the Stuff
Made from dryer vent tubes and some spray paint, these are cheap to make and would look good in any classroom.
8. Try this flameless fire trick.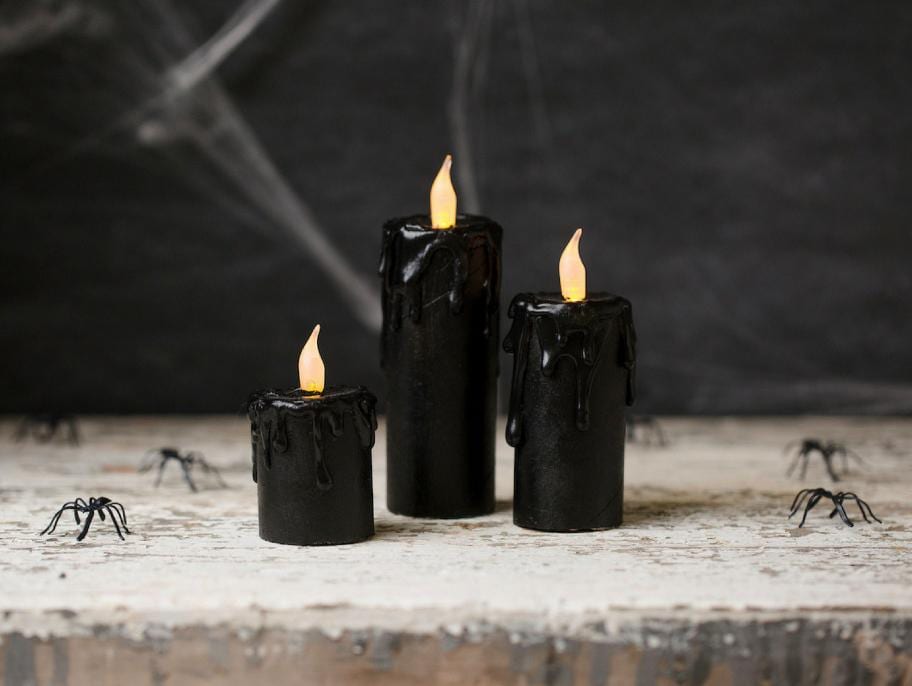 Source: Fun 365
Feeling a little witchy this season? Paint some paper towel or toilet paper tubes black, hot glue on some tea lights, and you've got spooky, witch-approved candle décor for all your spell-casting needs. It's a great magical prop to use with your students—and perfect for a classroom, because it's fire free!
9. Paint pumpkins on rocks.
Source: Inspiration Laboratories
What can be simpler or cheaper than this? This one would be great to do in class with your elementary students, and when they're done you can display them on the chalkboard as your own little classroom pumpkin patch! At the end of the season they can all "pick" their pumpkins to take home.
10. Collects toilet paper rolls and make mummies.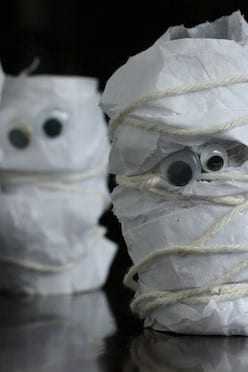 Source: Happy Hooligan
The toilet paper mummy on the door was already pretty easy, but if you're really feeling lazy, you can leave the toilet paper on the roll and add some googly eyes for a quick, cute decoration. Add bottoms to them, and you—or your students—can even use them as pencil cups!
11. Convert a pool noodle into a wreath.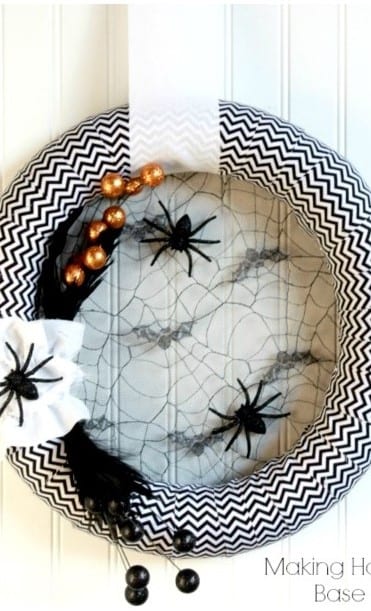 Source: Making Home Base
Every classroom door in your school needs one of these! It's a pool noodle covered in washi tape and its ends glued together. Yarn—or fishing line—glued on top make a web. Add plastic spiders to complete the look. You can also use a pool noodle to make pumpkin wreaths, general fall ones, and more—the possibilities are endless!
12. Plastic cups make amazing monsters.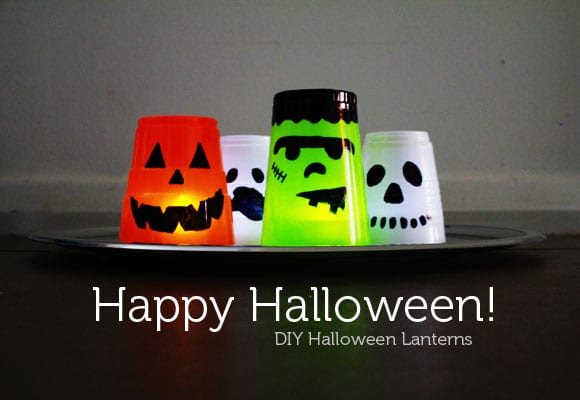 Source: The Australian Baby Blog
A great one to do with your students. This only requires LED lights, plastic cups in multiple colors (or paint them), and a black marker. Draw the faces on the upside-down cups, put them over the tea lights, and ta-da! Line them up along your classroom windowsill for a spooky glow, both day and night. So cute and simple!
13. Make cobwebs from stockings.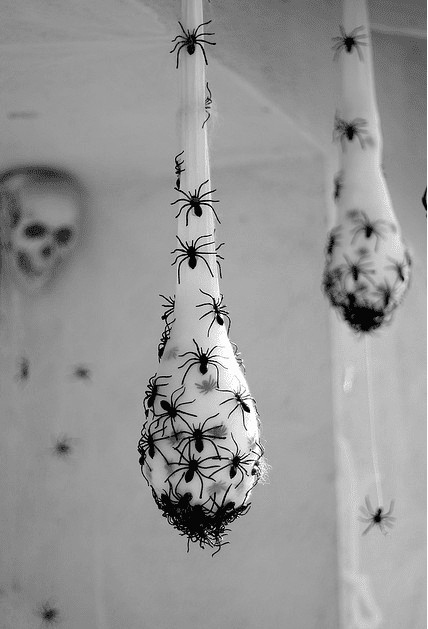 Source: Passionate Penny Pincher
Students will love these gnarly webs dangling from a classroom ceiling. Use white tights or pantyhose, stuff them with cotton, glue on plastic spiders, and hang. Gross? Definitely—but a big hit with the students.
14. Paint traffic cones to look like candy corn.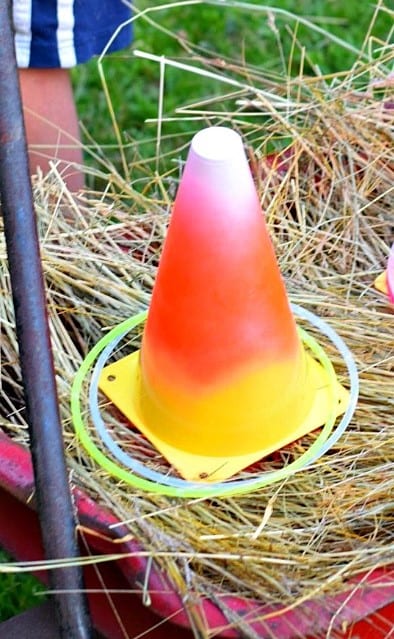 Source: Kid Friendly Things to Do
Cheap, tiny, and easy to repaint, these are great decorations to place just about anywhere you want them. The tutorial above suggests making the cones into a game of ring toss, which would be a fun activity for a classroom party. But they make great decorations on their own, too. You can also paint them to look like a witch's hat!
15. Turn ordinary blocks into Frankenstein heads.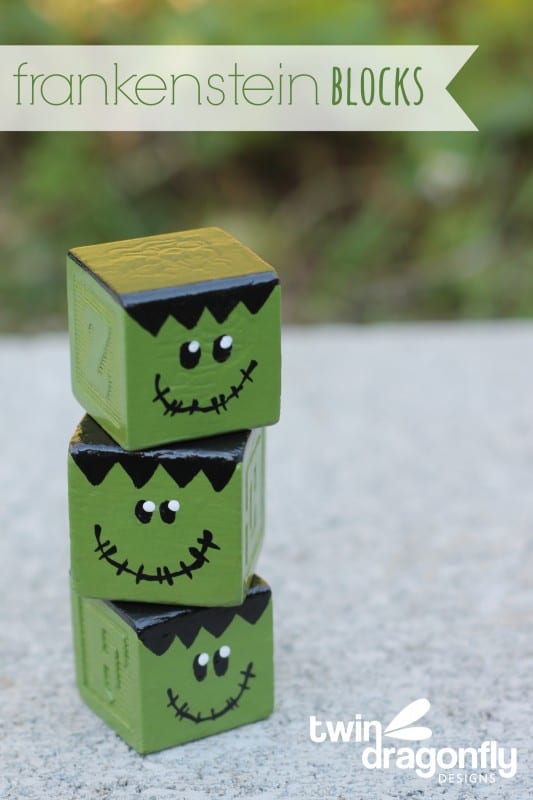 Source: Twin Dragonfly Designs
How. Cute. Are. These?! By far my favorite decoration on this list, these Frankenstein blocks would be perfect in pre-K and kindergarten classrooms. Stack them on your desk or scatter them around the room!
16. Spooky silhouettes are perfect for tap lights.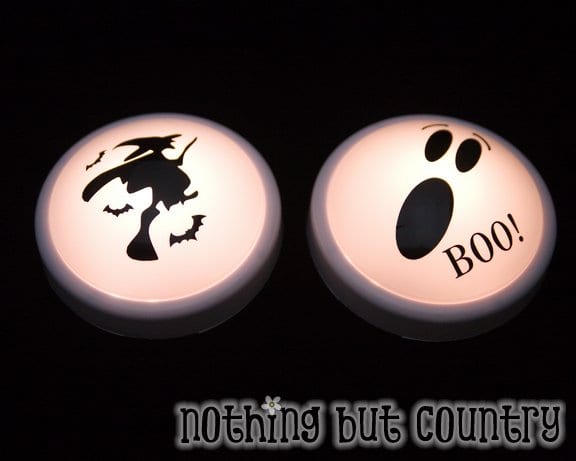 Source: Nothing But Country
Buy a cheap, battery-operated night-light and draw a skeleton face or other spooky image on it in permanent marker. Hang it on the walls or windows and turn them on when have your classroom lights turned off during showings of movies or videos.
17. Repurpose jars into mad scientist specimens.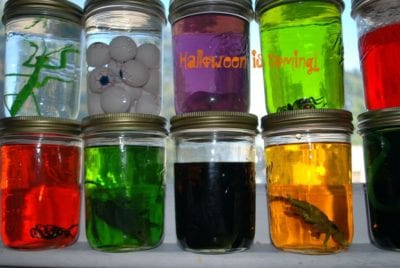 Source: Paper Dolls for Boys
These would be perfect in a science teacher's classroom! Put plastic Halloween decorations—insects or body parts—in a mason jar with water and food coloring for a prop that is simple and disgusting. You can adjust for age appropriateness (gross and creepy "specimens" for older kids, or silly, not as scary "specimens" for younger students) depending on what you put in the jar.
18. Fabric makes quick and decorative pumpkins.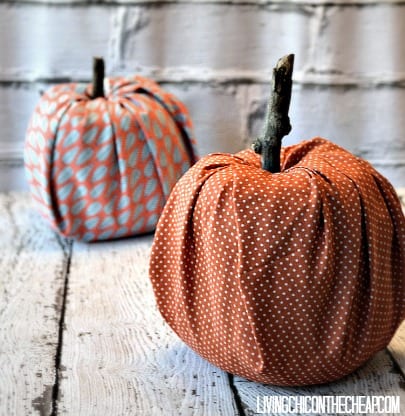 Source: Living Chic on the Cheap
Look y'all, I really don't think it gets any easier than this decoration. Wrap your toilet paper rolls in fabric and display them. These would be so cute on a teacher's desk. Keep it there through Thanksgiving!
19. Add a graveyard for nameless student papers.
Source: The Ardent Teacher
This one is decorative and functional—whenever you get papers with no name on them this spooky season, just post them in the graveyard and have your students check for their papers there.
20. Scatter silhouette mice around the room.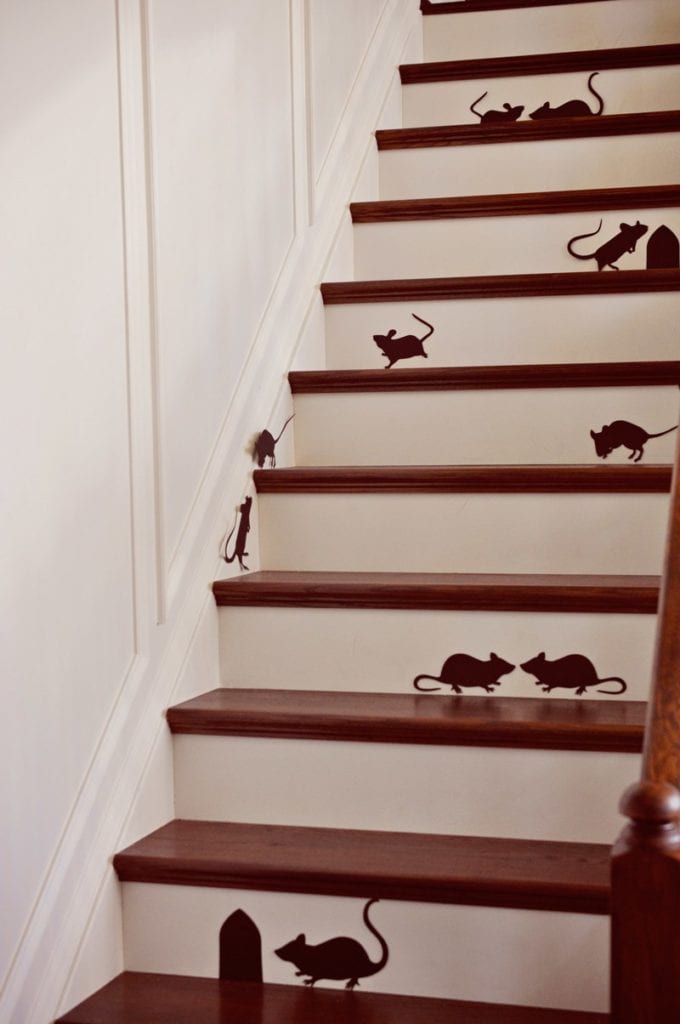 Source: Remodel Aholic
How festive would your classroom be with these little guys running around your baseboards and scampering up the sides of your whiteboard? They are super easy to do. At almost no cost to your wallet, you'll have the cutest classroom of the season!
21. 3-D bats will make your classroom magical.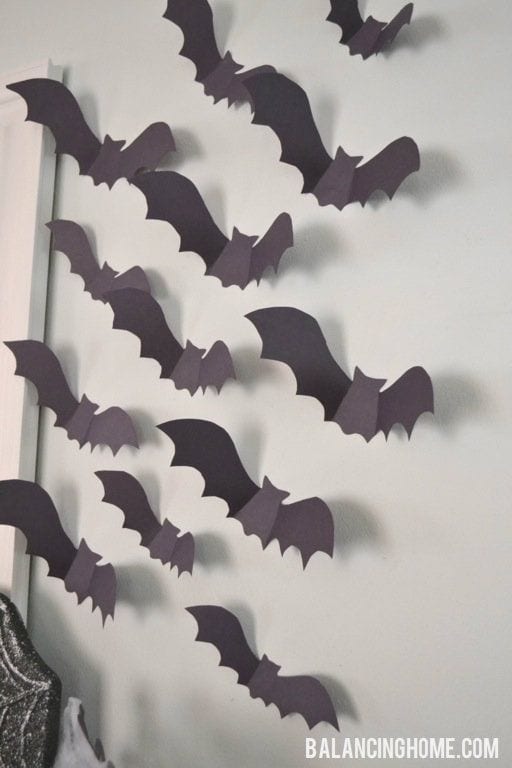 Source: Balancing Home
Your students will love helping create these 3-D bats. All you need is construction paper, and you're all set. Get tips for making these on this blog.
Do you have budget tricks when it comes to decorating your classroom for Halloween? Come and share in our WeAreTeachers Chat group on Facebook.
Plus, take a look at our article for classroom crafts and activities for Halloween.