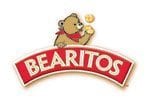 Brought to you by Bearitos
A leading natural snack brand, Bearitos® provides a wide variety of products that are delicious andnatural.
From pita chips to puffed snacks, including cheddar puffs and veggie puffs, plus blue corn tortilla chips, white corn tortilla chips, and yellow corn tortilla chips, all of Bearitos' distinct and flavorful products are made using the finest non-GMO ingredients and feature no artificial colors, flavors or preservatives.
A favorite snack for moms and kids alike, Bearitos® is known for the iconic bear mascot—Louie—on its packaging.
Given their love for Louie and all bears, Bearitos® is proud to support World Wildlife Fund's (WWF) global conservation efforts, which include programs that work to protect species like bears and their habitats around the world.
More