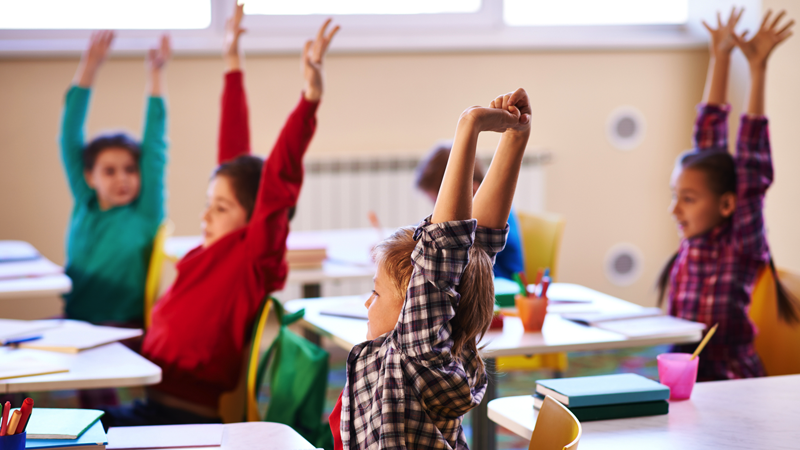 Brought to you by Moving Minds
Moving Minds™ was created for one reason—to help increase physical activity in the classroom. There is a growing body of research that documents physical activity's positive association with academic performance and our products are designed to help bring the benefits of movement and activity to the classroom environment in a way that benefits both teachers and students!
More
While your personal New Year's resolution probably has something to do with "more Adele, less Kidz Bop," we want to challenge you to make a whole new (and really fun) resolution for your students: Get them up out of their seats and moving for 5 minutes of every hour of every school day.
You may think that doesn't sound like much. But over time, 5 minutes an hour really adds up. (If you must know, it's about 40 minutes every day, over 3 hours a week and more than 60 hours a month.)
Those 5 minutes can really make a difference too.
Studies have shown that kids who move throughout the school day are able to focus better, concentrate on the task at hand and squeeze more learning into every minute of the day. (Want proof? We have a full report on all the details here.)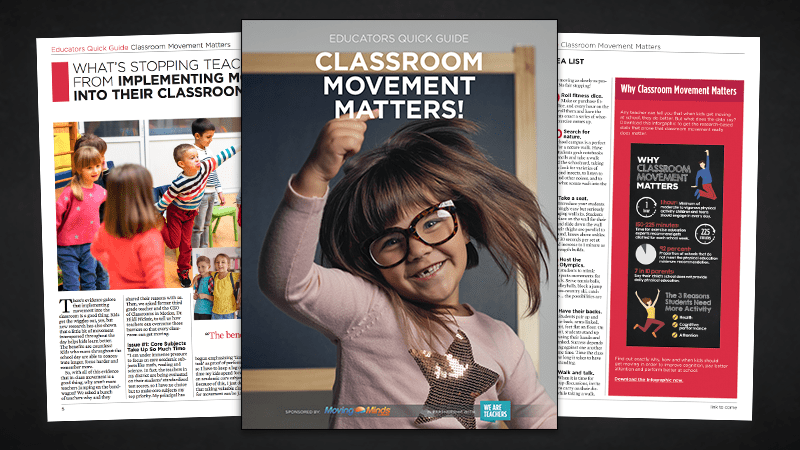 (Source: https://www.weareteachers.com/get-your-free-educator-guide-and-get-your-students-moving)
Are you ready to join the challenge? Good! It's really quite simple. You commit to getting your students moving for at least 5 minutes of every hour of every school day for the rest of the year. In exchange, your kids get a jump-start on a great year and a healthy lifestyle. (And you'll get the chance to update your New Year's resolution to "more artisanal pizza, less broccoli" with all that movement you will be doing!)
That's it. Five minutes. Every hour. Every day.
Here are a few ideas to get you started:
Do 5 minutes of an exercise video at the end of each hour. (Bonus points if you pick 1980s Jazzercise.)
Or try Brain Breaks.
Do a quiet lap around the hallway or school track.
Lead your students in some stretching.
Implement movement into your lessons. Try ball-toss spelling or paper-plate math. (For full instructions, click here.)
Have everyone in the class do a few yoga or Pilates poses.
Play a giant board game.
Practice being mimes (an activity that is great for days when you have to stay quiet).
Pick up some stability balls or wobble chairs and have kids sit on them during a lesson.
Put on a great song and dance along to the music.
Just in case you are feeling a bit anxious about committing to something during every hour of every school day, let us remind you: More Adele. More Pizza. Oh, and more movement that will help your kids focus better and concentrate more. Which means those 5 minutes of moving time will likely result in much more learning time throughout the day even if there is a bit less seat time.
A win-win for all.
Especially for you.
And if you want this year to win-win-win-WIN, enter our "5 Mintues An Hour Challenge" and you could score some amazing get-moving prizes for your classroom.