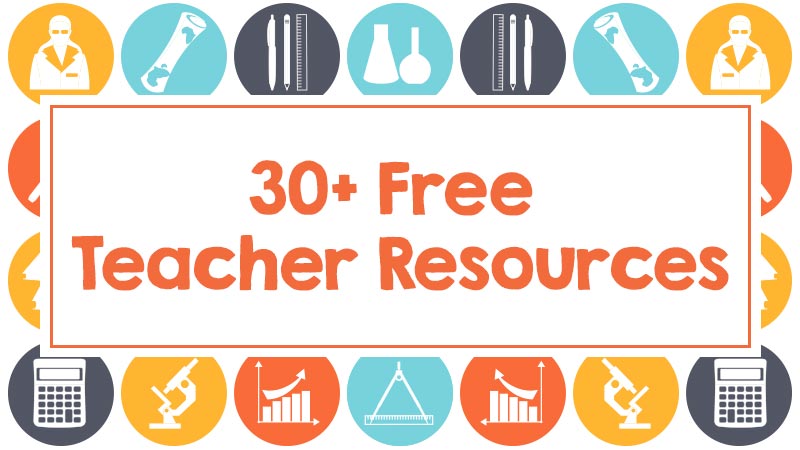 Teachers are always on the lookout for new inspiration and new ideas, but who's got time to plow through the zillions of resources on the internet? Well, good news! We've done the research for you, and here are 37 of our favorite sources for free teacher resources. We marked the lesson plans and activities created by fellow professional educators with an asterisk. Happy hunting!
Nature activities, videos, games, DIY projects, and lessons to inspire children to explore and feel connected to the natural world.
Sample Lessons: How to Make Hummingbird Nectar, Migration Story Interactive Game, Birds of Prey Poetry
Amazon Inspire is an open collaboration service that allows K-12 teachers to easily discover, gather, and share quality educational content with their community.
Sample Lessons: Figure It Out Critical Thinking Puzzles, Spring Math Craftivities for Second Grade, 6th Grade Math Daily Problem Solving
Sponsored by the Kennedy Center, Arts Edge provides arts-centered, standards-based resources for K-12.
Sample Lessons: Animal Habitats, Five Artists of the Mexican Revolution, Creating Comic Strips
Learn to code with these one-hour tutorials designed for learners of all ages in over 45 languages.
Sample Lessons: Dance Party for grades 2+, Tractor Traversal for grades 6+, Space Adventure Code Monkey for grades 2-8
Free collection of reading passages in all literary and non-fiction genres for grades 3-12. Passages come with text-dependent questions which help you track student progress.
Sample Lessons: Life Isn't Fair- Deal With It, Who Was Anne Frank, Witchcraft in Salem
Common Sense Media is a nonprofit dedicated to providing educators and students with resources to harness the power of technology for learning and life. Free lessons K-12
Sample Lessons: My Writing, My Peer and Me, The Three Billy Goats STEM Challenge, The Ants Go Marching
Education World is a complete online resource for teachers, administrators, and school staff to find high-quality and in-depth original content. They offer more than 1,000 free lessons.
Sample Lessons: Wacky Weather, What Would Oprah Say?, Changes in Habitat
Everfi offers free digital courses that are interactive and standards-based. The focus is on real-world learning, with courses offered in financial literacy, STEM, social-emotional learning, health, and wellness,
Sample Lessons: FutureSmart – Middle School Financial Education, The Compassion Project, and Honor Code Bullying Prevention Curriculum
Jumpstart offers free teaching materials (activities, worksheets, lesson plans) for K-5 teachers that have been designed by experts or tried and found useful by other teachers.
Sample Lessons: What a Wonderful World, Art of Recycling, Power Up math activity
Formerly named Teaching Tolerance, this amazing site provides free resources that emphasize social justice and anti-bias to K-12 educators.
Sample Lessons: Lessons from Goldilocks, Singing for Peace, Making Cents of Privilege
The Library of Congress offers classroom materials and professional development to help teachers effectively use primary sources from the Library's vast digital collections in their teaching.
Sample Lessons: Alexander Hamilton primary source set, Baseball Across a Changing Nation, Using Primary Sources
LDC is a national community of educators which provides literacy-rich assignments and courses (organized by collection) across content areas.
Collections include: K-6 Civics Collection (19 modules), National Writing Project Collection, NBCT Authors
Search hundreds of resources by subject, grade level, type, and keyword. These lesson plans and teaching materials support K-12 STEM curriculum. Includes a wide variety of at-home lessons as well.
Sample Lessons: Explore Mars, Bubble Rocket, Parachute Code Message
According to their website, the mission of the National Gallery of Art is to serve the USA in a national role by preserving, collecting, exhibiting, and fostering the understanding of works of art, at the highest possible museum and scholarly standards.
Sample Lessons: Elements of Art: Shape, Rousseau in the Jungle, Gordon Parks Photography
Bring National Geographic to your classroom through lesson plans, maps, and reference resources.
Sample lessons: Wild Horses of the Outer Banks, El Nino, Traces of Ancient Rome in the Modern World.
The mission of the National Women's History Museum is to tell the stories of women who transformed the history of our nation in pursuit of a world "where women's history inspires all people to have equal respect for everyone's experiences and accomplishments and to see there are no obstacles to achieving their dreams." In addition to lesson plans, resources include National History Day projects, Virtual Field Trips , and The Suffrage Resource Center.
Sample Lessons: Songs of Protest, African American Activists, Little Rock Nine
Nature Lab is The Nature Conservancy's youth curriculum platform which provides lesson plans, videos and activities, and virtual field trips.
Sample Lessons: How Dirt Works, Fighting Fire with Fire, Recording the Rainforest
Teach and learn with The Times. Articles and questions, writing prompts, and lesson plans that coordinate with The New York Times Learning Network for teens. This site also provides access to professional growth resources and webinars for teachers, plus activities for students.
Sample Lessons: 28 Ways to Teach and Learn About Poetry, Listen to Five of the World's Newest, Wildest Instruments, 19 Ways to Teach the 19th Amendment
Newsela is a database of current events stories tailor-made for classroom use. Indexed by broad theme (e.g., War and Peace, Arts, Science, Health, Law, Money), stories are both student-friendly and can be accessed in different formats by reading level.
Sample Texts: Checking the Facts About U.S. Birthright Citizenship, The Human Heart as a Work of Art, Helping Endangered Lemurs Hang On
National Science Teachers Association promotes excellence and innovation in science teaching and learning for all. This site gives teachers access to NSTA magazines for students and teachers and lesson plans.
Sample Lessons: Slippery Slide Design, Figure Skating Physics, Wolves in the Wild
Free, standards-aligned Pre-K-12 instructional resources including lesson plans, videos, and interactives.
Sample Lessons: What Happens When a Language Dies?, The Origami Revolution, The Spread of Disease
Sponsored by the National Council of Teachers of English, ReadWriteThink provides educators with access to the highest quality practices in reading and language arts instruction by offering the very best in free materials.
Sample Lessons: Color Poems-Using the Five Sense to Guide Pre-Writing, Teaching About Story Structure Using Fairy Tales, A Blast From the Past With Nuclear Chemistry
Seacoast Science Center's Your Learning Connection is packed with lessons, activities, and resources to support at-home learning and empower children to investigate nature. Each weekly issue explores 4 themes: Get Outside!, Our Ocean, STEM Activities, and Art & Nature with lessons, videos, and activity sheets.
Sample Lessons: Honeycomb Moray Eel, Stargazing, Nature Scavenger Hunts
Free teaching resources by grade, including the categories Lessons and Ideas, Books and Authors, Top Teaching blog, Teacher's Tool Kit, and Student Activities.
Sample Lessons: Green Science (9 lessons), Fractions in Action (4 lessons), K-1 Author Studies (4 lessons)
Engaging hands-on science resources for students K-12. Choose from hundreds of videos, STEM challenges, and lesson plans.
Sample Lessons: What Animals Need to Survive, Engineering Design Challenge-Paper Airplanes, Paper Roller Coasters: Kinetic and Potential Energy
Associated with AFT, Share My Lesson houses over 420,000 free lesson plans and activities, including curated collections for early childhood through high school. Lessons are organized by grade and topic.
Sample Lessons: Who Wants to be a Millionaire Stories, Coordinates and Straight Line Graphs, The Effect of the Population Explosion
Smithsonian's History Explorer was developed by the National Museum of American History in partnership with the Verizon Foundation to offer hundreds of free, innovative online resources for teaching and learning K-12 American history.
Sample Lessons: The Suffragist, Winning WWII, Many Voices, One Nation
This award-winning children's literacy website streams videos featuring celebrated actors reading children's books alongside creatively produced illustrations.
Sample books: Trombone Shorty, Enemy Pie, Henry Holton Takes the Ice
Teacher.org offers a wide range of free teacher tools and resources including standards-aligned cross-curricular lessons which have been created by K-12 teachers from all over the United States.
Sample Lessons: Chinese New Year, Camouflage and Environment, Menus to Save the Earth
Free standards-aligned lessons and interactive whiteboard activities products created by teachers for teachers.
Sample Lessons: A Tale of Two Towns, Making Decisions with Probability, Translating Confucius
For more than 15 years, Teacher Vision has equipped a community of over one million educators with certified, expertly curated teaching resources designed to help their students succeed.
Sample Lessons: Polar Powers: Animal Adaptations, Patterns in Music and Math, The Rights of Bike Riders
Claiming to be the world's most popular marketplace for teachers, TPT not only provides thousands of resources, it allows teachers to share their knowledge with their colleagues and make money doing it.
Sample Lessons: Forces and Motion, Gumball Sight Words, I Have, Who Has Money Game
TES (Times Educational Supplement) is a British website that houses over 700K free resources for K-12 teachers. Made by teachers for teachers.
Sample Lessons: Toy Store Money Problems, Persuasive Writing Travel Brochures, Tissues and Organs
The Federal Reserve's U.S. Currency Education Program offers a wide range of free educational and training resources including their Currency Academy for Kids, K-5 lesson plans, and Money Adventure mobile app.
Sample Lessons: Money Scavenger Hunt, Working with Words, You'd Be Surprised videos
In addition to lesson plans and classroom ideas, our very own website has thousands of resources including classroom ideas, free printables, career advice for teachers, life and well-being, and deals for teachers.
Sample Lessons: 7 DIY Activities to Teach Kids about Germs, 55 Easy Science Experiments Using Material You Already Have on Hand, How to Teach Politics and Live to Tell About It
World Wildlife Fund's mission is to protect the world's most beloved species and protect the habitats people and wildlife depend on. They offer free educational resources for educators and parents games, videos, lessons, toolkits
Sample Lessons: Sea Turtle Toolkit, Be a Food Waste Warrior, The Endangereds