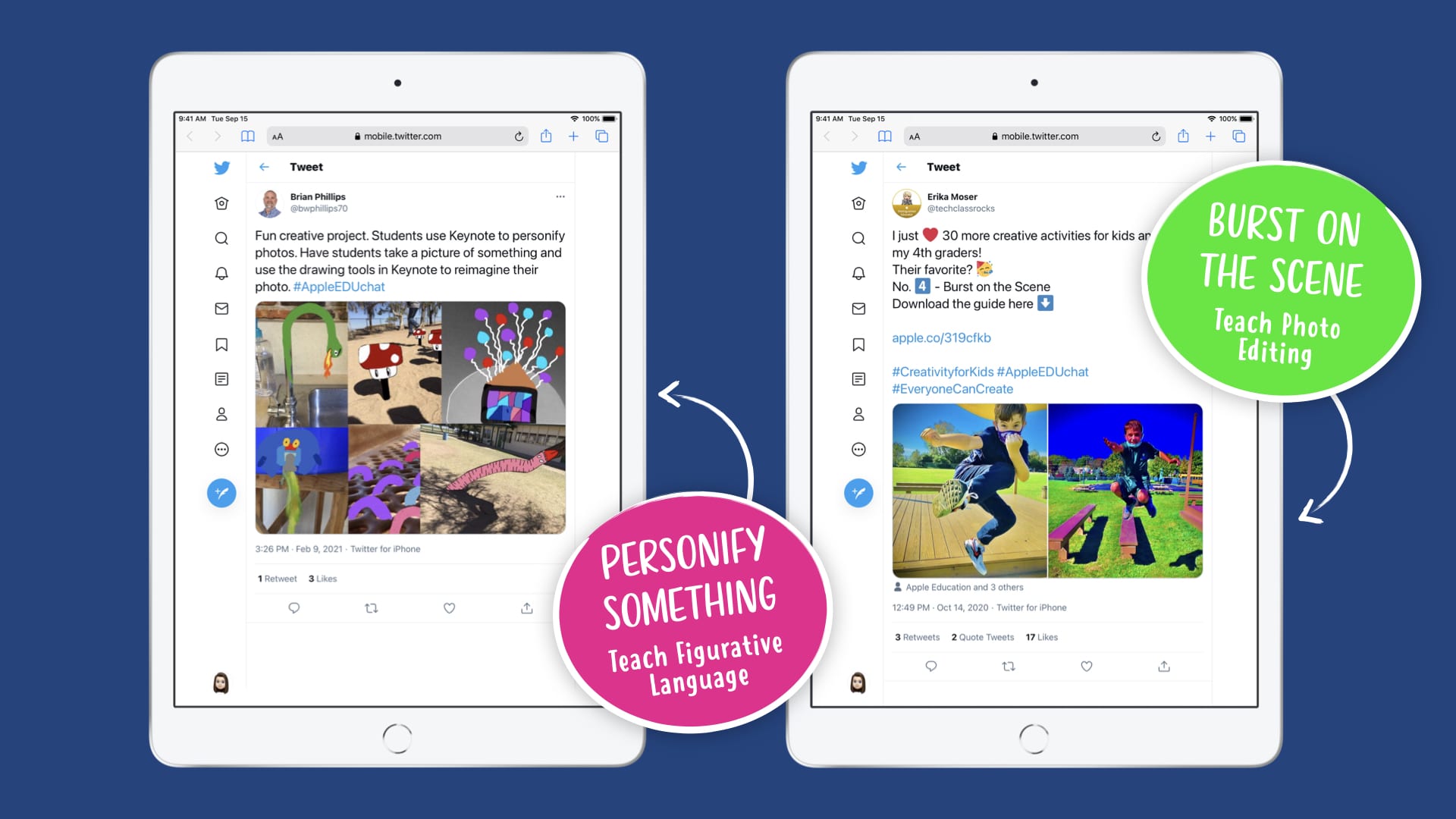 Brought to you by Apple Education
Apple creates resources to help educators bring out their students' creativity. Not only powerful products, but also tools, inspiration, and curricula to create magical learning experiences.
We know that our students love using technology and getting creative in the classroom. We also know that we love it when our students are engaged. So creativity + technology=student engagement and higher-level thinking (yes, please!). Turns out there's data to back us up. In Gallup's 2019 Creativity in Learning Report, three out of four teachers agree that creativity is essential for learning. Seventy-five percent of teachers say that technology-based lessons are more likely to help students with critical thinking, problem solving, and connecting learning to the real world.
Get Started With Creativity
So, if you're looking for creative activities to challenge your students and keep them tuned into virtual learning, we've got you covered! This article shares seven creative activities for iPad from Apple Education along with ways to use the activities to teach different topics and skills and a time frame for each. Looking for more? Explore even more creative activities using built-in features of iPad with these two sets of Creative Activities for Kids designed for children ages 4-8 and 8-12+.
1. Send Flowers
Students will use shapes and drawings to make a bouquet of flowers. They can add some text and send it as a postcard to a friend or family member (so sweet!).
How to Apply It:
Support students to express gratitude for someone.
Teach shape recognition.
Give students an opportunity to create and use a pattern.
Activity Time: 5-10 minutes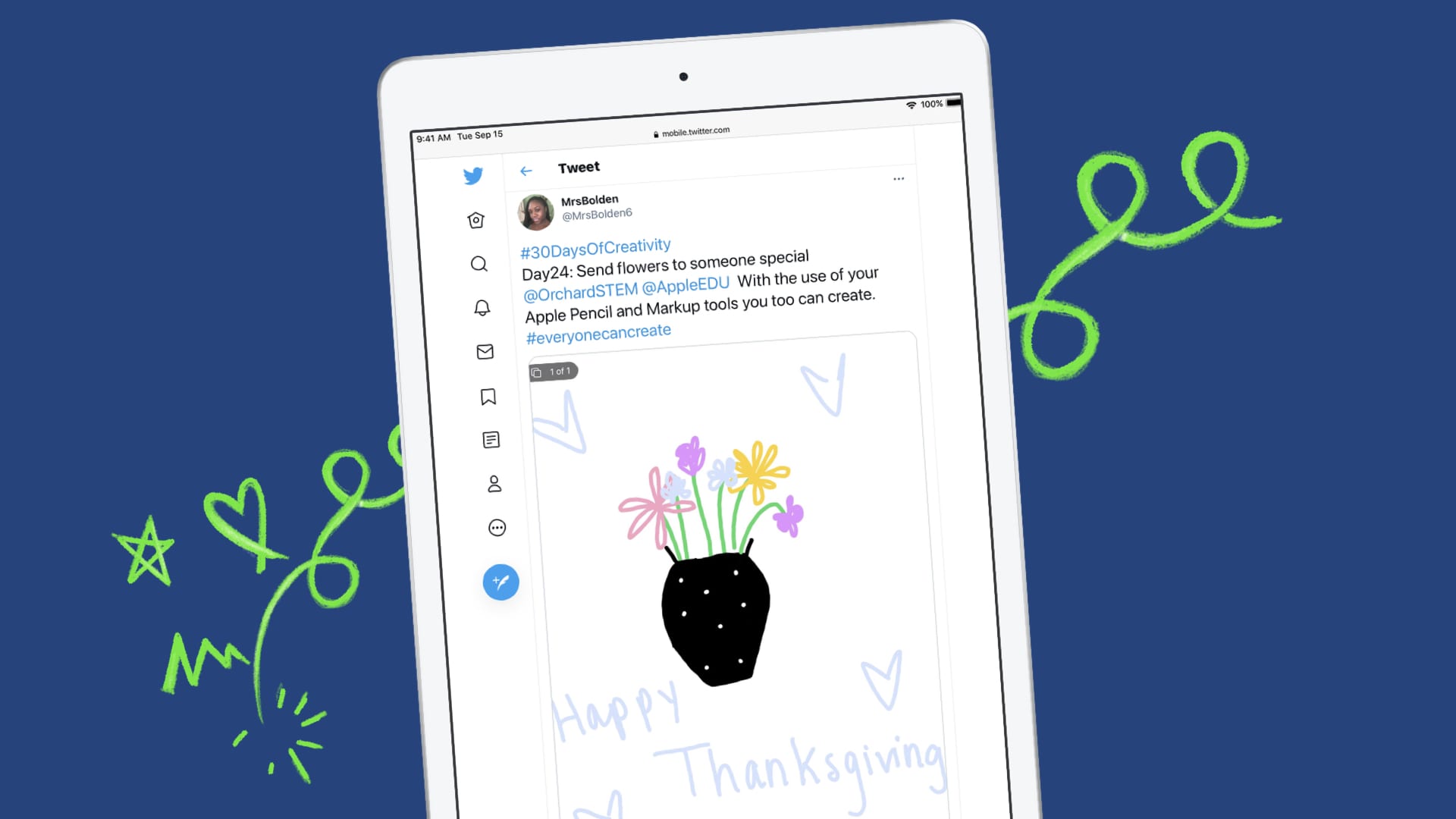 2. Record News Interviews
We love this creative activity for the iPad because it will work with so many different assignments. Students can interview each other to build classroom community.
How to Apply It:
Ask students to role play historical figures and interview each other.
Students can interview a person in the community to learn about different jobs.
Bring current events into the classroom.
Activity Time: Two 30 minute sessions
What teachers are saying:
"I love activities that allow for choice, self expression, creativity, and that get students to share their voices! This activity hit all those points for me and was super easy to adapt to our remote learning." —Erika Moser, Apple Distinguished Educator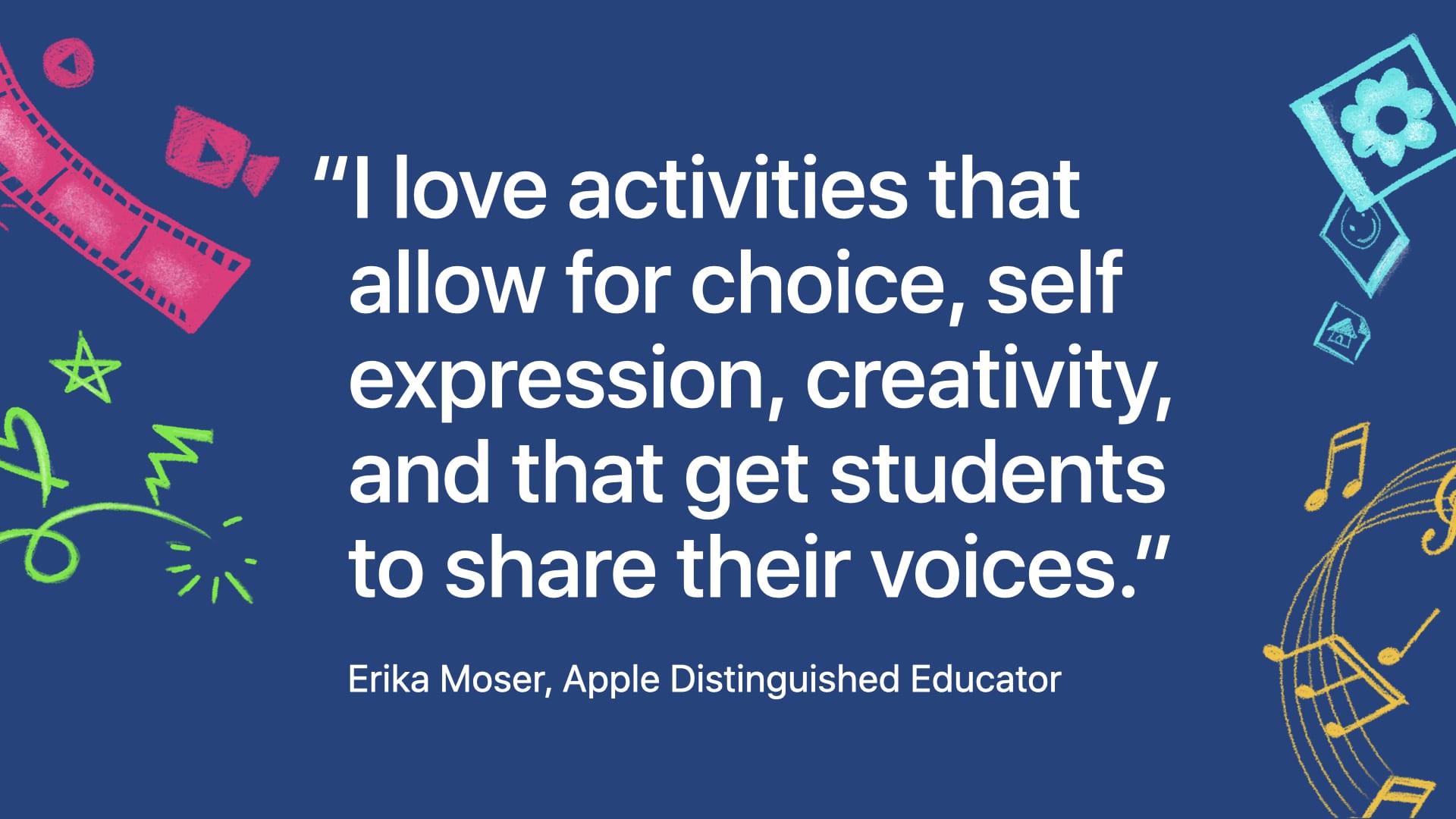 3. Personify Something
Calling all English teachers! We love this creative activity for the iPad to teach students personification. Ask them to take a photo of an everyday object at home or outside. Then, draw on it using Markup to transform it into a character.
How to Apply It:
Teach figurative language.
Give students the opportunity to create a character.
Challenge students to think and feel from their object's perspective.
Activity Time: 15-20 minutes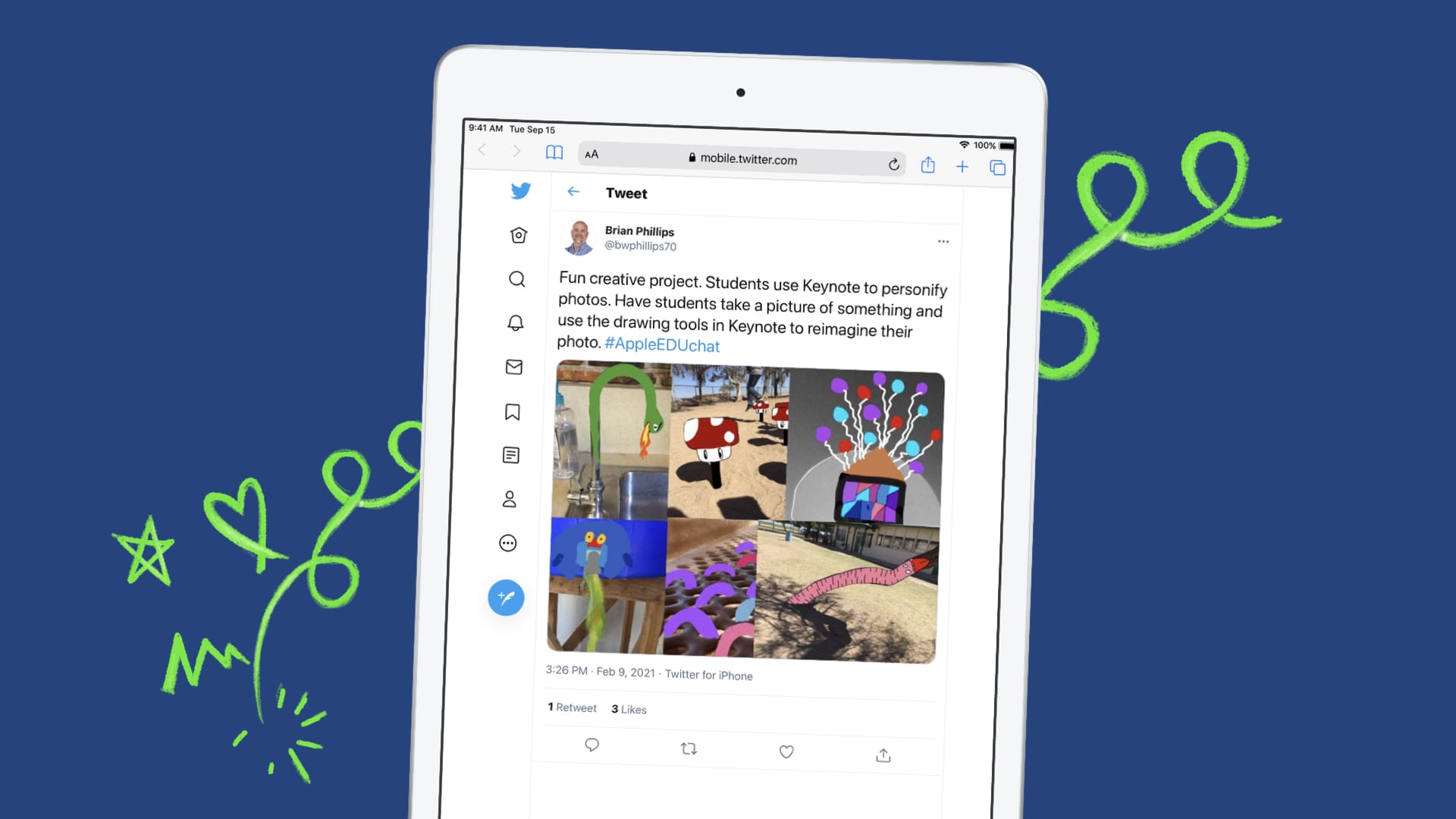 4. Animate a Portrait
Students love this because they get to bring a drawing to life and watch it move. Teachers love it because students learn coding basics. Invite your students to draw a self-portrait. From there, they will use iPad's tools to turn the portrait into an animated GIF.
How to Apply It:
Ask students to animate a portrait of their favorite character.
Help students explore and express their identity.
Expose students to managing multiple steps in a process.
Activity Time: 10-20 minutes
What teachers are saying:
"By providing students the opportunity to trace a portrait of themselves, a famous person in history, or even a portrait of an animal, the drawing process is scaffolded. Once students delete their original photo, they are stunned at their drawing masterpiece. We finish this project up with animations, voice, and music to create a video of the portrait as it comes to life." —April Requard, Apple Distinguished Educator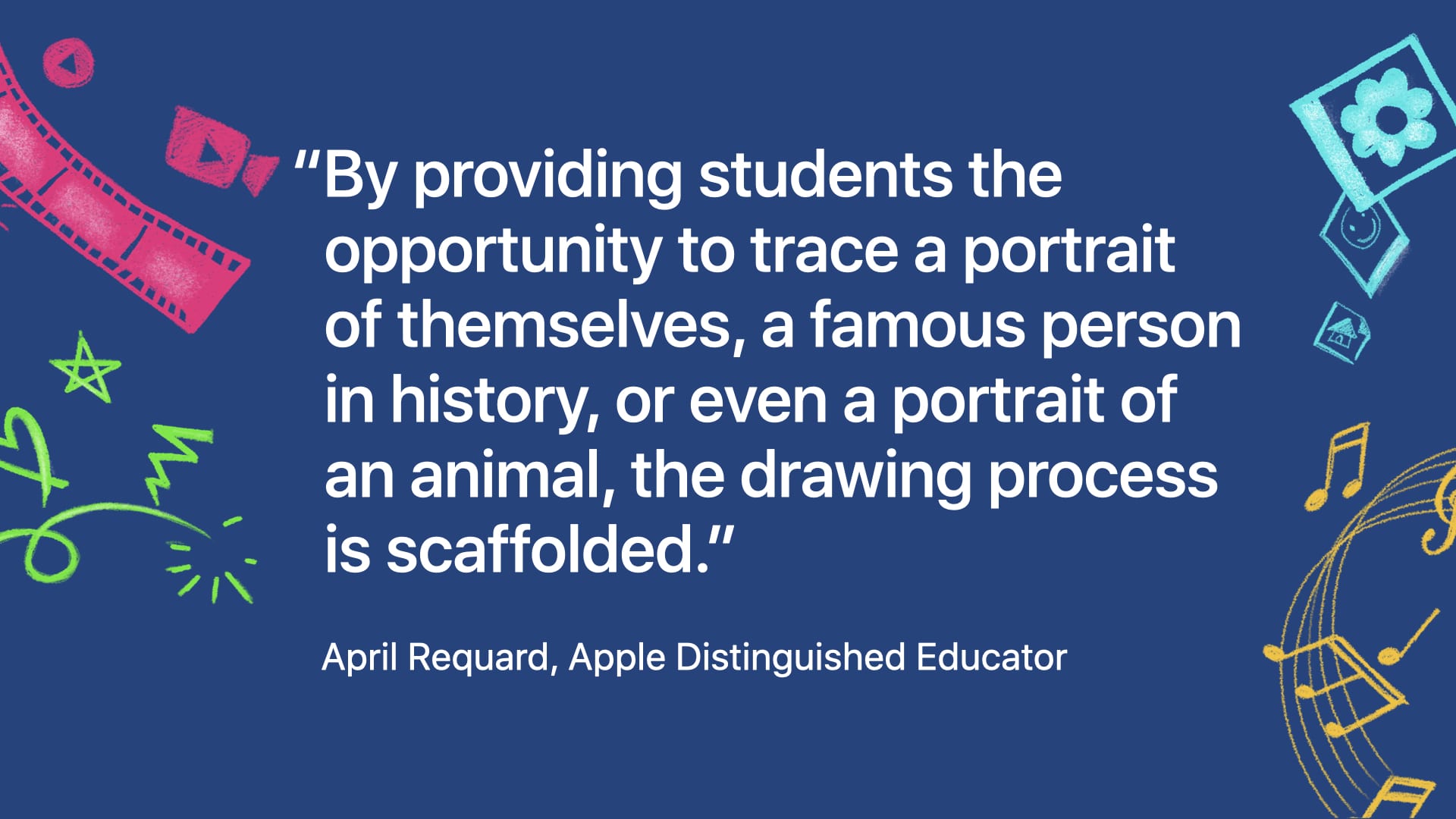 5. Write a Love Letter To The Planet
Assignments where students get to write about themselves and what they care about are our favorites. In this activity, students think about their favorite place. It could be somewhere they've traveled, a space in their home, etc. They draw or take a picture of the place and then bring it to life on iPad. Added bonus: in this activity, students can write, draw, and/or record their voices. So many opportunities for choice mean so many opportunities for creativity!
How to Apply It:
Teach narrative writing.
Address local environmental challenges.
Celebrate students' cultures and communities.
Activity Time: 30-45 minutes
What teachers are saying:
"Quick challenges like these help me to get to know my kids, their talents and interests, and know them better as people. The students love doing them to express their own passions and interests. In a creative and non-traditional way." —Jodie Deinhammer, Apple Distinguished Educator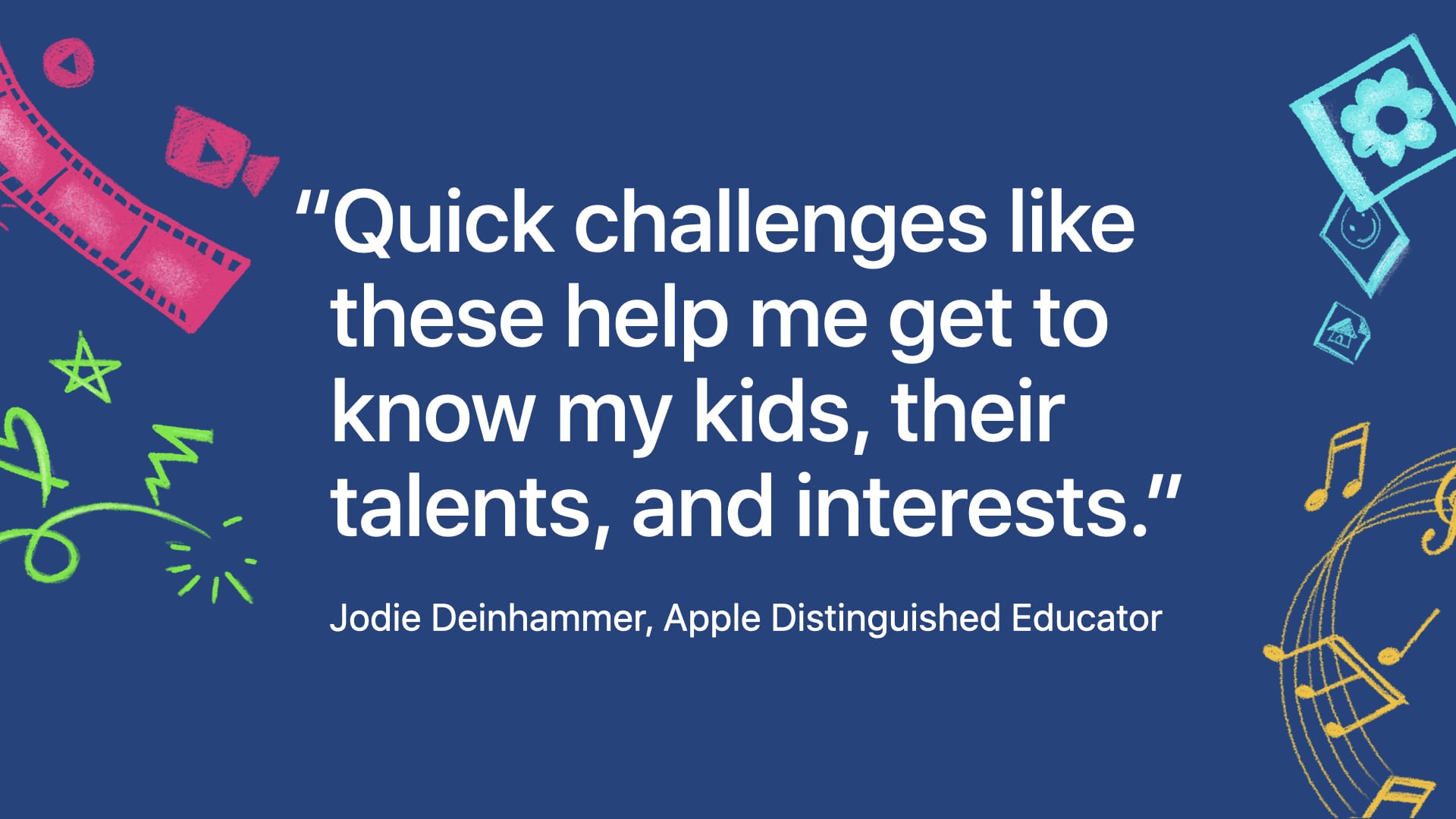 6. Put Things In Order
Ask your students to take a picture of each step in an everyday activity, like washing their hands: turn on the water, soap your hands, scrub, rinse, and dry. Put the photos in order to create a sequence.
How to Apply It:
Challenge students to teach classmates the steps in a process.
Help students work on executive functioning skills.
Ask students to put the steps in their favorite activity in order.
Activity Time: 10-15 minutes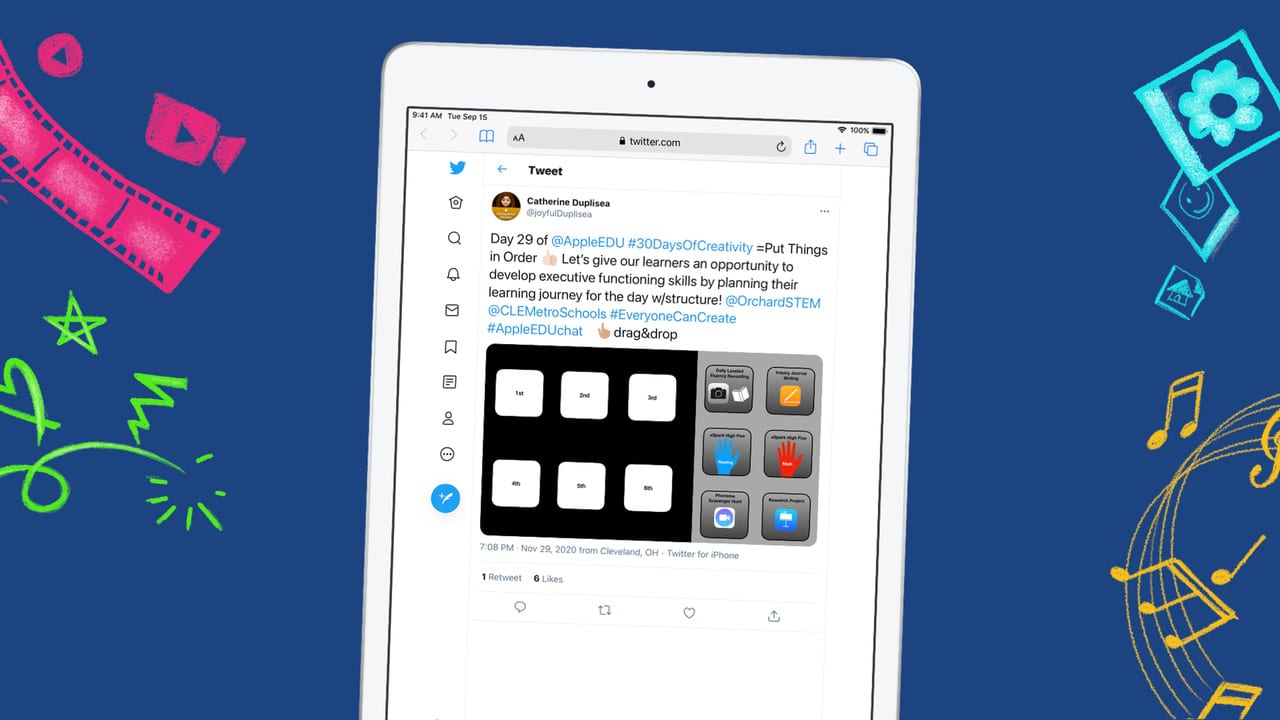 7. Burst On The Scene
Your students can use burst mode in the camera app to take photos of each other performing an action like running, jumping, or dancing. They can then pick the best images and edit them to reflect their style. It looks like Erika's students had a lot of fun with this creative boosting activity.
How to Apply It:
Teach photo editing.
Explore the law of gravity.
Perfect for P.E. class.
Activity Time: 10-15 minutes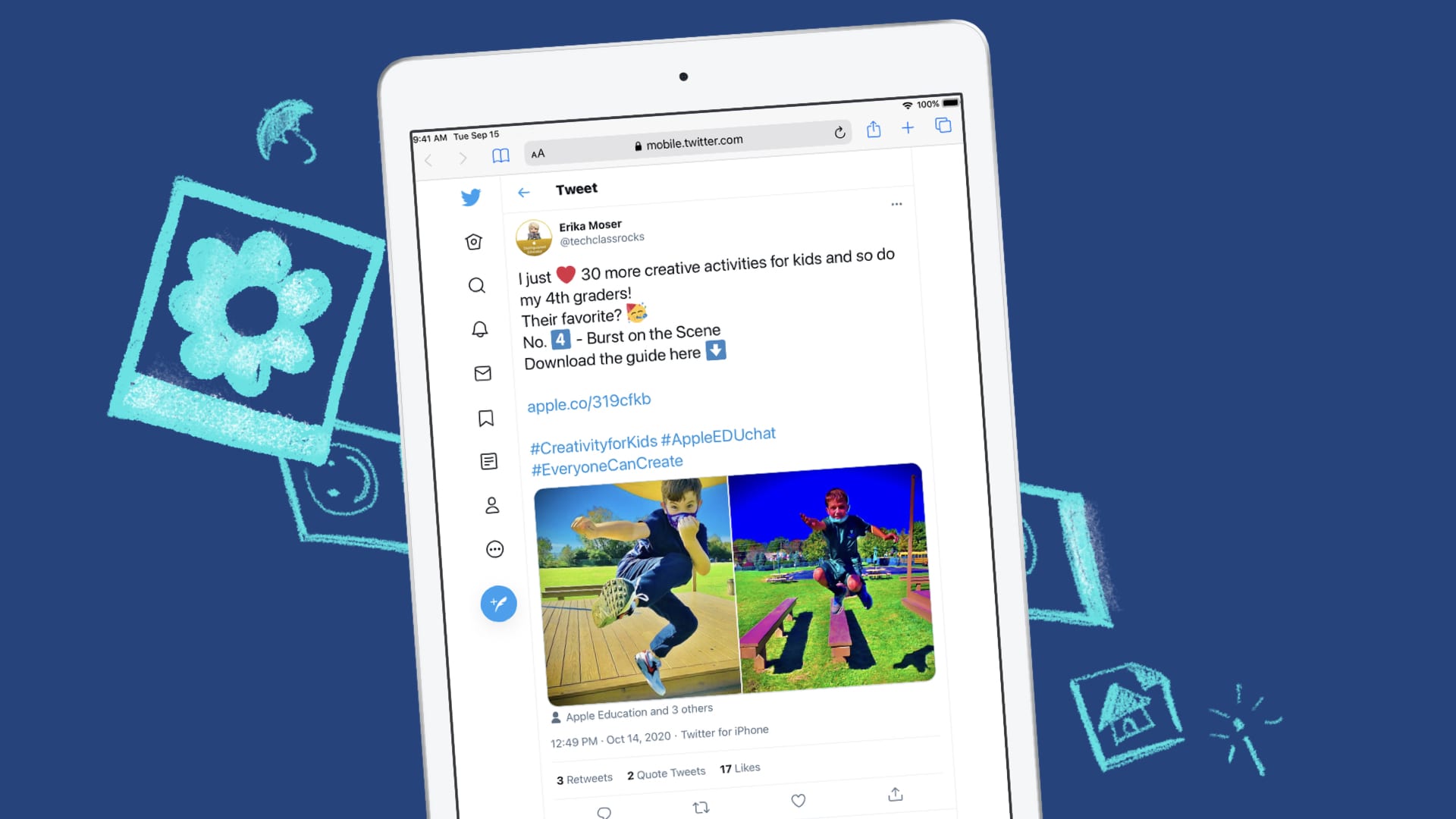 Just click the buttons below to get more creative activities from our friends at Apple Education, and don't forget to share these resources with your students' families so creativity can continue at home.
30 Creative Activities For Kids (Ages 4-8)