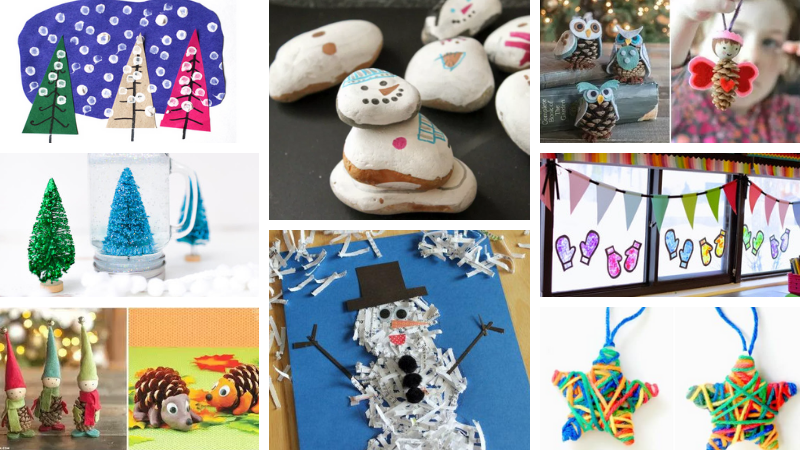 Brrr! Can you feel the chill in the air? With winter weather ramping up across the country, now is the perfect time to get creative in the classroom! Try one (or more) of these adorable, easy-to-do classroom winter crafts and watch your kids light up. Pair them with a winter-themed read aloud for extra learning and fun.
Just a heads up, WeAreTeachers may collect a share of sales from the links on this page. We only recommend items our team loves!
1. Mix and Match Stone Snowmen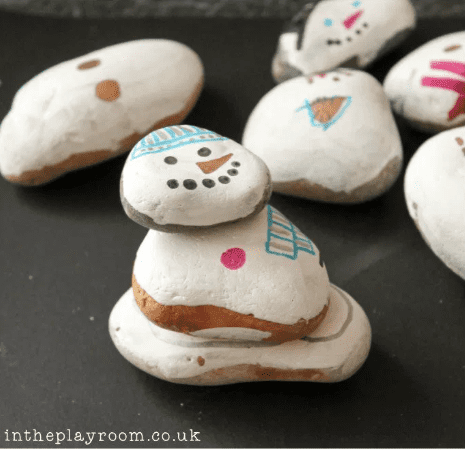 SOURCE: In the Playroom
All you need for this craft is flat rocks, white paint, and colored Sharpies. Decorate each stone as one part of a snowman and once you're done, you can mix and match the bodies or stack them up to build a really tall snowman!
2. Snowy Day Collage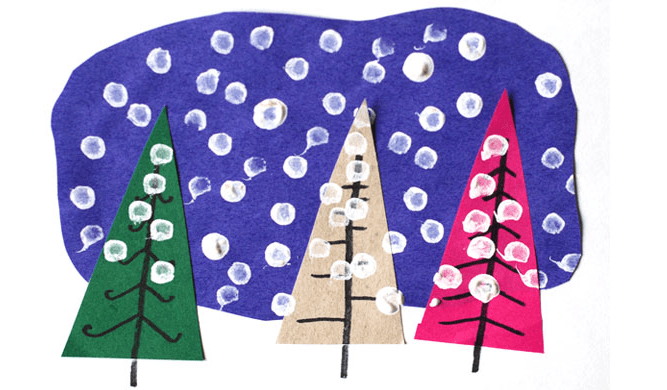 SOURCE: Cute DIY Projects
Use bright-color construction paper, Sharpies, and white paint to create these charming snowy forest scenes.
3. Yarn-Wrapped Stars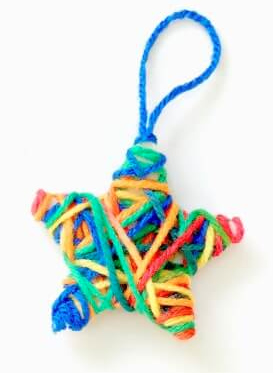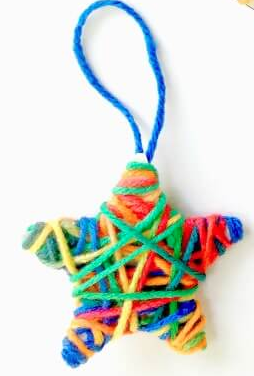 SOURCE: The Inspired Treehouse
Not only are these little ornaments cute, they help kids work on their fine motor skills! For a full explanation, click the link above.
4. Glittery Snow Globe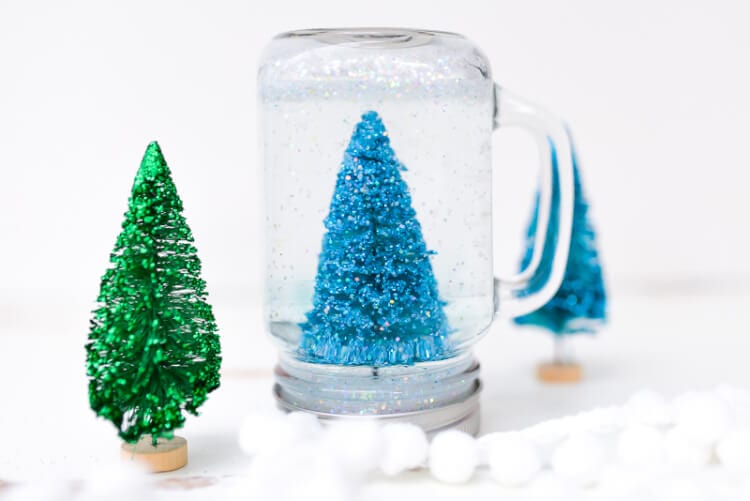 SOURCE: Hey Let's Make Stuff
This mesmerizing mason jar snow globe is not just pretty, it can also be used as a calm-down tool.
5. Shredded Snowman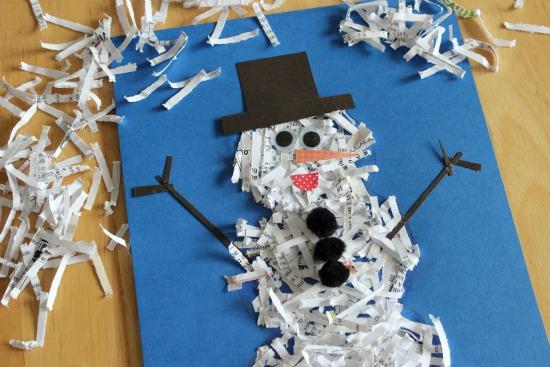 SOURCE: Baby Center
Finally, a great use for shredded documents! This tactile craft is fun and easy for little ones to put together.
6. No-Sew Sock Penguin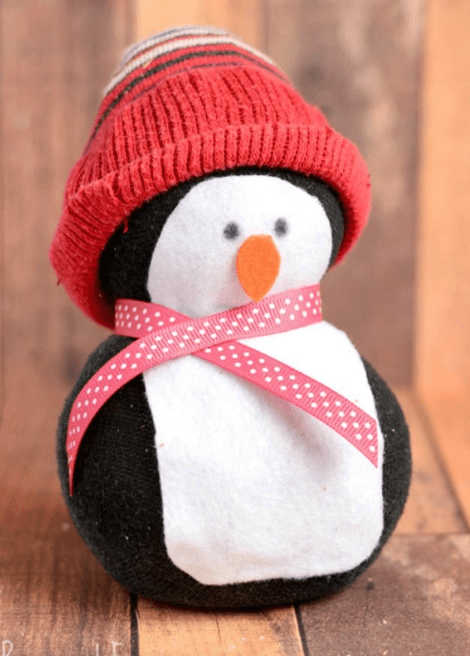 SOURCE: Easy Peasy and Fun
This rice-filled sock craft is so simple—a little cutting and a little glueing, and your students have a new little buddy.
7. Cheerio Bird Feeders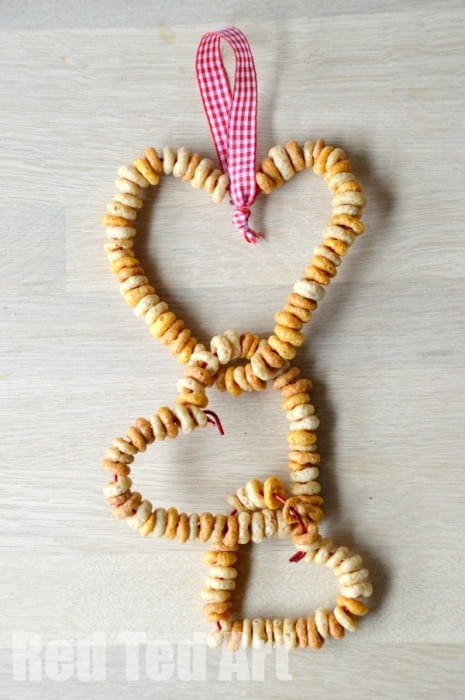 SOURCE: Red Ted Art
Share the love with our fine feathered friends. Create shapes with bendable wire, thread with Cheerios, add a ribbon, and hang!
8. Swirly Glue and Glitter Snowmen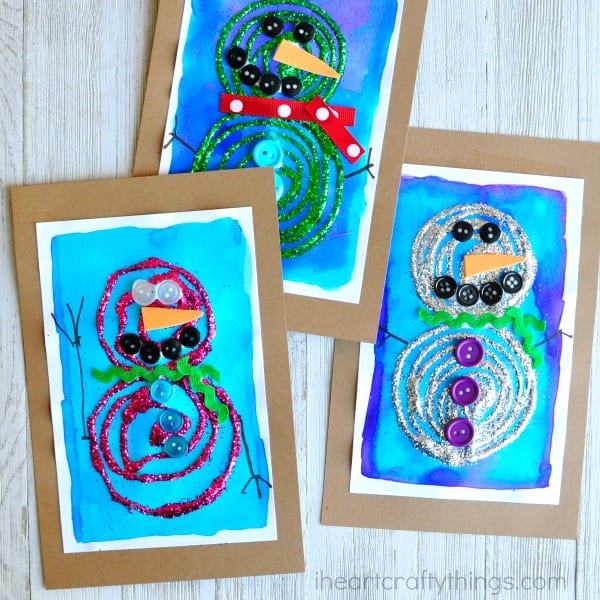 SOURCE: I Heart Crafty Things
Only for the brave of heart—this craft involves glitter! Start with a watercolor background then add swirls of white glue. Before the glue dries, sprinkle on glitter. Once the glue dries, add accessories such as button eyes and fabric scarves.
9. Irresistible Pine Cone Crafts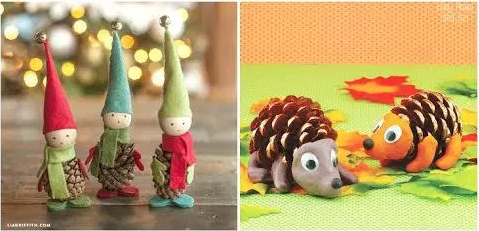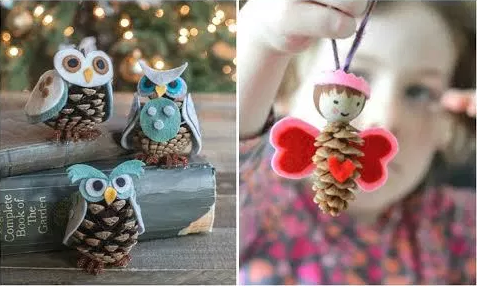 SOURCE: Two Kids and a Coupon
This blogger has created the cutest pine cone crafts ever! From the adorable elves and hedgehogs to the fairies and owls, your kids will flip for these little forest creatures.
10. Stuck in a Snow Globe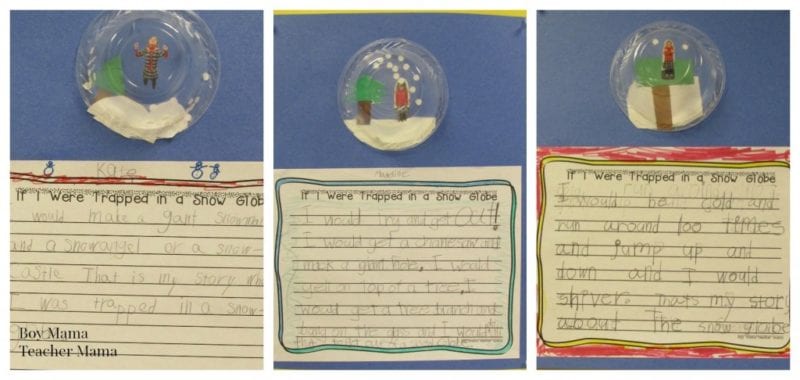 SOURCE: Boy Mama, Teacher Mama
Making your own snow globes is simple when you use clear plastic bowls, photos of your students, and this adorable writing prompt.
11. Icy Cold Snow Paint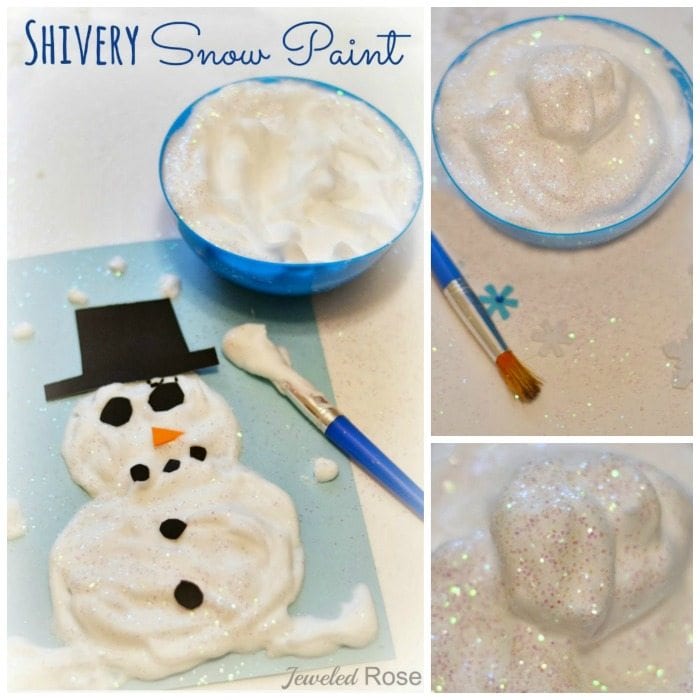 SOURCE: Growing a Jeweled Rose
Your kids will love using this creamy, puffy paint to whip up a snowman friend. Here's a tip: When you chill the glue beforehand, it really feels like snow!
12. Over and Under the Snow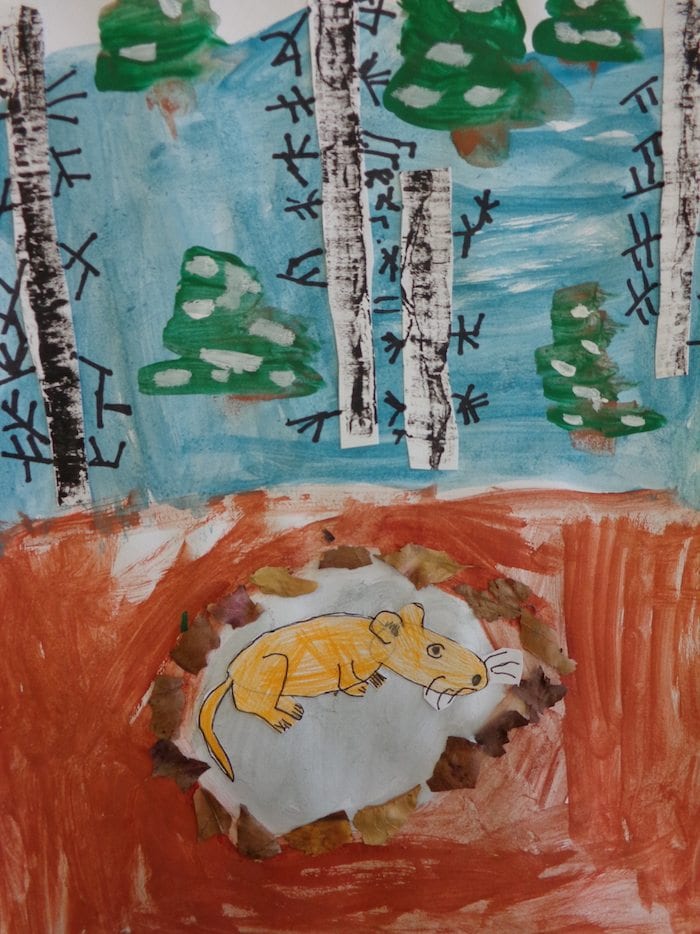 SOURCE: Arts @ Bell
Read Kate Messner's charming story book of the same name, then create your own winter scene.
13. Classroom Igloo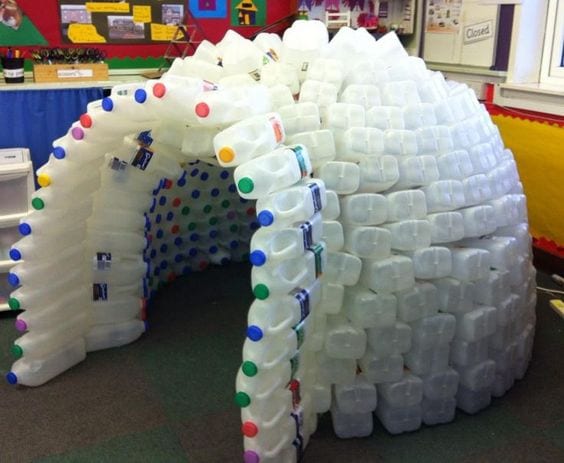 SOURCE: Hub Pages
Start recycling now, people! This cozy snow fort is a great cooperative-learning and engineering project for the whole class.
14. Fingerprint Snow People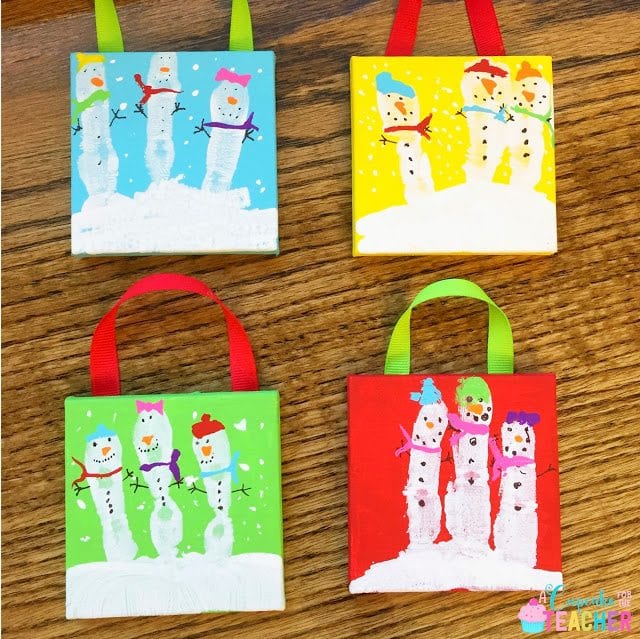 SOURCE: A Cupcake for the Teacher
Tiny canvases, acrylic paint, and toothpicks (oh, and fingers!) are all you need for this adorable keepsake.
15. Custom Candles
SOURCE: Come Together Kids
Use heat transfer to make these delightful and original candles. So clever!
16. Winter Tree Silhouette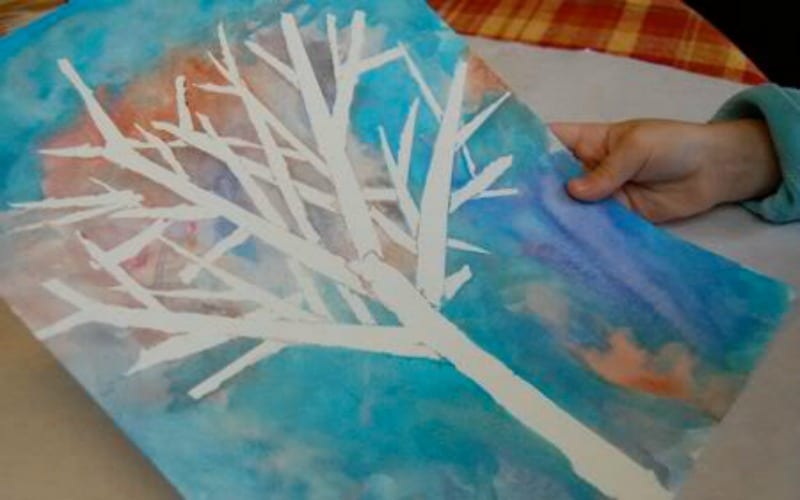 SOURCE: Inner Child Fun
Use masking tape to create the shape of a winter tree, then paint a watercolor wash over the whole page. Once the paint is dry, remove the tape, and you'll have this beautiful winter scene.
17. Pasta Snowflakes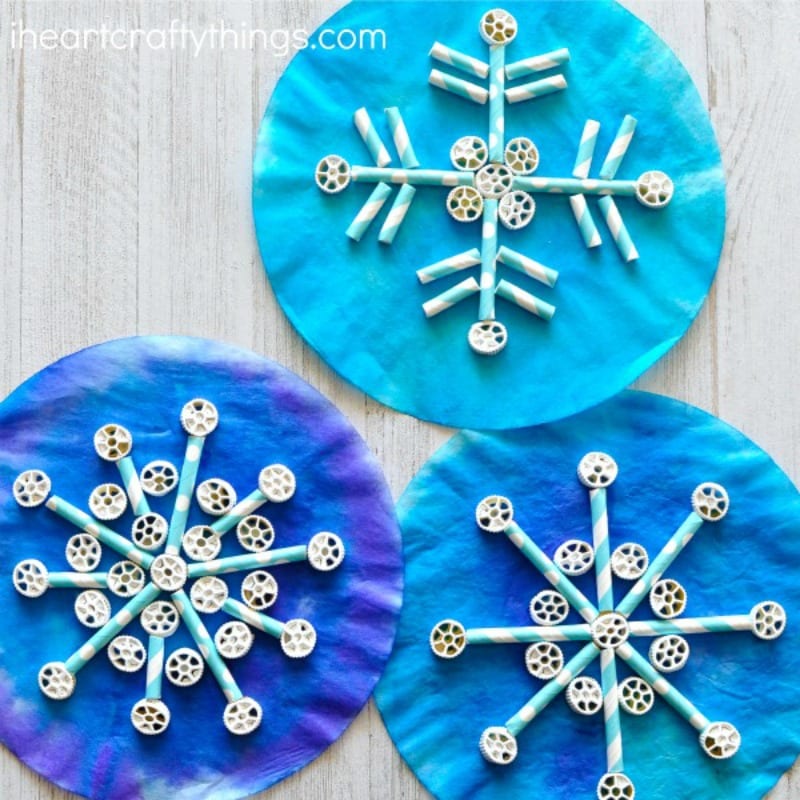 SOURCE: I Heart Crafty Things
Who knew that coffee filters, straws, and wagon-wheel pasta could be so adorable? Tape them to your classroom windows or bulletin board to create a winter wonderland.
18. Snowflake Trees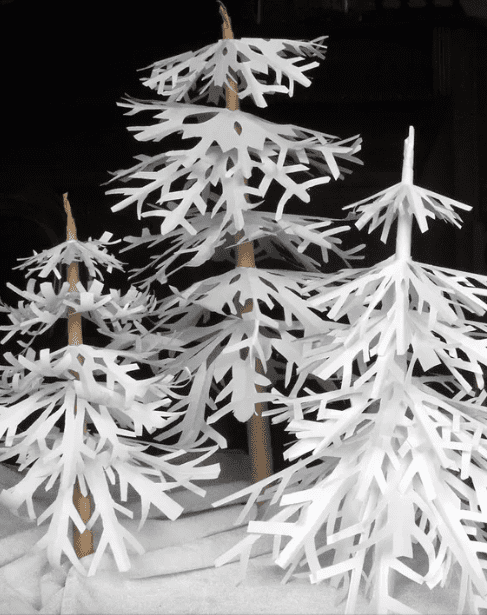 SOURCE: The Spruce
Here's a fun twist on the age-old art of paper snowflakes. All you need is a bundle of sticks, some white copy paper, and scissors. Warning: You might want to have the recycle bin handy to capture all the scraps!
19. Stained Glass Mittens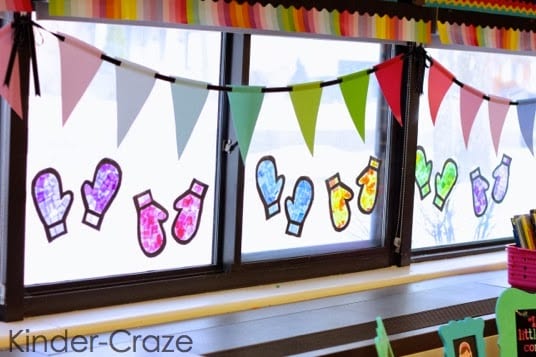 Source: Kindercraze
Your kids will love seeing the sunlight dance across these stained glass mittens. You provide the frame, then they glue the squares of tissue paper. Simple!
20. Silly Melted Snowmen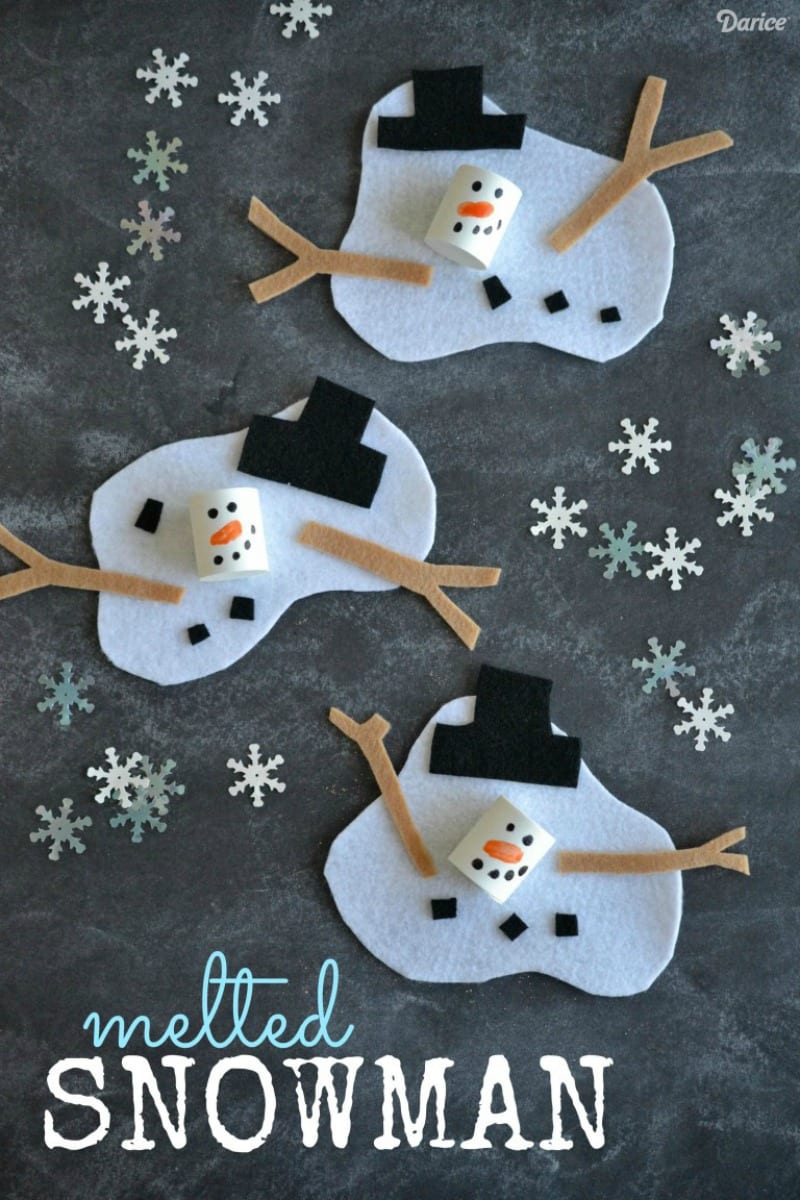 SOURCE: Live Craft Love
A new twist on the classic snowman craft. This hilarious craft is simple to make and will put a smile on your students' faces.
21. Snowy Forest Scene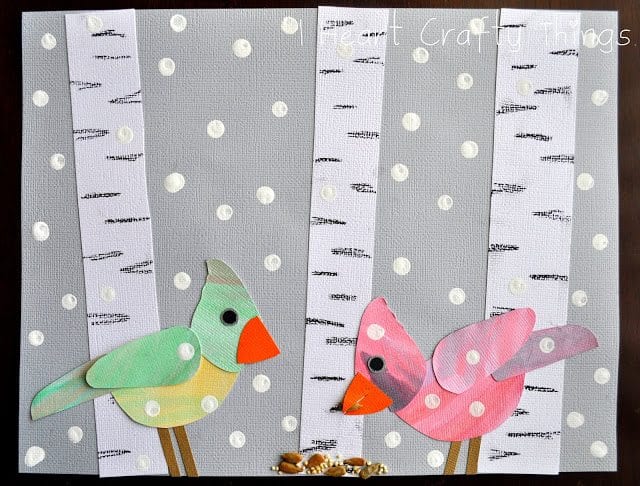 SOURCE: I Heart Crafty Things
This blogger paired this winter scene activity with the book Snowballs by Lois Ehlert.
22. Glittery Icicles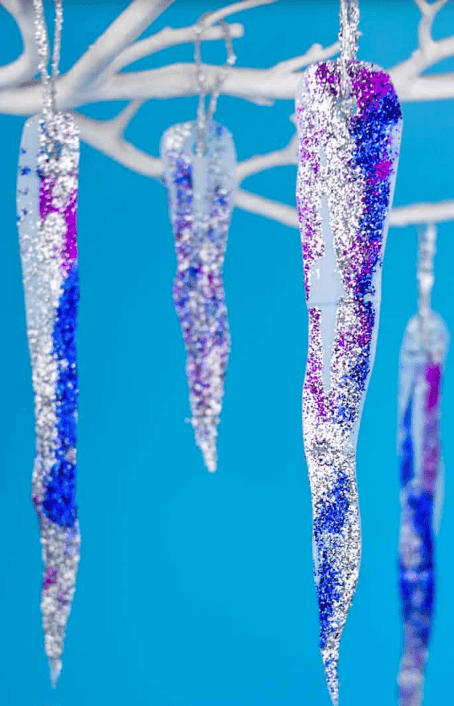 SOURCE: Kids Craft Room
Believe it or not, the base of this craft is plastic milk bottles. A gorgeous way to reuse and recycle an everyday object.
What are your favorite classroom winter crafts? Come share in our WeAreTeachers HELPLINE group on Facebook.
Also, check out 37 Gift Ideas for Students That Won't Break the Bank.