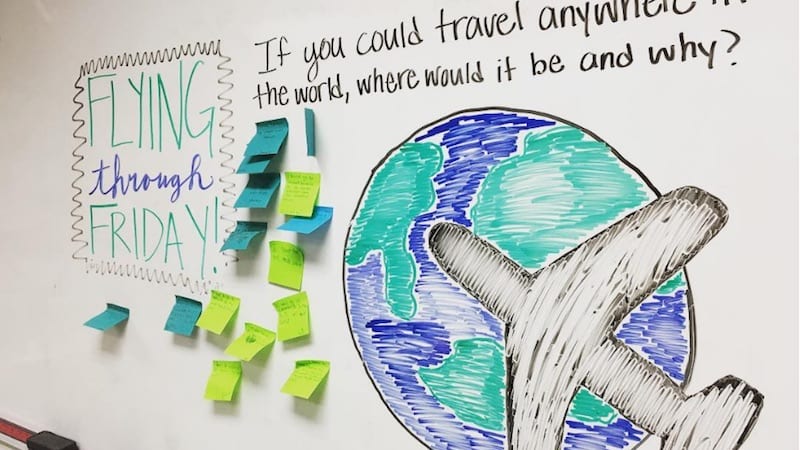 We love all of the creative classroom whiteboard sketches and prompts we've been seeing on social media, many of them inspired by Britney Briggs, a fifth grade teacher in Illinois who goes by miss5th on Instagram. Here are a few you might want to borrow for your own classroom!
1. If you had a signature sandwich …
2. Welcome to the science fair.
3. Hello there, Thursday!
4. It's okay to be a glowstick.
5. For those unwelcome classroom visitors.
6. Hop into reading.
7. April showers bring May flowers.
8. It's Fri-yay!
9. Leave a compliment and make a friend.
10. What wise choices will you make today?
11. What we love about our class.
12. When you wish upon a star …
13. A little game of Boggle.
14. Top Two Tuesday.
15. Dr. Seuss–inspired.
16. We Rise Wednesday.
17. Flying Through Friday.
18. Just keep swimming …
19. School spirit!
20. Be somebody who makes everybody feel like a somebody.
21. Getaway Monday!
22. Nice for testing days.
23. An obstacle is just an adventure in disguise.
24. Compliment coaster.
25. The future of the world is in our classroom.
26. "I Think I Can" Thursday.
27. Summer break, I come in like a wrecking ball …