We know it doesn't really feel like Halloween is happening this year. But, if there's any way to get a teacher excited about Halloween, it's to gather inspiration from some of the best literary Halloween costumes out there! Whether you're a dedicated English teacher or just a self-proclaimed "word nerd," we bet there's something here to get your creative juices flowing and get you psyched about the impending arrival of one of our favorite holidays—and maybe even educate your students at the same time! Whether you're teaching virtually or in-person, your students are bound to love seeing you dressed up. Below are some of the most brilliant ideas for literary Halloween costumes we've seen on Instagram.
Just a heads up! WeAreTeachers may collect a share of sales from the links on this page. We only recommend items our team loves!
1. Mary Poppins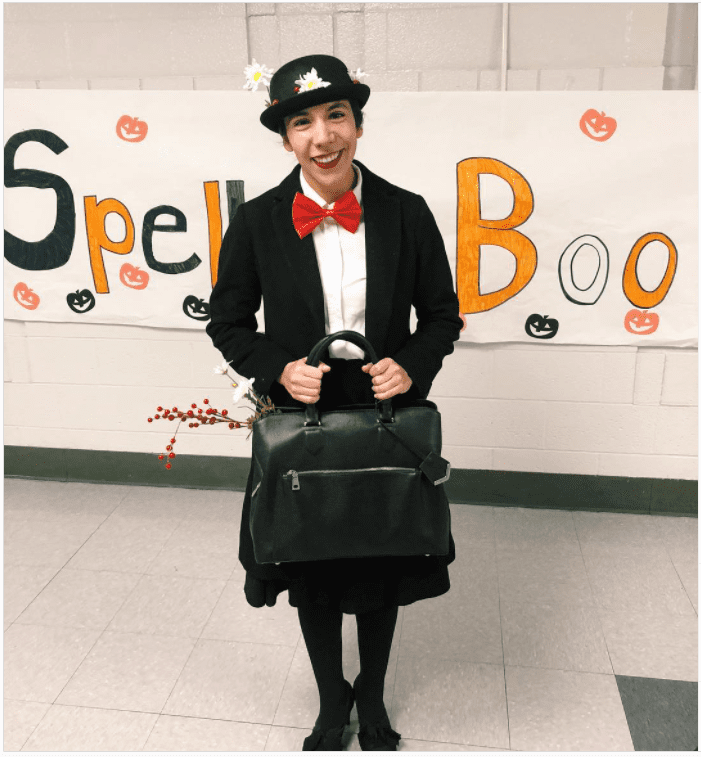 This costume is practically perfect in every way.
Source: @travelingconfaith
2. Ten Apples on Top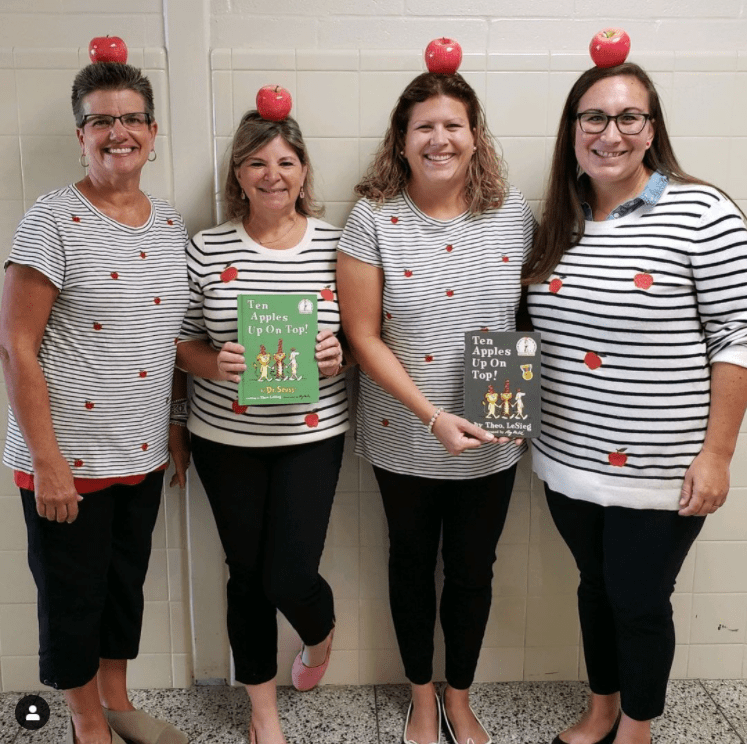 Don't you love when you buy something for a costume that you'll wear again? This shirt is super cute and on sale now at Loft. Make a quick DIY apple headband with cheap supplies (apples and headbands) from Amazon, and voila!
Source: @teachinginstripes
3. If You Give a Mouse a Cookie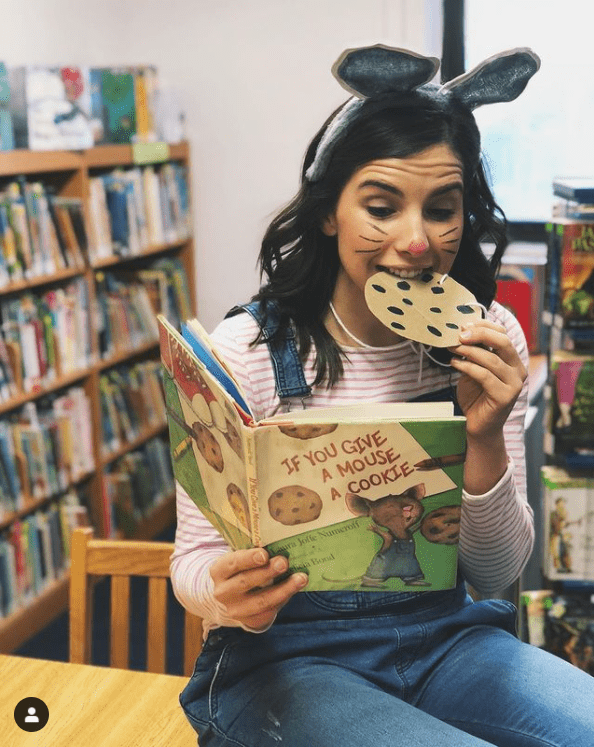 Students will gobble this one up.
Source: @teachingontables
4. Rainbow Fish
Those scales are fabulous! We also love how these teachers made it a group costume.
Source: @mrs_specialeducation
5. Madeline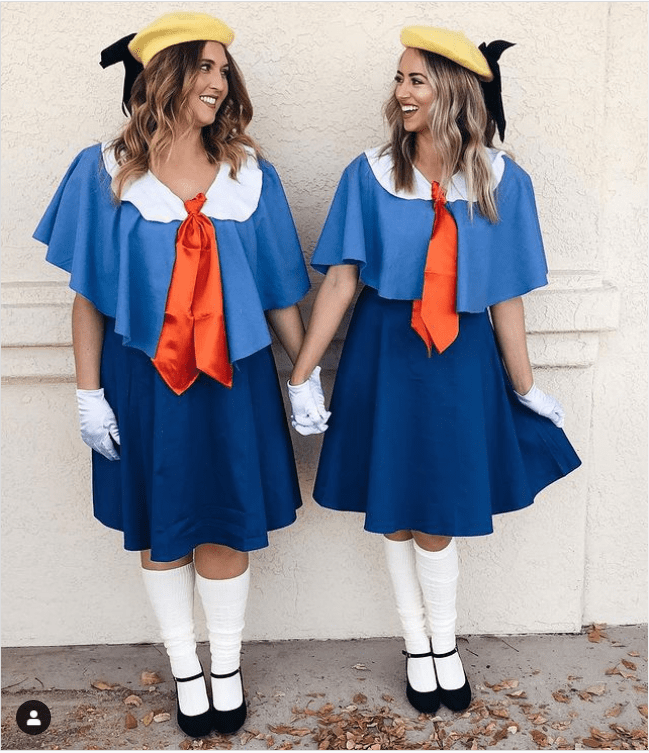 Perfect for teacher BFFs (P.S. more teacher bff costumes over here. )
Source: @hellomrsrogers
6. A Bad Case of the Stripes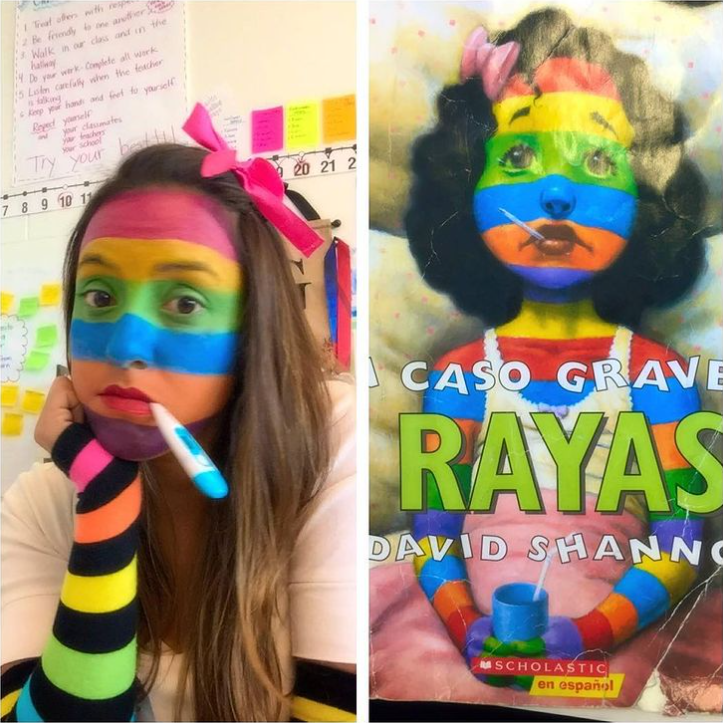 How fun is this colorful rendition of Camilla Cream?!
Source: @mrsvillasra
7. Charlotte's Web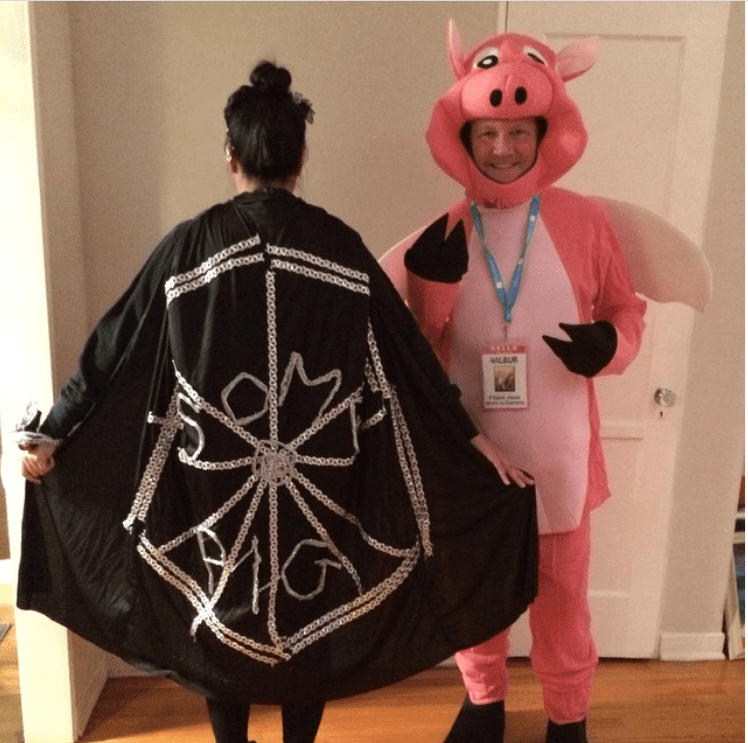 Wilbur and the web from E.B. White's famous book. This costume requires a book-loving friend to join in on the fun with you—but maybe that makes it even better?
Source: @krishaleanne
8. Where's Waldo?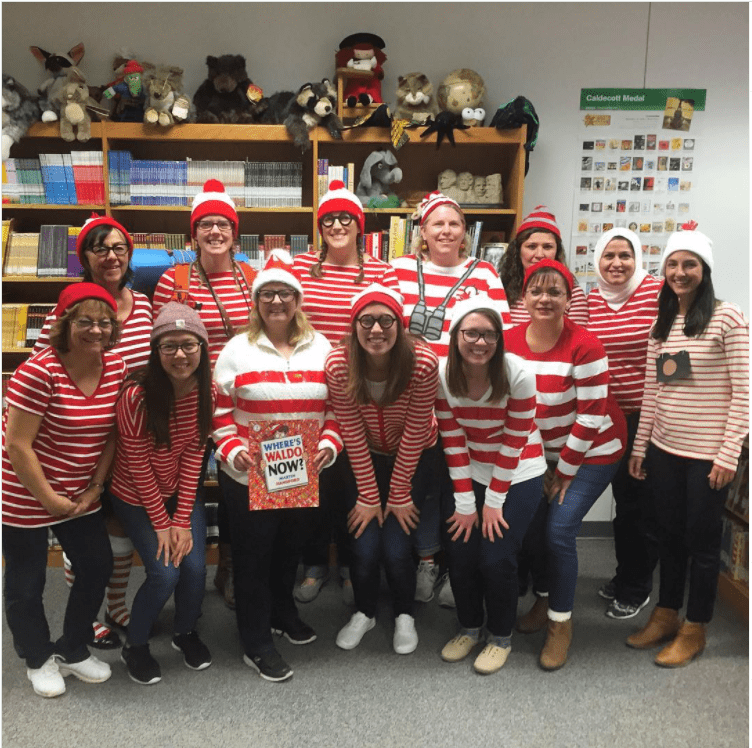 Students won't have any trouble finding our red-and-white-striped friend at this school!
Source: @mrsvandorp
9. Alice in Wonderland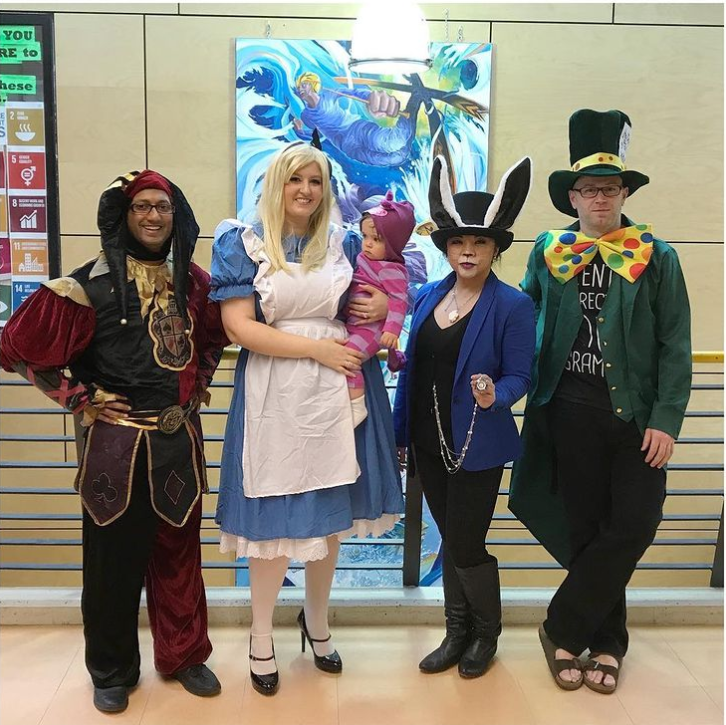 It's time for a (tea) party!
Source: @rebelpoetz
10. Ms. Frizzle from The Magic School Bus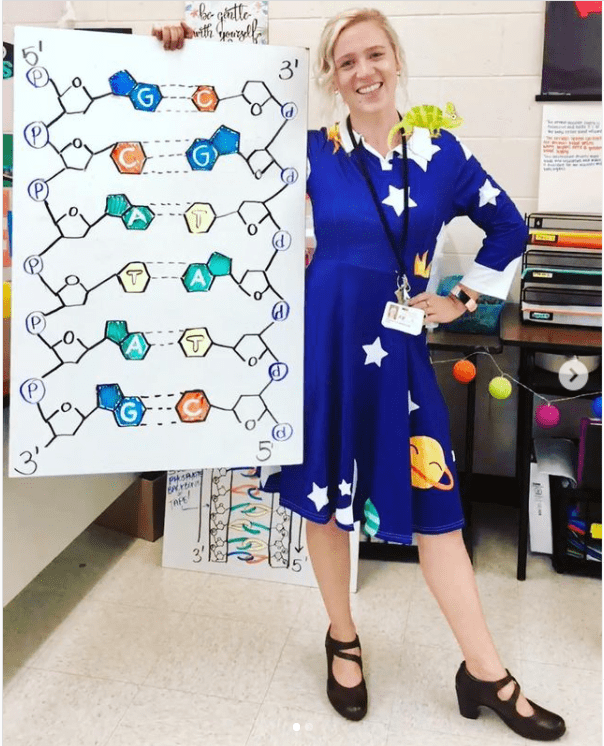 What teacher wouldn't want to emulate the beloved Ms. Frizzle for a day? Now that you can stream this classic series on Netflix, this Halloween is the perfect time to bring it to life. Get the dress here.
Source: @birderincrime
11. Bruce Bogtrotter from Matilda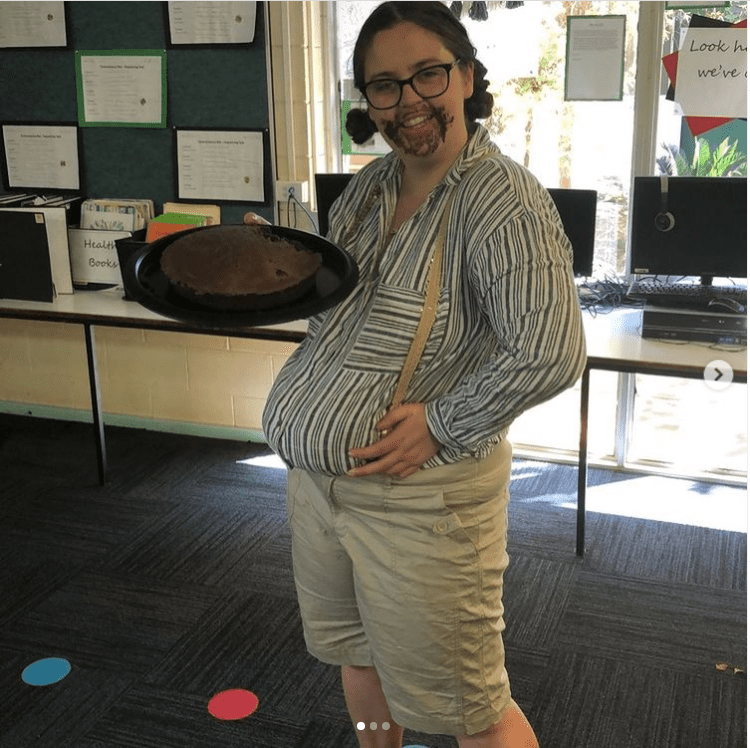 Bonus: You get a free pass to eat as much chocolate cake as you want.
Source: @justtryingtoteach
12. The Lorax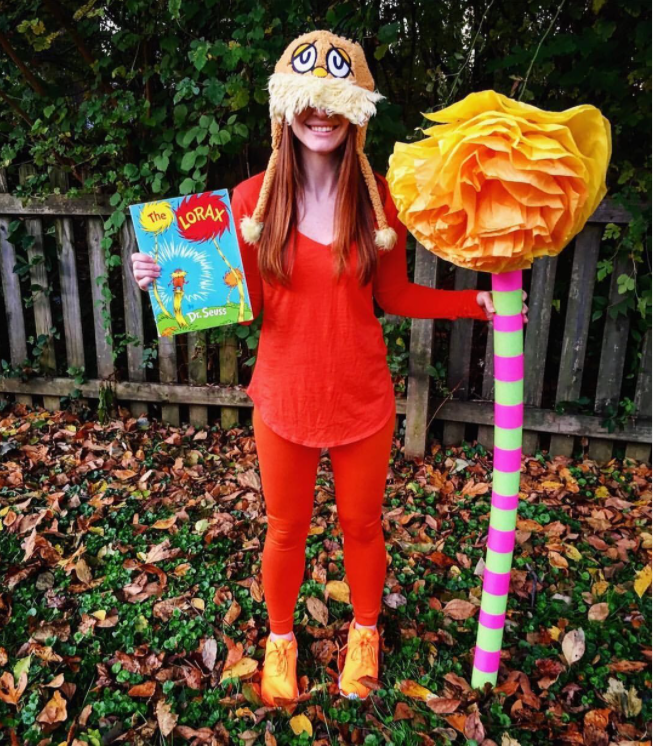 Make your own pool noodle Truffula Tree. It's soooo easy.
Source: @thepineappleteacher
13. Fly Guy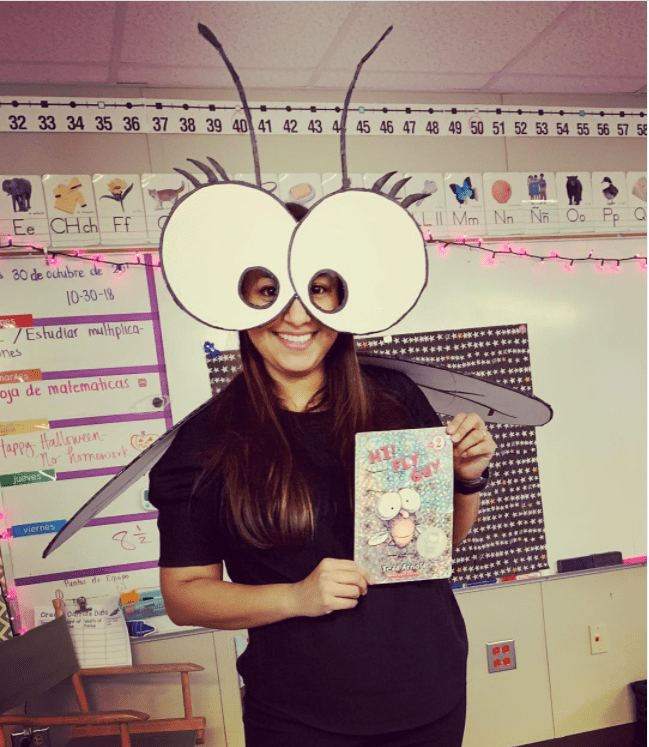 Hi! 👋
Source: @mrsvillasra
14. Pinkalicious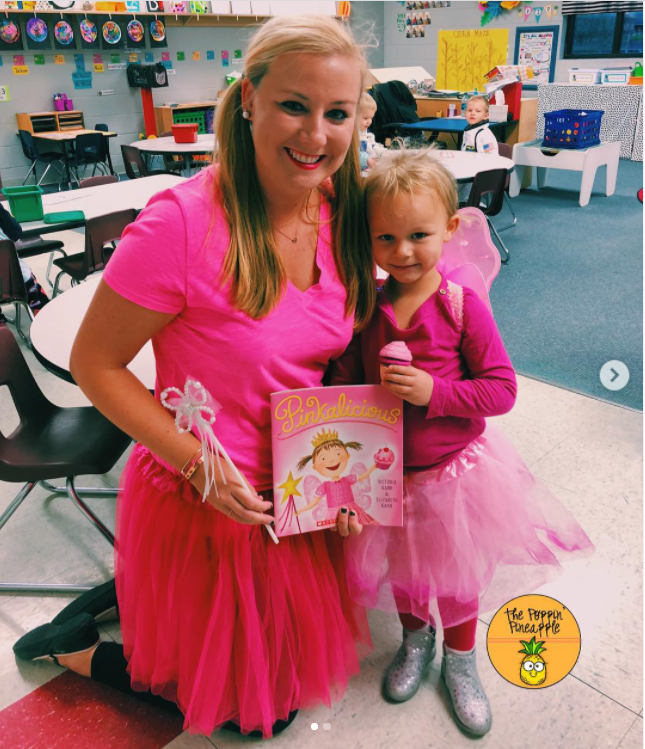 I could get used to waving a wand around all day.
Source: @thepoppinpineappleteacher
15. Winnie the Pooh and Friends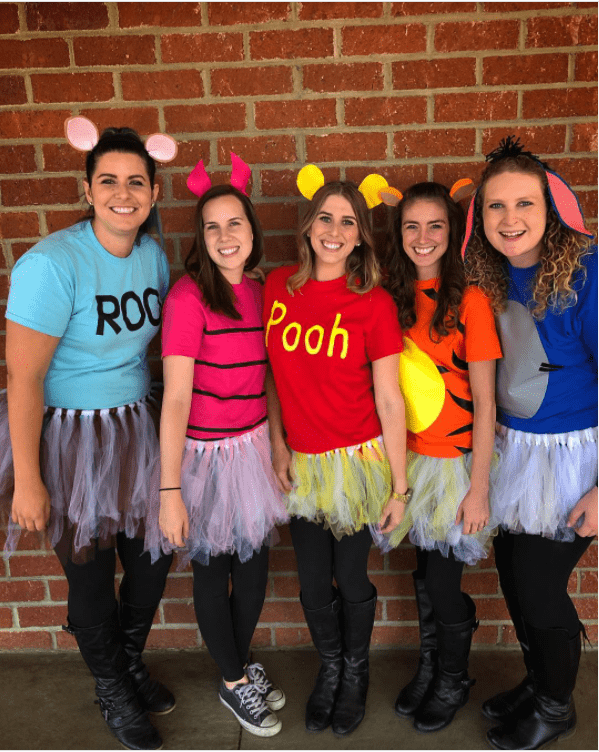 Straight from the Hundred Acre Woods.
Source: @pencilsbooksandcurls
16. Dragons Love Tacos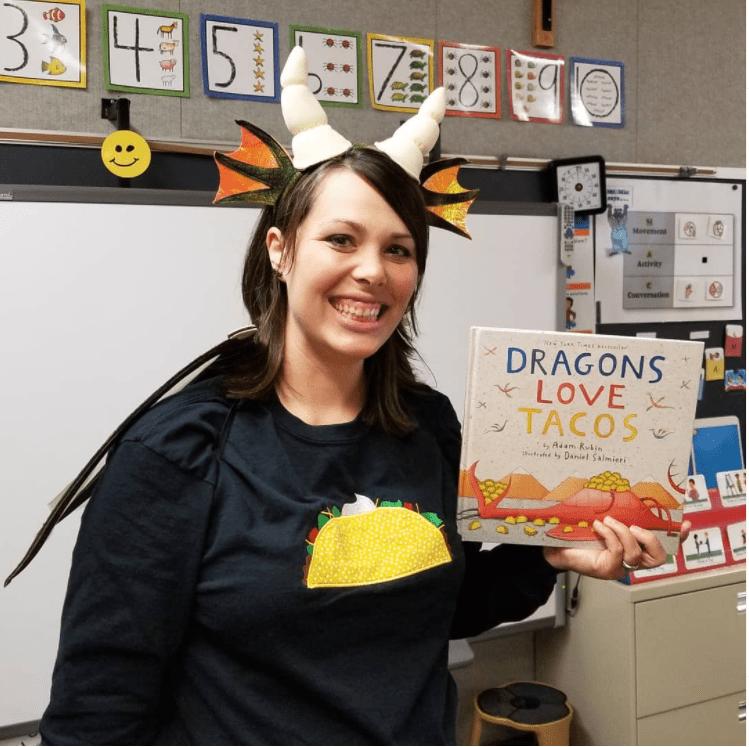 And students love teachers who dress up like taco-loving dragons.
Source: @applestoapplique
17. Fred and George Weasley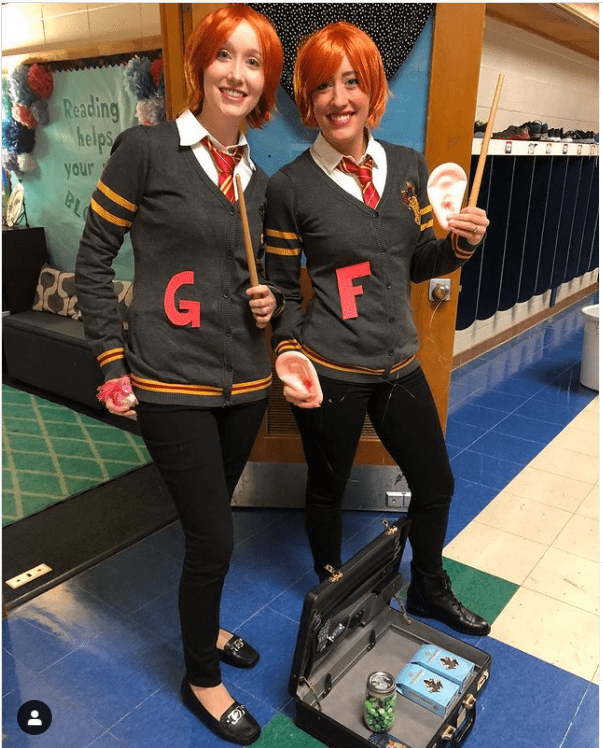 Extendable ears?! Love potions?! So much mischievous fun to be had with this costume.
Source: @robyngbernecker
18. Diary of a Wimpy Kid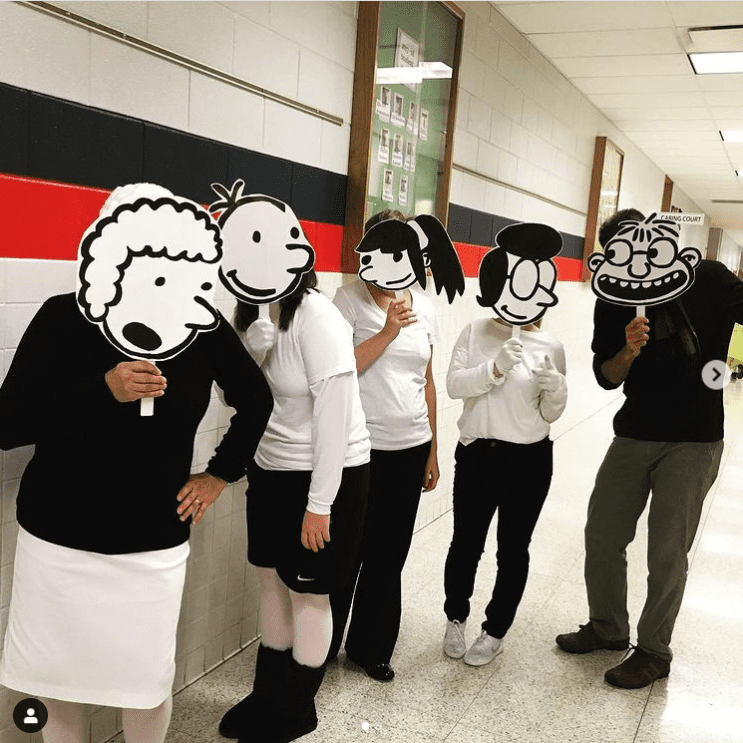 Procrastinators, this costume is for you. Whip out your black and white and print off these masks.
Source: @tooschool_forcool
19. Piggie and Gerald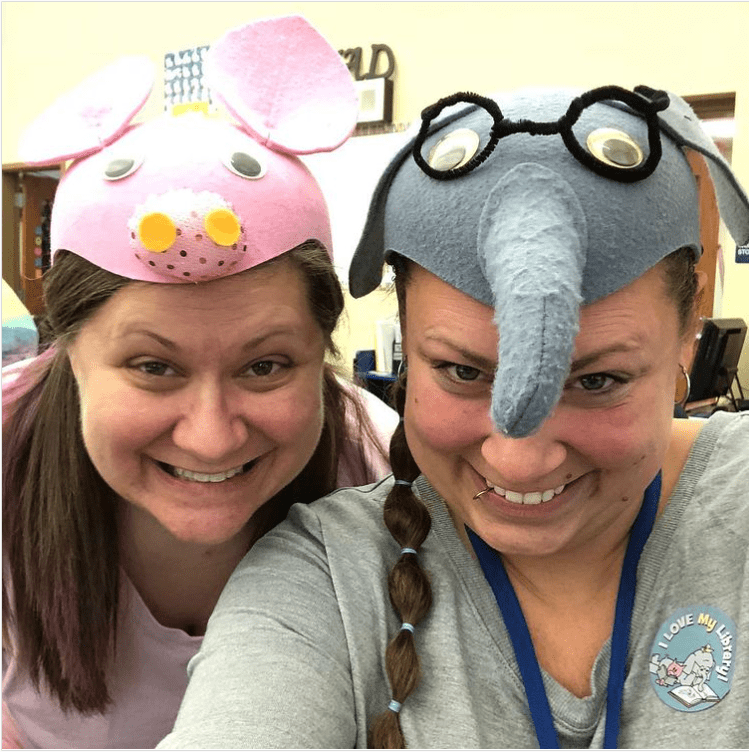 Our favorite elephant and piggie!
Source: @osdlibrary
20. Chicka Chicka Boom Boom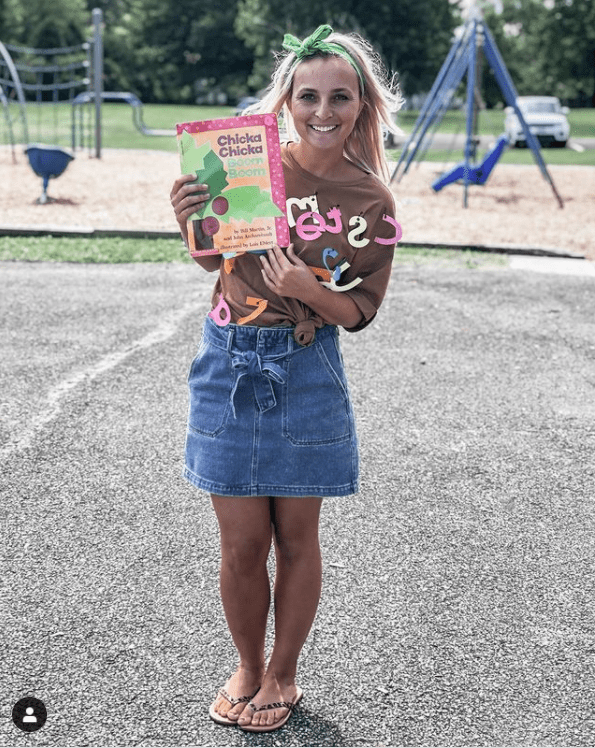 A told B, and B told C this costume is adorable.
Source: @thebeachclassroom
21. The Hungry Caterpillar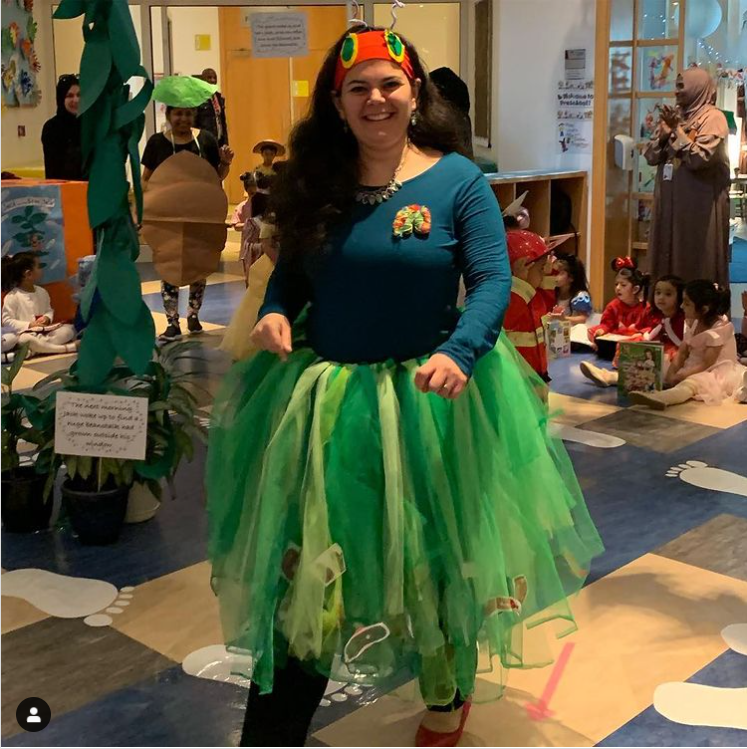 I think this costume means you get to chow down on one piece of chocolate cake, one ice cream cone, one pickle, one slice of Swiss cheese, one slice of salami…
Source: @afafzaidan
22. Arthur and Buster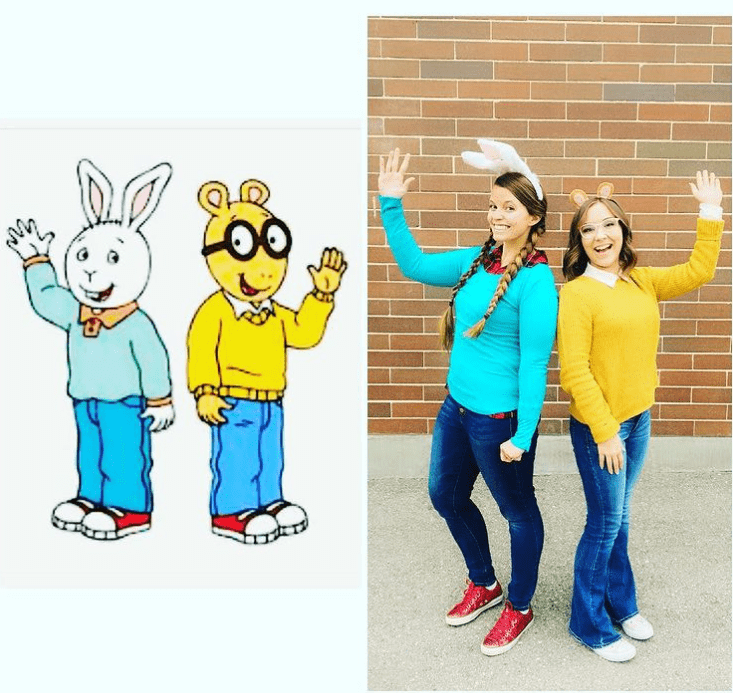 A great excuse to wear jeans.
Source: @alleeinda
23. One Fish, Two Fish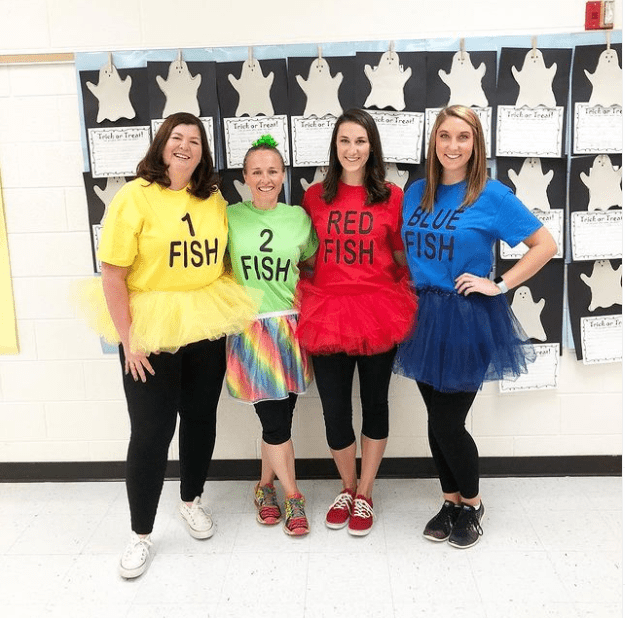 Another fun and easy spin on a Dr. Seuss classic.
Source: @courtseenontv
24. Sophie from The BFG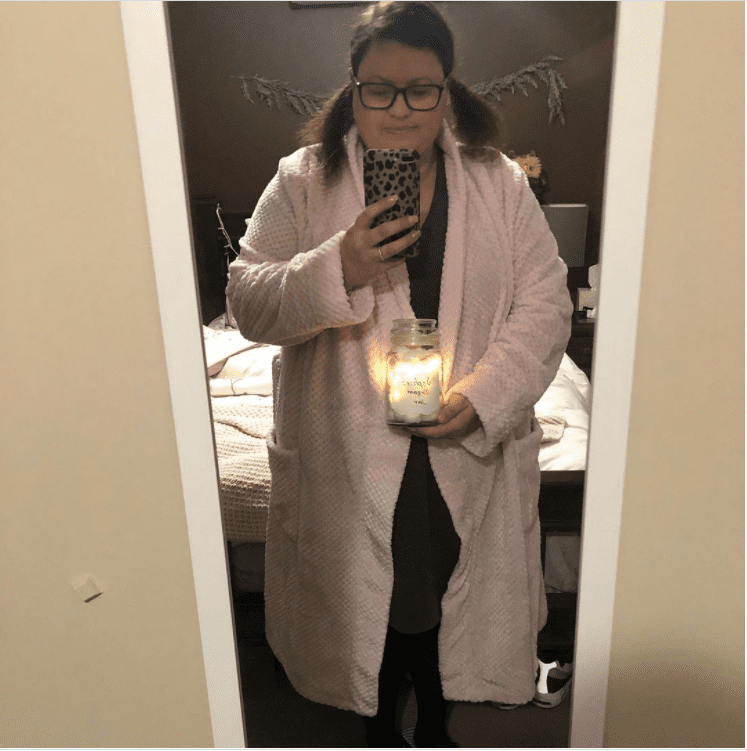 Don't forget the Dream Jar!
Source: @mrs_braithwaites_class
25. Baba Yaga
Iron teeth and all!
Source: @olivemonteart
26. Junie B. Jones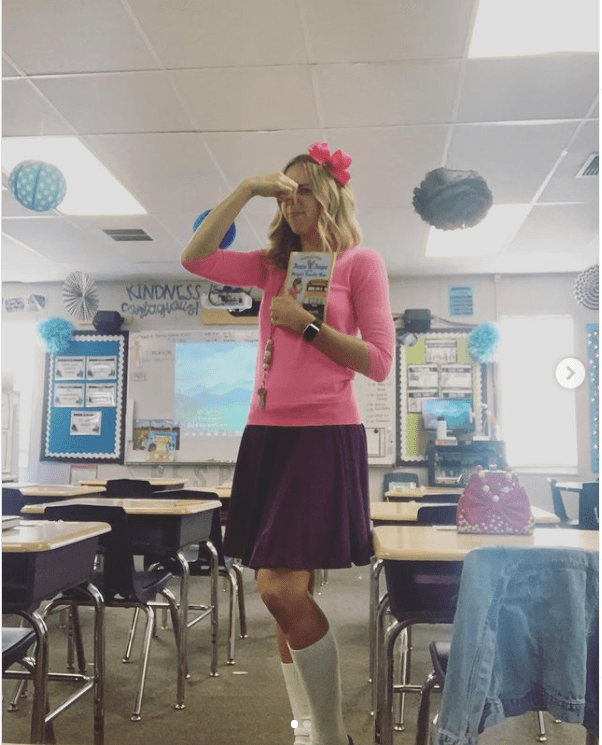 …and the Stinky Smelly Bus!
Source: @emlthompson
27. The Sanderson Sisters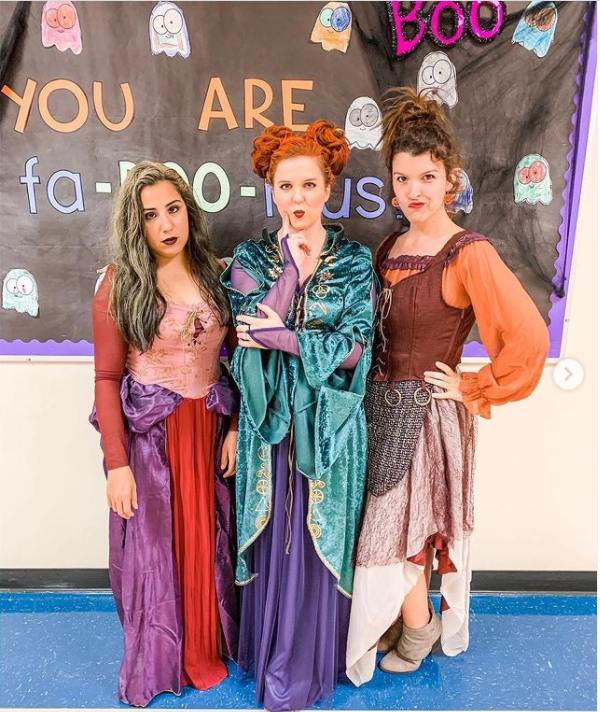 We love that they did it as a Kindergarten team!
Source: @kinderinbloom
28. Chrysanthemum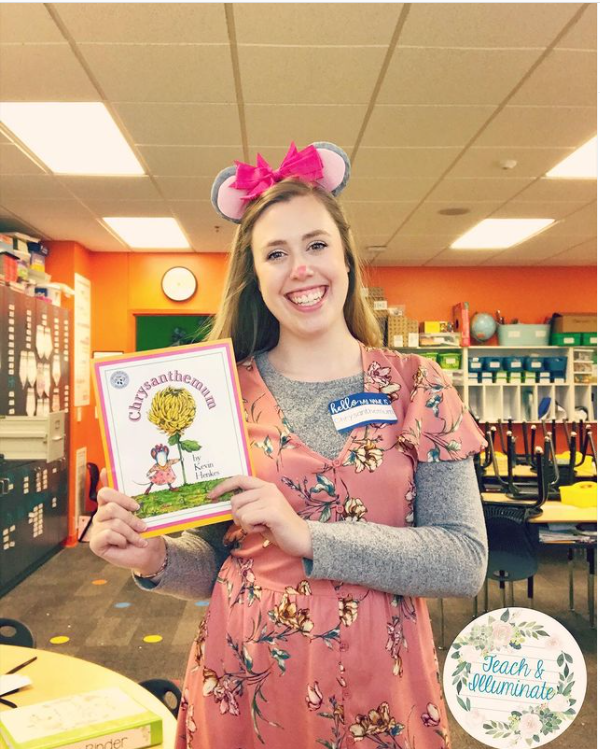 One of our all-time favorite name books!
Source: @teachandilluminate
29. Corduroy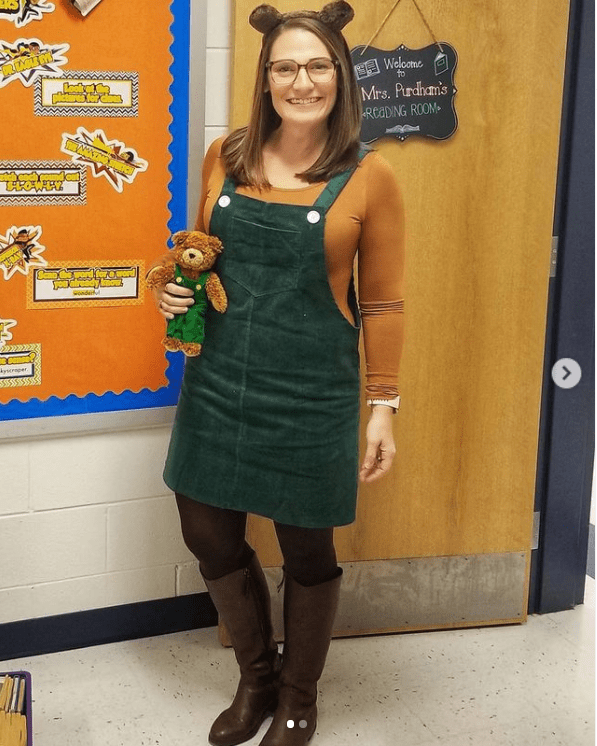 Such a sweet costume … and bear!
Source: @jess.and.cece_thefrenchie
We'd love to hear—what are you planning to be for Halloween? Come and share pictures in our WeAreTeachers HELPLINE group on Facebook.
Planning a group costume with your department or teacher BFF? Check out these awesome ideas.