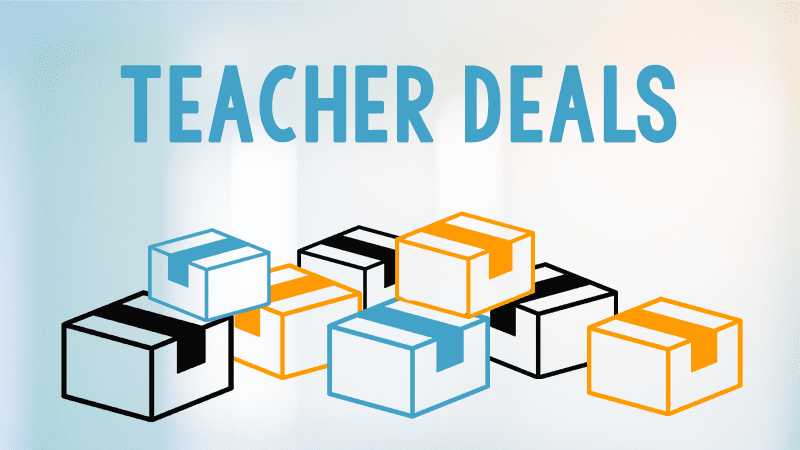 Prime Day 2019 is TWO DAYS! It starts on

July 15 at 12:00 am

and will run until

July 16 at 11:59 pm EST.
If you're new to Amazon Prime Day, this is an annual event that features more than one million of Amazon's best deals, just for Prime members! There are Early Prime Day Deals leading up to the big event. There will also be loads of exclusive offers on everything from tech to fashion to classroom essentials to home basics. This makes Prime Day a great time for teachers to stock up on school supplies, classroom toys and games, and other gear. Hello, savings!
We will be updating this post with some of the top Prime Day deals for teachers as they are announced!
🚨 PLUS, join our WeAreTeachers Facebook event for live deal announcements throughout July 15 and 16. 🚨
WeAreTeachers is an affiliate partner of Amazon. That means we receive a small commission if you purchase through our links. All items are selected by our editorial team because we love and use them ourselves.
Current Amazon Prime Day Deals
Leading up to Prime Day, members will discover all kinds of early offers and deals. The following have already started!
Save up to 30 percent on school essentials.
Save up to 30 percent on off-to-college items.
Save up to 50 percent on women's active wear.
Save 25 percent on Household Essentials by Amazon.
Save up to 25 percent on snacks, drinks, and more.
Get $10 off Pantry orders of $40 or more.
Save up to 20 percent on Amazon coffee and snack brands.
Get up to 25 percent off Personal Care by Amazon.
Save up to 40 percent on home and electronics from Woot.com.
Shop Prime Deals in the Baby Store.
Save up to 40 percent on select certified fine jewelry.
Save up to 85 percent on magazine subscriptions.
Rent Marvel movies for $1.99 .
Save up to 30 percent on handmade artisan items.
Save up to 50 percent on select Purina products.
Save up to 30 percent on vitamins and wellness products.
Watch the Prime Day concert live, free for Prime members.
Save 20 percent on innovative products from small businesses.
And here are a few tips on how to navigate Prime Day and have access to the biggest savings.
1. Start your 30-day free trial of Amazon Prime.
If you're not yet a member, you can try Amazon Prime free for 30 days to get access to all the Prime Day deals. Of course, you will probably become hooked on the Prime services, such as free two-day shipping and streaming movies and TV for both personal and classroom use. If you are working on your advanced degree and have a .edu email address, you qualify for Amazon Prime Student, which gives you a six-month all-access free trial and then Prime for just $49 a year—half the price of a regular membership. Working teachers also get exclusive perks. You can check those out here.
2. Download the Amazon app.
Download the free Amazon app to easily find the top deals during Prime Day as well as the Deal of the Day, Lightning Deals, and more sales throughout the year. Go to Today's Deals and click Upcoming to view all deals 24 hours before they are live. Then tap Watch This Deal. The app will alert you when your deal is starting.
3. Set up Amazon Assistant on your desktop.
The Amazon Assistant browser extension can help you watch Prime Day deals from your PC while you are online and helps you easily compare the prices of items on Amazon and elsewhere. While this browser extension can be distracting during the school year, during Prime Day it can help you stay on top of big emerging deals.
4. Make an Amazon list.
Turn your wish list into a reality! Make an official Amazon list of the items you hope will go on extreme sale for Prime Day. If these items go on sale, you will be notified through an Amazon app push notification. Score!
5. Use your Alexa for early shopping and exclusive deals.
Last year, Amazon Alexa users got a jump on the Prime Day deals, with a two-hour Alexa-exclusive shopping window before the big event.
6. Start watching deals early.
The Prime Day deals will start being revealed at amazon.com/primeday a day or two before the event begins. New deals start as often as every five minutes for 30 hours straight.
7. If you miss a deal, join the wait list.
If an item is 100 percent claimed, click the Join Waitlist button on the product page. Then if additional items become available, you'll receive a notification on your mobile device through the Amazon app.
What are your Prime Day shopping tips? Come and share in our WeAreTeachers Chat group on Facebook.