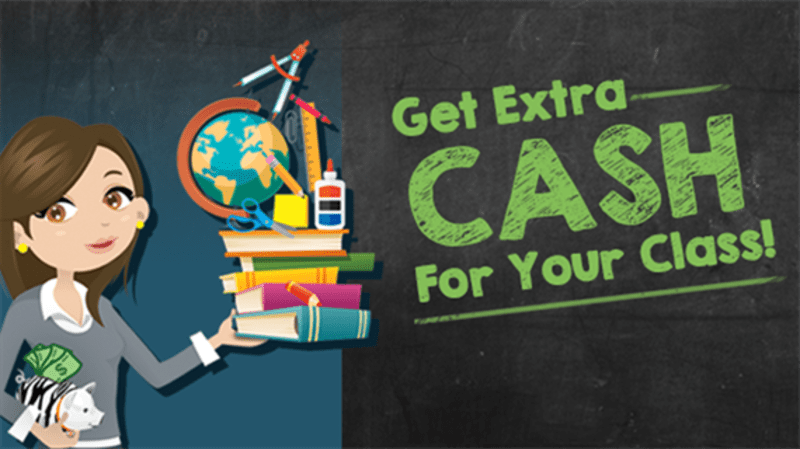 Brought to you by Ziggedy
More
Fact: Teachers spend literally hundreds of dollars out of pocket every year on their classrooms.
And it's not just those adorable little $1 baskets (and pencils and stickers and decorations … and … well, you get the point) that are making a major dent in your wallet. Let's not forget the reams of paper, ink cartridges and tissues you need to buy because you're lucky if your classroom allotment lasts you through first semester. All this stuff adds up—and fast! But this is where Ziggedy, a free website that helps teachers earn extra cash for their classrooms, can totally help you keep your out-of-pocket spending to a minimum.
The best part? There's no cost to teachers or parents with Ziggedy. Your class gets a percentage every time parents click through Ziggedy before doing their everyday online shopping at one of literally thousands of partner retailers—like Target, Walmart, Home Depot, Travelocity, Macy's and even Amazon—so they don't need to buy stuff they don't need in order to donate. Because let's be real, who really needs more wrapping paper or magazine subscriptions anyway?
Here are a few tips and ideas to help you get started earning moolah for your class with Ziggedy:
1. Incentivize your students.
Give students a small prize for getting their family members to sign up. Kathy Smith, a fifth-grade teacher at Eastbluff Elementary School in Newport Beach, CA, gave out Ziggedy's pre-designed homework passes to encourage her classroom of 22 students to sign up a total of 34 supporters, who then raised $340 for her class between March and the end of July alone. To invite classroom parents to be supporters, you can use one of Ziggedy's customizable email or backpack flyer templates. Even if you get only 10 active supporters, it could mean an extra $300 to $600 in cash for your classroom this year!


2. Broaden your scope.
Classroom parents aren't the only ones who can fill up your "Piggedy Bank." Ziggedy makes it easy to invite your friends and family with social media templates for Facebook and Twitter. And don't forget to do all your own online shopping through Ziggedy! Then, once per quarter, Ziggedy sends a check to your school that's designated specifically for your classroom.
3. A little reminder goes a long way.
Use Ziggedy's customized email template to let your supporters know about Ziggedy Reminder—a simple alert that pops up on their computers if they forget to click through Ziggedy before shopping at a participating retailer's website. The email is automatically sent only to supporters who haven't yet installed the app, so you aren't SPAMing the ones who already did it!
4. Say thank you!
A nod of appreciation goes a long way! With just a couple of clicks, you can send a thank-you note to every supporter who earned a donation since your last thank-you email.
5. Update your supporters.
Motivate your supporters by using an email or backpack flyer to send them regular updates on how much money has been raised for your classroom through Ziggedy and what you'll be purchasing with the money. Don't worry, Ziggedy has a pre-customized template, so all you have to do is click Send or Print!
6. Piggedyback on upcoming vacations.
Send home a pre- designed backpack flyer to remind parents to click through Ziggedy when making holiday travel plans at online retailers like Orbitz, Marriott, Avis and more.


7. Psst … pass it on!
When you tip off your fellow teachers to Ziggedy, you'll not only help them earn money for their classrooms, you'll also get even more cash for your own class—20% of the total amounts raised by each referred teacher for a year! And all that extra money comes out of Ziggedy's pocket, so your teacher friends don't lose anything for their classes. A win-win situation!



Ready to try Ziggedy in your classroom this year? Sign up to start earning money for your class.