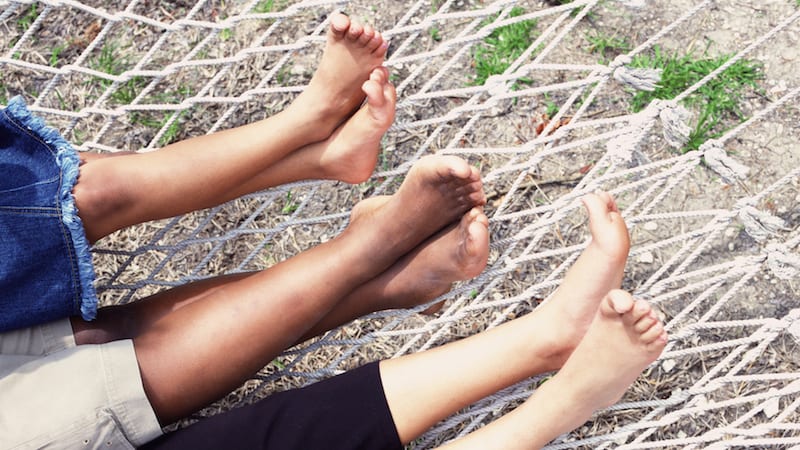 Some people argue that the traditional school calendar, with its long summer break, is outdated. After all, they say, it's not the way the real world operates. And they're right. Other than teachers, most people work all year, taking only a couple weeks of vacation here and there. Children need to learn structure and discipline, say others, to make it in today's competitive world. Also true.
But here's what they're forgetting: Kids are not just miniature adults. They are growing and developing and need lots of space and time to process who they are and what they want to become. And until they are fully grown, they need unstructured summer time to help them discover that.
School is much more comprehensive than it used to be.
So elementary school principal Jeannie Tynecki tells us. "During the school year," she says, "students must persevere through tasks, push their thinking and problem solve in all subject areas." It's true. Kids are assessed and assigned workloads that emphasize busyness and achievement. Even after school, most students are booked solid with extracurriculars. This is great for building brain power, but when summer arrives, kids need to purposefully unhook from structured activities.
Taking a break helps develop well-rounded individuals.
Today's focus on academics is intense and the course load dense. Growing minds need a break from academic work. Forget assigned reading lists, summer tutors, and finding that perfect summer workbook. Let kids play! Let them run at a slower pace and engage in activities that build them up beyond book smarts.
Kids need ownership over their time.
During the school year, it seems like kids are told what to do and how to do it every minute of the day. They need a break from this treadmill of other-directedness. They need the opportunity to make decisions about what they want to do and where they want to put their energy. Without unstructured time, imaginations flounder. Kids need to figure out what's important to them and have time to follow their curiosity, from tentative questions to triumphant discoveries.
And time to loosen up.
Understandably, the days of kids knocking around all day at home are not the norm for most. Many kids with working parents spend part, if not all, of their summer break in camps or some sort of daycare situation. Hopefully the summer programs in which they're enrolled are loosely structured (with no homework or grades to worry about) and offer lots of choices and plenty of free time for open-ended play.
Kids need time with their families.
Summer's longer hours also afford plenty of opportunities for families to connect in a meaningful way, even if family members are away from each other for most of the day. Simple activities, like rehashing the day's events over Popsicles on the front porch, making dinner together, or reading a book together help nurture solid relationships. Thirty-year teaching veteran Kristin Groth advocates spending time together in nature. "Kids need experiences that stimulate all of their senses, and getting outside is the best way to do that." Take a little hike around the neighborhood, dig in the garden, or lie on a blanket and look up at the stars.
It's healthy for kids to get out of their element.
Just like adults, kids can get stuck in a rut during the school year. Summer is a time to step outside of our everyday roles and see the world with fresh eyes. If your family can afford it, travel! Kids learn so much from experiencing different environments, customs, and languages. If your budget doesn't stretch that far, plan an easy day trip to the next town over, visit nearby relatives, or even explore new places you've never been in your own community, like museums, restaurants, and festivals. Do anything that helps kids see that it's a big, wide world with lots to offer.
Summer break sets kids up to return to school refreshed and refueled.
When kids come to school after a well-deserved break, they feel excited to see each other and tell one another about their adventures. The fresh start that a new school year provides is invigorating. Having time away from structure and instruction sets kids up for growth. "An unstructured summer vacation is a highlight for our children," says Tynecki. "Providing unstructured exploration time with family and friends is essential for the academic and social-emotional development of our children."
Do you see unstructured summer time as essential? Come share on our WeAreTeachers HELPLINE group on Facebook.
And kids aren't the only ones that love summer! Check out our Fabulous Big Summer Bucket List for Teachers.