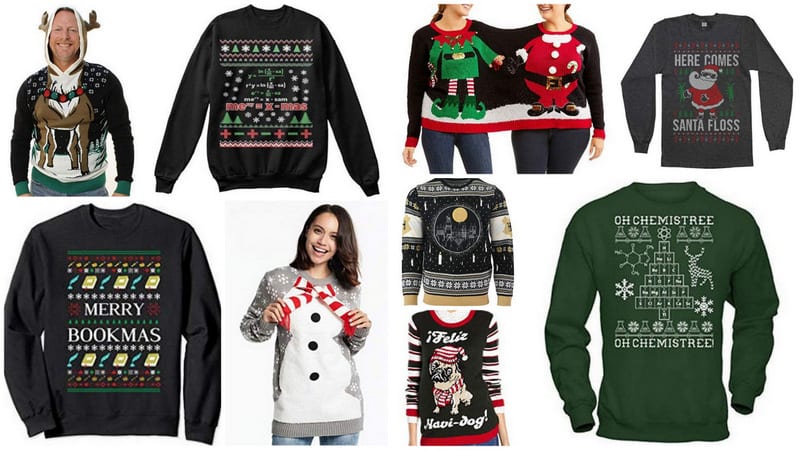 Remember those ugly holiday sweaters your grandma used to buy you back in the '80s? Well, they're back, and this time they're trendy! Folks are wearing ugly sweaters proudly these days, and the tackier the better.
To help you get ready for ugly sweater day, we've rounded up some of the best options you can buy online. We even threw in a few sweatshirts and T-shirts for those of you who don't do sweaters. Enjoy!
WeAreTeachers receives a small percentage of your purchase when you shop through the Amazon Affiliate links shown here, but our recommendations are based on products we love.
1. Deck the School Halls
Don we now our teacher apparel! Stay cozy and show off your love of all things teaching with this ugly sweater.
Get it: Deck the Halls Ugly Sweater
2. Support the Force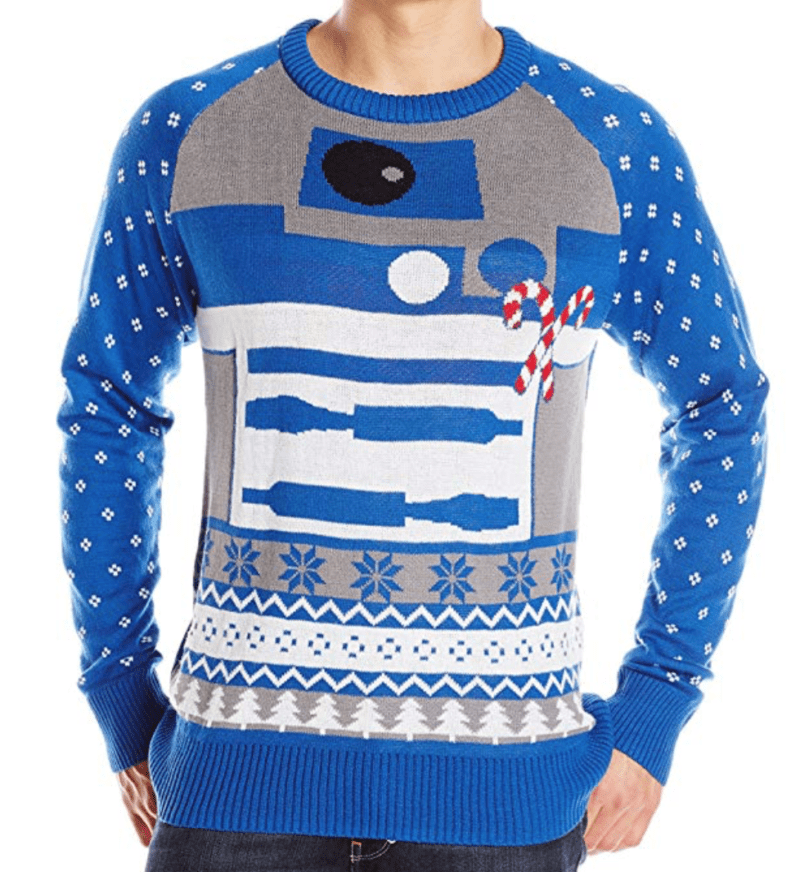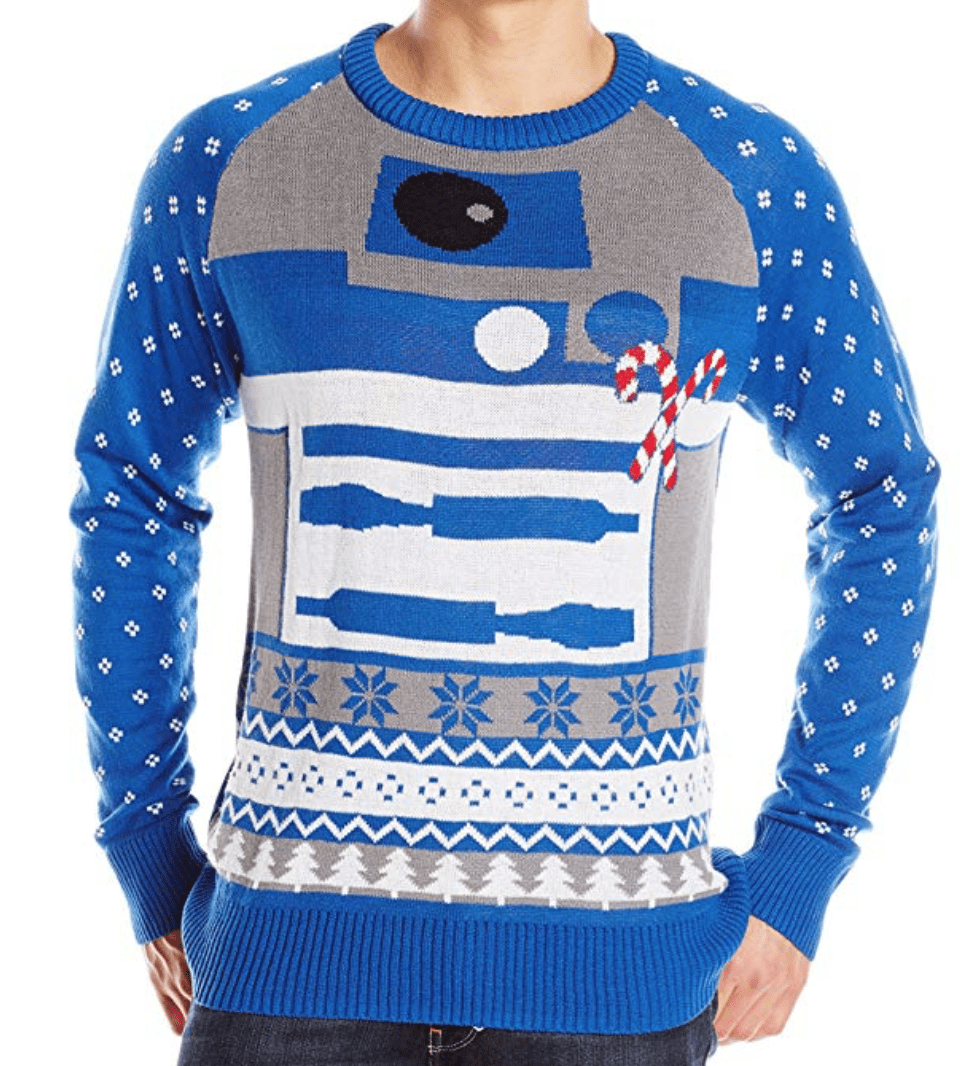 It's a nod to your nerdiness and your love for Star Wars. Wear it proudly. (They have Darth Vader, too.)
Get it: Star Wars R2D2 Holiday Sweater
3. We Wish You a Moo-ry Christmas
Your little ones know that even barnyard animals love the holidays! This silly sweater will crack them up.
Get it: Blizzard Bay Cow in a Sweater
4. Walking in a Kinder Wonderland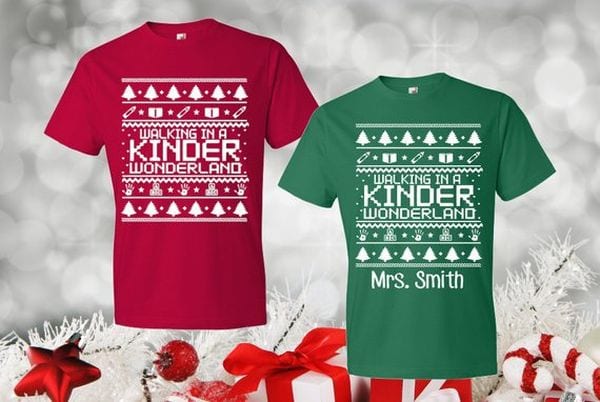 School bells ring. Are you listening? This tee is great for busy teachers who don't need a sweater to stay warm.
Get it: Walking in a Kinder Wonderland T-Shirt
5. Rockin' Around the Pizza Tree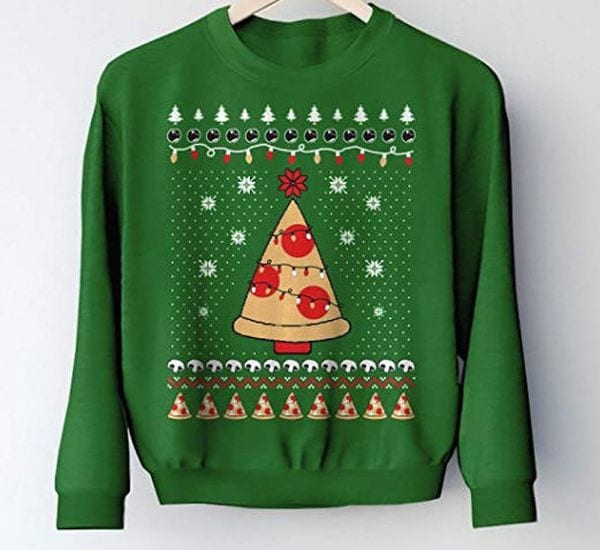 Later we'll have some pizza pie, and we'll do some caroling! This sweatshirt comes in a variety of colors and won't break the bank.
Get it: Tstars Ugly Christmas Sweater Pizza Tree Sweatshirt
6. You're a Mean One, Mr. Grouch.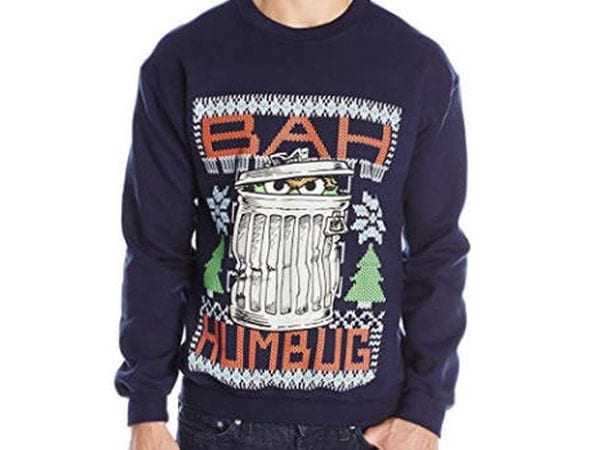 Surely Oscar the Grouch and the Grinch are friends, no? Wee ones will get a kick out of seeing a Sesame Street character "celebrating" the holidays.
Get it: Sesame Street Bah Humbug Ugly Christmas Sweatshirt
7. Grandma Got Run over by a Dinosaur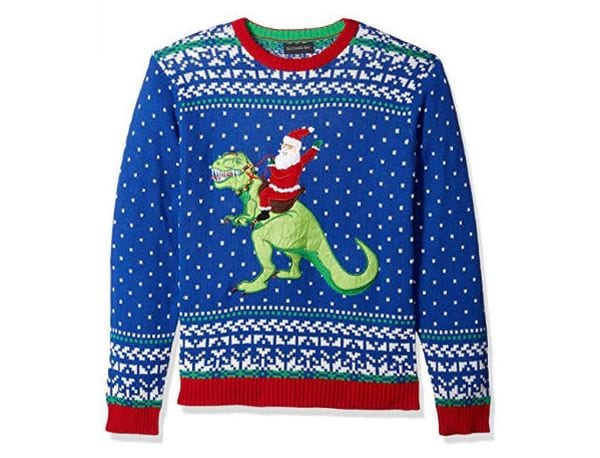 You can say there's no such thing as dinosaurs these days, but Santa—and Grandpa—know better! This sweater comes in a variety of styles, too.
Get it: Blizzard Bay Ugly Christmas Sweater, Santa on a Dinosaur
8. I'll Be Home for Bookmas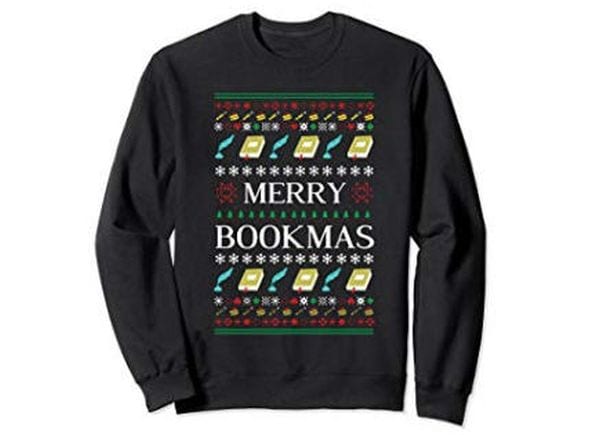 Did you know that in Iceland folks give each other books on Christmas Eve and then spend the rest of the evening drinking hot cocoa and reading? This is the perfect shirt for such an occasion. (Get a list of our favorite holiday books for your classroom.)
Get it: Merry Bookmas Ugly Sweater Shirt
9. All I Want for Christmas Is Tacos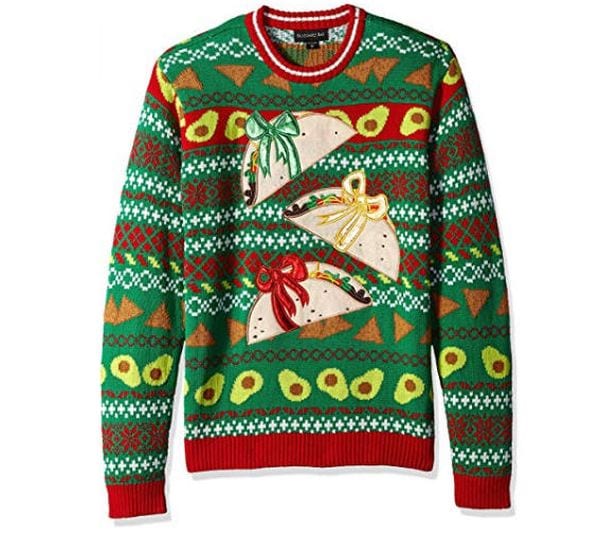 All I want this holiday season is for every day to be Taco Tuesday. Is that too much to ask? OK, fine, I'll settle for this ugly sweater instead.
Get it: Blizzard Bay Ugly Sweater with Tacos
10. Santa Claus Is Coming to Hogwarts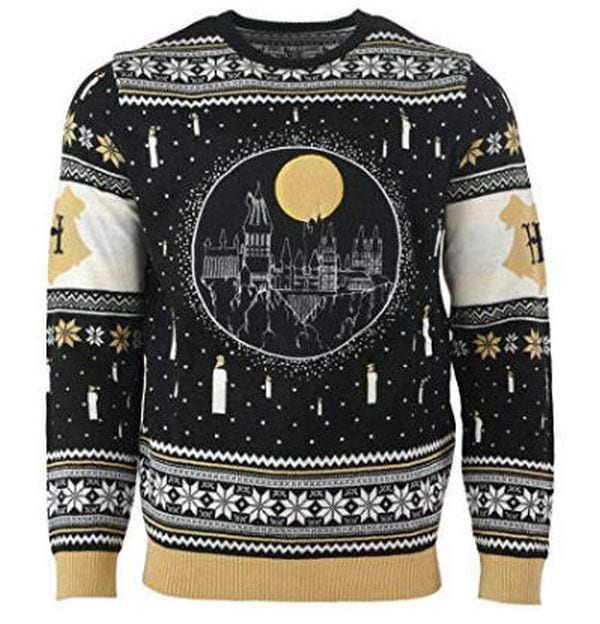 Accio holiday spirit! Dazzle your kids with holiday magic when you cry "Lumos" and magically make the candles on this ugly sweater light up (well, you'll have to push the hidden button, but that's pretty much the same thing).
Get it: Harry Potter Light-up Ugly Christmas Sweater
11. Doo, Doo, Doo
Yes, the "Baby Shark" song has spread all over the world, and there's an ugly sweater version to show your love. You can choose from multiple colors.
Get it: Baby Shark Doo Doo Christmas Sweatshirt
12. Llama Love
Llamas are very in right now, and you can show your love for them through an ugly sweater. There are a few great options to choose from, including the one pictured above.
Get it: Llama Themes Ugly Christmas Sweater
13. Show Some Bird Love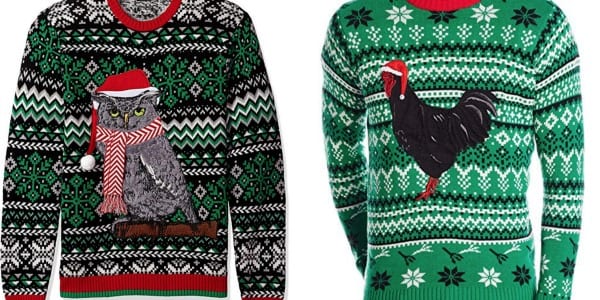 How do you choose between a chicken and an owl? They're both great options and offered by the same company on Amazon.
Get it: Bird Themes Ugly Christmas Sweater
14. Starry Silent Night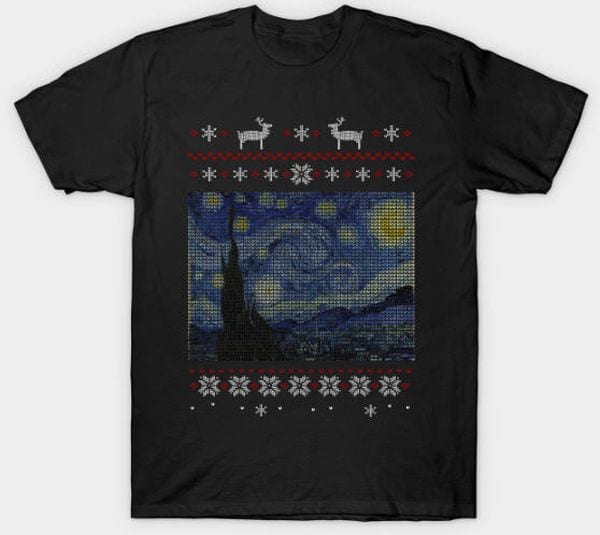 Van Gogh tell it on the mountain—this ugly-sweater T-shirt is perfect for art teachers and anyone who loves impressionist works.
Get it: Starry Night Ugly Christmas T-Shirt
15. Have Yourself a Math-y Little Christmas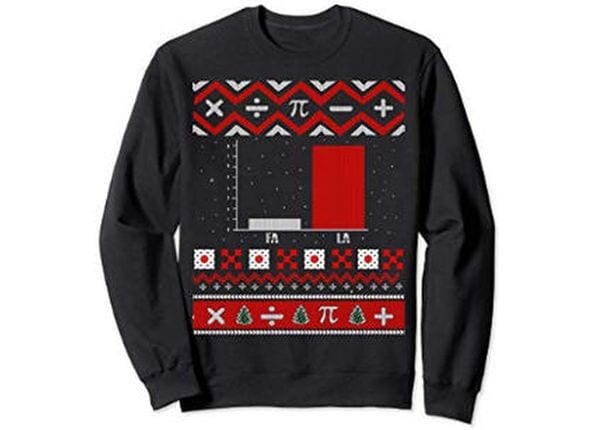 An ugly-sweater sweatshirt that actually teaches math? Count us in! Tally up the number of times "fa" and "la" appear in "Deck the Halls," and you'll see that this shirt is right on the money.
Get it: Fa La Graph Ugly Christmas Sweater Sweatshirt
16. Teach-y the Snowman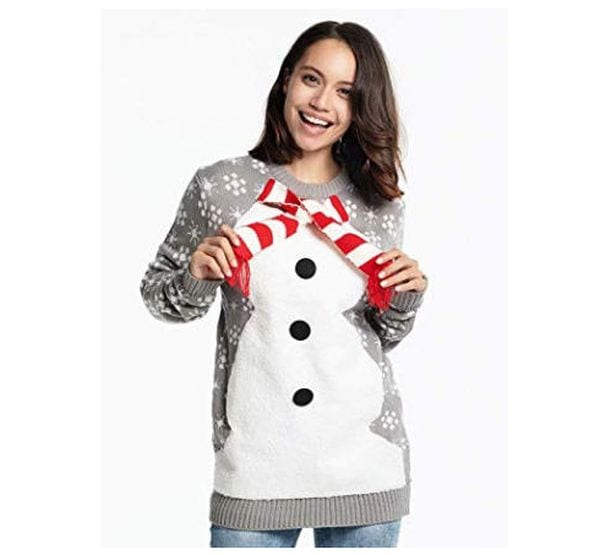 Be the jolliest, happiest soul in your classroom with this most adorable of ugly sweaters. You can wear this one all winter long.
Get it: Ugly Christmas Sweater Snowman
17. Two for One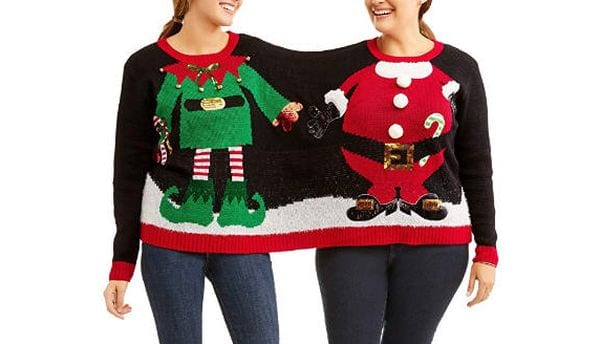 Grab your teacher BFF and don this hilarious ugly sweater for two. This is a sure bet to win an ugly sweater contest.
Get it: Holiday Time Double Ugly Sweater
18. Rocket Sleigh Ride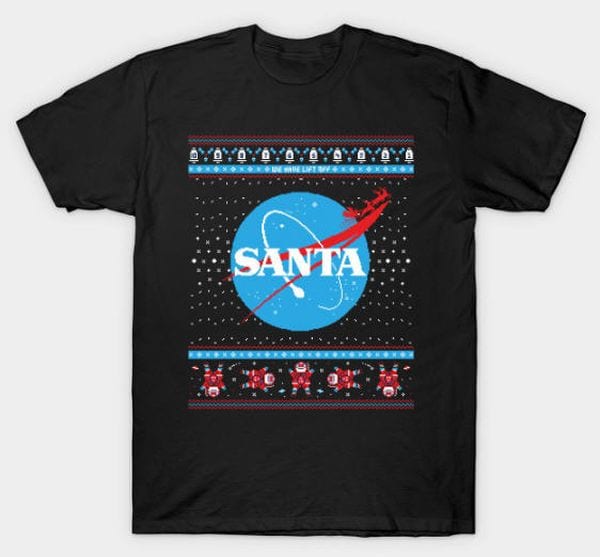 Of course NASA must be involved in helping Santa deliver presents to the entire world in just one night, right? He's gotta have rocket boosters on his sleigh.
Get it: Santanaut T-Shirt
19. Mele Kalikimaka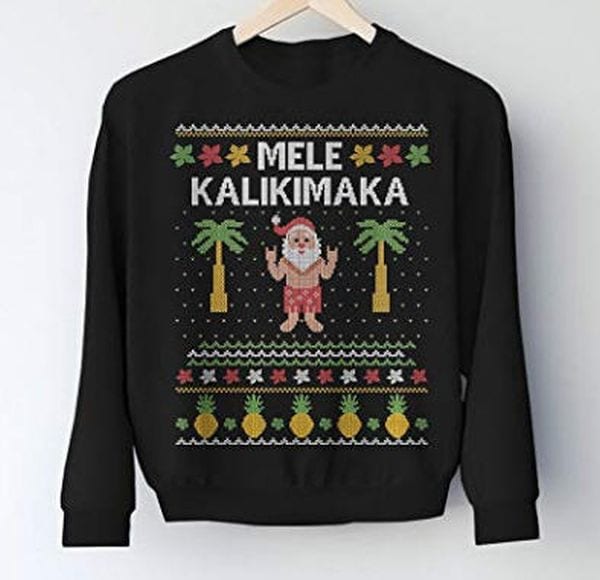 It's the thing to say on Christmas Day when you're in Hawaii! Not in Hawaii? Well, at least you'll be cozy in this ugly-sweater sweatshirt.
Get it: Mele Kalikimaka Sweatshirt
20. Rudolph, the Red-Nosed Teacher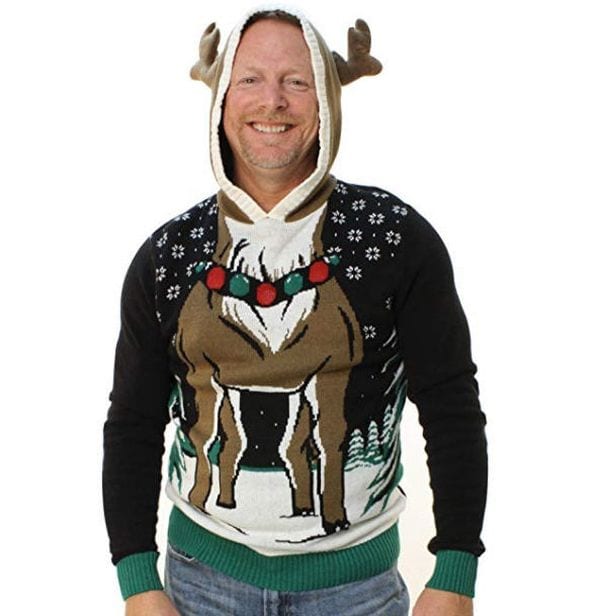 You'll go down in history as the best teacher ever when you show up in this ugly sweater! (For bonus points, get one of those light-up red noses to wear, too.)
Get it: Hooded Reindeer Ugly Sweater
21. Feliz Navi-dog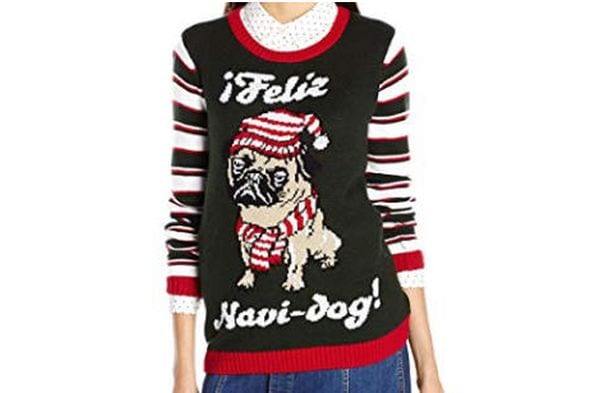 Stop the search for an ugly sweater, Spanish teachers. We've found the only one you'll need. ¡Y prospero año nuevo!
Get it: Feliz Navi-Dog Ugly Sweater
22. Here Comes Santa Floss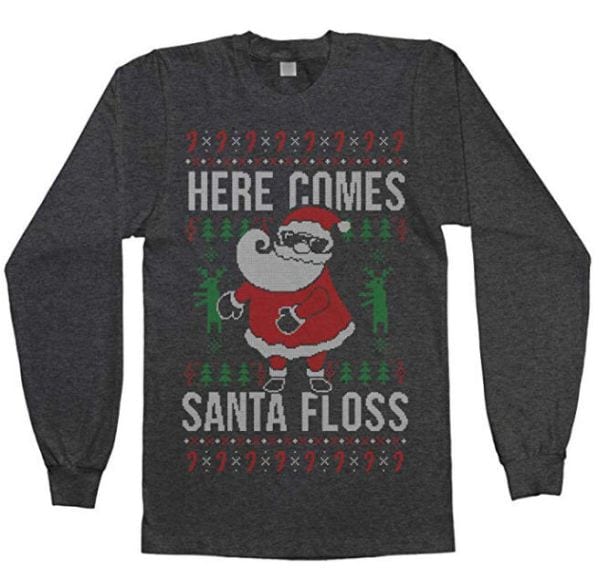 Are your kids still doing this dance move? They'll be thrilled to find out Santa does it, too.
Get it: Santa Floss Long-Sleeve Tee
23. It's Beginning to Look a Lot Like Science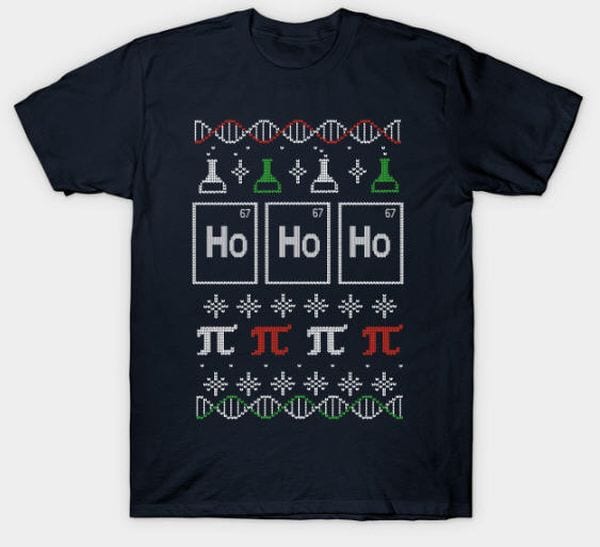 Chestnuts roasting over a Bunsen burner. The holidays have arrived in the science lab! (We'd love to see a tree decorated with strands of sparkly DNA, so get on it, science teachers.)
Get it: Science Christmas Tee
24. We Are Santa's Elves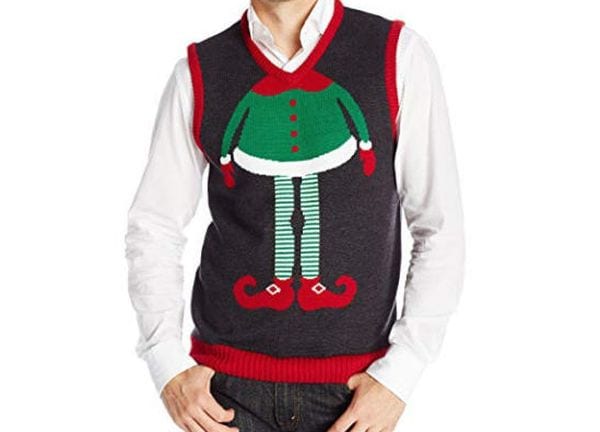 Throw this ugly sweater-vest on over a dress shirt or tee, and you're an elf! Forget grading papers. You've got toys to make.
Get it: Elf Vest Ugly Sweater
25. Wonderful X-Mas Time
This may be the most complicated of the ugly sweaters, but solve for "X," and you'll get a festive message!
Get it: teespring Math Ugly Christmas Sweatshirt
26. Santa Buddy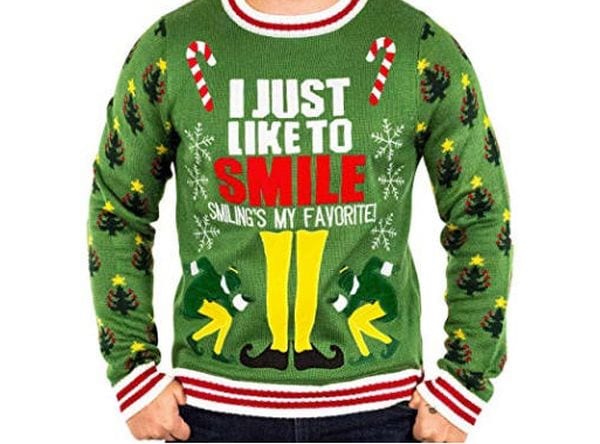 If Buddy the Elf can't make you smile, who can? This ugly sweater pays homage to everyone's favorite elf—sorry, human raised by elves.
Get it: Elf Ugly Christmas Sweater
27. O Catch All Ye Pokemon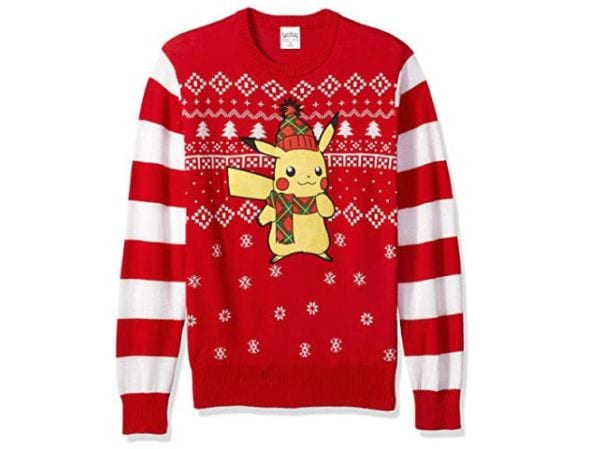 Your class is sure to catch the holiday spirit when Pikachu shows up on your ugly sweater. (Just be on the lookout for flying Pokeballs.)
Get it: Pokemon Ugly Christmas Sweater
28. Go Caroling With Cactus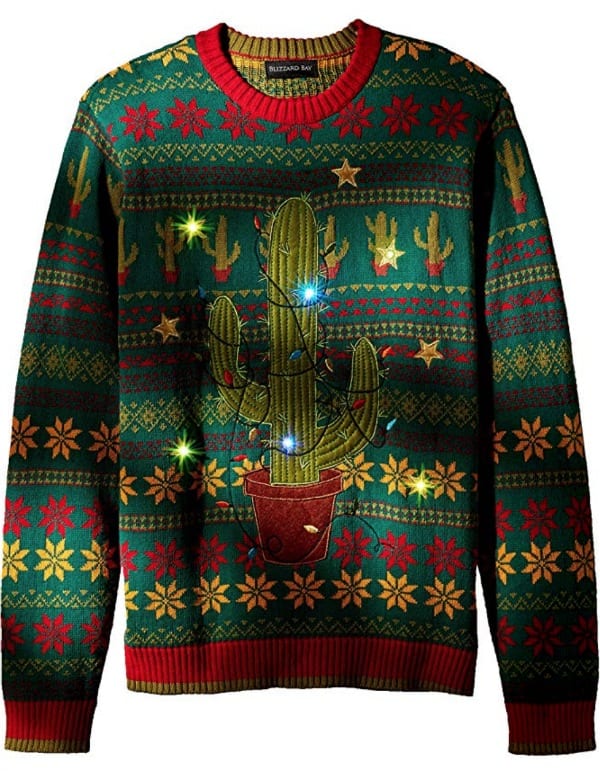 Why yes, this is a light-up cactus sweater. You can find a few southwestern-themed options from this seller. It's a simple yet refreshing way to show you're in the holiday spirit.
Get it: Southwestern Themed Ugly Christmas Sweater
29. Error of the Bells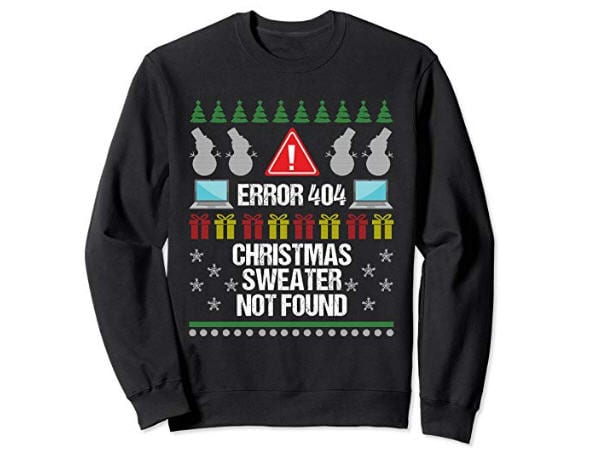 Computer teachers and their students will get a laugh out of this one, which riffs on the 404 File Not Found error message.
Get it: Computer Error Ugly Sweatshirt
30. Oh Chemistree, Oh Chemistree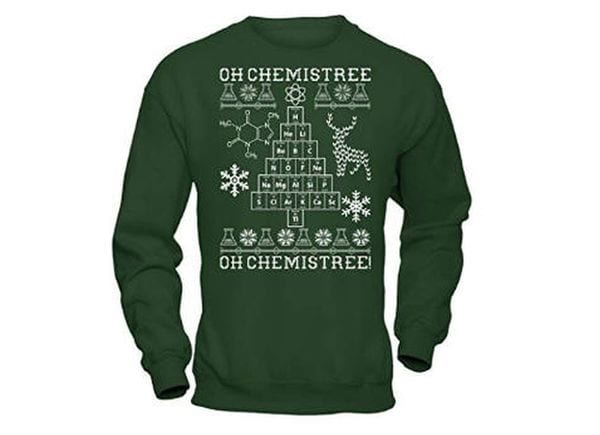 How lovely are thy elements! This pun will make any science teacher snicker, and while your students may roll their eyes, they'll secretly enjoy it, too.
Get it: Oh Chemistry Sweatshirt
Come and share your ugly sweaters in our WeAreTeachers HELPLINE group on Facebook. 
Spent all your money on ugly sweaters? Here are 37 gift ideas for your students that won't break the bank.