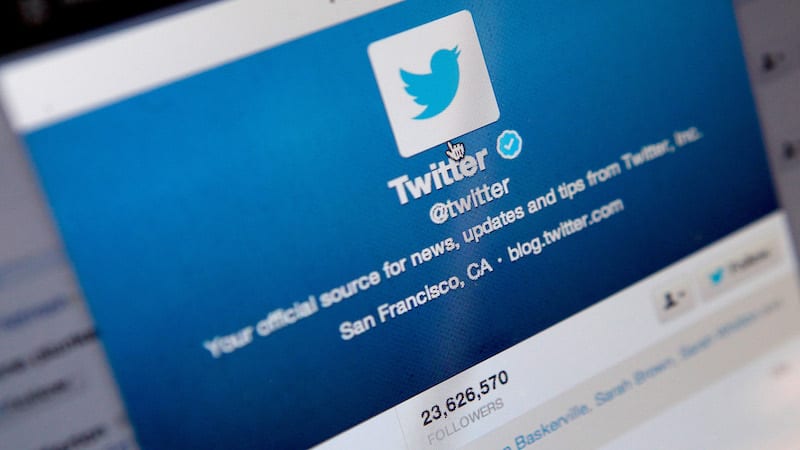 Teaching can be isolating. We've got to reach beyond our classroom walls to get the support, camaraderie, and professional development we need to be great. Here are 30 Twitter accounts teachers should follow for all that and more.
1. On Poetry
Mary tweets about everything from poetry to science @maryleehahn.
2. On Diversity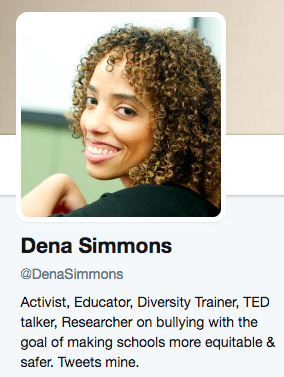 Dena shares her research on bullying and diversity @DenaSimmons.
3. On Math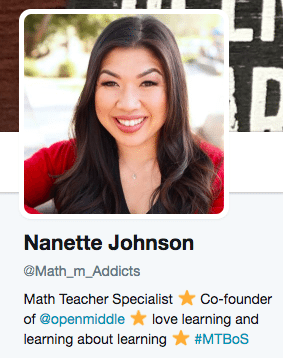 Nanette loves learning about learning, tweeting @math_m_addicts.
4. On Using Every Teaching Moment
Tara doesn't waste a minute of learning time, tweeting @tara_smith5.
5. On Rapping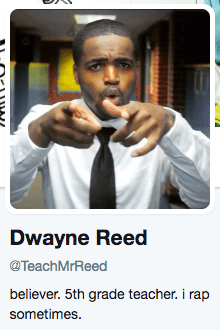 Dwayne loves turning learning into rapping, tweeting @TeachMrReed.
6.On STEM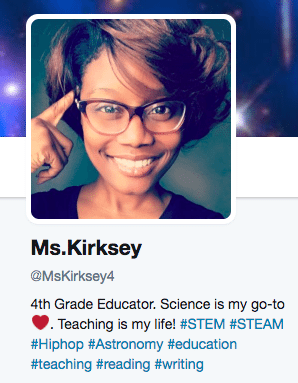 Ms. Kirksey loves her science, tweeting @msKirksey4.
7. On Showcasing Students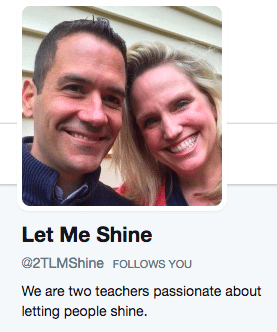 Suzie and Justin team up to help kids shine @2TLMShine.
8. On EFL

Gisele loves making and hacking life, tweeting @feedtheteacher.
9. On Loving Teaching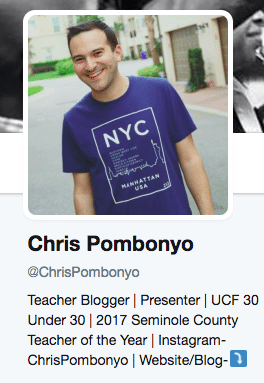 Chris' enthusiasm for school and his students is contagious @ChrisPombonyo.
10. On Building Relationships
Julieanne knows the power of every child's story and shares @jarhartz.
11. On Innovation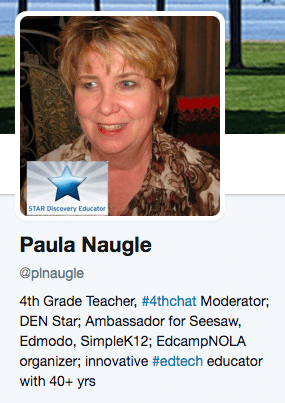 Paula is a fourth grade teacher who is inspired by innovative thinking, tweeting @plnaugle.
12. On Words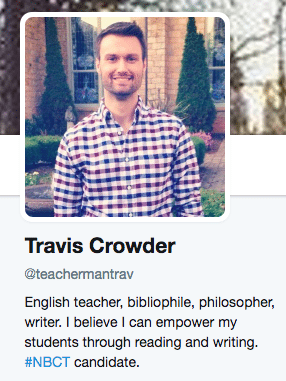 Travis tweets about the power of words @teachermantrav.
13. On Being a New Teacher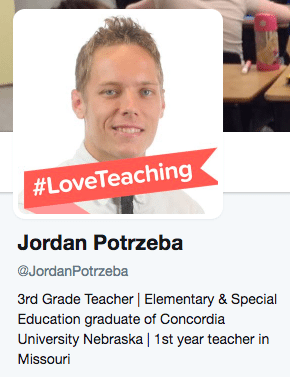 Jordan may be new to teaching, but he's a powerhouse, tweeting @JordanPotrzeba.
14. On STEAM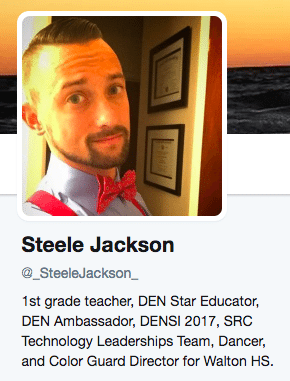 Steele is a first grade teacher who shares his ideas @_steeleJackson_.
15. On Global Reading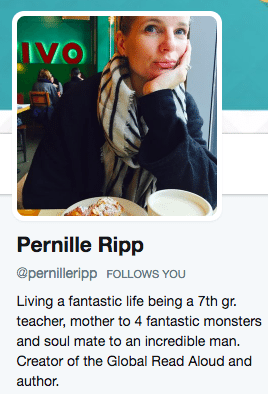 Pernille is a fanatic about getting books in the hands of readers, @pernilleripp
16. On Science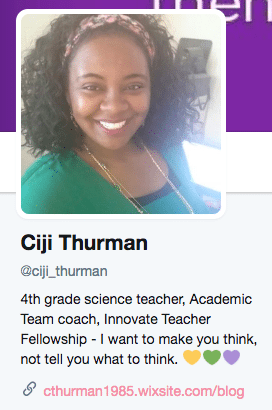 Ciji brings science to a new level in her classroom, tweeting @ciji_thurman.
17. On Books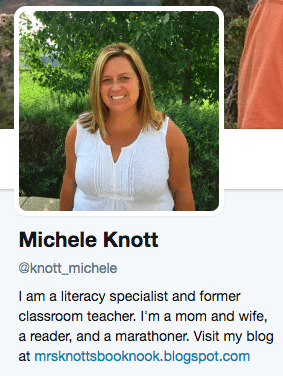 Michele is a literacy specialist, tweeting @knott_michele.
18. On Third Grade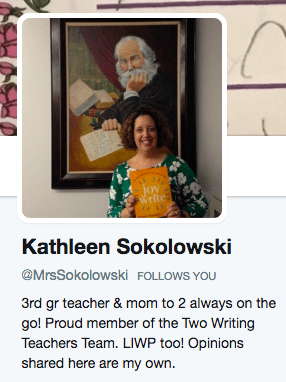 Kathleen is a third grade teacher who loves writing and talks about it @mrssokolowski.
19. On Digital Innovation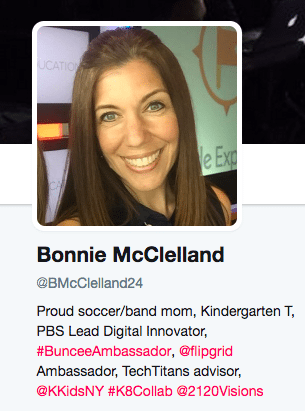 Bonnie mixes technology with kindergarteners every day, tweeting @BMcClelland24.
20. On NerdCampLI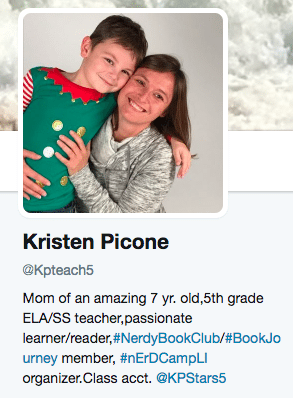 Kristen teaches fifth grade ELA and social studies, tweeting @kpteach5.
21. On Mentor Texts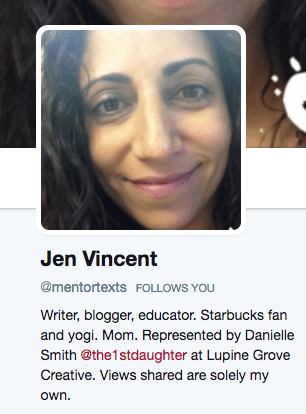 Jen is a teacher and a writer who shares how mentor texts change learning @mentortexts.
22. On Sixth Grade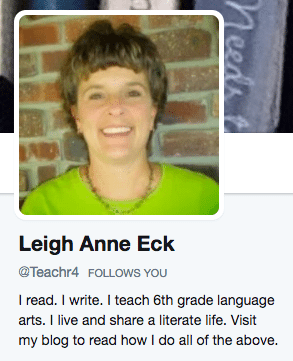 Leigh Anne is obsessed with improving literacy in her classroom, tweeting @Teachr4.
23. On Questions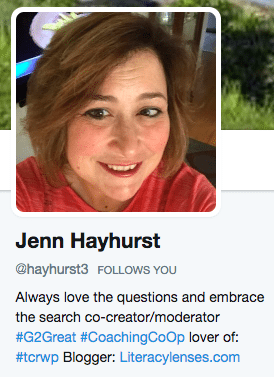 Jenn fosters questioning @hayhurst3.
24. On Giftedness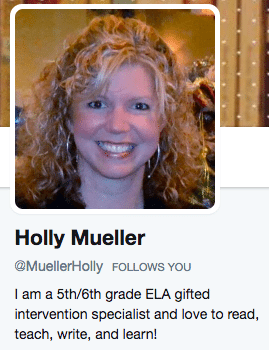 Holly tirelessly advocates for gifted students @MuellerHolly.
25. On 21st Century Learning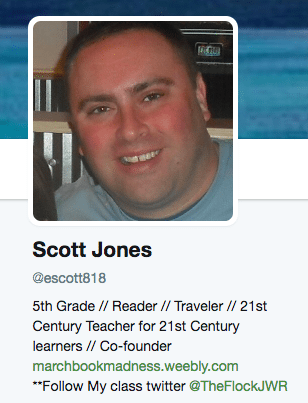 Scott is the co-founder of March Book Madness and tweets about related topics @escott818.
26. On Reading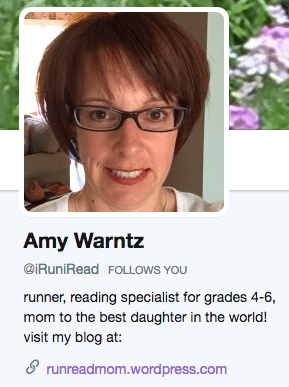 Amy shares about her experience as a reading specialist @iRuniRead.
27. On Writing
Jennifer is a teacher on a mission to make every child a writer, tweeting @laffinteach.
28. On Loving Books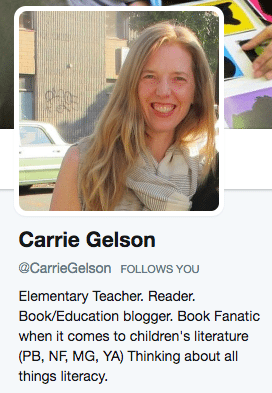 Carrie is the kind of teacher you want for your children, tweeting @carriegelson.
29. On Fifth Grade
Jess isn't afraid to share what it really means to be an intentional teacher @jess5th.
30. On Ed Collaboration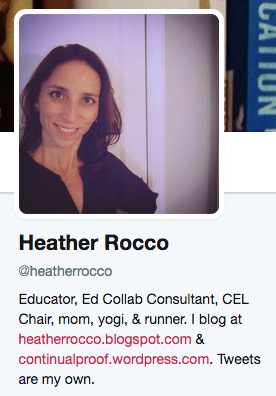 Heather shares everything she learns @heatherrocco.
31. On Literacy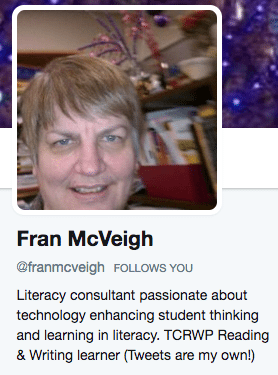 Fran shares ways teachers can engage students through literacy and technology @franmveigh.
32. On Kid Blogging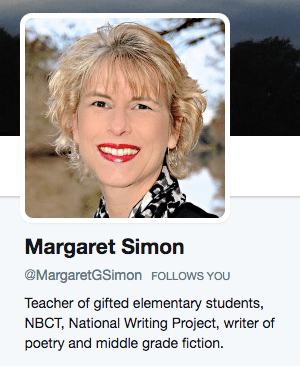 Margaret loves watching her gifted kids discover their passions, tweeting @MargaretGSimon.
33. On Curriculum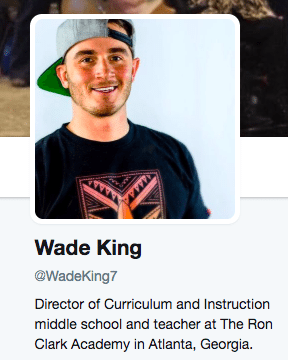 Wade takes pride in helping students challenge themselves to success, tweeting @wadeking7.
34. On Writing Together
Michelle is a teacher who always puts her kids first, tweeting @Mhaseltine.
35. On History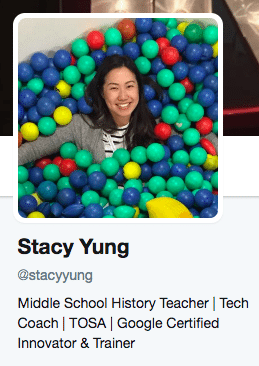 Stacy tweets about history, tech, and innovation, tweeting @stacyyung.
36. On Social Justice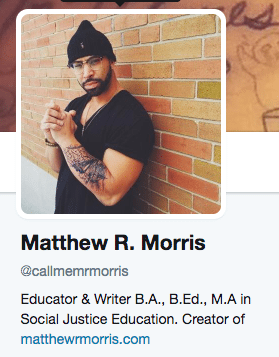 Matthew tweets about issues in social justice, tweeting @callmemrmorris.
Add to our list of Twitter accounts teachers should follow by sharing your favorites (and perhaps your own) in the comments).