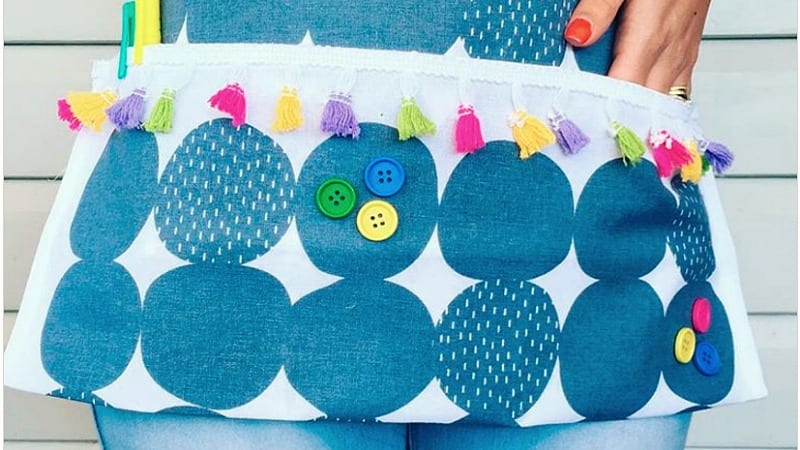 Teacher aprons are trending right now, and we can see why! Aprons make it easy to keep supplies close at hand, and some teachers are even trading their desks for aprons. Below, we've rounded up some of our favorite #TeacherApron ideas from Instagram. If you've created one, be sure to share it using the hashtag #TeacherAprons. We'll select some of our favorites to add to this article in the future!
1. Because a bold ribbon makes a bold statement …
2. Because we love all the layered pockets (and college pride) …
3. Because we love the outdoors …
4. Because the buttons are fabulous …
The great minds at Teach Starter put together a tutorial for this no-sew apron. Check it out here. Or here's the video if you want to watch how it comes together!
5. Because lots of teachers are like Wonder Woman …
6. Because your students will love these owls …
7. Because of the books …
8. Because you'll dream of pastries while you teach …
9. Because denim will definitely hold up for the entire year …
10. Because this one is extra long (and we sorta love the food trucks print) …
11. Because chevron is always a good idea …
12. Because it comes with accessories …
13. Because she's keeping the aloha spirit alive …
14. Because it's a genius way to upcycle …
15. Because this will definitely inspire …
16. Because we have a weakness for cute plants …
17. Because Pete the Cat is pretty awesome …
18. Because this is a good excuse to get crafty with your teacher BFF …
19. Because there are so many great places to put things …
20. Because any art teacher could use this …
21. Because it's simple but does the trick …
22. Because she has an Etsy store if you don't want to make your own …
23. Because she made this so cute using the power of cool fonts …
24. Because sometimes simple is best …
25. Because when you work with preschoolers, you need a full-length apron …