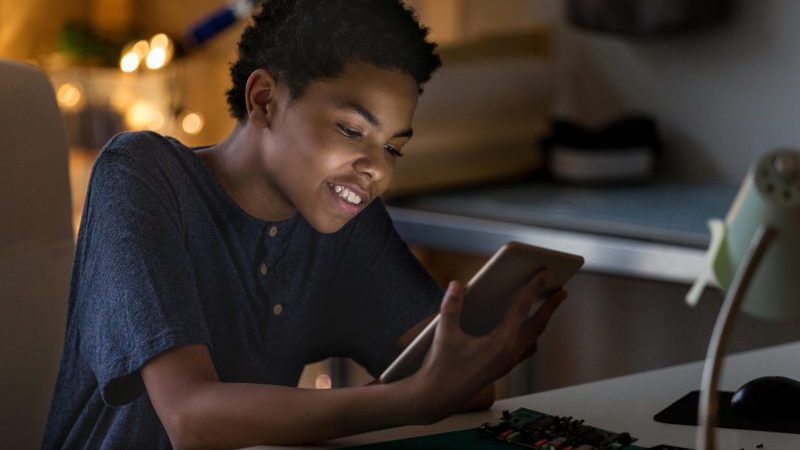 School Leaders Now recommends [INSERT DOCUMENT TITLE] for principals seeking ways to support struggling readers in a hybrid learning environment.
More
As COVID-19 rates go up, and school starting dates get closer and closer, teaching remotely, or at least in a hybrid fashion, is becoming a very real possibility. When paired with the disruptions to instruction last spring, the result could be increased learning loss for students, especially those who struggle to read. Creating a school-wide culture of reading goes a long way toward bridging that loss, but what does that look like when kids are at home, and how do we reach at-risk kids who may not have access to books or other people who read?
When our friends at Learning Ally shared with us how the Learning Ally Audiobook Solution is a natural fit for hybrid learning environments, and that it could help alleviate learning loss by allowing struggling readers to access grade-level content easily, we knew it could help during these uncertain times.
Here are some tips for building motivation and creating a rich reading culture in a hybrid or distance learning environment:
Read together, even while apart
Students need opportunities to read together, even when distance learning. When teachers prioritize reading and reading together, it becomes a community event, and is especially important when students can't come to school. Students who struggle to read often struggle to stay engaged in these types of activities, however. The Learning Ally Audiobook Solution provides authentic content with read-along, highlighted text, so they never feel left out.
🔥 Online tip: Teachers and principals schedule time to do read-alouds with their students online.
Leverage online tools to foster a reading connection
Explore digital tools for engaging students in book talks and online reading. Using technology, students can discuss what they're reading, which deepens comprehension and fosters connection.
🔥 Online tip: "Digital platforms offer amazing opportunities for students to authentically interact with each other from their own houses. Have students post a video of themselves giving a book commercial or a book talk. If you enable the commenting feature, students can then watch each other's videos and provide their reactions about the book," suggests Liz Janusz an instructional coach at River Valley School in Lemont, Illinois.
Create school-wide virtual reading routines
Schools with strong school-wide reading cultures prioritize reading and establish consistent reading routines. Seasonal reading contests and special reading events build excitement and promote engagement, however, regular reading practices help build lifelong readers. For struggling readers, this could prove difficult. The Learning Ally Audiobook Solution makes it easy though, allowing them to access books in a format that makes sense to them. Students can read independently, focusing on the story and building engagement instead of frustration.
🔥 Online tip: Schedule emails to go out weekly showcasing a teacher or other staff member's reading life.
Set up a virtual book club for students.
A sense of belonging supports a student's social and emotional health, and book clubs provide lots of connections. Book clubs should be tailored to where your students are in their reading journey. Some struggling students will need smaller groups, some might be able to lead themselves. All of them need an agenda or plan to follow. Just like in your in-classroom small groups, you'll want to have one teaching point per meeting.
🔥 Online tip: Teaching kids how to read digital text and use features like highlighting and the online dictionary will help set the tone that online reading tools can help you solve problems. Having the whole class read digital text also helps normalize reading accommodations like the Learning Ally Audiobook Solution.
Let students see your love of reading
Students need to see the adults in their lives reading. Seeing adult readers helps create a school-wide reading culture and inspires students to read on their own. School leaders can leverage technology tools to encourage students to see adults in their school community reading.
🔥 Online tip: "We started a Google doc and asked staff to record themselves reading a story and link it. Teachers were able to use these stories for read alouds during lessons. This took a little load off of teachers, and the kids adored seeing our support staff and paras show up in their lessons," said Karli Johnson, Dean of Students, Sauk Rapids-Rice Public Schools.
Invite caregivers to participate
When students are learning online at home, their caregivers become learning facilitators. A successful online school-wide reading culture needs to include them. Equip caregivers with resources to engage readers. Keep things simple because caregivers have enough to do these days. Consider activities like reading before bed, rewriting cooking directions, adding word signs (like the word CHAIR taped to a chair) to help kids with sight words.
🔥 Online tip: Create sight word cards and send home to families so they can use them during the day and for class projects.
These tips are just some of the ways you can help ensure a school-wide reading culture in a hybrid learning environment. To really make it work though, you need to ensure that all students have access to the books they need to read for their classes, as well as the popular books they want to read.
The Learning Ally Audiobook Solution provides both for our students who are most at-risk during this crisis. What's more, it offers reports and progress monitoring tools so educators can keep track of student progress, and exciting events and contests to keep students engaged. Learning Ally even offers dedicated teams to help make sure the ideas discussed above become a reality.
You can learn more about the ways reading with the Learning Ally Audiobook Solution helps support educators and accelerates learning for struggling readers in a hybrid learning environment by reading this free guide.