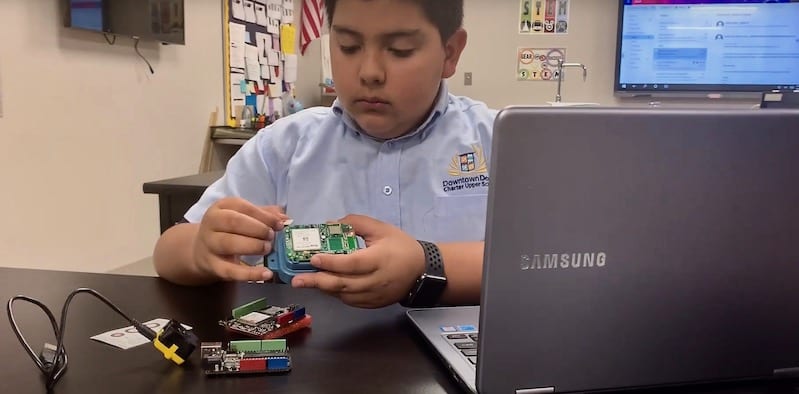 The challenge is cool, the funding is generous—and the first round of the Samsung Solve for Tomorrow Contest is easy-peasy. If you teach public school grades 6–12 and are interested in community involvement, check it out.
Nothing can stop the annual Samsung Solve for Tomorrow Contest (not even an unprecedented global pandemic!). For the 11th year in a row, Samsung is showing its commitment to supporting teachers and students to come together virtually as a team to develop STEM skills while taking on a problem in their community. Teachers who teach public school in grades 6-12 have a chance to win their share of $2,000,000 in classroom technology! Yup. That's not a typo.
This year the event will be virtual from start to finish, and teachers have an added incentive. When you participate in the contest, you get six free hours of PD. Samsung partnered with mindSpark Learning and designed PD around how to guide your students through design thinking and problem-based learning virtually. It will help you feel confident about taking on this type of project (especially this year). Whether you are teaching online, in person, or a combination of both, this PD is full of strategies and tools for our current reality.
Here's how to get started:
1. Team up with your students. Use virtual tools like video conferencing, shared digital documents, and back channels, which make working together online at any time possible.
2. Watch videos of past winners and ask your students to take notes. You can post these videos in your LMS or email them to students. Ask probing questions like:
What common criteria do the successful projects have in common?
How did the winners approach the problem?
What did you see that inspired you? Why did you like it?
What ideas come to mind, especially ideas that will make solving a problem virtually possible?
3. Brainstorm a problem you'd like to work on. Encourage students to draw and write on Post Its (Jamboard is a great virtual tool for this). Put students into virtual breakout rooms so they can talk through their ideas.
4. Help your students narrow their focus. Chances are your students will think big. World peace! Save the planet! End hunger! Help them be more specific. What are some ways that we could address hunger in your school? In your community?
5. Dream up your solution and submit it by December 21st! This is a great opportunity for students to practice their writing skills and work together to submit a solution that has a professional and polished tone. A shared digital document allows for online collaboration. Students can comment, edit directly in the document, and work together on the submission.
Looking for an example? Check out this Example Application with step-by-step guidance.
Teachers: If you need extra support on how to create a problem statement, sign up for the 'Problem Based Learning' foundation PD."
Take a look at the 2019-2020 STEM contest winners below for some serious inspiration.
Here's how the contest works
1. Teachers submit an application with your students' project ideas. (September 29-December 21). Once you submit, you get access to your 6 free hours of PD.
2. Up to 100 applicants will be notified and move on to phase two of the Samsung Solve for Tomorrow contest. Semi-finalists bring their project to life and submit a 3-minute demonstration video. Semi-finalists win $10,000. (January 14-March 21)
3. 10 National Finalists will be selected to virtually pitch their prototype to a live virtual judging panel. There will also be social media voting for the Community Choice Winner. National Finalists win $50,000. (April 6-26)
4. In the final phase, Samsung will host a virtual Final Event where 3 National Winners and 1 Community Choice winner will be announced. National Winners will get $100,000, and the Community Choice winner gets an additional $10,000! That's a lot of technology! (April 27-May 28)