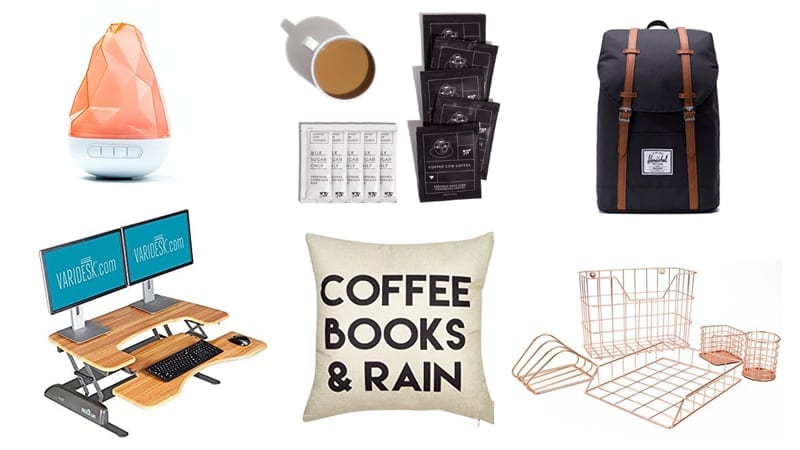 The holidays are coming, and soon your colleagues, friends, and family will start asking you for good principal gifts. Don't be caught off guard! Here's the truth: you're at work most of the day, isn't it time you jazzed up your office?
Just a heads up, School Leaders Now may collect a share of sales from the links on this page. We only recommend items our team loves!
I know what your stapler and tape dispenser look like because they are identical to the ones on my desk. We would both be better off with this minimalist set from Sorbus! russell+hazel Desk Set, $24.
As an administrator, you can never have too many thank-you notes, and they should be classy but fun. Right now, I'm partial to this personalized stationery. Personalized stationery set , $65 .
Here's a confession: I have owned every travel mug available. Sadly, they all leaked or were the wrong size. After years of looking, I found the right one. This will keep your coffee drinkable for up to eight hours, and that's important. Klean Kanteen 16 oz. Wide-Mouth Mug, $25.
Your chair is probably fine, but this one is better. With a heavy-weight soft felt cover, this improvement will also help you finally work on your posture. I have a colleague who raves about his. Vivora Luno Ball Hair,$50.
Spruce up your chairs and couch with this throw pillow. Easy peasy solution for making your space more personal, fun, and inviting. HomeTow principal pillow, $10.
This is my best find in 2019. I have a monthly shipment that goes directly to my office. Copper Cow's ingenious disposable pour-over taste fantastic and is truly a game-changer for someone who loves coffee. You deserve this!
Copper Cow monthly coffee subscription, from $37 a month.
You've read the articlesabout the benefits of a standing desk. Now it's time to invest in one ! VariDesk, $395.
A great calendar is a pleasure to behold every single day of the year! I love anything from Rifle Paper Co., and their wall calendars are absolutely gorgeous. Rifle Paper Co. City wall calendar, $26.
Bring your new toy to a faculty meeting so you can play music while people are coming in and getting settled. Hook it up to your phone for a conference call. Listen to podcasts. The uses for this speaker are absolutely endless! JBL Charge 3 Speaker, $90.
Fine. You caught me. This is basically an adult fidget spinner. You'll want it for those never-ending phone calls that always seem to happen five minutes before the end of the day. Vefindor Optical Illusion Ball, $20.
My diffuser is an essential part of maintaining my well-being at school. Kids and colleagues who come into my office always comment on how awesome my lemon essential oil smells. If you're ready, ask for this Aromatherapy Essential Oil Diffuser Gift Set, $49.95.
I really enjoy of hosting weekly games in my office during periods when I know kids and adults are free. We love our over-sized Connect Four, but this Giant Jenga set takes game-time to another level. Giant Jenga, $94.
Bring the outdoors into your office! Succulents in a terrarium are easy to care for and look great on a desk. Indoor tabletop terrarium, $28.
At this point, it makes sense just to embrace your sense of humor. Double down on your love of puns with a daily dose of dad humor. Dad Jokes 2020 Calendar, $10.
Your beat-up computer bag isn't working for you anymore. It's time to streamline and trade up for a more polished look. You'll be grateful for this sleek backpack all year long. Herschel Retreat Backpack, $80