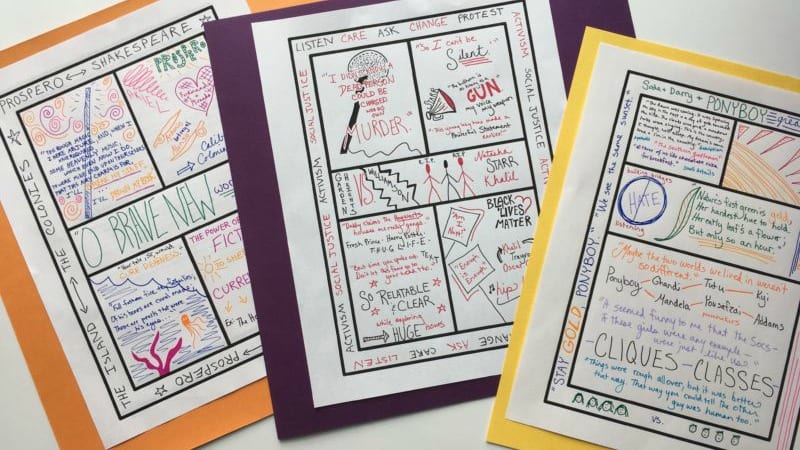 If you follow many teachers on social media, you know that one-pagers are suddenly all the rage. I can see why. They're visually stunning, represent lots of critical thinking, and show each student's originality and perspective. As an educator, I love them. Here's a little more about how I use one-pagers in English Language Arts, as well as some amazing one-pager examples.
What are one-pagers?
One-pagers invite students to think deeply about a text and produce a single page of sketchnotes to represent its most important aspects. [View more on sketchnotes in the classroom.]
Teachers can offer as many or as few guidelines as they wish when using one pagers, though most agree that offering students a clear list of what should be included makes the assignment work well.
For example, in English Language Arts, you might ask students to…
Sketch one visual symbol that represents the text's main theme.
Write out two quotations that show the author's style.
Include a sketch and a sentence representing the setting.
Make connections between the text and current events using sketches and text.
Examine one or two main characters and their development.
Identify three symbols through sketches or text.
Include a statement about one thing they connected with in the reading.
Particularly if you have students for whom art is a struggle, providing a clear template with instructions on what needs to go in each section of the page can help reduce their anxiety. With a roadmap to success in hand, they will be less intimidated by the presence of art materials in the lesson.
Showing some examples (like the ones in this article), helps get them started, too. Wondering when to use one-pagers in English Language Arts? Here are five good times to try them out…
1. Free Choice Reading Projects
After students complete an independent reading book, let them share what they've read with the class through a one-pager. Display the results on the wall for an amazing visual collage that will also act as a menu for students' next book choices.
2. Assessment Prep
If a book has taken a long time to read and you are leading into a test, paper, or project about it, let students take class time to dive back in and remember the highlights as they complete a one-pager activity.
3. Literature Circles
When students complete literature circles, invite them all to create one-pagers to share. Create groups with one student from each literature circle and let them present their own versions of what they've read to each other.
4. As an Assessment
If you've just completed a book and don't have time to dive into a major paper or project, a one-pager is a great way to have your students showcase their in-depth understanding of a book.
5. For Summer Reading
If your school or your grade level has launched a summer reading project, doing one-pagers on the first day back to school is an amazing way to let students demonstrate that they've done the reading, review and prepare for discussion, and get the makings of an incredible display in your school halls.
No matter when or how you decide to try these one pager examples, you're in for an engaging, creative, critical-thinking activity. To learn more and get a free download of four one-pager templates with complete instructions, visit my website, Spark Creativity.
Have you tried using one-pagers? Where do you look for one-pager examples? Come and share in our WeAreTeachers HELPLINE group on Facebook. WeAreTeachers HELPLINE is a place for teachers to ask and respond to questions on classroom challenges, collaboration and advice.