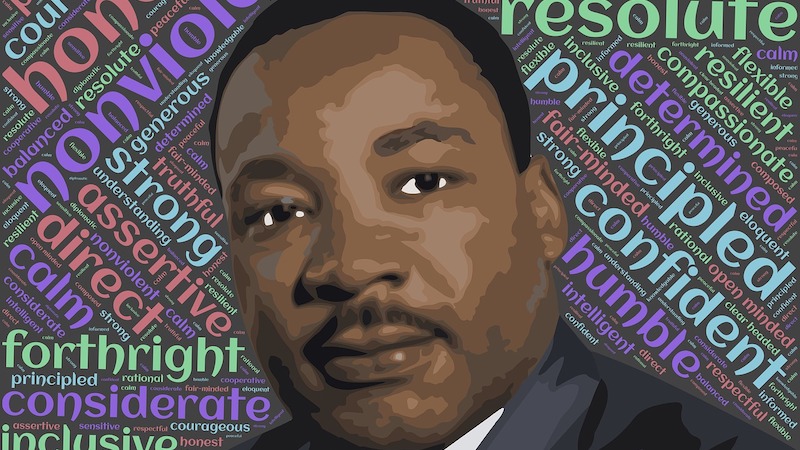 Although it's usually a day off for schools, the days leading up to the Martin Luther King, Jr. holiday are a wonderful opportunity for students to learn about him. Although he lived a very short life, Martin Luther King accomplished many great things. His birthday is a fantastic way to introduce Black history to your class and will hopefully inspire year-long study. Here are nine Martin Luther King activities you can do with your students to help them learn about this extraordinary man and the reason we honor him on the third Monday of every January.
Create a timeline.
The Montgomery Bus Boycott is considered an early and pivotal moment of the Civil Rights Movement. The year-long protest of the segregation of public buses in Montgomery, Alabama, made King, who was selected to be the boycott's spokesperson, a national figure. After King, Rosa Parks, and the countless other activists and everyday citizens won their fight against segregation, many other landmarks would soon follow.
Identify several key moments from either King's life or the Civil Rights Movement. As a class, correctly order those moments on a timeline. Then, assign small groups of students an event to research and briefly share with the class what happened and what they learned.
Some key moments to include:
January 15, 1929: Born in Atlanta (students could include information about his family, as both King's mother and father were well-respected figures)

June 1953: Marriage to Coretta Scott 

February 1959: Five-week trip to India to meet with Ghandi

August 1963: The March on Washington

1964: Awarded the Nobel Peace Prize 

March 1965: Selma march to Montgomery

August 1965: Signing of the Voting Rights Act

April 1968: Assassinated in Memphis

November 1983: Establishment of the King holiday

August 2011: Opening of the Martin Luther King, Jr. Memorial in Washington, D.C.
As an added lesson, pull out a map and mark the places where these events occurred.
Learn about pacifism and and the philosophy of nonviolent resistance.
Along with Ghandi, Martin Luther King is one of the world's most notable pacifists. Nonviolent resistance was at the core of King's civil rights efforts, for which he was awarded the Nobel Peace Prize in 1964. King's six principles of nonviolence and six principles for nonviolent direct action are a great way to introduce students to the concept.
Have students read King's "Letter from Birmingham Jail" and talk about the pros and cons of nonviolent resistance. Or as a class identify several current injustices or issues and discuss ways that nonviolent strategy might address them.
Younger students might work together to identify words associated with nonviolence and then select several words to design their own peace jigsaw puzzle.
Let Martin's great words inspire art.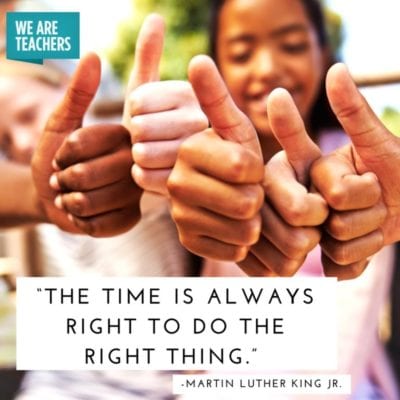 King was a very compelling and persuasive speaker. And many of his words remain inspiring and relevant today. Choose several of King's quotes to share with your class. Have students create art—a picture, a comic strip, etc.—inspired by a King quote of their choosing. As students work, play one of King's speeches. After students have finished, ask them identify the quote they chose and explain how their art reflects it.
Understand the importance of cooperation.
Did you know that Bayard Rustin, an activist, was a significant figure in organizing the March on Washington, where King delivered his famous "I Have a Dream" speech? Or that Georgia Gilmore, a cook and midwife, secretly sold dinners to help pay for the Montgomery Bus Boycott? That's right. Those and other civil rights efforts required a lot of people, not just King, and cooperation and coordination to be successful. It takes a lot to build a movement. As a class, help students grasp the importance of working together by choosing a classroom goal to accomplish and identifying ways everyone can work together to accomplish it.
Sing a song.
One of the ways that civil rights protesters remained positive despite harrowing circumstances was by singing and listening to music. In fact singers like Harry Belafonte, Aretha Franklin, Stevie Wonder, and Nina Simone were staunch supporters of King. As a class listen to some of the songs from the Civil Rights Movement. This playlist and this list of songs are great places to start. Then ask students to talk about the music and what it makes them think or how it makes them feel.
Help the community.
King once said, "Everybody can be great because everybody can serve." And the King holiday is a popular time for people to serve others in their community. Identify a simple but effective way your class can serve your school or local community, such as cleaning up a local park or helping the custodian tidy up the school or visiting a local senior citizen home. If you can, make it an event that happens more than once a school year.
Rearrange the classroom.
One of the lasting legacies of King is the idea that we are all more alike than we are different. Have students complete an about-me questionnaire or write interview questions centered on getting to know someone. Then pair students who usually don't spend much time together. Give each pair time to talk about themselves, discussing ways they are alike and how they are different. Then have them share what they learned about each other with the class.
The view from the mountaintop.
In his final speech, King said that he had "been to the mountaintop" and that he'd "seen the Promised Land," meaning that he had seen a positive future, despite how things looked at the time. Ask students to draw or write (a poem, paragraph, or short essay) about how they see the world now and how they think things will change. As inspiration, show students this clip of Martin Luther King's granddaughter, Yolanda, speaking at the March for Our Lives Rally in 2018.
Take a virtual museum visit.
The Lorraine Motel, in Memphis, Tennessee, where Martin Luther King was assassinated, is now the National Civil Rights Museum. Students who don't live nearby can take a virtual tour of the space. The Smithsonian site also features King-related items that students can view online.
We'd like to hear how you celebrate Martin Luther King's legacy in your classroom. Come and share your Martin Luther King activities in our WeAreTeachers HELPLINE group on Facebook.
Plus, check out our favorite books about Martin Luther King.