It's fun to be five! Here is our list of favorite kindergarten websites and activities that kids can enjoy at home with their families. We've gathered together learning links and fun activities that will help kids build skills in literacy, math, science, and social studies—plus some that are just for enjoyment.
Want more kindergarten websites and activities sent to your inbox every week? Sign up for the newsletter!
Just a heads up, WeAreTeachers may collect a share of sales from the links on this page. We only recommend items our team loves!
Reading & Language Arts Activities
One of the very best things parents can do with their children at home is read, read, read! This title, Do Not Lick This Book, by Iden Ben-Barak is a great one for teaching hygiene rules! For more awesome books on topics from feelings and emotions to math, science and everything in between, check out our picks for 50 Great Books for Kindergarten. For free e-book options you can download to your home device, check out this  round-up of sources for free e-books.
Listen to read-alouds.
Research shows that listening to fluent readers read aloud is one of the ways to build better readers. And lucky for us, many of our favorite authors are offering online read-alouds and activities on social media. Some of the big names include Mac Barnett, Oliver Jeffers, and Peter Reynolds. For more, check out our Big List of Children's Authors Doing Online Read-Alouds and Activities.
In addition, Audible is offering free audiobooks for kids during school closures. Treat your little one to a classic like Winnie the Pooh.
Write stories.
For kindergartners who are beginning writers, K12Reader has a great list of writing prompts five- and six-years-olds will enjoy. Find subjects from spiders to favorite books and favorite foods. Pre-writers can dictate their writing to an adult or tell a story aloud.
Do word work games.
Check out the website IXL for word work activities that are the just right for kindergartners. There are tons of activities—from identifying letters to learning vowel sounds and sight words.
Do hands-on activities.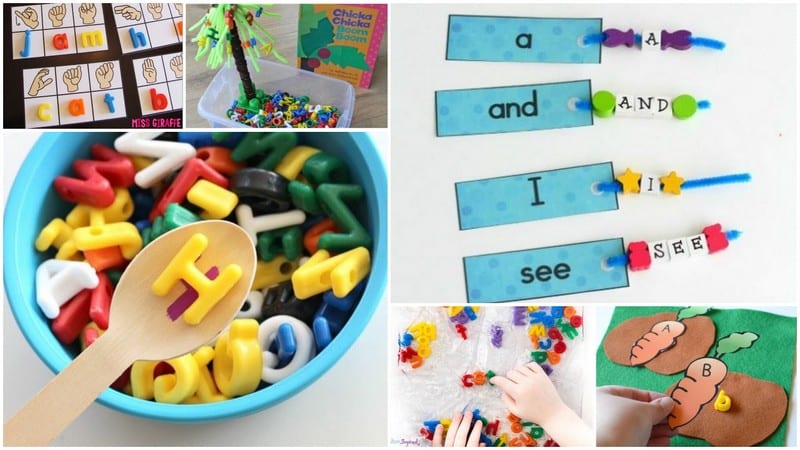 Try some of these fun alphabet activities that reinforce letter learning, like practicing letter formation with shaving cream on a cookie sheet, going on an alphabet scavenger hunt, and drawing pictures from letters.
[contextly_auto_sidebar]
Math Activities
Play counting games.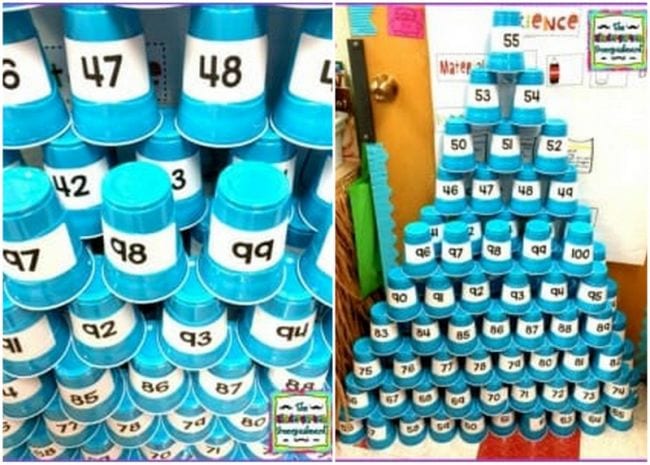 Games and hands-on activities are an excellent way to engage young learners in math learning. Try the fun stack cup activity shown above to practice counting skills. For 16 more ideas, check out our kindergarten math games  roundup.
Learn to play cards.
A simple deck of playing cards can provide many ways to practice math skills. You can use them for number identification (play a memory game), sequencing (put cards in numerical order), addition (add cards together to race to 20), and more. Check out more ideas here.
Read a book about numbers.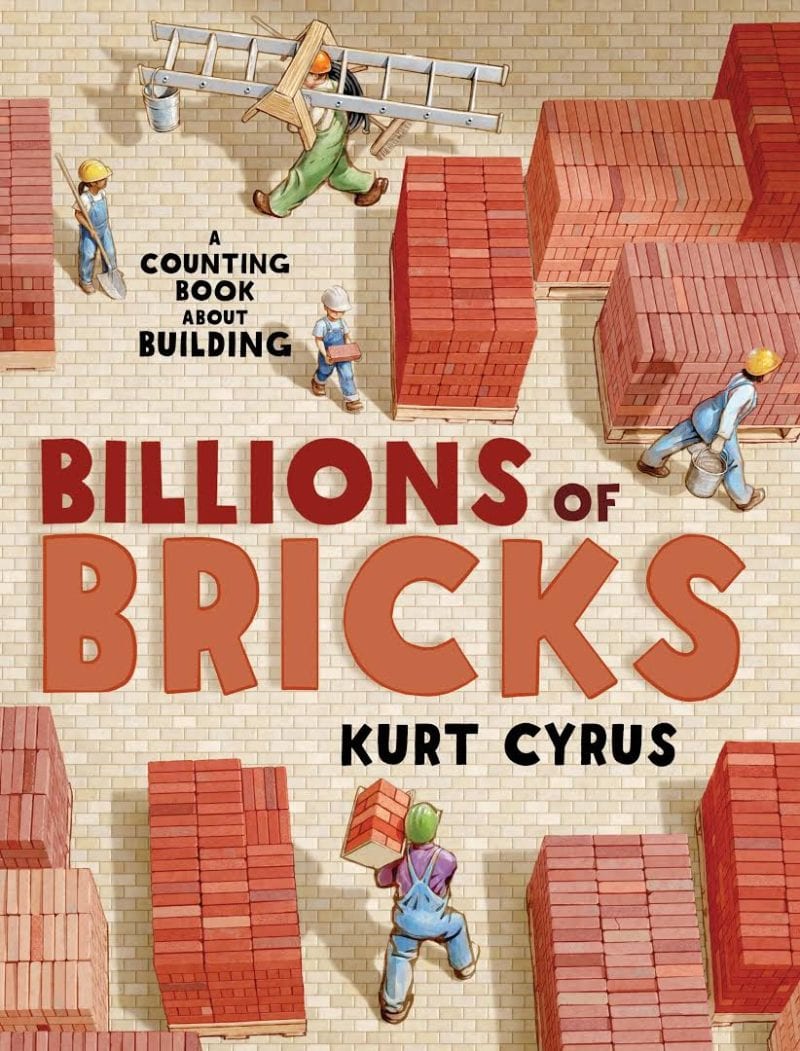 Stories are a great way to introduce and reinforce math concepts for young learners. Learn about big numbers with this book, Billions of Bricks: A Counting Book About Building  by Kurt Cyrus. For more titles, check out our list of Picture Books About Math.
Play favorite board games.
There are a large variety of board games that teach kids basic math concepts, from Sorry! to Quirkle to one of our favorites, Sum Swamp.
Practice addition and counting skills.
While hands-on learning and math games are the best way to learn math, there is also a place for worksheets to give kids practice working independently. Check out the free printables for kindergartners available from  Education.com.
There are also loads of websites that provide math lessons and games. Check out this list of math websites.
Science
Learn all about animals.
What could be more fun than peeking in on animals in their natural habitat? Make like a junior zoologist and check out this list of nature webcams.
Do science experiments together.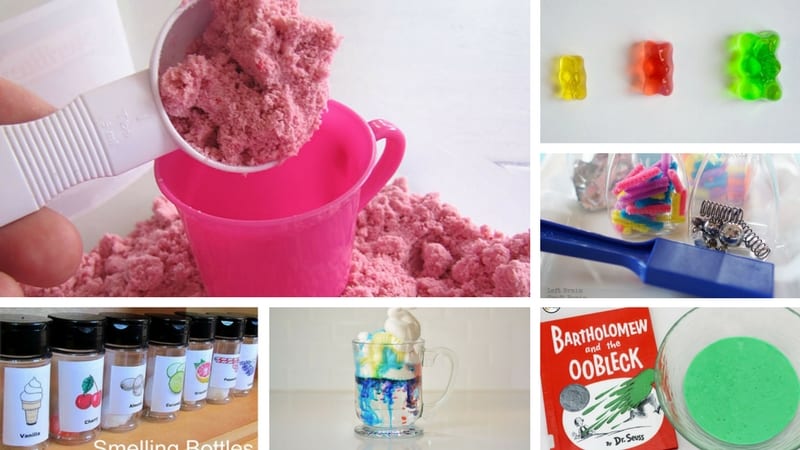 We think there's no such thing as "too young" to conduct science experiments! Try making rainbow clouds, homemade paper or monster toothpaste. Explore the concepts of magnetism, buoyancy, and absorption. For these ideas and more, click here.
Dig deeper.
PBS has a seemingly endless list of fascinating science resources to dive into including images, videos and interactive lessons from PBS Learning Media, all sorted by topic and grade level from frogs and owls to the sun and the moon.
Read about science.
Fire up your little one's imagination with these fascinating reads chosen by teachers.
Take a virtual field trip.
Maybe you can't go out to the zoo or the Natural History Museum, but that doesn't mean you have to miss out on the learning. Many places are offering virtual tours, from aquariums, and planetariums to great science museums around the world … Check out our picks for best virtual field trips.
Social Studies Activities
Start with the basics.
According to an article in Family Education, "In the earliest years of school, the social studies curriculum is oriented toward the family and the neighborhood, social relationships, and what might be called civic responsibilities." There are lots of simple activities you can do at home like teaching your child their address and phone number, the names of all the people in your family, and features of your neighborhood.
Read folk tales.
Folk tales are a great tool to learn about history and cultures and there are so many great books and videos to choose from. From The Little Red Hen and Henny Penny to the Anansi the Spider and How Dragons Came to Be, your child will love these meaningful stories.
Tune in to Brainpop Jr..
 Brainpop Jr. is offering free access for families impacted by school closures.  It is an amazing resource that offers fun, engaging videos, games and quizzes across the curriculum. Check out their social studies units, including communities, citizenship, and American history, here.
Find your place in the world.
Explore Google Maps and find your home, school, city, and your child's favorite ice cream shop. Or think big and explore the world's most detailed globe with Google Earth!
Learn about your culture.
Talk with your child about your family's roots and where your ancestors come from. What holidays do you celebrate? What rituals are important to you? Are there crafts or clothing that represent your culture? FaceTime a friend who has a different cultural background and ask them about their traditions.
Just for Fun Activities
Do yoga together.
Build healthy habits alongside your kids. Learn the basics of breathing, postures, and stretches with this fun video.
Cook with your kids.
Food Network has lots of yummy recipes and ideas. Videos show step by step directions. Get inspired by the kids on Chopped Junior and who knows, maybe your child will be a TV chef themselves one day!
Create with yarn.
Kids loving making projects with yarn. It's inexpensive and not very messy. Plus, working with yarn helps kids develop their fine motor skills. Check out the clever ideas in this blog, 10 Yarn Crafts for Kids. Make yarn monsters, wrap up a few yarn sticks, make paper roll owls, and more.
Get outside.
Be sure to get plenty of sunshine and fresh air each day (taking social distancing into account, of course). Try sidewalk chalk murals, collect natural items for a nature collage, or even hold a toy car carwash. Check out these outdoor activities and 47 more  here .
Make your own modeling compounds.
Kindergartners love playing with ooey, gooey, squishy stuff. Here are recipes for DIY kinetic sand, homemade slime, plus 8 different types of play dough!
For more creative inspiration, here are 40 Kindergarten Art Projects That Inspire Creativity in Every Student.
Plus, don't forget to sign up for our weekly online newsletters!