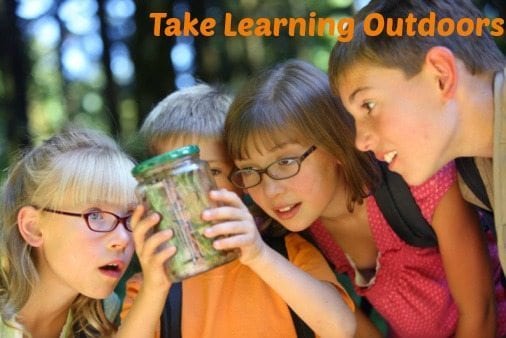 By Amanda Dykes
Foster long term interaction and hands-on observation between kids and nature by preparing a grab-and-go nature exploration kit.
Preparing even one nature kit can open a world of educational possibilities for you and your students all year long. With very little preparation, you'll have at your fingertips a tool to foster hands-on opporutnities in every discipline: math, language, history, science, physical education, music, art and beyond, no matter your location.
One kit can be utilized by an individual, a small group, or even a whole class when student role rotations and jigsaw-type activities are employed.
Suggested Supplies:
Backpack, basket, or other container
Drawing pad/nature journal
Colored pencils (for sketching) and crayons (for leaf-rubbings, etc.)
Magnifying glass
Binoculars
Field Guide(s) or pamphlets
Clear contact paper or packing tape
Plant Press (can be as simple as two pieces of cardboard rubber-banded together, or a paper encasing specimens and slipped between the pages of a heavy book—read on for more information)
Optional: Digital camera
Activities:
Create a set and recurring time each week for ventures outdoors, whether it's to the soccer field, the school garden, a nearby park, or even one or two hiking field trips or observatory/conservancy-type destinations.
Documentation/Observation journal (sketches or photographs, followed by journaling either a list of observations, narrative non-fiction, or even used as a prompt for creative writing, depending on your lesson's objectives)
Scientific Inquiry: Based on their observations, have students create hypotheses which can be assessed in the following weeks and months as they continue to observe.
Seasons: Return to the same site in various seasons. Have students reference their previous drawings, pictures, specimens, and photographs from that location in their journals, and note changes between seasons. Add the element of music by playing a portion of Vivaldi's Four Seasons to correspond with that season.
Scavenger Hunt: Before you leave the classroom, distribute or have students copy into their journal a list of things you'd like them to collect or spot. With the spoils of the search, have students identify, sort, classify items, and return them to their original spots as needed. Alternately, have them press a selection (such as flowers petals and leaves) in the flower press (see next idea below).
Use flower press (read on for instructions for creating one) to preserve a selection of specimens with each outing. You'll have a cycle for processing specimens: empty the press of last time's specimens, affix those specimens inside nature journals using clear contact paper or packing tape, identify them in writing, (excellent opportunity for descriptive writing activity as well as scientific identification). You might take it a step further by having students display their specimens to the class along with the rest of the class's specimens, read their descriptions aloud, and see if classmates can identify which of the specimens belongs to that description.
Compare/contrast: How does a given discovery looks beneath the magnifying glass as opposed to without it? What's different between an oak leaf and a maple leaf? How does an emerging spring tulip look compared to a daffodil (and how much more interesting if the students themselves planted those very bulbs the autumn before!)? How does one insect's movements and habits differ from another? One tree's leaves versus another tree's leaves.
Useful resources: