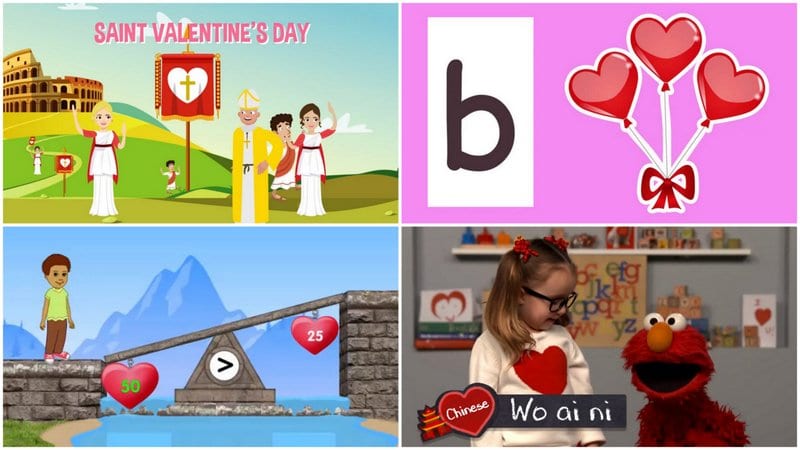 When February 14th rolls around, all your best-laid lesson plans tend to fly out the window. Embrace the excitement with holiday activities throughout the day, like these educational Valentine's Day videos. Your students will have fun learning the history of the day, counting hearts, saying "I love you" in multiple languages, and much more!
1. How Did Valentine's Day Start?
This educational Valentine's Day video traces the history of the holiday from the time of Roman Emperor Claudius II to today. It's perfect for older elementary kids, with fun animations and catchy music.
2. The Legend of Bishop Valentine
This short video tells the legend of Bishop Valentine, who performed marriages in Roman times despite Emperor Claudius II's prohibition, then fell in love with his jailor's daughter. While the story is probably more myth than fact, it's fun to share with kids as one version of Valentine's Day history.
3. Valentine's Day Facts For Kids
In addition to the St. Valentine legend, this video shares facts like how many cards are sent each year, who receives the most valentines (it's teachers!), and more. Before sharing this video, see if your kids can guess the correct answers to each question first.
4. H-E-A-R-T Song
Learn to spell the word "heart" as you sing this charming song to the familiar tune of Bingo. Teach it to little ones to perform as a surprise for their parents!
5. Valentine's Day Phonics
Learn a Valentine-themed word for each letter of the alphabet in this phonics video. Challenge your students to come up with more words for each letter too!
6. Five Little Hearts Song
Practice counting to five when you sing along with these cheery Valentine's Day hearts. Have kids hold up the right number of fingers over their hearts as they sing to help them make the number connection.
7. Count 10 Valentine's Day Hearts
Get some more counting practice with this simple educational Valentine's Day video. Kids count the hearts from one to ten, first slowly, then more quickly. Use it as a lead-in to more Valentine's themed math activities or a warm-up to start the day.
8. Skip Count Hearts By 2, 5, and 10
Count along by twos, fives, and tens as you learn just how many hearts one class made for Valentine's Day. This educational Valentine's Day video features hundreds charts to help kids keep track.
9. I'm a Little Valentine Shape Song
Learn shapes like heart, square, and triangle with this Valentine's Day song. Kids will quickly pick up the tune and words, filling in a new shape for each verse.
10. Valentine's Day Math Journey
Take a Valentine's Day-themed journey through a series of math problems, focusing on greater than and less than. Pause the video as each new problem appears and ask your students to come up with the right answer, then continue to see if they got it right.
11. Pete The Cat's Valentine's Day
Pete thinks Valentine's Day isn't "cool," but when he sets out to write personalized cards for each of his friends, he learns just how important it is to tell people you care. It's an important message every kid should hear.
12. Love Grows Sing and Sign
Expand the love to everyone with a cute singalong that includes basic sign language too. It's perfect for pre-K and early elementary. Want to learn to sign "Happy Valentine's Day?" Check out this video as well.
13. I Love You In Many Languages
Join Elmo as he learns how to say "I love you" in a variety of languages, including Mandarin Chinese, Spanish, German, and more. You may want to watch in advance and learn the pronunciations yourself, then pause after each one and help kids learn how to say them correctly.
14. Hugging Hearts Directed Drawing
Follow along and learn to draw these two adorable hugging hearts. Kids can turn their drawings into a Valentine for a friend or family member when they're done.
15. How Candy Hearts Are Made
No list of educational Valentine's Day videos would be complete without learning about candy hearts! Show students how these ubiquitous Valentine's Day treats are mixed up, punched out, dried, and boxed up. For a special surprise, pass out some candy hearts for kids to enjoy while they watch!
Be sure to sign up for our newsletters to get more WeAreTeachers content we know you'll love.