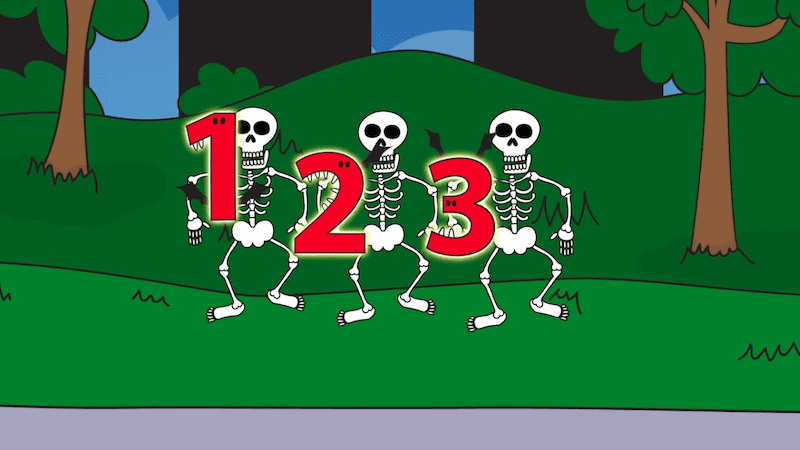 Halloween is such a fun holiday. We get to dress up, be silly, and eat candy! Yes, things are a little different during a global pandemic, but it's a great opportunity to bring a little joy to your lessons right now. Whether you're teaching in the classroom or online, this list of educational Halloween videos for kids will brighten your day!
1. Halloween Counting Show for Kids
This animated music video introduces young children to numbers and basic counting.
2. Halloween Around the World
Join Jeremiah in this educational video for students and as he takes on a trip to celebrate "Halloween Around the World."
3. Halloween Kids Vocabulary
Kids can learn basic Halloween vocabulary with this adorable video.
4. Halloween Stories For Children
Learn more about the origins of Halloween with Dr. Binocs!
5. The Not So Great Pumpkin—A Halloween Math Read-Along
Enjoy this spooky Halloween story featuring double-digit multiplication.
6. Halloween Funny Puzzle Game for Kids
Kids can help the monsters find their way home with this fun Halloween video!
7. Funny Scary Skeleton Yoga for Kids
This is 20 minutes of giggly, funny, bone-shaking yoga!
8. The History of Halloween for Kids!
The history and story of Halloween explained for kids in a fun and creative way!
9. Patterns for Kids with Halloween Costumes
Kids will learn more about patterns using these fun Halloween costumes!
10. Learn About Halloween
Annie and Moby take us through the history of Halloween!
11. Kids Vocabulary—Happy Halloween
Mummies, skeletons, witches, and spiders—oh my!
12. Halloween Nursery Rhymes
This collection of songs is great for learning the alphabet, numbers, shapes, colors, and more.
13. Gecko's Halloween Stretching Trucks Bake A Pumpkin Cake
To get into Halloween spirit, Gecko gives his trucks a spooky makeover and then bakes a pumpkin cake!
14. Halloween Math Mystery—Case of the Tricking Treat
Kids can help solve a Halloween math mystery with this video which can be combined with this activity book.
15. Halloween Counting Song for Kids
Counting and problem-solving take center stage in this cute Halloween video for kids.
16. Halloween Spelling
Kids can learn to spell all of their favorite spooky Halloween words!
17. Learn Colors with Scary Surprise Eggs
Younger kids can learn the colors as they sing and dance with Halloween eggs!
18. Spooky Spectacular: Super Yoga!
This quick five-minute video is a great way to incorporate some spooky Halloween yoga into the day!
19. Dia de los Muertos Educational Video for Students
Join Roshell as she talks about Dia de Los Muertos, a Mexican holiday that is celebrated by many around the world.
20. Halloween Facts About Pumpkins!
How much do you know about pumpkins and jack-o-lanterns? This video shares some fun facts!
21. Halloween Spelling Words
This short Halloween video introduces younger children to spelling words related to the holiday.
22. Halloween Counting for Kids
This spooky video will have kids counting all the way up to 20 scary things!
23. Halloween ABCs
This extremely colorful video and catchy song will have everyone singing their ABCs!
24. Learn the Emotions Halloween Song
Kids can learn to identify emotions with this fun song set to the tune of "If You're Happy and You Know It!"
25. Count to 10 With Spooky Ghosts
Counting to 10 has never been more spooky or fun!
26. Halloween Songs for Kids
This collection of popular Halloween songs for children includes Halloween dances; spooky, funny, and (not so) scary monsters; witches; and ghosts.
27. Halloween Spelling Songs for Kids
Can you spell Halloween? Kids will have a great time singing this super fun Halloween song and learning to spell.
28. History of Halloween For Kids—Animation
What are the origins and traditions of Halloween and Trick or Treat? Explore this question and more with this informative video!
29. 7 Fun Facts About Halloween
An energetic sock puppet shares some Halloween facts about ghosts, colors, witches, and more!
30. A Halloween Cosmic Kids Yoga Adventure!
This yoga video tells the story of Ruby Broom, a witch who's teased at school until Halloween night when the kids realize how unique and wonderful she really is.
31. Alphabet Halloween—ABC Halloween Song
How many Halloween words do you know? Kids can learn the alphabet and phonics with this Halloween dance party!
Plus check out the 31 Best Halloween Books for Kids Who Like to Be Scared.
If these ideas inspired you, join our WeAreTeachers HELPLINE group and come talk with the very teachers who suggested them!