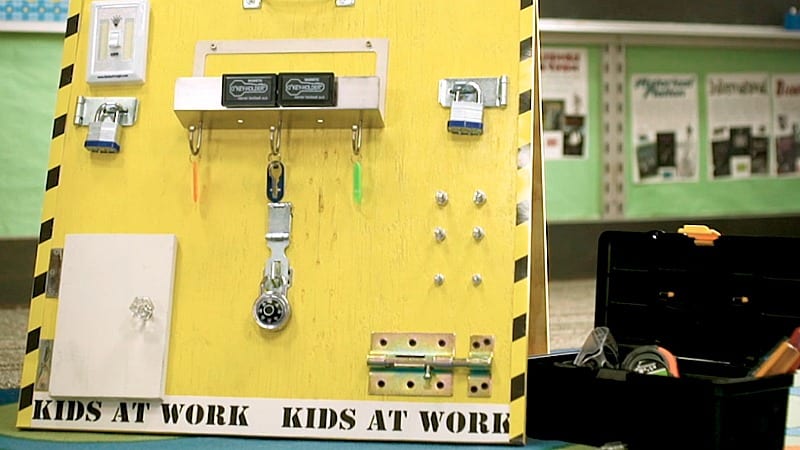 The concept of a DIY sensory board is genius. It gives students a place to learn, tinker, and explore, all while promoting good sensory practice. Often, sensory boards are popular in special education classes or with younger kids, like kindergarteners, but the truth is, they can work well at multiple levels. You could even make one for older kids and do it escape room-style, where they have to solve puzzles.
We built this DIY sensory board to go in a kindergarten classroom. It has a strong focus on tools and DIY—the locks on the board are a definite student favorite. Check out the video below on how it all came together.
[embedyt] https://www.youtube.com/watch?v=Pt2TaD-dQOA[/embedyt]
If you're looking to create your own DIY sensory board, it's important to adjust it to your students' needs and ages. Here are some ideas of things that could go on your board. If you have other suggestions, please include them in the comments. We'd love to hear about what works for you!
1. Magnets
Use the magnets to hold the nuts, bolts, and screws. In the sample video, we used a metal magnetic bowl for this job. Then it attaches to another magnet, making it easy for students to work without losing pieces.
2. Locks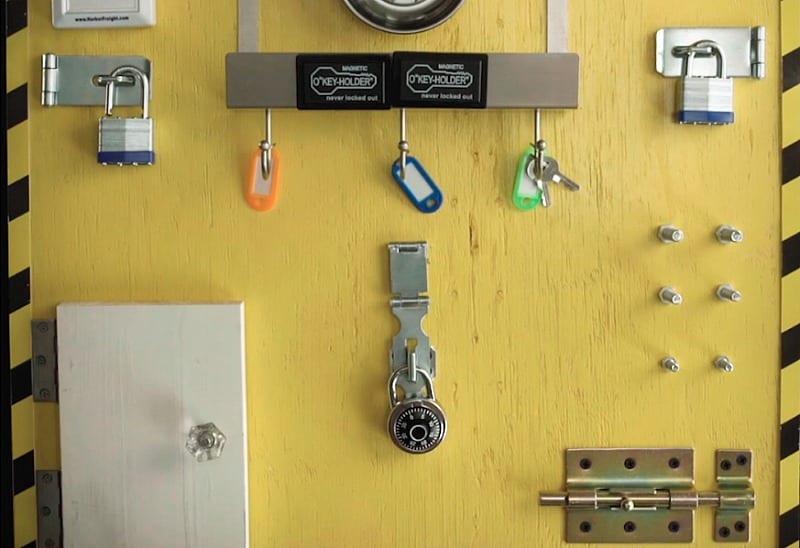 This will be one of the THE most popular items, no matter the age of your students. For added challenges, mix up the keys so students have to find the right one. You can also add combination locks, which are especially challenging for younger students.
3. Textures
Part of a good sensory board is having textures students can feel. Have a small section that has things that are rough, smooth, furry, etc.
4. Gears
This is a great way for students to see how things work together. They'll have fun rotating them one way and then the other. Help them make the correlation between the gears on the board and gears in everyday items.
5. Plastic Tubing
What a fun item, and it's so inexpensive! Chances are you can probably find some old tubing in your basement. Otherwise, it's really easy to find at your local home improvement store.
6. Nuts & Bolts
Once you have these secure on your board, students will love using the tools to tighten and loosen them. Give them several different size options so they have to find the right fit.
7. Zippers
Adding on a zipper is a great idea! It's so simple, but it's also a great way to encourage sensory exploration.
8. Light Switch
You can screw on switches to the board for kids to flip on and off, or you can add the lights that push on and off. The light in the video is battery operated. The students love switching it on when they're working and then turning it back off when they're done.
9. Whiteboard
Every creative tinker person needs a place to collect their thoughts. We love this example of using a whiteboard because it's easy to wipe off after one student is done.
10. Knobs and Doors
Here's a great way to repurpose old items you might have around the house. Knobs are a great addition to a sensory board. Plus if you make your own little door, you can put a special or secret message behind it.
11. Fidgets
We're not saying you HAVE to put fidget spinners on here, but fidgets in general are a good idea!
12. Musical Instruments
Proceed with caution on this one, especially if this is supposed to be more of a quiet play option in your classroom. But we still love the idea.
13. Calculator
Calculators are easy to get your hands on. You can easily mount them on the board with a Command strip. This way, if your students need to do any calculations while they work, it's right there!
14. Tape Measure
Here's another good option for tinkering and exploring. Just add a simple tape measure to the board. (We love the idea of having hooks on the board so you can hang the measure and other things from them. You might even leave some challenge cards for your students so they can do some measuring tasks around the classroom and then come back to the board to write the results—on that whiteboard you installed!
15. Shoelaces
For smaller kids, you can have them practice tying shoes. For older kids, put some rope on there and have them practice different kinds of knots. It's a good skill to have!
16. Safety Glasses
This is another good reason to have hooks on your board: They give safety glasses a good place to hang. Now students can get in the habit of putting on their safety glasses anytime they are at work.
What are your DIY sensory board ideas? We'd love to hear about them in our WeAreTeachers HELPLINE group on Facebook.
Plus, check out more DIY classroom projects we love. ?