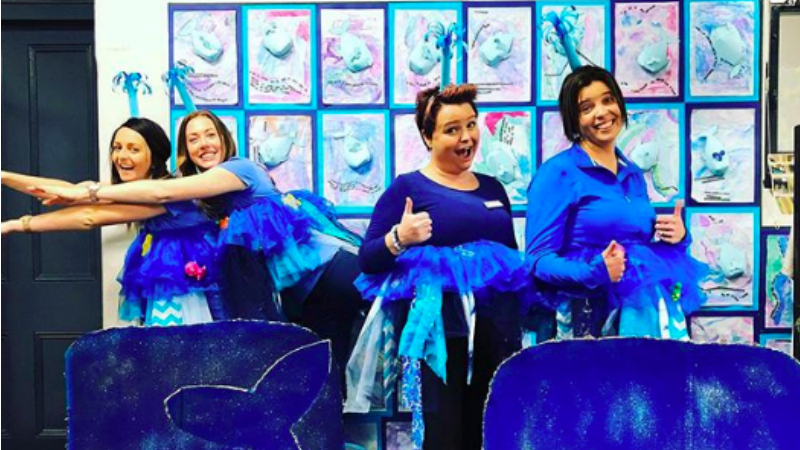 Okay don't tell anyone, but for a few of us one of our favorite things about being a teacher is being able to wear goofy costumes and wacky getups. What other job could you not only but be EXPECTED to wear your PJs all day?
So why do we love teacher dress up? Maybe we had too much fun at Halloween when we were young, or we're theater wannabees, or maybe we love teaching because we're all just big kids at heart.
Regardless, here are some of our favorite #teacherdressup pics from Instagram that show when you work with kids you don't even have to have a reason to dress up!
1. When we're mad as the Mad Hatter
2. When we've got the munchies
3. When we're feeling sparkly
4. When it's Dr. Seuss' birthday
5. When it's Recycle Fashion Week
6. When we're feeling notorious
7. When we call Miss Viola Swamp to sub
8. When all we have to say is Supercalifragilisticexpialidocious!
9. When we want our students to believe in the Book Fairy
10. When we're feeling particularly wishy-washy
11. When we have a "whale" of a time together
12. When we want to get in on the alpaca craze
13. When we feel part Captain Underpants, part Super Teacher
14. When we're celebrating our fairy tales unit
15. When we turn our clocks back too far
16. When a baby bump makes us feel like Pooh Bear
17. When we're talking 'bout Einstein
18. When it's St. Paddy's day
19. When we teach like pirates—aargh!
20. When it's our birthday
21. When it's school spirit day
22. When it's book character day
23. When it's day 100
24. When it's pajama day (hooray!)
25. When we're feeling groovy.
26. When it's mismatch day
27. When we have got to celebrate being KinderQueen.
28. When we worship Mo Willems
29. When bucket fillers make our hearts happy
30. When we've waited all year for Girl Scout cookies
31. When we're trying to introduce kids to an amazing artist
32. When it's mustache day!
33. When it's Tacky Tuesday
34. When we're feeling a little moo-dy
Join our WeAreTeachers HELPLINE Facebook group and share your best teacher dress up.
Plus, 15 Ways to Know You've Found Your Teaching BFF