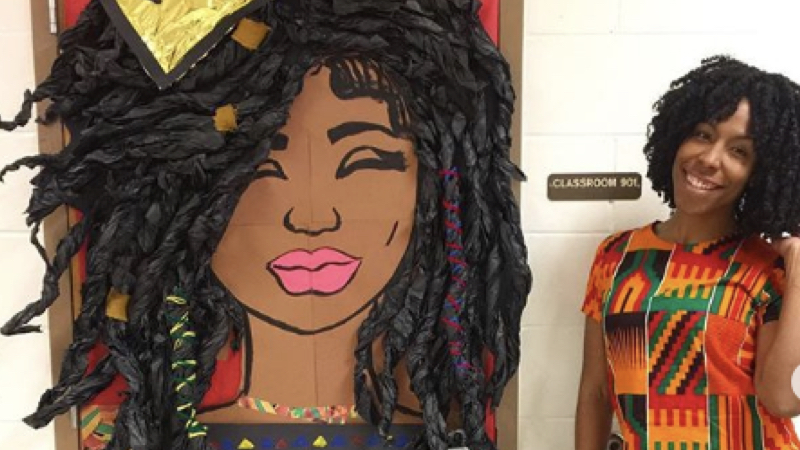 The bar for classroom door decorations just got raised—like, a lot. That's because teachers across the country are decorating their doors in celebration of Black History Month and sharing pictures of them across social media. Facebook, Instagram, and Twitter are flooded with these stunning and artistic displays, which feature the faces of inspiring Black figures such as Ruby Bridges, Misty Copeland, Michelle Obama, Martin Luther King Jr., Angela Davis, and Rosa Parks.
Not only do these impressively decorated doors aim to celebrate inspirational Black heroes who have made history, but they also empower students and kickstart a dialogue.
"It is so much more than decor. This door has already sparked so many conversations with students I've never met or talked to before," said high school teacher, Mrs. Lewis in a post on Instagram.
Here are a handful of Black History Month classroom doors that stopped our scroll.
1. Be Brave Like Ruby
"I always kick off Black History Month by sharing the story of Ruby Bridges because it is one that I feel that my students will identify with."
2. Use All The Shades
Any shade of black is beautiful! #BlackHistoryMonth2019 #blackhistorymonthdoor pic.twitter.com/a7Ux8G3DiR

— Killah Katt (@killah_katt) February 12, 2019
Simple and stunning.
3. A Thought-Provoking Installation
Even her earrings are inspiring.
4. More Than Decor
This door has sparked so many conversations.
5. Don't Forget the Crown
#Flawless
6. Show Some Flower Power
Powerful & pretty.
7. Flaunt Some Black Girl Magic
Yes, yes, yes.
8. The Beauty Is in the Details
Hair clips, yarn-wrapped dreads, and baby hairs. This teacher thought of it all!
9. Make It a Work in Progress
Don't be afraid to add more over time.
10. Make it a Group Effort
Recruit your students to help. "My students were excited to help me! From the hot gluing of the puffballs, to the cutting and painting, and the putting the door together."
11. Think Outside the Box
… and in this case literally outside of the door frame.
We'd love to see your Black History Month classroom doors! Come and share in our WeAreTeachers HELPLINE group on Facebook.
Looking for more ways to celebrate Black History Month? Here are some Black History Month Activities, inspiring quote posters and a list of picture book biographies.