We know that Black history is American history and needs to be embedded into your classroom experiences year-round. At the same time, Black History Month provides the necessary opportunity to dig deeper with students. Every February, we can support students as they learn more, discover cultural impacts, and follow social movements from the past to the present day. These Black History Month lessons and activities cannot be isolated or one-off classroom experiences. Think of how you can connect these topics to what you're already doing and make it authentic. And most important, do not just focus on oppression: Focus on the joy too!
Since 1928, the Association for the Study of African American Life and History has provided a theme for Black History Month. In 2023, the theme is Black Resistance. As you review some of our favorite Black History Month activities for the classroom, keep that very important theme in mind.
(Just a heads up! WeAreTeachers may collect a share of sales from the links on this page. We only recommend items our team loves!)
1. Re-create civil rights freedom movement posters
The Civil Rights Movement Veterans site offers powerful examples of freedom movement posters, as does the Civil Rights Digital Library. Review them with your students, and then have them get into groups and create their own to share.
2. Explore Black history through primary sources from the National Archives
Choose from thousands of resources, including this 1970s photo series of Chicago.
[contextly_auto_sidebar]
3. Learn about famous Black artists
Future Jacob Lawrences and Elizabeth Catletts will appreciate learning more about artists and expanding their talents! Plus, check out these other Black artists.
4. Watch a Black History Month video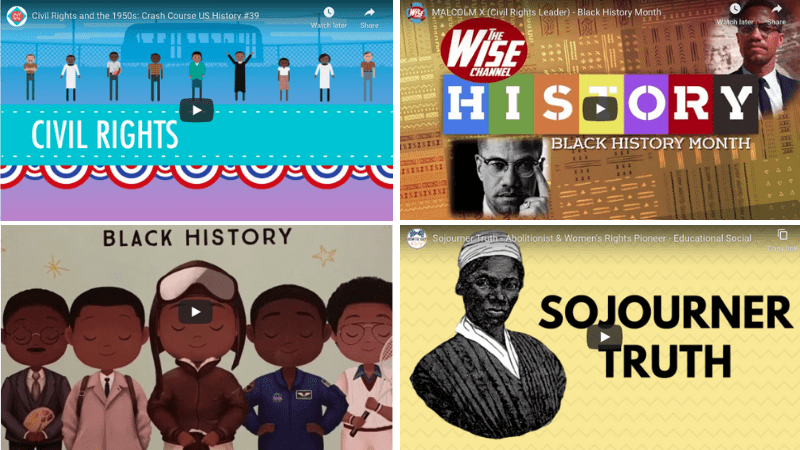 Watching videos can be some of the most meaningful Black History Month classroom activities. Check out this list of Black history videos for students in every grade level.
5. Learn about the Black Lives Matter movement
The Black Lives Matter site explains the group's history while books like Dear Martin and The Hate U Give explore the movement from a fictional perspective.
6. Create a newsletter or magazine with content from Black authors
Have your students generate their own newsletter or literacy magazine to distribute to parents. Include poems and short stories by Black authors, as well as student-generated writings and images that center on Black History Month.
7. Read a Black History Month poem

To enhance our conversations this month, we've put together this list of powerful Black History Month poems for kids of all ages.
8. Turn your classroom (or school!) into a living museum
Have your students choose a notable Black pioneer they'd like to know more about, such as voting rights and women's rights activist Fannie Lou Hamer, dancer Alvin Ailey, or Betty Reid Soskin, the oldest full-time national parks ranger. Then, host a living museum right in your classroom.
9. Learn about Madam C.J. Walker and other Black entrepreneurs
Do you know about Madam C.J. Walker, the first self-made female millionaire in America? Click here to learn more about her!
10. Decorate your classroom door for Black History Month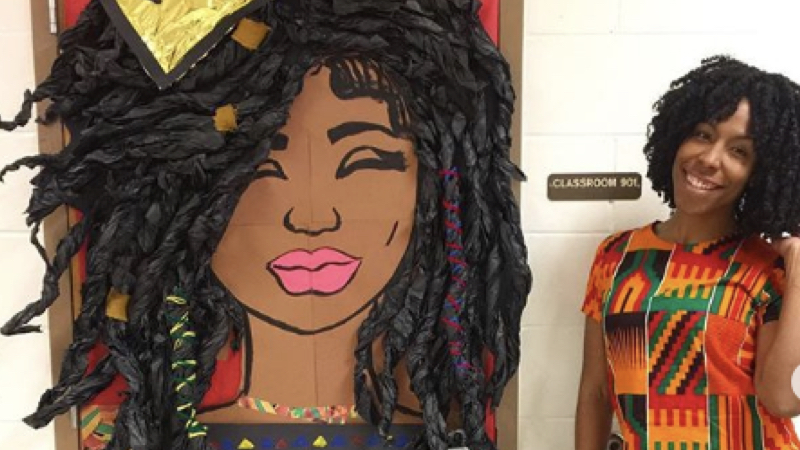 These teachers decorated their classroom doors in amazing ways to showcase Black History Month.
11. Honor some of the military's most courageous veterans
From the 54th Massachusetts to the Buffalo Soldiers to the Tuskegee Airmen, Black men and women have long served in the United States military, even when their own rights weren't secure.
12. Read books with Black characters in honor of the young hero Marley Dias
Dias is a young activist who started the #1000blackgirlbooks campaign as a sixth grader. She has compiled an excellent guide to books with Black girl characters. Check out WeAreTeacher's list of books with Black protagonists as well.
13. Read Black History Month books
If you're looking for more reading activities, these picture books help celebrate Black History Month and educate your students on how these people helped shape history.
14. Learn about the art of stepping
Stepping is a form of dancing in which the body itself is used to create unique rhythms and sounds. The website Step Afrika! has videos and information about the history of stepping.
15. Take a virtual trip to the illustrious Schomburg Center for Research in Black Culture
The digital collections of the Schomburg Center, located in Harlem in New York City, feature some amazing online exhibits, interviews, and podcasts.
16. Virtually visit the incredible Smithsonian National Museum of African American History & Culture
You can browse the collection online by topic, date, or place.
17. Host a poetry reading featuring works by Black poets
Have students choose a poem by a Black poet to learn and recite for the class. Choose a student to serve as the emcee, write up a program, and set the tone with dimmed lights and jazz music played between performances. The Poetry Foundation has excellent resources that can help get you started.
18. Discuss the Supreme Court trial that gave rights to Black Americans
Your future legal eagles will enjoy learning about the key Supreme Court cases that helped Blacks secure rights, the events and efforts that sparked the cases, and the aftermath of those court decisions. Be sure to recognize Thurgood Marshall, the first Black Supreme Court justice and the lead lawyer in the Brown case, along the way. Also, follow up with students on how they feel these decisions impact our world today.
19. Listen to a podcast that celebrates Black history
RadioPublic has an excellent roundup of podcasts about Black history to listen to and discuss with your students.
20. Check out online exhibits on Black history
Educating yourself and your students with these shows is one more way to understand Black history and the current moment.
21. Dive into Georgia Stories: Black History Collection on PBS
As a state, Georgia played a huge role in the 2020 presidential election, and its Black history dates back to the earliest days of slavery in the colony.
22. Discuss implicit bias, systemic racism, and social injustice
Start a much-needed discussion around implicit bias and systemic racism with these resources that can empower students to fight for justice in our society.
23. Read the Freedom in Congo Square picture book to celebrate the dominance of spirit over suffering
The award-winning picture boo, Freedom in Congo Square, is a nonfiction children's book that describes the tyranny of slavery to help young readers understand how jubilant Sundays would be for slaves.
24. Watch Kevin Hart's Guide to Black History
Kevin Hart highlights the fascinating contributions of Black history's unsung heroes in this entertaining—and educational—comedy special.
25. Recognize Black visionaries
This great poster featuring activists, artists, authors, and revolutionaries will highlight Black change-makers in your classroom. Use companion activities to deepen understanding by researching several of the visionaries and asking students to write a story or create their own poster about what they've learned.
26. Create a Black History Month playlist
Many genres of music we listen to today were shaped by Black artists and their groundbreaking influences. Celebrate Black History Month with a playlist of pivotal artists, from Louis Armstrong and Jimi Hendrix to Beyoncé and Lauryn Hill. Spotify has ready-made lists to inspire you!
27. Review the time line of Black History Month
Why is Black History Month in February? How long ago was it founded, and who started it? Find the answers to these questions and learn more with this time line.
28. Explore the music of Black history
This lesson traces the long history of how Black artists have used music as a vehicle for communicating beliefs, aspirations, observations, joy, despair, resistance, and more across U.S. history.
29. Sample Black-founded snack brands
Honor Black History Month with delicious snacks from Black-founded brands delivered to your classroom—5% of proceeds are donated to the Equal Justice Initiative and one meal is donated to Feeding America for every box delivered.
30. Understand the role of Black women in NASA's history
How much do your students know about Black contributions to space exploration? Rent the film Hidden Figures and watch with your students to remember, honor, and share the incredible accomplishments of three Black women working on NASA's space flight program. Before watching the movie, research the liberties the film took in telling the story and discuss with your students the function of the choices. Did the filmmakers make the right choice?
31. Support local Black-owned businesses
Research your city's Black-owned businesses and see if you can purchase a sample of their products, invite some of the entrepreneurs to speak to your class, or book a field trip!
32. Stream Bookmarks: Celebrating Black Voices on Netflix
"Bookmarks: Celebrating Black Voices is a live-action collection of twelve five-minute episodes featuring prominent Black celebrities and artists reading children's books from Black authors that highlight the Black experience."
33. Check out this planner from Rethinking Schools
If you are looking to find more ways to include Black history year-round, check out this planner.
34. Celebrate the "Black Lives Matter at School" movement
"Black Lives Matter at School" is a national coalition organized for racial justice in education. It encourages all educators, students, parents, unions, and community organizations to join an annual week of action during the first week of February each year.​ For a variety of Black History Month activities, visit their website to learn more about their campaign.