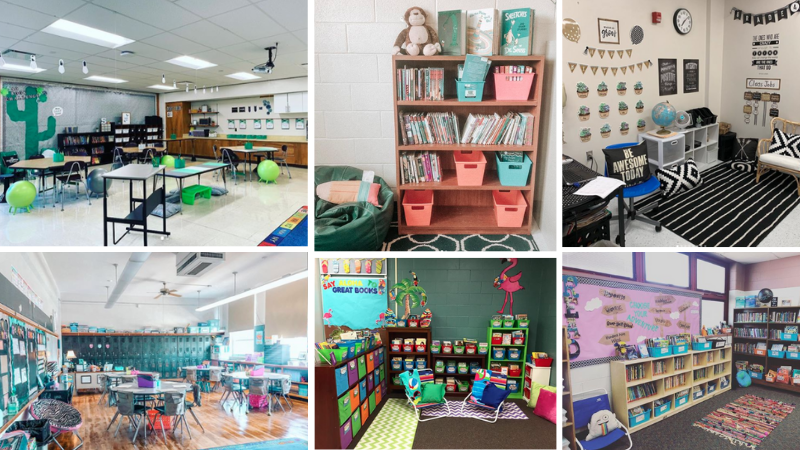 Fourth grade can be a tough time for students. They've got heavier workloads and more responsibility than the younger grades, and hormones are often starting to rear their heads. That's why it's so important to create a welcoming and inviting learning environment for kids this age. To help you get started, here's a list of 18 fresh and fun fourth grade classroom ideas!
1. Use your walls to your advantage
Wood accents can add some depth to your fourth grade classroom (even if it's fake)!
2. Shine a spotlight on heroes
Empower your students by showcasing kids who are activists!
3. Can it be summer year round?
Summer's fun-loving and carefree energy is great for any season.
4. Create a job board
Hang a "Help Wanted" sign, complete with job descriptions, and encourage them to step up!
5. Do a little at a time
As this teacher reminds us, transforming your fourth grade classroom doesn't have to happen overnight!
6. Make it feel like home
This inviting classroom library space looks more like a cozy living room!
7. Use sweet color palettes
Pastels add eye-catching color in soothing, calming tones.
8. Break it down
Support kids as they learn bigger concepts, like annotation, with a bulletin board that breaks down the steps.
9. Put an elegant spin on your classroom library
Subdued hues, wicker seating, and an accent rug elevate this decor!
10. Strengthen the core
Those colorful balance ball chairs will engage their minds and bodies!
11. Variety adds spice to life
Different table heights, multiple seating options, and an open concept can spark imagination!
12. Shades of inspiration
Choose a color for your classroom and then combine elements in several different shades along with accent pieces. It creates a remarkably complex space!
13. Plant the seeds of gratitude
While you'll likely cover this in November, find ways to discuss thankfulness all year.
14. Invite kids to share what they are reading
Start a conversation about books with an interactive library corner.
15. Post student "selfies"
Start the year with 4th Grade Selfies. It's a great way to encourage self-reflection and help kids get to know each other. Keep these to see how much they've grown by the last day of school!
16. Take them to the beach!
Okay, you probably can't go to the beach, but you can bring the palm trees and flamingos to your fourth grade classroom! Check out our beach theme ideas.
17. Celebrate books
This adorable bulletin board reminds kids that reading is an adventure!
18. Add a cozy reading spot
Pom poms, string lights, folding chairs, and a rustic rug? This is a book lover's paradise!
Plus check out the ultimate checklist for setting up your fourth grade classroom.
If these ideas inspired you, join our WeAreTeachers HELPLINE group and come talk with the very teachers who suggested them!