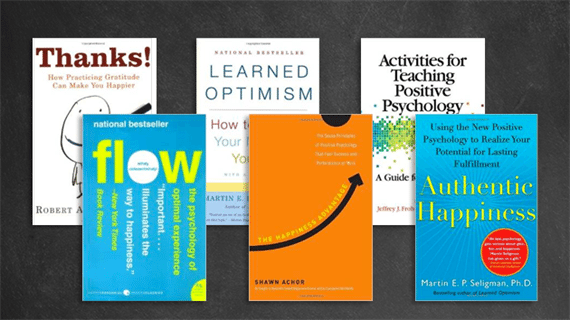 Happiness is booming. Well, maybe not always the feeling of happiness. But the study of happiness is booming and rightfully so: Never before have we understood so much about what contributes to human flourishing. You may know this field as positive psychology, the study of what factors create positive emotion, engagement, and purpose.
Unfortunately, the gems of this field of research are often shoved alongside pseudoscience "self-help " snake oil. Even the titles of legitimate positive psychology books are tainted with cheesy subtitles to sell to a general audience. More challenging still is knowing which books are helpful to teachers who wish to bring the study of human flourishing to the forefront of education.
Struggle no more, my colleagues. After spending the last decade studying and the last four years teaching positive psychology, I've found some books that are well worth adding to your reading list. Whether you are looking to teach these concepts to your students or just boost your own well-being, check out these books for a summer positive-psych crash course.
1. Learned Optimism by Martin Seligman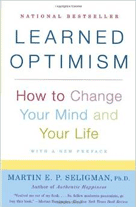 You won't get far in the world of positive psychology without hearing the name of mack-daddy Marty Seligman (considered by some to be the founder of the field). Although Learned Optimism is a couple decades old, the concepts of optimistic/pessimistic explanatory style are more relevant than ever in education.
You've heard of "optimism " and you've heard of "learned helplessness," but this book dives deep into the what, the why and the how of becoming more resilient through cognitive coaching. Perhaps the biggest benefit for teachers is how tangible these concepts are in the classroom—you can teach them directly and help provide feedback to build student optimism.
This isn't a light read. Seligman loves to talk about his background, his history and how his theories came to be. But if you can stay resilient through these opening chapters (or skip them), it is worth it.
2. Authentic Happiness and/or Flourish by Martin Seligman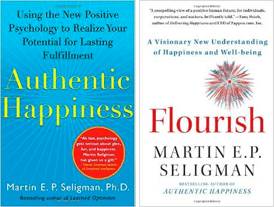 Sticking with the Seligmeister, his follow-ups Authentic Happiness and Flourish add further depth and dimension to understanding human flourishing. Authentic Happiness covers a lot of great research on three dimensions of human happiness. The many statistics will inspire you to overtly discuss human thriving as more than just "warm fuzzies."
Flourish is Seligman's more recent writing. In it, he advances from his "three-component" theory of happiness from Authentic Happiness and lays down his new theory: Human well-being has five facets that each contribute—PERMA (Positive emotion, Engagement, Relationships, Meaning, and Accomplishment). Again, you'll have to sift through Seligman talking about himself and his theories; however, if you want a framework for understanding, analyzing and teaching human well-being, both of these reads are key.
3. Thanks! by Robert Emmons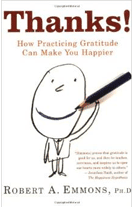 Another popular element of well-being is gratitude. I'm sure you've heard people talk about gratitude journals—a practice that has held up to hefty testing as wellness booster. Unfortunately, many pop-science articles give you the basics: Write down things for which you are grateful for a few weeks. Done.
Robert Emmons, the gratitude guru, gives the meat of this topic of study in Thanks! He breaks down more nuanced and specific definitions, experiments and strategies for building gratitude. You'll finish this book with an understanding that gratitude isn't just a "practice"; you'll see it as an underpinning of well-being. My copy has marks on every page with notes about applying his research to the classroom as well as my own life. It's a read that can change individual, classroom and school cultures with the right application.
4. Flow by Mihaly Csikszentmihalyi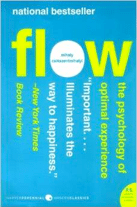 First, let's just practice saying Csikszentmihalyi's last name: (Cheek-sent-me-high). Got it? OK, let's advance. Although you may not hear the terms "flow" or "peak experience" often, you definitely have experienced them. They are those moments when time seems to stand still or fade away, when your interests and challenge levels align so that you are "in the zone." We often think only of musicians, athletes or performers in these moments. However, we all experience these moments—and the more we have them, the greater our engagement.
Flow presents Csikszentmihalyi's (practice saying it again) groundbreaking research in human engagement. The takeaways from this book are abundant for teachers. Since we deal so often with human interest and challenge, perhaps our greatest mission is to help students find more flow (beyond just video games, which, not surprisingly, create flow).
This is another meaty read with a lot of theory mixed in with research summaries. But since you are a deep reader, you'll have no problem finding nuggets of knowledge that benefit you and your students.
5. The Happiness Advantage by Shawn Achor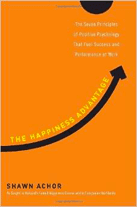 If you want a positive psych read that is both entertaining and informative, start with The Happiness Advantage. Shawn Achor is the teacher we wish we had in college: He is relatable, funny and teaches in a way that is practical and accessible (which is perhaps why his positive -psych course at Harvard is so popular).
Of all the books he has written, The Happiness Advantage has some of the most fruitful content for education. It's a perfect mix of theory combined with practical examples. His chapter on "The Tetris Effect" is a keystone lesson for understanding the "why" behind studying human well-being. Give this one a read and you'll not only smile , you'll also understand why all that smiling is a good thing.
6. Activities for Teaching Positive Psychology by Jeffrey Froh and Acacia Parks
For those who want to bring positive psychology into the classroom directly, this is a good starting point. It is exactly what it says: A collection of lessons and discussions to help learners better understand and practice well-being. With contributions by some of the big dogs in the positive psychology field, the ideas are far from watered down or "self-helpy."
It has three sections: Conceptual Explorations, Experiments, and Self-Reflections. It explores from materialism to gratitude to purpose. You will need to enhance the ideas to engage students – they are bare bone descriptions of lessons and concepts. And, one can tell these lessons are modeled after college activities. But, you'll get a sense of how simple it can be to make human well-being a practical, influential part of your classroom instruction.
Honorable Mentions:
The How of Happiness  by Sonja Lyubomirsky
A Primer in Positive Psychology by Chris Peterson
The Element by Ken Robinson
Peace is Every Step by Thich Nhat Hanh
10% Happier by Dan Harris
Websites to Peruse:
Greater Good: The Science of a Meaningful Life
http://greatergood.berkeley.edu
The University of Pennsylvania Positive Psychology Center
http://www.positivepsychology.org
Authentic Happiness
https://www.authentichappiness.sas.upenn.edu
VIA Institution on Character
http://www.viacharacter.org/www/Positive-Psychology
Character Lab
https://characterlab.org/resources
Do you have some other good resources on the science of well-being? Post to the comments below!
Chase Mielke is a learning junky who happens to have a love affair with teaching. A book addict by night and a teacher and instructional coach by day, he fantasizes about old libraries and fresh Expo Markers. His obsessions with psychology, well-being and cognition often live on his blog, 
affectiveliving.wordpress.com
.