Maybe you're the yearbook club advisor or the staff liaison for parent volunteers putting the yearbook together. Perhaps a yearbook program is part of your school's journalism curriculum. Or maybe you'd just like to create a memory book for your classroom. Whatever the case, you'll love these 50 tips, tricks, and ideas to help make your yearbook memorable.
1. Recognize your yearbook is unique.
As author Pat Conroy eloquently observed, "A yearbook is a love letter a school writes to itself." Yearbooks are important because they tell your school's own unique story. They reflect school pride and build community. And for your students, their yearbook becomes a priceless collectible, limited edition, one-of-a-kind keepsake.
2. Get busy making memories.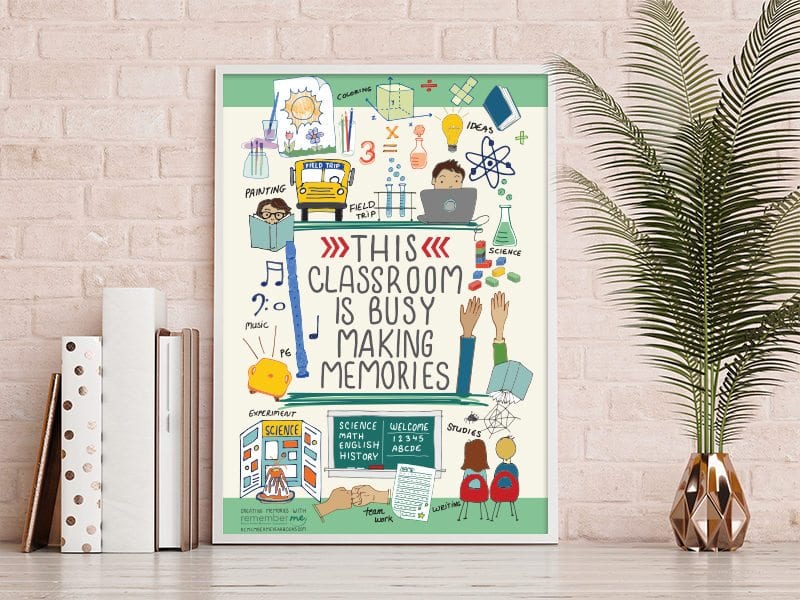 In order to have a yearbook, you need memories to include! Download this free poster to hang in your yearbook classroom. You can share it with other teachers in your school to inspire students to make the most of every day this year.
3. Invest in forever.
Some people wonder, why bother with a yearbook? Wouldn't it be simpler to just create a Facebook page for everyone to upload their school pictures to? Well sure, but there's something about the time-honored tradition of sitting with that heavy book in your lap that transports you back to a different time.
4. Think of your yearbook as an important historical document.
You never know where your students are going to end up in life. Maybe one day your yearbook will be valuable proof that you actually went to school with (insert famous person here)!
5. Start early.
Your yearbook creation is not a project you want to figure out as you go. This planning guide has plenty of yearbook resources to help you break the big picture down into manageable pieces.
6. If it does get down to the wire, don't panic.
Unfortunately, if you find you're on a short timetable to get the job done, here is "Your Last-Minute Guide to Creating a Yearbook," with practical, actionable tips on getting the job done quickly.
7. Do your research.
Your yearbook project requires that you see the big picture. Check out all the yearbook resources in this A–Z Yearbook Dictionary. It lays out all the terms for you.
8. Let students lead.
Teacher Sarah G. puts it perfectly: "It is absolutely critical for any yearbook group to be student-led with staff support, not the other way around. As an adult, it's easy to pick up the slack, but that takes the process out of kids' hands where it belongs. A stunningly beautiful yearbook is, of course, our goal, but a meaningful and fun process will be far more memorable in the end." Here are 16 stress-free ideas for student-led yearbook creation.
9. Recruit a wide spectrum for your yearbook staff.
Think outside the box when it comes to recruiting your yearbook staff. After all, the more viewpoints, the more diverse and inclusive your yearbook will be.
10. Simplify your job as yearbook advisor.
Veteran yearbook advisor Julie Faulkner dishes her best advice on everything from deadlines and budgets to organization and collaboration. Check out her Fast Five for Advisors .
11. Delegate!
Give every student on your staff a clear role to fill. Besides editor and copy editor, there are as many specialized jobs required to get the job done. These include human resources, head photographer, events coordinator, etc. Also, check out this handy checklist for more yearbook staff jobs.
12. Streamline the process with technology.
Gone are the days of cutting and pasting photos, laying out each page by hand, then shipping the pages off to a production company. Thanks to technology, the process is much quicker and simpler. Here's everything you need to know about creating yearbooks online .
13. Choose a partner that makes it easy.
There are many yearbook companies to choose from. Make sure you partner with one that provides the best yearbook resources in customer service, tools, ideas, promotional ideas … and of course, price!
14. Use a page ladder.
A page ladder is a handy tool that helps you organize your yearbook and acts as a quick reference guide to make sure you've covered all the grades, topics, and clubs you want to include.
15. Employ a designer.
Choose a yearbook company that gives you lots of design options. The intuitive designer feature from Remember Me allows you to edit (resize, crop, and rotate) photos right within the page layout.
16. Customize your theme.
You want your yearbook to reflect all that is special and unique about your school. Choosing a theme is the first step. There are many options out there. Here are 15 yearbook theme ideas to spark your inspiration.
17. Experiment with layout.
There are innumerable possible layouts available for your yearbook. One of the best ways to brainstorm ideas is to see what else is out there.
18. Make your pages "extra."
Design and customize pages that truly reflect your school's accomplishments and culture. Here are 15 clever pages and ideas to make your yearbook extra special.
19. Explore unique fonts.
Designing a yearbook gives you the opportunity to express your creativity all the way down to the smallest details. Check out these creative fonts you can use to personalize the different sections of your yearbook.
20. Create custom editions.
If you have a large school that spans many different grade levels, you may consider creating different editions. For example, you can offer softcover books for younger students and hardcover books for older students.
21. Stretch your timeline.
Choose a yearbook company that processes your order quickly. A quick turnaround allows you to push deadlines and that means you can include more spring events in your yearbook.
22. Don't cross copyright boundaries.
As a yearbook advisor, you are responsible for all content that is included in your yearbook project. Certainly, make sure you don't violate any copyright protections by securing the copyrights to any trademarked or licensed content.
23. Mind your grammar.
Sometimes we all need a little help with our grammar. For that reason, it's helpful to add this handy cheat sheet to your list of yearbook resources. It ensures your text makes the grade.
24. Proofread!
Aargh! There's nothing worse than spending hundreds of hours on a project only to find a typo that was overlooked. That's why it's essential to proofread, proofread, and proofread again! Also, get as many eyes as possible on your copy before you turn it over to be printed.
25. Join in on the fun.
Most people think yearbooks are all about the students, but looking back and remembering all the great teachers you had is a big part of the fun. Get creative with your staff photos and leave a lasting impression.
26. Don't forget the support staff.
Devote space to the very important staff that work their magic behind the scenes. Your custodians, cafeteria workers, paraprofessionals, office staff, etc. will certainly appreciate being included.
27. Showcase a little time traveling.
Then-and-now pages are a fun way to witness how much people and places change over time. Place old and new images of staff, seniors, your school building, etc. side by side. For younger kids, who change so much in the course of a year, you can also include a beginning-of-year picture vs. end-of-year shot.
28. Be inclusive with your coverage.
Do your best to make sure every student is included beyond their basic headshot. Whether they are featured in clubs and activities or captured in a few candids, every student certainly looks forward to saying, "Hey, I'm on this page too!"
29. Give students a heads up.
Let's be real. The first thing students are going to do with their yearbook is search for photos of themselves. So make it easy (and potentially boost sales!) by letting them know where they're included.
30. Customize awards.
Every school is made up of unique individuals. Highlight your students' gifts and talents with custom awards. Use superlatives (funniest, kindest, coolest, hardest working, etc.). Or go with Most Likely to … (go viral, invent a cure to cancer, travel to every continent, etc.). Warning: You might not be able to include everyone, so decide ahead of time if this is a topic you really want to tackle. If you do, and you need further inspiration, check out these hilarious superlatives  submitted by parents.
31. Or try alternative superlatives.
Some people argue that traditional awards are outdated. Think outside the box with a few of these alternatives.
32. Consider fresh angles for sports coverage.
Undoubtedly, some of the most exciting times in school can be centered on sports . Design your pages with live-action shots and creative angles to capture those wins and best achievements.
33. Highlight good works.
Definitely include coverage of all the ways your school is working to make the world a better place. Whether your students participated in a walk-a-thon, held a food drive, or held a "senior" prom with senior citizens, document their good works with a full spread.
34. Crowdsource photos.
Tap into as many sources as possible for photos. Put out the call to students, teachers, and coaches. Ask parents to share shots they've taken at school events or field trips.
35. Include lots of candids.
Keep the boring staged photos to a minimum. Capture your students and staff in action to make your yearbook a lively and interesting chronicle.
36. Set up a photo booth.
Inspire students to ham it up by setting up a photo booth complete with fun and silly props.
37. Put words in their mouths.
Use a blackboard with customizable thought bubbles as a clever background for group shots or as an introduction page for each section.
38. Include a blooper page.
Reserve space to capture some of the lighter moments from the school year. (But make sure you get permission from the subject first before printing!)
39. Include a time capsule.
Create a visual time capsule of what life is like at this particular point in time. Pull data from end-of-year best-of lists or consult the experts—your students.
40. Take a survey.
Let students weigh in on their favorite music, movies, sports, school events, subjects, field trips, hangouts, and pastimes. Twenty years from now they'll look back and be able to relive their glory days.
41. Use interviews to tell stories.
A yearbook is more than a collection of pictures. It's the unique story of your students and your school. Tap into individual student stories to help paint the picture.
42. Gather quotes early.
One of the most memorable parts of high school yearbooks is the time-honored tradition of senior quotes. Therefore, get your seniors thinking about what they want to say early on and start checking names off the list as soon as possible.
43. Make predictions.
Ask students to submit predictions about the future. Pick a few categories that resonate with your school climate so you can publish the results.
44. Include families in the fun.
Reserve space for families to submit notes of congratulations for their students. Be sure to communicate clear guidelines for length and content. Senior ads are not only a great way to honor graduating students … they're also an additional source of revenue.
45. Leave some white space.
It's tempting to fill every inch of your yearbook with photos, texts, and graphics, but make sure to leave some blank areas for autograph pages, notes, and journaling.
46. Ramp up excitement with an assembly.
Get your student body excited about the yearbook by holding a short assembly. Show a slideshow of previous yearbook photos and display past editions for them to check out. Most importantly, thoroughly explain the ordering process and make sure students know of any deadlines.
47. Get the word out.
You've spent months working hard to put your school's yearbook together. Now what? Time to sell! Check out the yearbook resources in this handy guide, How to Sell Your Yearbook, for some great advice.
48. Advertise!
Tap into the artistic talent on your yearbook staff to create yearbook resources, like posters, so you can drum up yearbook sales.
49. Keep the ordering process simple.
Ask teachers to give parents a heads up about yearbook orders in their weekly newsletter. Distribute order forms well in advance of the deadline (but not so far ahead that they get lost or forgotten). Provide teachers with a clear and easy process for keeping track of, and turning in, order forms. Also, add this printable order form to your arsenal of yearbook resources.
50. Celebrate with a yearbook signing party.
Signing parties are a fun and easy way to distribute yearbooks to students. You can also order extras and sell them to students who have not yet ordered a copy. Hold the party in your school cafeteria, gym, or outside and invite everyone! Serve with ice cream sundaes or other yummy treats. A yearbook signing party is a perfect way to celebrate your community and the end of the school year together.
Ready to create a memorable yearbook?
Remember Me helps you create lasting memories for your students with high-quality printing and low prices (as little as under $4). Plus, fast turnarounds, and no minimum order. Create a yearbook that everyone will treasure. Click below to get 15% off your order.
Yes! I want 15% off my Remember Me yearbook order!