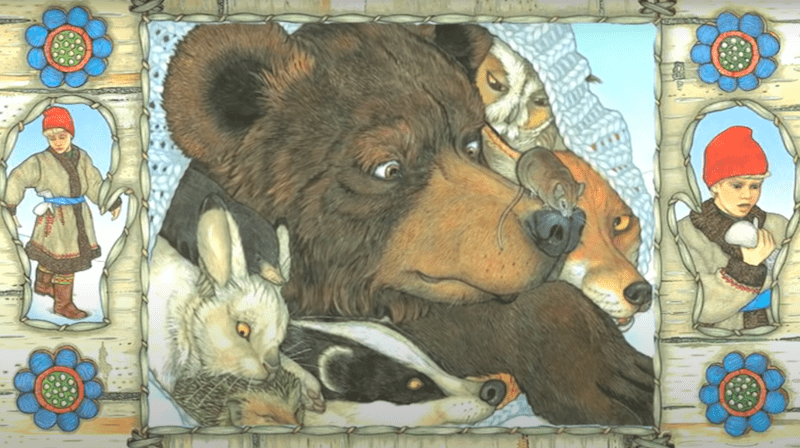 Winter days are for warm socks, frolicking in the snow, and snuggling up with a cup of hot cocoa. Celebrate what's best about the season by sharing these charming winter videos for kids, handpicked to make you and your kids smile (and learn a little something in the meantime!).
1. The Mitten
In this retelling of a classic Ukrainian folktale, Nicki loses his white mitten in the snow. The story follows a host of curious woodland creatures as they happen upon it. This version is told by the author and illustrator herself, the incomparable Jan Brett.
2. Winterlude
You can always count on Nat Geo Kids. In this episode of Are We There Yet?, Joanna and Julia head to Canada for a winter festival. We're talking gigantic ice sculptures, an ice maze, a huge ice slide, and some good old-fashioned ice skating. Such a cool way to show how climate shapes culture!
3. A Long Winter's Nap
Now is a great time to introduce the concept of hibernation. And with this video, you can count on the Cat in the Hat for an assist as he and his buddies chat up a bear preparing for his deep sleep. Recognize that voice? That's because it's Martin Short.
4. Bert is All Dressed Up for Winter
What can we say? We're suckers for Sesame Street. Little ones especially will get a kick out of this silly bit in which Bert helps his friends get their warm winter clothes on the right way. Because your scarf doesn't go on your nose, guys.
5. Henry Holton Takes The Ice
If you don't know about Storyline Online, you're going to want to take a look. The short of it is that celebrities read aloud children's books. Our winter pick is comedian Ray Romano reading a wonderful book that challenges gender stereotypes.
6. How a Snowflake is Formed
Come for the cartoony goodness, stay for the scientific knowledge. In this clip, brothers and animal experts Martin and Chris Kratt transform into tiny humans to get a closer look at how snowflakes form.
7. Oregon Zoo Snow Day
OK, this is too cool. Check out what happens when river otters, cheetahs and an Asian elephant get their first taste of snow. What a great opportunity to talk about habitats!
8. How It's Made: Hot Chocolate
What kid doesn't like a good how it's made video? Heck, what adult doesn't? In honor of the hot drink of choice of winter, we've included this video on how Tweetsie Fudge Works makes their famous hot chocolate.
9. If Cute Babies Competed in the Winter Olympics
Is this one more for us? Maybe. Still, it's a pretty adorable way to introduce winter sports to students who have probably never heard of curling or bobsledding.
10. The Snowy Day
When The Snowy Day came out in 1962, it was one of the first major children's books to feature a Black protagonist. It became a huge hit, and with good reason. Watch this charming story come to life in this animated read-aloud.
11. Winter on the Farm
This is a lovely little history lesson! Adapted from the Little House series by Laura Ingalls Wilder, this is a winter story about Laura's future husband, Almanzo, when he was a young boy.
12. The Science of Staying Warm
In this episode of the sweet new PBS show Elinor Wonders Why, Elinor the rabbit, Olive the Elephant, and their friends explore the role of fur in keeping animals warm.
13. Snow Plows in Action
Got any truck-loving kiddos? They'll be mesmerized by this video of snow plows battling the elements to keep the roads clear! Filmed by storm chaser Dan Robinson.
14. Snow Falling on a Lake
You know how when it's snowing outside, everyone loves to stare out the window? You can recreate that! Put this on the screen and give your students (and yourself) some calm down time. Or put it on in the background during silent reading or independent work time.
15. There Are Different Kinds of Snow?
Another gem from PBS kids is Molly of Denali, the first children's show to feature an Alaska Native main character. In this clip, Molly's grandpa teaches her about the different types of snow and the corresponding words in the Gwich'in language.
16. Five Animals That Do Winter Better Than You
We just love this concept, and it's chock full of interesting information like how arctic foxes basically have their own GPS. All your kids are going to want their own personal pika. Plus, Tom Selleck narrates. *swoon*
17. Snowman Freeze
Brain break? Don't mind if we do. This is a cute little ditty that will get your kids up and moving.
18. Snowstorm in a Jar
Warning: you and your students are going to want to try this one one you see this tutorial. And it's not just pretty to look at. You can use it to teach weather, density, and more!
19. Winter Solstice
This quick clip from Nature Cat does a great job of explaining why the winter solstice is the shortest day of the year. '90s hip-hop group joke for your benefit.
20. Brave Irene
Another offering from Storyline Online, this video features former Vice President Al Gore reading Brave Irene, in which a dressmaker's plucky daughter braves a fierce snowstorm to deliver a new gown to the duchess.
Like these winter videos for kids? For more video round-ups, be sure to subscribe to our newsletter!
Plus, Classic Sesame Street Videos That Are Still Relevant for Today's Kids.