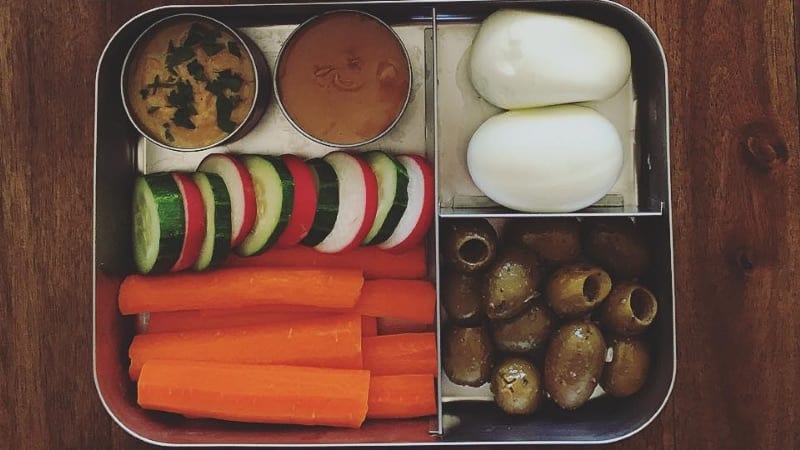 More
When you're running from the copier to recess duty and back again, it's easy to fall back on fast-food teacher lunches and granola bars wolfed down in the car.
We get it. That's why we're always on the lookout for better ideas that are inexpensive, easy to pack and nutritious too. These teachers showed us how it's done.
1. Lots of nibbles.
Who says you have to pack a sandwich or leftovers? Snacks FTW.
2. Salads in a jar.
You've seen them on Pinterest, but honestly they don't have to be complicated and they're a great way to get the veggies in.
3. A build-your-own yogurt parfait.
With veggies and an energy bar on the side. Sold.
4. A whole week of burrito bowls.
Why stop at Taco Tuesday?
5. Chicken tikka masala.
BRB, drooling.
6. Breakfast for lunch.
This is inspired.
7. Pasta to go.
Standing on your feet all day does require carb-loading.
8. Wrap it up.
Switch up your sandwich.
9. A rainbow of veggies.
Get your colors in.
10. Recycled containers.
Yogurt in an ice cream pint? Brilliant.
11. Tiny boxes.
Rather than go the mason jar route, this teacher packs her salad ingredients in individual containers so that everything is fresh come noon (or 10:30 at my school).
12. Soup with all the toppings.
Putting it in a glass bowl helps you feel civilized.
13. Chicken gyros.
I want to be this teacher's friend.
14. Stir-fried goodness.
Beats whatever they're serving in the cafeteria.
15. Bacon-fat popcorn.
Plus lots of other yummy things … but also, bacon-fat popcorn.
What did YOU have for lunch today?