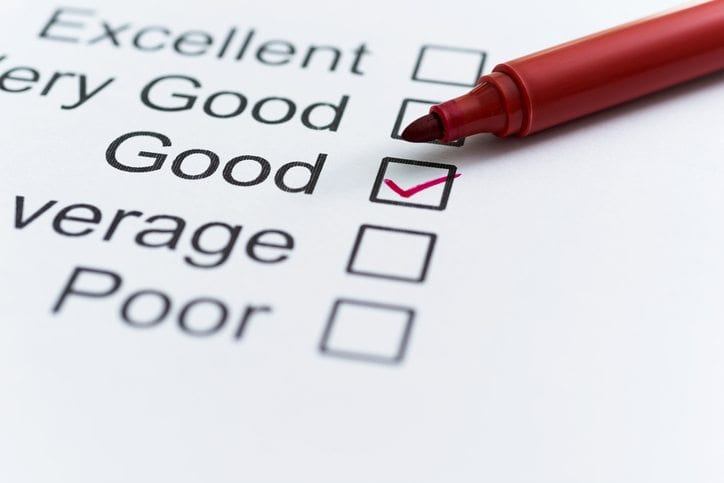 Picture it: Friday afternoon. You walk out to her car. No backpack or tote bag full of essays to grade. It's possible
Sounds too good to be true, right? But when the question of managing paperwork came up over in the We Are Teachers Helpline group, the response was unanimous: with the right strategies, you can cut down the amount of time you spend grading papers, making room for more free time on your weekends. Check out some of the top tips from our community of teachers below, and let us know if they work for you!
Let the rubric do the talking for you. A good rubric allows you to circle the attributes of writing instead of having to write out your feedback on each paper. "I love the rubrics on Rubistar."—Roxanne P.
Focus your feedback. It's easy to get bogged down in commenting on every little error in an essay, from the argument to the apostrophe usage. "Don't give feedback on everything. Choose two things to comment on and only look for those things. It's faster and it helps the students focus their energy."—Marielle E.
Verbal comments count, too. "I mini-conference at least twice for each essay before students turn in final assignments, so individual feedback takes place in those conferences as opposed to me writing it on their papers."—Andrea M.
Divide and conquer. If you teach multiple sections of the same course, your instinct may be to finish grading essays for all of the classes before handing them back. "I like to give back each section's essays as I finish them. This will keep your motivation high because the pile of papers will slowly decrease from your desk, and the students will be getting their papers back more quickly. Rotate which classes get them back first, and everyone wins."—Aaron F.
Consult the experts. "Laura Randazzo is one of my favorite sellers on Teachers Pay Teachers. She has the 5-minute essay grading system. I've only implemented parts of it, but I'm going head-first into it for next year." —Sarah D.
Swap the summative paragraph for an efficient T-chart. "I focus my comments on 'strengths' and 'needs' T-chart instead of writing a long paragraph at the end of each paper, and I jot my notes in bullet form for each of the two categories."—Natalie A.
Vary the length of your assignments. Not every writing assignment needs to be the five paragraph essay. "Consider one page papers or even just a single body paragraph. Focusing on one aspect of writing gives students the chance to hone in on different elements of essay writing and cuts down on the amount of time you need to spend grading." —Amanda R.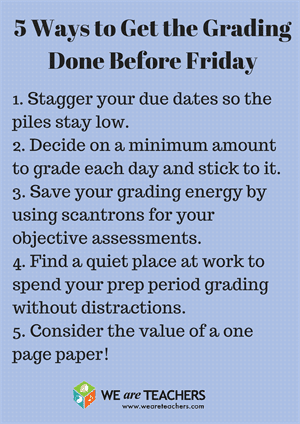 Join  WeAreTeachers Helpline Facebook group for more conversation and insights into the teaching life.