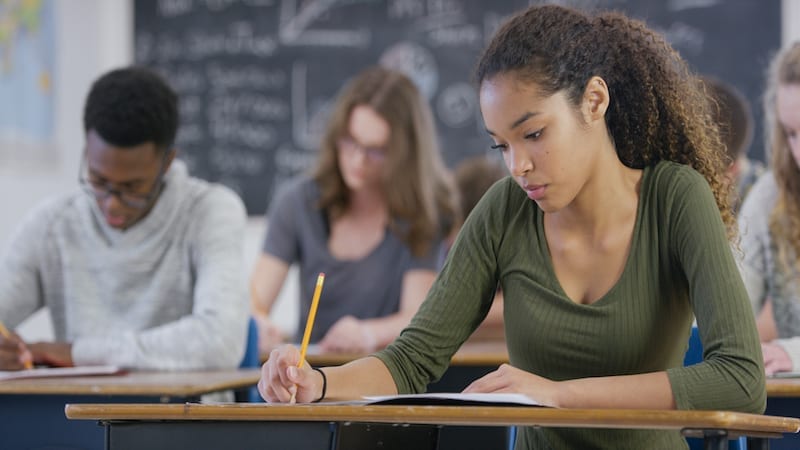 Dear Rick & Rebecca,
Although our district embraces a philosophy of "we are in this together," the reality is that administrators are praised and promoted based on test scores. I happen to be at a Title 1 school with five group homes, section 8 housing, 30 percent English-language learners and the highest special education population in the district.
I love my kids, I love the community, and I do promote high expectations and implement a strategic Response to Intervention (RtI) plan for all tiers of instruction. But the reality is that many of my students are not going to make four years' growth in one year to close the achievement gap. Many of our students have been screened and tested for special education and do not qualify because they are working at their IQ level, which is borderline Mild Mental Retardation, and do not even qualify for services. My ELL students grow and test out within three years. My special education students are covered by IEPs, but my group home students will continue to be a revolving door of short-term disruptors, and my students of trauma coming to school each day are looking for basic food, shelter and love.
State standardized testing is the last thing on the minds of the students and parents in my community.
Will the district leadership ever perceive me as a "winner" when I am consistently dead last in testing? I want to continue being my students' principal without being worried about last place ending my career at my school.
Signed,
"The Testing Loser"
Dear "Testing Loser,"
You are right: Funding, proposition bonus payouts and educator evaluations are on the line because of "high-stakes" testing. The rich get richer and the poor get poorer in this current model.
In a nutshell, our advice is to focus your efforts on things you can change (rather than things you can't), bring in district experts and leaders to your planning sessions so that they become part of your team, and crunch your data better to individualize assessment. Individualized assessment will prevent kids from falling through the cracks. Finally, in your prioritizing, keep putting students before test scores.
Focus on things you can change.
Let's consider 8 questions that parents are recommended to ask their principals, teachers and school officials regarding "high-stakes" testing:
Who decides which tests are given?
How are the results used?
How does the test content relate to the curriculum being taught?
In the last implementation of the test, were there any questions about content not being covered in the curriculum?
How many hours per year are spent administering and re-administering standardized tests?
Do students have the opportunity to answer sample questions to ensure they understand the format of the test?
What accommodations are made for children who might have a learning disability or who do not speak English?
What happens if my child performs poorly? Can he take the test again? What kind of support can I expect from the school system?
Ask yourself, "Of these questions, which are in my control and which are out of my control? And among the ones that are in my control, am I using every possible resource to create an environment of success for all?"
Bring in district leadership and expertise.
Consider inviting your district specialists, district administration, outside contracted specialists and the community to sit alongside your leadership team when you analyze your quarterly benchmark data to determine best next steps along the way. They may have insight on the alignment of curriculum, pacing of standards, rigor, instructional strategies or differentiation supports that you didn't even know were available. Including stakeholders as part of the solution creates a community ownership of "high-stakes" testing scores. By including the entire learning community throughout the year, you can leverage expertise, relationships and support.
Crunch data better for increased individualization.
Initiate a strategic plan for individualization that supports EVERY child's needs. Roll up your sleeves and dig in deep enough to identify specific needs that students have. "High-stakes" testing rank orders students based on the outcome of one data point. It doesn't account for students who shut down that day, students with testing anxiety, students who experienced family trauma the night before or students who are routine behavior problems. Knowing student academic patterns through whole-child data points alongside achievement data will help customize a plan.
For example, when looking at district benchmarking data, we first compare overall scores school to school, then we look and compare grade levels within our schools, then we compare teacher to teacher, and often that's where it ends. Sometimes we break it down standard by standard, but even then we are looking at numbers, not children.
What if you rank ordered your students by their benchmark data and in addition added a column for identifying labels or services like the key below:
| | |
| --- | --- |
| Special Education | SPED |
| Behavior | B |
| Group Home | GH |
| Attend After-School Tutoring | AST |
| AARP Tutors | AARP |
| On a Sports Team | SPT |
| Gifted | G |
| High-Achieving Low Motivation | M |
| English-Language Learner | ELL |
| Attendance Issues | ATT |
| In a School Club | C |
And what if you discover a student in the bottom 25 percent has both a motivation and attendance issue? Perhaps coming up with a plan would increase motivation and lead to a surge in student achievement.
After placing all the additional labels on the data chart, what do you do when you notice that there are students performing in the bottom 25 percent with no labels at all? These students may be shy, well-behaved wall flowers who could easily have gone unnoticed. Do they need additional screeners in reading or math to determine if there is an achievement issue? Every child on the list warrants a conversation about strengths and needs. If their needs are not academic, then filling their need first may produce large academic gains.
Put students before test scores.
As an advocate of the whole child, the one thing that you must always do is what is right for your students. It may mean that you are scored lower in an area on your personal administrator evaluation or that you even miss out on the payout of bonus funding, but you can sleep at night knowing you did what is right and gave 100 percent. Your students may not show it in achievement data (right now), but positive gains show up in their citizenship, their growth and their contributions. Doing what is right may be implementing positive programs or philosophies such as: Kids at Hope, Restorative Justice, No Excuses University, Positive Behavioral Interventions and Supports, The Leader in Me, and many more. You got this!
Your Cheerleaders,
Rick & Rebecca
Dear Rick & Rebecca:
With state standardized testing looming in a few weeks, I walk through classrooms and no longer see the dynamic lessons or passion that my teachers typically convey. Instead we have transitioned to testing packets, kill-and-drill flash cards, and rigorous question stems. It's obvious that my teachers want the students to perform well on the high-stakes assessment, but it might be at the cost of good instruction weeks prior to testing. I feel like if teachers continued teaching with content integration and passion, then the kids would score better than by getting all worked up over the upcoming testing. Should I speak up? How should I handle this?
Sincerely,
Worried Principal
Dear "Worried Principal:"
Some of your hunches match the real data on test prep. A great book on this topic is George Hillocks' The Testing Trap. We recommend starting here, reading a well-respected text that is based on solid research, together with your teaching staff, so your team can all get on the same page about the best test-prep strategy.
Let us know what you think of this book!
Your friends,
R&R
Join our Facebook group Principal Life for more conversation about and insights into the challenges of school leadership.