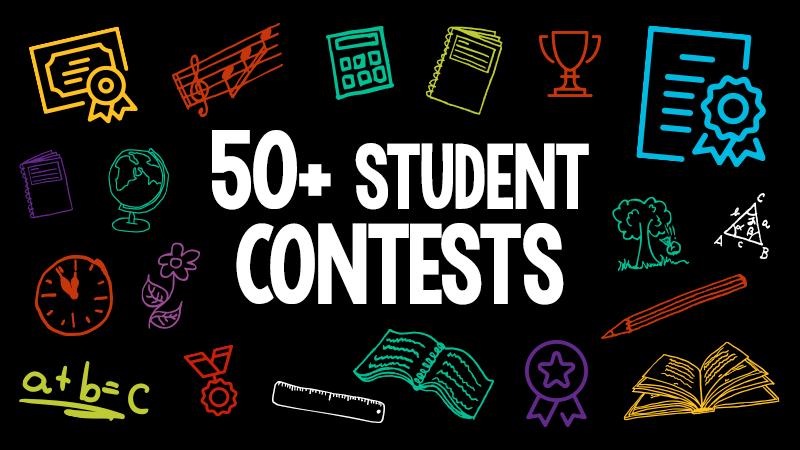 We love student contests and competitions because they can provide an authentic learning purpose. In other words, they can connect students' interests to the real world. We've pulled together a list of amazing contests to engage every kind of student in your classroom.
Best Student Contests for English Language Arts
Students ages 6–14 can submit fiction, nonfiction, and poetry to Launch Pad. They choose stories and poems that are creative and well-written.
This award requires a teacher to nominate eighth grade students for a writing award. The student nominated must submit two writing samples: a themed piece and a student selected "best" writing sample. See the website for more details and the themed writing prompt.
Students in grades 9–12 may enter artwork for the National Poetry Month 2019 Poster.
Three books a month, students can upload a project. Not a contest, but a great authentic learning experience.
The 90-Second Newbery Film Festival is an annual video contest. Young filmmakers create movies that tell the entire stories of Newbery-winning books in about 90 seconds.
Scope Magazine (published by Scholastic) features tons of contests to excite students about writing.
The Scholastic Writing Awards encourages student writers and artists in grades 7–12 to submit work in a variety of genres.
Girls Only! Ages 8+ may submit articles, poetry, recipes, opinions, plays, speeches, and art.
Letters About Literature is an annual, national reading and writing program organized by the Center for the Book in the Library of Congress. To enter, students in grades 4–12 write a letter to the author (living or dead) of their favorite book, poem, or short story and describe how that book moved or changed them.
Create a video that spells out how you can kindle the love of reading, featuring three words that would be useful to know in a spelling bee.
Best Student Contests for STEM
Designed to boost interest and proficiency in Science, Technology, Engineering, Art and Math (STEAM), this nationwide contest challenges public school teachers and students in grades 6–12 to show how STEAM can be applied to help improve their local community.
Kids ages 13–18 can submit a big scientific idea in fundamental physics, life sciences or mathematics in video form.
Your high school students can win up to $35,000 in scholarships and prizing for their smart ideas on topics like sustainability, food insecurity, the impact of technology and more.
This contest challenges students in grades 6–8 to practice critical thinking supported by accurate computation.
Encourage your middle school students to experiment with plantology by entering the Plant Mash-Up Contest! To enter, students combine two plants into a hybrid, draw it, and explain its properties.
Students ages 13–18 years old may enter an original digital short about the dangers of distracted driving for a chance to win a $10,000 scholarship and other prizes.
Students in third grade and up can create a poster for International Compost Awareness Week.
First, learn about the threats facing our ocean. Second, create a sea creature from paper and consider one thing you can do personally to help protect the ocean. Then send your art in for this contest.
The Youth Design Challenge (YDC) is a free hands-on, project-based learning experience that provides classroom and informal educators with a new framework to introduce biomimicry and an interdisciplinary lens on science and environmental literacy. Working in teams with an adult coach, middle and high school students explore the wonders of natural world and apply what they learn to create innovations that support a healthier planet.
Students in grades PreK-12 enter this contest by creating an innovative garden featuring creative and sustainable uses for re-purposed milk and juice cartons. Start your school year by collecting at least 100 empty cartons from your home, community, or cafeteria.
Students ages 13-18 can participate in this amazing science fair.
Selected high schools will be challenged to design 2 pairs of shoes around 2 themes. In addition to designing their shoes, selected schools will also be submitting an Impact Document reflecting how their school, its students and the community would be impacted by winning $75,000 for their art program
Middle school students work in teams of 4 to create a video based on a MathCounts problem. The students must solve a math problem from the MathCounts playbook and show a real-world application of the math concept used in the problem. Videos can be no longer than 5 minutes. Students post their completed videos to the Math Video Challenge website.
Students can produce a short video that makes a compelling case for why people should recycle their plastic bottles and aluminum cans.
Future City is a project-based learning program where students in 6th, 7th, and 8th grades imagine, research, design, and build cities of the future.
Bebras is an international initiative designed to promote Computer Science and computational thinking among school students at all ages. Participants are usually supervised by teachers who may integrate the Bebras challenge in their teaching activities.
Middle and high school students are invited to create a written entry and either a comic or a 90-second video that illustrates a science-powered superhero in action.
Middle and high school students are challenged to design, implement, and assess a creative marine debris advocacy project in their school or community, with the goals of educating the public about the issue, inspiring people to change their behavior, and engaging them in an activity that reduces or prevents marine debris.
Students ages 11-18 from around the world may submit visual art, poetry, prose, film, and music that explore the Ocean Awareness Student Contest theme.
The mission of the USF Young Innovator Competition is to promote innovation and creativity in young people by motivating them to solve problems and improve upon the things around them.
Enter any idea for a new way to demonstrate an educational concept, an idea for a new product, or an improvement for an existing product or procedure.
To design and create a working invention/artwork that incorporates at least one (1) rubber band.
picoCTF is a computer security game for middle and high school students. The game consists of a series of challenges centered around a unique storyline where participants must reverse engineer, break, hack, decrypt, or do whatever it takes to solve the challenge. The challenges are all set up with the intent of being hacked, making it an excellent, legal way to get hands-on experience.
CodeMonkey's Code Rush is a nation-wide competition for teams of students in 3rd to 8th grade. Solve as many CodeMonkey challenges as you can and maybe your team will one of the 20 lucky teams who will win amazing prizes for their school or library! $50 entry fee
Students, grades 5-8, are invited to create a 1-2 minute video describing a new, innovating solution that could solve an everyday problem. Ten finalists will be chosen for their passion for science, spirit of innovation and ingenuity, and effective communication skills.
#BUILTBYGIRLS invites girls to submit a new product concept, design and/or working prototype for the chance to win $10,000. Finalists will get the trip of a lifetime to San Francisco to pitch in front of expert girl judges, tech moguls and industry experts.
Students in grades 5-8 are given many STEM challenges to solve.
The Emperor Science Award program is a unique opportunity for 10th and 11th graders with a strong interest in science to work on a cancer research project with a mentoring scientist. 100 students across the U.S. will be selected.
Students ages 13-18 can create a glowing invention using LED lights and LittleBits.
The Invention Convention program is a project-based learning curriculum to help students learn to think critically by identifying problems in their world.
Best Student Contests for Social Emotional Learning
Challenge your grades 5–10 students to create short videos showing how they can work together to stand against bullying and support kindness.
Students in grades K-12 are invited to create a 1-minute video responding to this year's theme "Activating Change."
The Lowell Milken Center for Unsung Heroes Discovery Award provides students in grades 4-12 a unique opportunity to research primary sources and develop outstanding projects that feature Unsung Heroes who can serve as role models and inspire others to create change.
Entrants submit 1,000 to 1,500 handwritten words expressing how they, or a student they know, work outside the classroom to benefit others. One student grant winner will earn $12,500 to further their education and/or continue their good works. The winner's school will also be awarded $2,500 to help enhance their efforts to foster student overachievement.
The Red Nose Challenge invites children in grades 3–8 to create a 1-2 minute video explaining why it's important to help end child poverty and show how they plan to make a difference, for the chance to win exciting prizes.
Students can create a short video–up to 60 seconds–about human population growth that highlights one of the following global challenges: Advancing Women and Girls, Feeding 10 Billion, or Preventing Pollution. All videos must include: a) how population growth impacts the issue b) at least one idea for a sustainable solution.
Students are invited to write a first-person monologue of a famous figure of your choice. Then, they must create a 3-minute video challenge. Winning students win a trip to the White House!
Best Student Contests for The Arts
This contest seeks 36 female collaborators in 36 states to help with the creation of a printed flag to celebrate the anniversary of the ratification of the19th Amendment that gave women the right to vote. The participating artists will represent each of the 36 states that helped pass the 19th Amendment.
Students ages 4-21 are invited to draw "Why Life is Good" for the chance to see their art on an official Life is Good tee.
The ArtEffect Project teaches middle and high school students their power to effect positive change through creative storytelling that celebrates Unsung Heroes from history. Students must submit high-quality creative art projects in the following mediums: visual arts, narrative film, theater, and creative nonfiction.
Best Student Contests for Social Studies
National History Day (NHD) is an annual event for teachers and students in grades 6-12 that promotes critical thinking skills through project-based learning.
This national contest invites all middle school students (grades 6-8) and high school students (grades 9-12) to create a 5-7 minute documentary, based on the theme: "What does it mean to be American?"
We'd love to hear—what are your favorite student contests and competitions? Come and share in our WeAreTeachers HELPLINE group on Facebook, and we'll keep adding to this list!
Plus, don't forget to check out all of our great teacher contests happening right now.