The wait is almost over. Season 2 of everyone's favorite paranormal preteen bingeworthy show is almost here! Stranger Things is escapist entertainment at its best.  But there were more than a few moments from the first season that are probably all too familiar for teachers. So before you dive into a slew of new episodes, take a look back at how some of Season 1's most unforgettable moments may as well have taken place in your classroom.
On the show:
Joyce Byers (played by Winona Ryder) tries to communicate with her missing son through a combination of Christmas Lights and an alphabet painted on the wall.
At your school:
You leave the room for 90 seconds for a much needed bathroom break. You return to find unauthorized decorations strung up, the electricity blinking due to an improvised "science experiment" gone wrong, and obscenities written on the white board.
https://giphy.com/gifs/season-1-netflix-stranger-things-l0MYwHlIt5dj6M5ry
On the show:
Lucas and Dustin (Caleb McLaughlin and Gaten Matarazzo) steal a boatload of chocolate pudding from the cafeteria while hiding out at their school.
At your school:
You were up so late grading papers that you forgot to bring your lunch and you only have 10 minutes before your next class, so going off campus is out of the question. You rush to the teacher's lounge and enthusiastically devour the leftover dessert from last week's staff appreciation lunch that was left in the fridge, thankful for a sugar high that will get you through the rest of the day.
On the show:
Throughout Season 1 of Stranger Things, it seems like every other scene features some ominously flickering lights.  Is it a missing boy communicating from another dimension?  Is it a monster?  Or both?
At your school:
Your school is old. Really old. Like pre-realization-that-asbestos-is-bad-for-you old. You don't really notice when the flights blink on and off as much you DO notice when you can run your smart board without having to unplug your electric pencil sharpener.
On the show:
In the very first episode of Stranger Things, fan-favorite character Barb (played by Shannon Purser) presses her best friend Nancy about a possible budding romance. While leaning resting against a locker, Barb seems skeptical about Nancy's choice for a boyfriend. It's the look that launched a thousand memes.  And probably a million Halloween costumes.
At your school:
You've been tasked with the unfortunate job of hall monitor during the final standardized test of the year.  On your 47th trip back down the hall, you pause, exhausted and rest your head against a student's locker, wistfully daydreaming about the 9 whole days you'll have to yourself before summer school starts.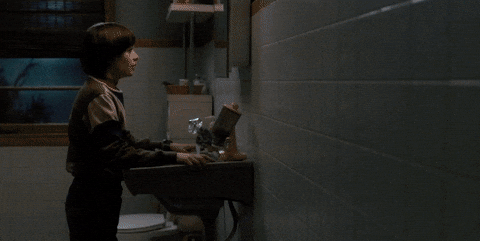 On the show:
In the final scene of the first season, Will Byars, who is finally reunited with his family after a prolonged ordeal in the Upside Down, briefly returns to the alternate dimension after he excuses himself to go to the restroom.  His cozy, safe bathroom turns into a dark, frozen, other-worldly version of itself.
At your school:
The bathrooms are just as unpleasant, but at least there's no monster.
How else would you say "Stranger Things" parallels your life as a teacher? We'd love to add to this list, so please share your ideas in the comments.